Being one of the driving force of business, marketing runs via the constant changes, shifting and evolving into more complex processes. Potential clients use multiple devices in interaction with your company, so now it is far more than conversions and funnels.
Digital professionals rely on marketing automation tools to handle everything from social media activities scheduling to understanding and getting into their customers' shoes.
Defining Marketing Automation Tool Concept
As a blend of software and tactics, marketing automation helps companies to use personalized, useful content to nurture prospects and converting them to customers. So the ultimate target of the marketing automation services is to
make managers' job more efficient by task prioritization,
generate leads and nurture prospects,
specify criteria and interpret outcomes, and
bringing more revenue and higher ROI.
Marketing automation is a buzzword, and lot of digital marketers have preconceptions and think the performance will look like a robot's work from cyberville. However, these tools are designed for streamlining the execution of marketing tasks in an efficient way.
Top 5 Proven Marketing Automation Tools at A Glance
There is rather an insane amount of various marketing functionalities and tools. But this situation is explained by the reasoning that each platform has different feature sets and offers benefits for various business types.
Here is the short-list of proven marketing automation tools for SMBs and enterprises as well.

As a rule, the inbound marketing approach associated with HubSpot. Indeed, this automation software offers a vast array of tools and capabilities that enhances day-to-day tasks, improves effectiveness. This marketing automation tool suite combines SEO, blogging, social activities, email marketing, audience targeting and analytics.
Leading Features
Set up workflows based on your marketing goals
Manage the content for delivering personalized, timely information
Monitor prospects, landing pages and performance
Score, track and categories your leads
Content library and reuse options
PPC/Adwords and Salesforce integration
Costs
Provides a free trial, but you should contact for a quote.
Pros
HubSpot is an convenient all-in-one solution with a variety of functionalities. It's one of the best marketing automation tools for small businesses. Besides, they will educate you how to use their solution.
Cons
The software does a lot of everything, yet some of their features can be found free elsewhere. They require an annual contract and tech support is paid.

Marketo is a well-known multi-functional software with marketing automation, customer engagement, budget planning and calendar tools. This cloud-based platform with aid marketers and sales reps in boosting revenue and developing sustain relationships with prospects and clients.
Leading Features
Score, nurture and manage your leads
Dynamic and personalized email campaigns
Landing page and forms builder
Revenue and campaign analytics
API integrations and Adwords support
Costs
Spark - $800 per month (up to 10000 records) - the best option for startups and small companies,
Standard - $1795 per month (up to 10000 records) - the most popular package,
Select  - $3195 per month (up to 10000 records) - includes the advanced analytics and trend metrics,
Enterprise - requires a custom quote.
Pros
Marketing automation tool is intuitive, quick and easy to set up, and offers great customer support.
Cons
The platform has limited analytics and reports functionality. Besides, the builder of landing page and forms has a room for improvement.

Another competitor in the list of marketing automation tools is Infusionsoft. The service provides you the campaign building, social and email marketing, analytics and visitors tracking. This is an all-in-one solution for SMBs.
Leading Features
Marketing campaign builder with triggers for setting up
Designing landing page and form tools
Cuustomizable email marketing
Monitor your website visitors
Real-time reports and performance analytics
Social media marketing tools
Costs
Essentials - $199 per month - offers basic marketing automation tools
Deluxe - $299 per month - for companies with sales teams or online store
Complete - $379 per month - for companies with sales team and online store
Team - $599 - for companies with large teams
Pros
Infusionsoft provides a scalable tracking across marketing channels, API integration and has a built-in shopping cart.
Cons
The platform has no native integrations with 3rd-party tools, while extensions and apps at marketplace may require additional payments.

Aiming to boost efficiency and revenue growth, salesforce.com company offers Pardot, a solution for B2B marketing automation. This suite enhances the cooperation of sales and marketing teams by lead management, email campaigns, analytics and CRM integration. With this service, you will shorten the sales cycles and increase marketing accountability.
Leading Features
Landing page, form builder, and research connectors
Email campaigns with branded templates
Leads scoring, grading and nurturing
Audience segmentation wizard
Real-time alerts and reports
Multichannel social marketing
Sales alignment by integration with CRM
Costs
Standard - $1000 per month
Ultimate - $3000 per month
Marketing cloud (Basic - $400/mo; Professional - $1250/mo; Corporate - $3750/mo; Enterprise - requires a custom quote)
Pros
Pardot is one of the most customizable marketing automation tools, with a great customer support and prospects' tracking.
Cons
API access and A/B testing are available only for Pro users.

As a B2B cross-channel solution, Oracle Eloqua provides marketing automation tools for targeting and lead management, drip campaigns, and testing, advertising, and analytics. The ultimate mission of this platform is to advance lead generation process.
Leading Features
Multichannel personalized campaigns
Smart editing tools for landing pages and forms designing
Scoring and routing your leads
Content marketing management
Built-in digital advertising
Dashboard for real-time reporting
Costs
Basic - $2000 per month with more than 10K contacts
Standard - $4000 per month with more than 10K contacts
Enterprise - requires a custom quote
Pros
Oracle Eloqua offers an easy campaign and microsite builder and integrates with 100+ 3rd party platforms.
Cons
Being a quite expensive marketing automation tool, Oracle Eloqua also has no integration with Adwords.
Brief Sum Up
There are many more marketing automation tools, and this short-list gives you a comprehensive insight to the top 5 of them. So all you need to do is to select the most suitable platform for your business goals and budget.
Building a startup requires far more than a mere idea but also a business strategy, workflow planning, budget and desire to do your best to succeed. In the hunt for the valuable resources, marketing blogs become a kind of magic elixir for businesses of any type.
Follow Marketing Blog to Develop Startup Growth and Results
Every market niche has representatives that fight for the customers attention and loyalty. The competitiveness edge for the newcomers is higher and harder to achieve. So to be aware of the updates and ahead of the game, you should follow a well-written marketing blog or set of blogs.
It goes without saying, there are hundreds of such resources. The time is limited, and you should keep the pulse on the well-searched posts that will offer definite guides for you. In an effort to help out, here is a list of the best marketing blogs for startups to expand your chances for success, and after all, developing your distribution and communicational channels.

Being a startup and tech marketing agency, Marketing Envy provides product launch strategies, design and content generation and promotion.
Why to follow:
In their Startup Marketing Blog, you will find advice on content creation, strategies for various startups types, business models, social media activities, and PR guides.
2. Find Must-Have Marketing Assets for Startup at Onboardly Blog

Onboardly presents itself as a demand marketing agency that helps small and mid-sized companies to increase visibility and brand identity, generate leads, and get result in content marketing.
Why to follow:
The company blog reveals a lot of tips on content marketing, PR strategy, and customer service organization for startups. Besides, there are interesting posts on email marketing and social media strategy.
3. Improve Your Marketing Skills with Unbounce Blog

The importance of converting landing page is the key to growing success. Unbounce, the optimization software, helps marketers and website owners to achieve desired results.
Why to follow:
Being one of the must-read marketing blogs, this source offers you tips and shared experience of the top conversion experts. With highly engaged content and strong community, it brings the help to startups to be seen in the marketing world.

Apart from tracking the users on the individual level with the SaaS analytics, KISSmetrics  offers effective and workable resources for design and marketing upgrade.
Why to follow:
KISSmetrics blog provides an avalanche of how-tos and useful guidance on metrics setting up, copywriting and organic SEO tips. The content gets lots of shares and comments, so that you can derive a great deal of practical, consistent hacks.
5. Get Tips from SEO Gurus at Moz Blog

Moz is a well-known SaaS analytics tool for boosting SEO efficiency, and these folks help you to get the most of the marketing intelligence. Focusing on inbound approach, the blog of this company collect the insights of the top experts.
Why to follow:
Gaining a great reputation in SEO, the Moz blog suggests the actionable advice, engaging and practical webinars, and tips to social media running. Don't miss their Whiteboard Friday, it always offers great advice and assets.

Hubspot has taken its place in the marketing automation niche and created the powerful community due to their neck-deep blog. This a rich repository of information and tips for freshmen in marketing.
Why to follow:
As one of the useful marketing blogs, Inbound Marketing offers practical guidelines and how-tos, whitepapers and infographics with the updates on a daily basis. Besides, they often write posts on leaderships, team building, as well as inspirational articles - what's just the job for startups.
7. Keep the Pulse on Social Media with Buffer Blog

Buffer is known by marketers as a helpful web-based tool for social media accounts running, besides it offers the calendar for scheduling, and analytics for tracking the best-performing posts.
Why to follow:
At Buffer blog you will find the insights into best practices of social media presence and content management. In short, this source will teach you how to post smarter, not harder and get the wanted results.
8. Find Inspiration Source on Visual.ly Blog

Visually is a marketplace for sharing visual content. Try to guess what they kind of topics these folks cover in their blog.
Why to follow:
Obviously, graphic works better than plain text. So, this is one of the must-read marketing blogs as it enables you with the tried-and-tested tips. Additionally, here you find the immense source of inspiration and creativity.
Draw Up A Line
Ultimately, marketing is all about relationship building and finding the right distribution channels. Startup shouldn't be an over-caffeinated team that looks for resources. So, take the most of the digital era, and don't waste your time on the internet surfing, this short and sweet review of the marketing blogs will aid you a lot.
Regardless of the organization type you run, the marketing vs sales dilemma has bothered you. Planning and strategy development of both areas is the important part of the success as these departments share a mutual goal - revenue increase. In some ways, these teams are intertwined, and startups and small companies have only one personnel, the so-called smarketing.
However, marketing and sales aren't interchangeable, and along with business growth, companies split their marketing teams into separate departments. As a rule, b2b organizations are sales driven while b2c are marketing driven. The difference in the roles and responsibilities of each team we are going to figure out below.

Marketing vs Sales: General Insight
Before jumping to the comparison of the business components, let's get the overall definitions.
As a more dynamic process,
marketing
deals with systematic planning, implementation, control and improvement of business activities and products or services. It targets to create brand identity, brings leads and prospects for a sales team, and builds long-term relationships with customers. However, this team has given conditions, and can't change them.
Marketing works on the 4 Ps:
product, price, place
and
promotion
; and does micro and macro analysis of market and then applies these principles in action via
advertising, public relations,
Meanwhile,
sales
focuses on a transaction between two parties, and agreement on the price and security with the help of negotiations and objectives overcoming. This activity is driven by human interaction and has rather a short-term relationship with buyers. That means that sales reps can transform the situation using their personal skills.
Sales team develops its activities on the 4 Cs:
customer solution, customer cost, convenience,
and
communication
that are realized via
Marketing vs Sales share the common goal: the development of customer relationship, yet in different perspectives. Both of these business processes require specific skills, training from the stuff, and communication and cooperation within the company. To put it simply, sales can't succeed the revenue objectives without developed future-focused marketing planning.

Diving into 5 Key Differences
Market changes are the permanent things, so marketing has to stay ahead of the changes. It helps sales by locating the potential audience and/or channel partners, generating quality leads, and enhancing information transaction.
From this point, the sales continues to build a customer relationship and start to convert leads into actual paying buyers by direct interaction. They set specific boundaries to closing the deals: week, month or quarter.
Dealing with the marketing vs sales dilemma, you should remember that these activities demand different skills and training. Definitely, marketing provides tactics and clues for the sales team, but this department shouldn't perform an auxiliary function.
The following comparison will aid you in the roles and responsibilities distribution among your teams.
- Strategy
By employing strategic thinking,
marketing
uses the pull strategy and generates interest in the products or services.
Sales
is more focused on tactical thinking and push strategy to convince a customer and ensure a closed deal.
- Priority
In this aspect marketing vs sales works in cooperation. Meanwhile,
marketing
shows the ways for reaching a customer and sets up a relationship building;
sales
applies the received info and tips for achieving the ultimate result - a paying buyer.
- Perspective
Due to
marketing
search, the company gets the market view from customer's perspective that directs organization to targeted audience or group.
Sales
works in the opposite direction and presents the positioning of the product or service from inside the organization toward the potential buyers.
- Approach
Apart from extending the variety of the selling activities,
marketing
develops a strategy for determining current and future customers' needs and lays out the basis for long-term relationships.
Despite the building relationship with customers,
sales
tries to fulfill buyers' demands by matching the company's product or service within a specified time period.
- Major Focus
Marketing
deals with the promotion and distribution of the price of product or service and looks for the ways to fulfill customers' needs by the company offer.
Achieve a set quota and fulfill sales volume objectives are the key targets for the
sales
teams.

Final Thoughts
After revealing the crucial moments, you see that marketing vs sales differences lie in various approaches, tactics, and strategies, as well as personnel specific skills. Both teams work on developing a trustful relationship with customers and boosting the revenue. In short, you can achieve the high results by setting up workflows for both teams with communication as a must.
Every day there are published millions of post on the Internet, and it becomes challenging to get the most useful ones and don't sunk in the flow of info. So the point lies in finding the sales blogs that deserve your time.
Do You Really Need to Read Blogs for Sales?
Sales managers better than everyone else know that time is money. And every rep or executive wants to surf the Internet and get the new insights and workable advice. With the help of sales blogs, you will be aware of the new techniques and strategies, as well as keep the pulse on the technology innovations. Usually, the posts are written by sales pros, so you acquire best practices and proven tips in the metrics and motivational areas.
5 Requirements to Sales Blogs
Many people start their morning with checking the inbox, and look for something interesting in the blog subscriptions. Obviously, the catchy headlines make you click on the link, yet if the post holds you for reading one or two paragraphs - that's great. But you close it and subscribe this sales blog. To avoid your disappointment in the content you receive, you should pay attention to the following requirements to the blogs for sales:
Updates constantly appear  (not less than 14 days)
Posts are original and practical
Content is well-searched and easy to read
Include educational information
Tell about sales but don't sell anything
10 Sales Blogs Worth Your Attention
We used the above requirements and collected the list of must-read blogs for every sales pro. Each of the sources provides a specific point of view and sales insights, as well as gives actionable advice and tips. So, the list of blogs has the brief outline and frequency of the content updates.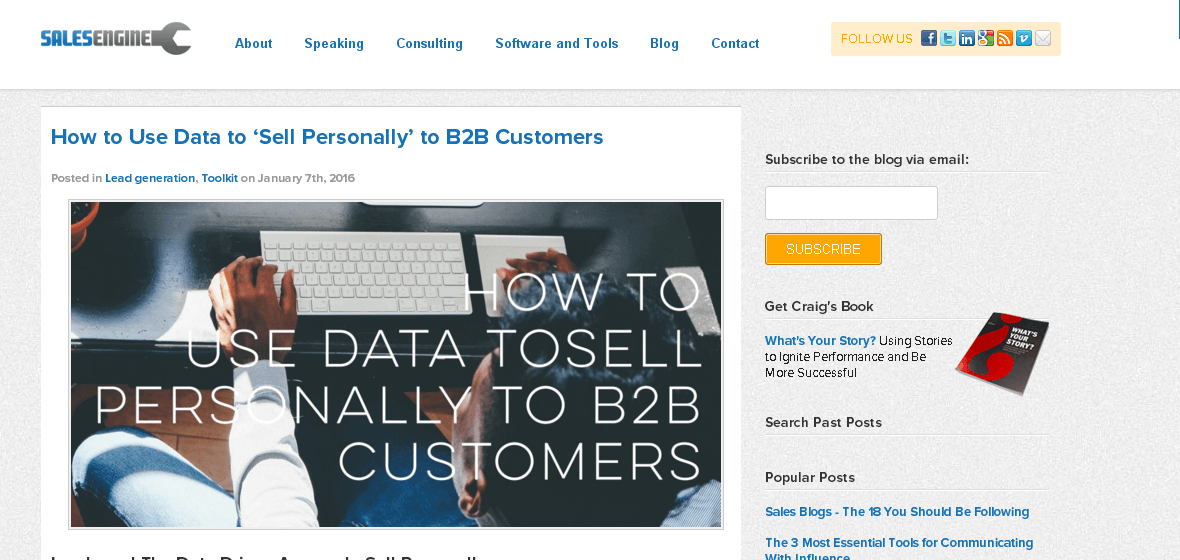 Brief Outline:
This is one for the blogs for sales that deals with the b2b area. The posts cover various topics - starting from the tips for rookies sales reps, prospect nurturing, sales pipeline optimization to productivity tips and effective strategies. Authors of these articles are the sales and marketing directors, as well as SEOs and sales influencers.
Content Updates:
once/twice a week.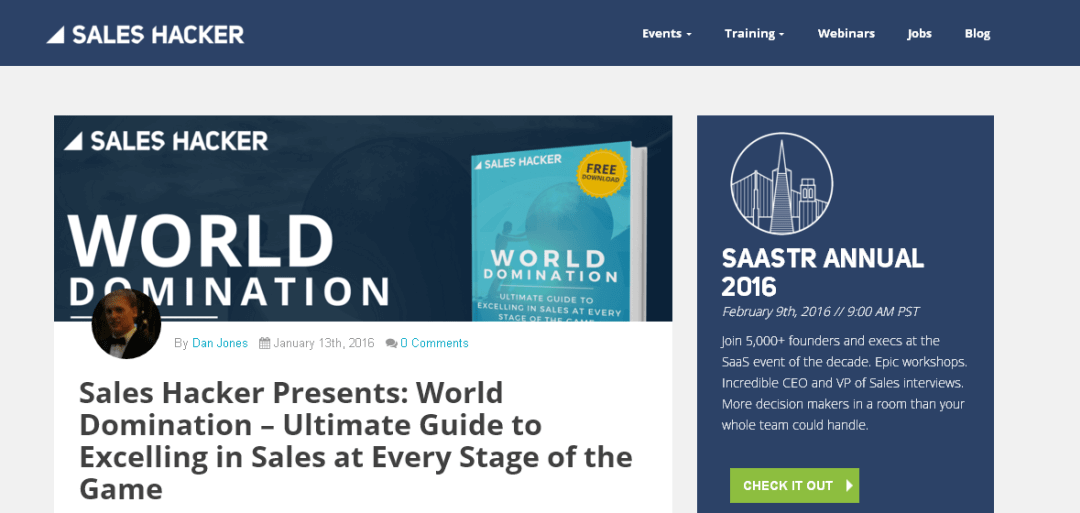 Brief Outline:
The main focus of this blog is b2b sales, and the posts are written by sales directors or company co-founders, in other words by people who have useful information to share. Here you will find the lead generation and cold calling strategies, approaches for the sales team management, processes automation, improving analytics and growing opportunities.
Content Updates:
every 2-3 days.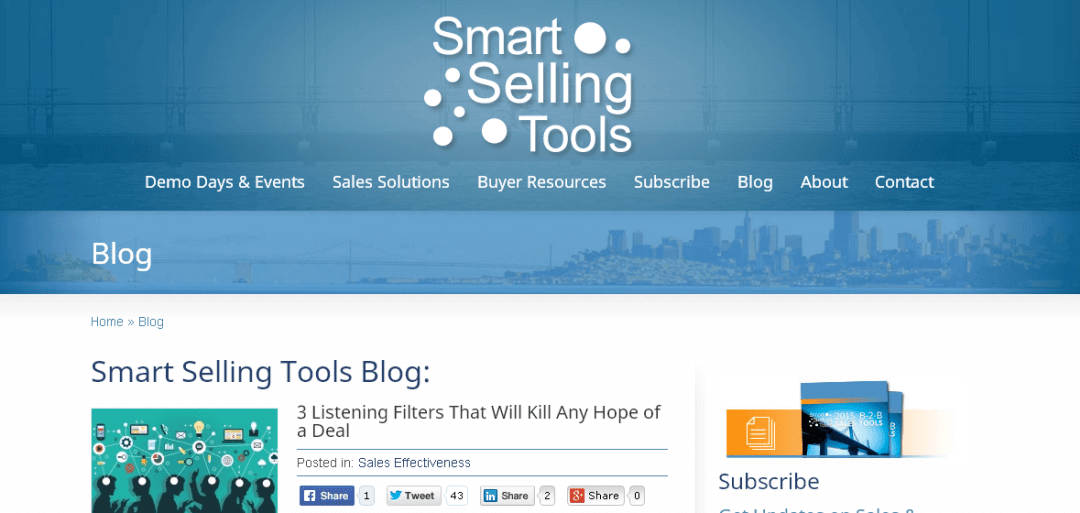 Brief Outline:
If you want to apply technology and take the most of your sales performance, this is blog is just the job. Apart from tips on prospecting technology, it offers the best practices for increasing the business revenue. This sales blog is run by Nancy Nardin, sales expert and President of Smart Selling Tools.
Content Updates:
regular.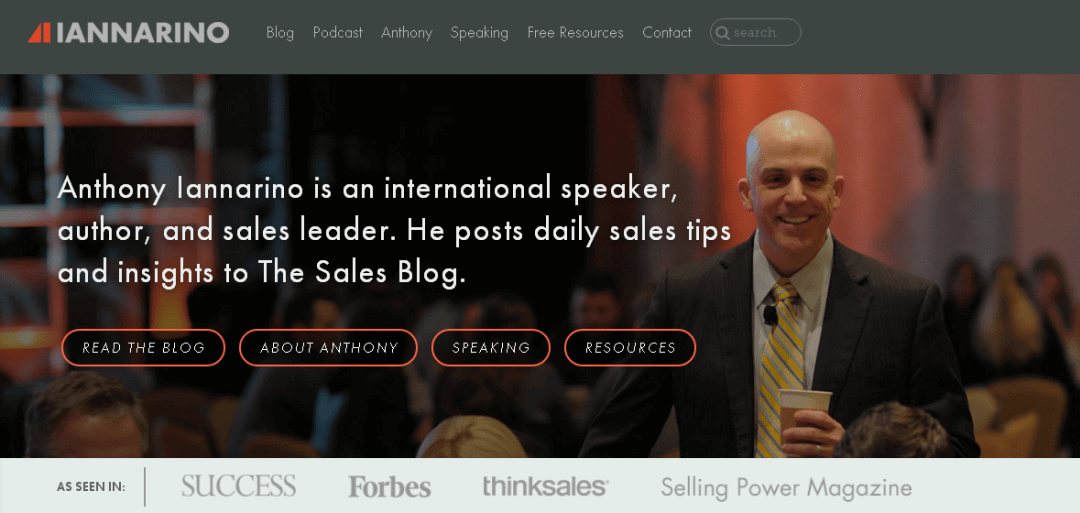 Brief Outline:
Selling is a complex process, and those who want to improve the effectiveness and use the full company potential in action, will find this sales blog a piece of cake. Anthony Iannarino, the author of this blog, writes about processes setting up, team management, high-level insights into the value creation, and gives the tips for improving the current strategies.
Content Updates:
every day.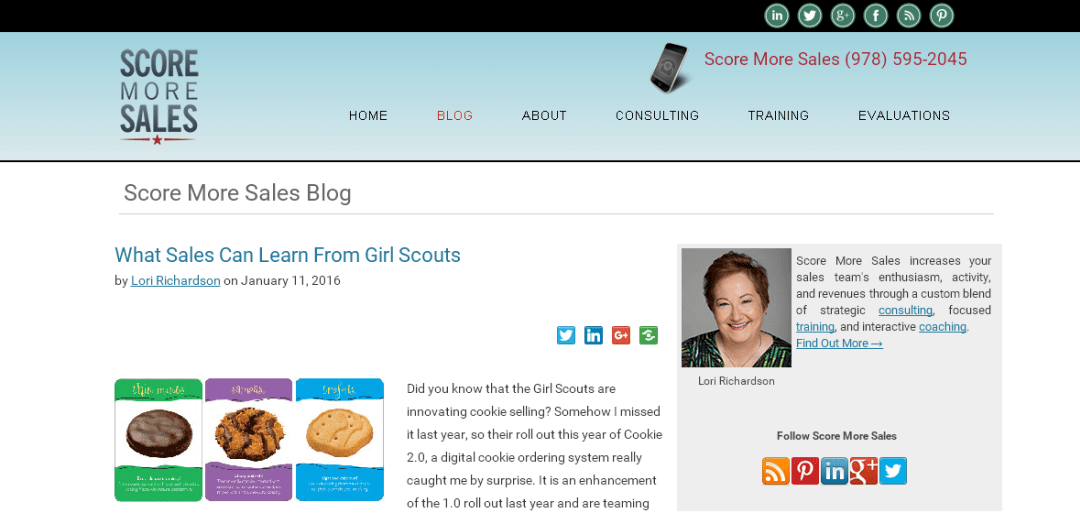 Brief Outline:
This is one of the blogs for sales, the sales leaders and directors will find useful and practical. Being led by Lori Richardson, named as one of the 12 influencers by Forbes, this blog covers the sale and non-sales issues the companies usually face. So here you will find actionable advice on building team enthusiasm, workflow, and closed deals.
Content Updates:
once a week.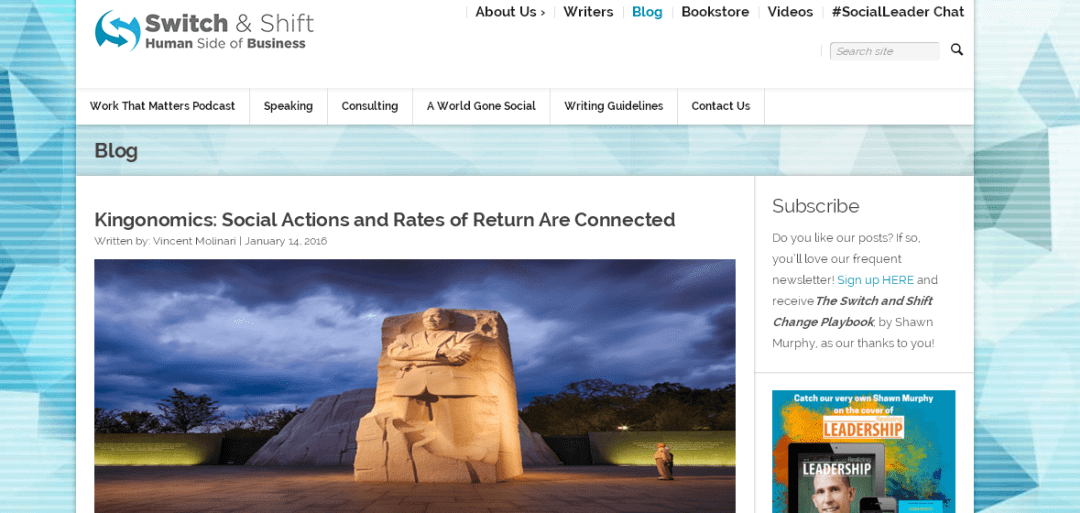 Brief Outline:
Being run by the experienced salespeople, this blog has a focal point on offering best practices for managing sales teams, and provides the insight for business optimization. Here you will find lots of tips for transformation your strategy to people-centered. Differing from the other sales blogs, this one aids in improving business running and team management.
Content Updates:
once/twice a day.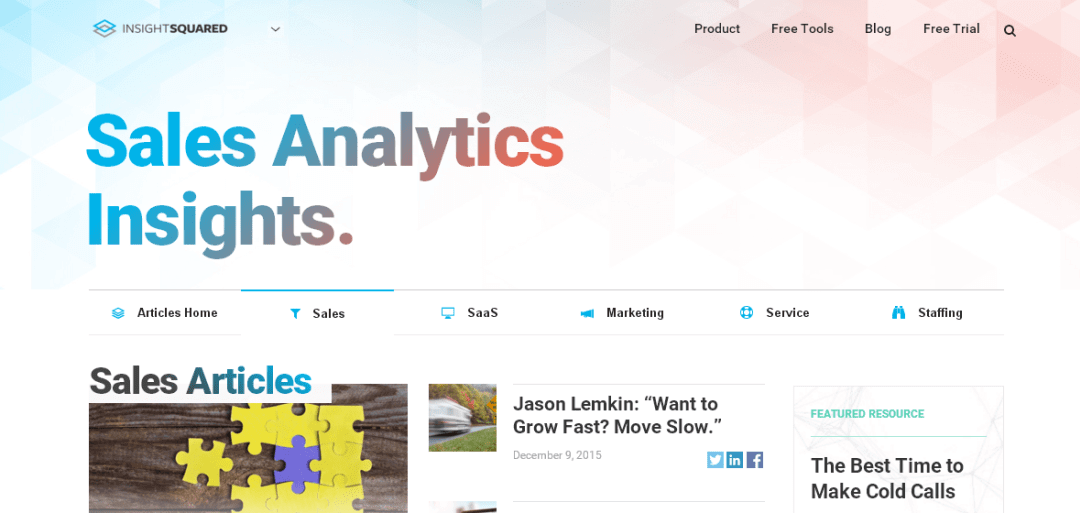 Brief Outline:
The blog of data intelligence suite enables you with a well-searched and well-written content. The posts cover such topics as pipeline optimization and forecasting, profitability metrics, approaches to workflow management and improving. Besides, this blog for sales suggests you the valuable insights for advancing your business strategy.
Content Updates:
once a week.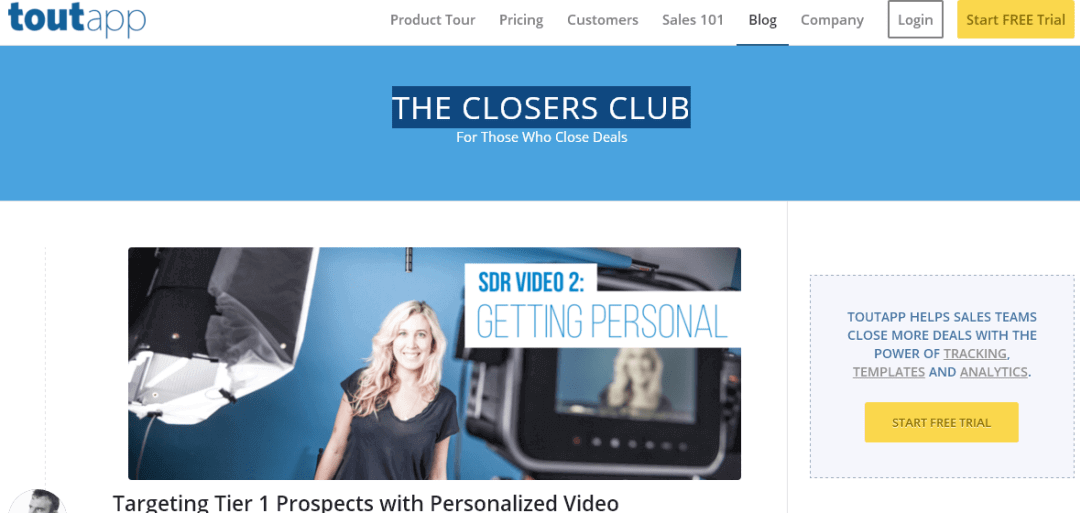 Brief Outline:
Looking for actionable insights for boosting your personal productivity? Then you should add this source to your sales blogs list. Apart from the details on skills improvement, you will find tips on selling strategies trends and automation. This blog offers a specific view on sales and business running.
Content Updates:
every day; every 2-3 days.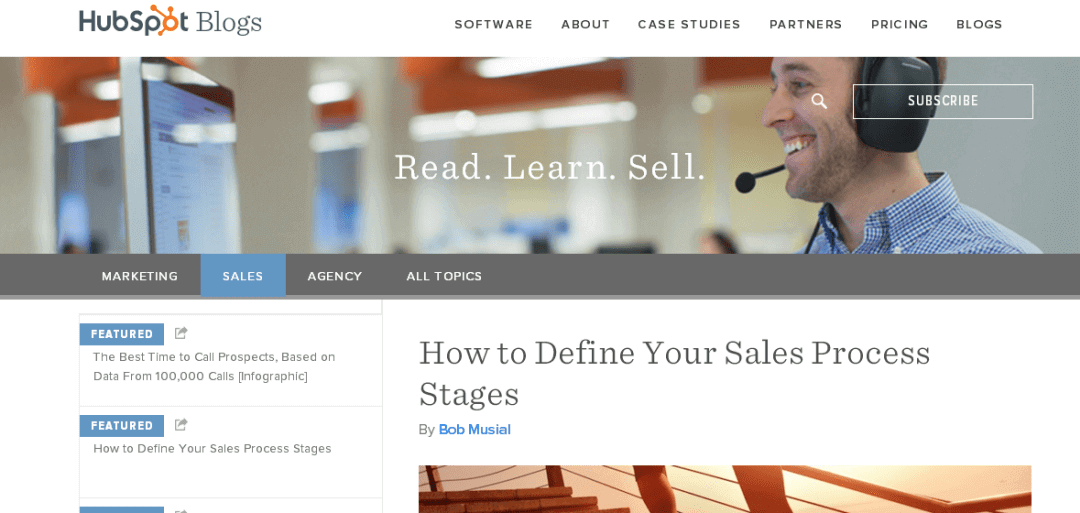 Brief Outline:
Best practices, case studies and valuable insights into the business sales trends are the key takeaways you will gain from reading this blog. The content, offered by the inbound sales authors, is relevant and helpful for team management and business strategy update. Time spent here won't be regretted.
Content Updates:
every day.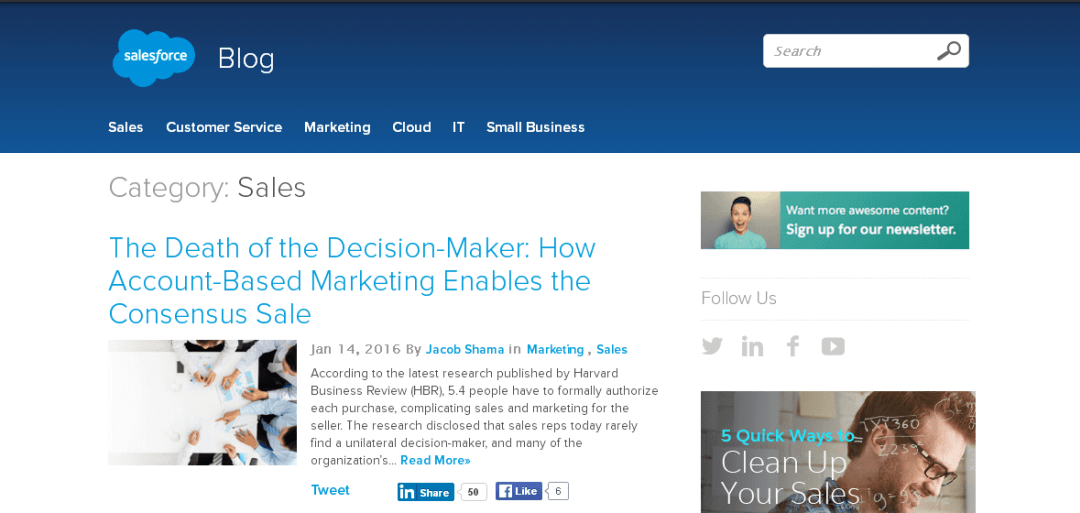 Brief Outline:
Not surprisingly that Salesforce blog is mentioned as the one of must-read blogs for sales. This is a source for gaining personal and professional efficiency for every sales rep. Here you will find numerous posts that cover the business processes from each corner and help to reveal the hidden opportunities of the team and company.
Content Updates:
twice a day.
Sum Up
The successful sales manager never stops learning and improving the skills of the craft. Despite your position, the department director or a professional rep in the direct contact with customers, you should always be aware of the latest news, trends, and tools used in the industry. So take a closer look at this list of sales blogs. Have more closed deals and loyal clients!
P.S. Don't forget to subscribe to our blog 🙂
As in each occupation, being a good sales agent requires a lot of training and specific  knowledge that can be obtained through learning. But being an outstanding sales manager means much more than that. Apart from charisma, creativity and intelligence, professionals single out a set of must-have skills that are bound to make an ordinary sales rep a celebrity in their sphere. Can't wait for the revelation to start working? Well, then, help yourself to the list.
Knowledge of the product
No matter what degree in sales you've got, if you don't learn everything possible about the object you're selling, successfully closed deals will be scarce. So, make sure you can answer any questions and understand all details about what you're trying to sell. Moreover, it's critical that you compose the complete list of its benefits and keep writing down any new advantages that come to your mind.
Knowledge of the market
Even if you learn more than everything about your product, it won't mean much if you're ignorant as to the situation on the market. So, do a thorough research of the similar products your competitors offer and find out their strong and weak sides to be ready when your clients mention them.

Listening skills
Unlike the popular stereotype concerning sales agent being very talkative, in fact it is much more important to be able to listen. This skill is indispensable for finding out the true needs that your client has. If you can listen really well, you will be able to personalize your message and talk of the benefits that are relevant precisely for your potential buyer. It works a lot better than simply enumerating your product advantages.
Resilience
Even the most successful sales agent faces 7-9 "no's" out of 10 deals. Instead of fretting over it, the best you can do is learn "not to take it personally, it's just business". In other words, learn to recover after each failure as fast as possible and keep moving. Remember that each "No" brings you one step closer to a "Yes".

Multitasking
Putting all eggs in one basket is not the wisest thing to do, to say the least. Same as putting all hope on one potentially profitable deal for a sales rep. On the contrary, you've got to be able to handle multiple deals at different stages in order to get the most out of them. This calls for much efforts, but they're worth it, as some "hopeless" deals can turn out quite beneficial. Besides, it's a good training that will be good for you anyway.
Tenacity
Marketers know the value of a returning customer too well. A sales agent who wants to excel knows that too, and therefore never considers the deal closed as soon as the purchase is complete. It's important to provide post-sales support for the client, if possible, and this will be your investment into the future deals with this customer.

Handling objections
Objections are inevitable, and they are nothing to fear if you know how to deal with them. First of all, never try to oppose your client or sound hostile. On the contrary, you should express empathy and understanding of their concern and then softly explain your point. It is crucial that you learn to uncover the true reason why a person isn't buying, which will let you deal with objections most successfully. Make sure you do your homework with mastering various objection handling techniques and practice them well. One last thing - there are always people who just aren't ready to buy, so be ready to stop and move on if you feel that is the case.
The best thing about the list above is that there is nothing here that you cannot learn or practice to perfection. Still, it's far from being exhaustive, and you surely have your say as to what qualities and skills are absolutely necessary to become a successful sales agent. Do share your suggestions with us in the comment section below.