Didn't know how to download your sales data in a CSV format? Export to CSV file in CRM and Deals is a new update of the statistics page, developed at the request of our existing customers. Let's scope out where and how to use this feature.
How to export your reports to CSV files in CRM and Deals?
To download a report you need to perform a few actions. First, go to the Statistics Page. Second, choose a specific agent, group of agents, reporting period, and pipeline to show in your file. To do it, select the appropriate item in the Drop-down list. Finally, press the "Export to CSV file" button in the upper right corner of the Statistics page.

Statistics page view 
The reports' export starts immediately and the file can be opened on your computer as soon as everything is downloaded.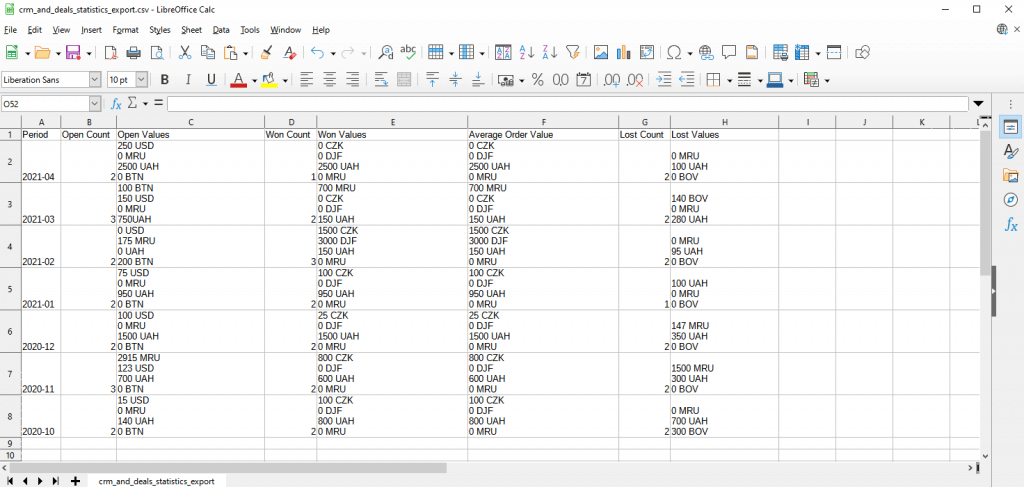 CSV file view
From now on you can use this data to share it between other agents or to download and analyze reports with data from 6 months ago and even earlier. Besides, you can create presentations with your charts and tables without making any screenshots.
Try CRM and Deals for Zendesk!
Nowadays, everybody knows that the desirable goal of every deal is to win it and to bring profits. And sales reporting is only a small part of what CRM and Deals can do to help you achieve these goals. Get a full overview of your entire sales funnel, follow the progress of each sales deal, see what actions you need to take to win them, and compare the performance with the goals you set. Simplify the way you approach your sales and export data to CSV files in CRM and Deals! 
GrowthDot also offers other custom apps, Zendesk theme customization, and Zendesk consulting services. Make sure to check them out!
Read more news about our fresh updates!
Check the newest items!
Read more