Mass email marketing has no value now if you just send the same content to all of your target audiences. An individual, personalized approach is required as never before. At the same time, you would ask: 'So, what should I do instead, as I have many users who need to be reached?' Yeah, you have better segment your leads, prospects, and customers using specific criteria. So, you must know your customers and send proactive emails based on this. However, being a Zendesk user, it is challenging to release such a strategy, right? Therefore, Zendesk competitive plugins, like Proactive Campaigns vs Proactive Bulk Tickets, have become helpful in conducting Zendesk email marketing, and many companies have already used them.
In this article, we will compare two applications for Zendesk that are destined to create mass email campaigns. So, let's research which is better for you: Proactive Campaigns or Proactive Bulk Tickets.
Proactive Campaigns vs Proactive Bulk Tickets - General Description
Proactive Bulk Tickets
This is an application for Zendesk that helps create and send messages and emails in bulk, supporting all channels. Except for mass messages, agents with an Enterprise plan can review sent tickets and solve them in bulk. Among the necessary features, it proposes:
The usage of Zendesk's search system to find target contacts and organizations. The properties-based search is also available.
Importing an individual CSV file with a requirable list of users.
Save the necessary audience in advance to select segments for mass tickets.
The improved rich-text editor from Zendesk.
Inserting Macros and Placeholders.
The opportunity to use multi-language options and templates (only with the Enterprise plan).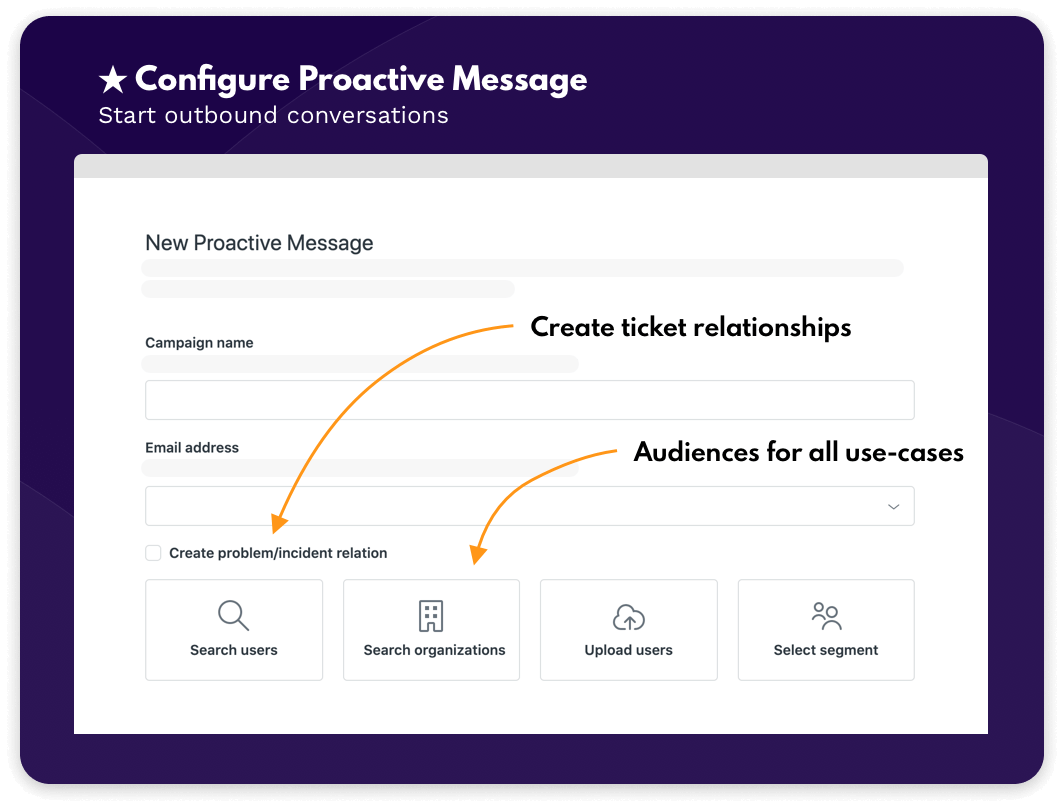 Pluses: As you see, we can highlight several helpful features. Firstly, this extension sends not only mass emails but messages, which is genuinely beneficial for proactive companies. Also, as the app supports placeholders and macros, that helps to personalize emails and save the support team time. Such options, along with muti-language and templates, allow for keeping up the well-known 'proactive' approach regarding marketing. Besides, for conservative platform users, the advantage could be the interface that looks very straightforward and close to Zendesk.
Minuses: The most inconvenient thing is customer segmentation which is vital when talking about proactive marketing. There are no options to sort out tickets. Besides, if your purpose is to create tickets that fit your brand, you will need more than just a rich-text editor.
Also read: 'Marketing to Men vs Women: 6 Dead-Simple Tips to Succeed'
Proactive Campaigns
Sending mass email campaigns and creating mailing lists are core features of the Proactive Campaigns app for Zendesk. It has a lot of customization capabilities and is suitable for productive teamwork.
Nevertheless, with the plugin functionality, you can:
Create lists with target contacts, tickets, and organizations, using specific conditions. Such conditions allow the selection of necessary items based on the Zendesk system fields and custom fields.
Send bulk emails to lists.
Upload a CSV file with contacts.
Update existing tickets without creating new ones.
Add tags for better search or to change the channel for a campaign (works if you set up triggers).
Share lists and campaigns with other agents, so they can clone and edit them as they like.
Edit the email body with the help of an advanced rich-text editor and source-code editor that uses HTML code.
Upload HTML templates.
Insert Zendesk macros that can fill in the following fields: assignee group, assignee agent, brand, ticket form, tags, custom fields, and system fields.
Attach files.
Schedule a campaign and change ticket statuses.
Send emails in bulk to test recipients to check them out.
Create mass follow-ups.
Insert ratings and collect feedback from customers.
View the statistics, manage the access levels, and adjust settings due to your needs.
Send SMS campaigns.
Pros: The Proactive Campaigns app undoubtedly has more customization capabilities. Thus, you can create any kind of email and make them look as you need, work in a team effectively, define passive customers, send follow-ups to reach prospects, encourage customer support reps to work better with rates, and analyze campaigns' efficiency.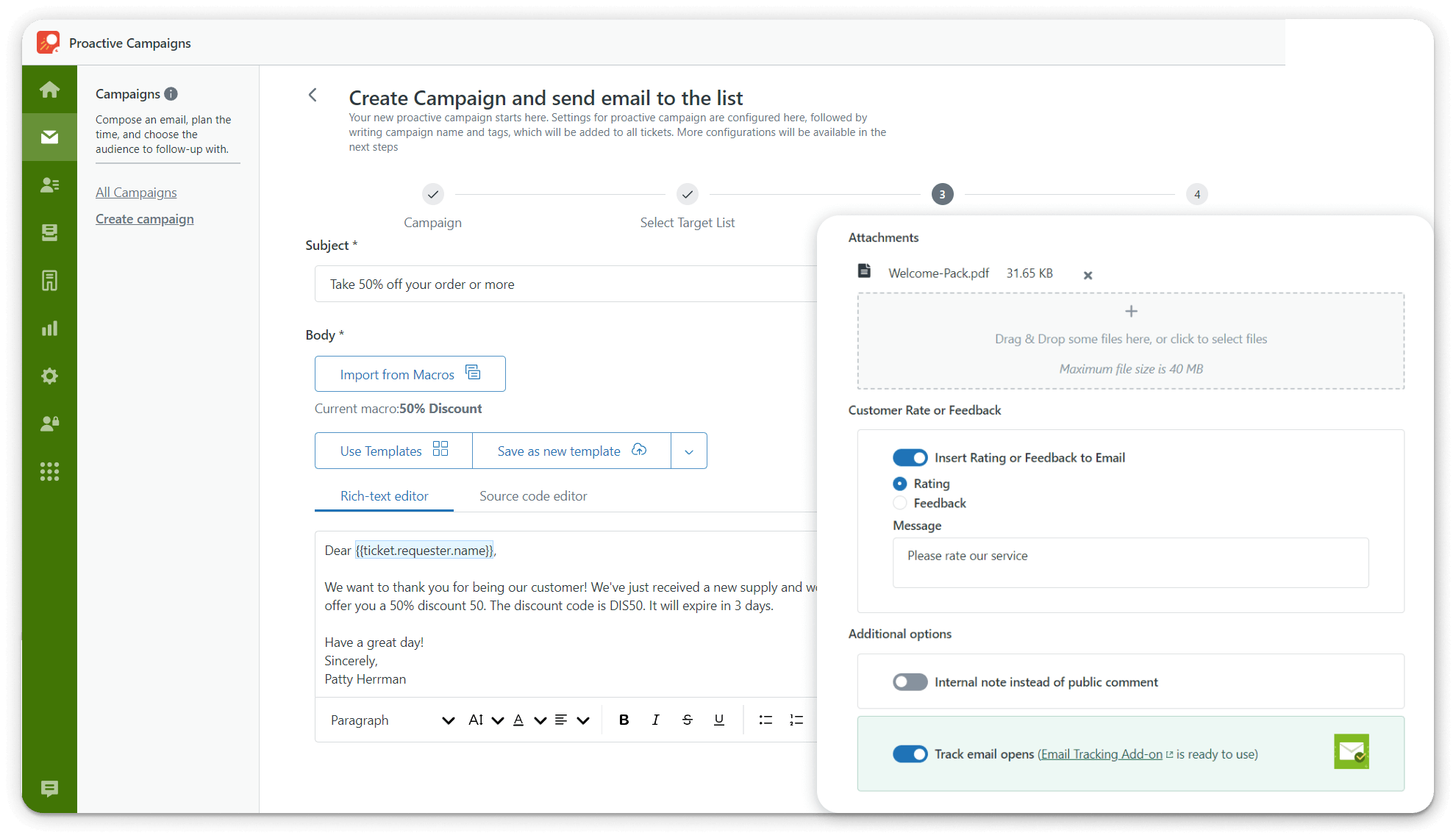 Cons: Primarily works for email campaigns and requires additional settings to send mass messages to other channels. So, the easiest way is to set up triggers or to contact the support team to have triggers configured.
Proactive Campaigns vs Proactive Bulk Tickets - Feature comparison
| | | |
| --- | --- | --- |
| Feature/Option | Proactive Campaigns | Proactive Bulk Tickets |
| Customers segmentation | ✓ | ✓ |
| Organizations segmentation | ✓ | ✓ |
| Tickets segmentation | ✓ | ✘ |
| Import user in CSV | ✓ | ✓ |
| Omnichannel | ✓ | ✓ |
| Templates | ✓ | ✓ |
| Rich-text editor | ✓ | ✓ |
| Source-code editor | ✓ | ✘ |
| Mass internal tickets | ✓ | ✓ |
| Integrates with other add-ons | ✓ | ✓ |
| Zendesk fields | ✓ | ✓ |
| Custom fields | ✓ | ✓ |
| Insert Marcos | ✓ | ✓ |
| Apply Placeholders | ✓ | ✓ |
| Run campaigns from the backend | ✓ | ✓ |
| Attachments | ✓ | ✘ |
| Schedule campaign | ✓ | ✘ |
| Insert CSAT and collect feedback | ✓ | ✘ |
| Mass follow-ups | ✓ | ✘ |
| All campaigns statistics | ✓ | ✘ |
| Access restriction levels | ✓ | ✘ |
| Teamwork | ✓ | ✘ |
Price
The final part of the comparison is the cost you would spend on the application. Proactive Campaigns has only two price plans, and all features destined above are included in the LITE Plan, except the CSAT survey. Also, it has some limitations in emails to send.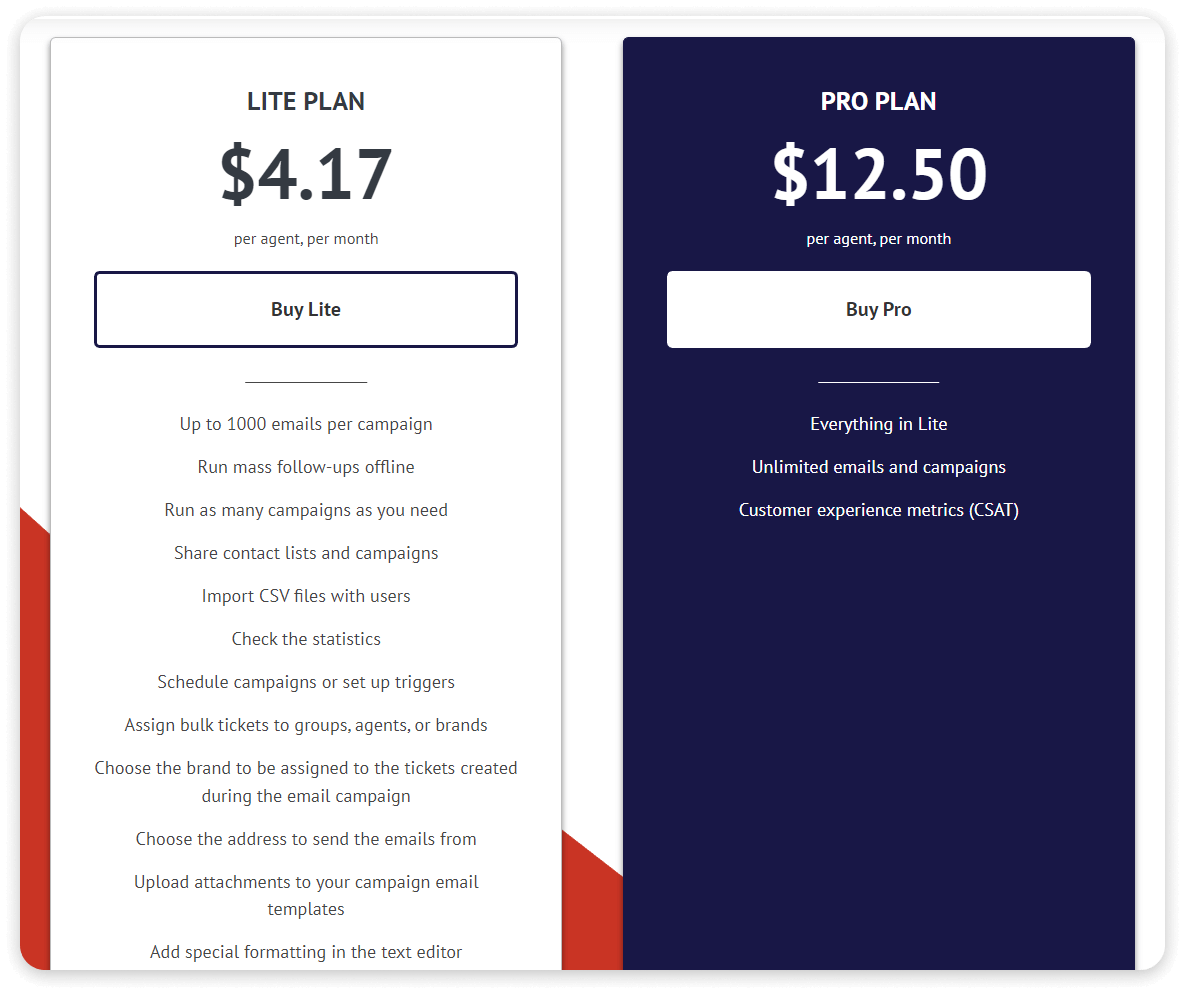 On the contrary, Proactive Bulk Tickets has three paid plans with a one-week free trial. However, the range of features available depends on the plan, and the full functionality is offered by the Enterprise Plan.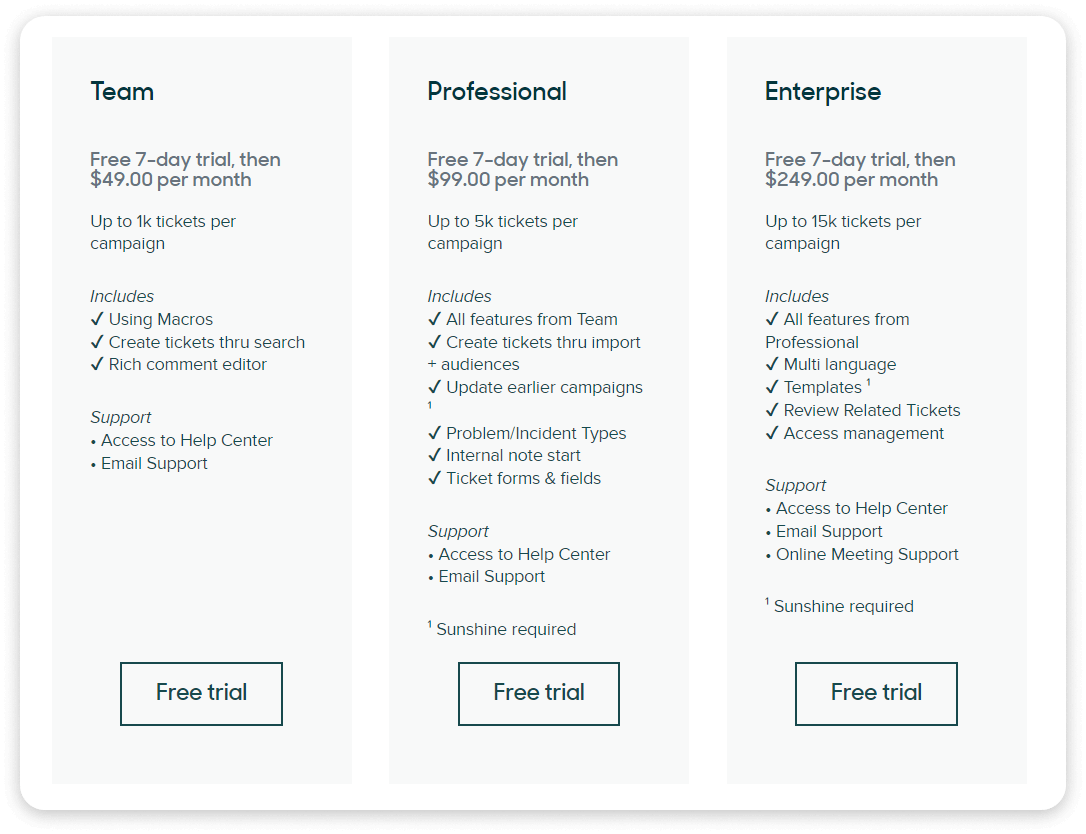 Wrapping up
Well, we figured out the core features of both applications, so choose what fits you the most and enhance your email marketing in Zendesk! Also, get to know the Email Tracking application that perfectly complements your mass email marketing strategy.
Want to know more about the proactive marketing?
Learn with us!
Read more