When a help desk platform does not solve our queries, we visit the Zendesk app store. This is where over a thousand plugins try to offer a personalized solution. However, choosing one of the Zendesk apps and finding what can help you increase the support team's productivity may be challenging. We also want an application to grow our income and help in product/service promotion.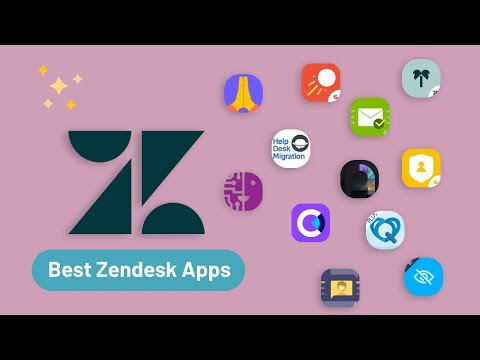 Therefore, we did a little research and selected the most prominent Zendesk apps. Each of them has its peculiarities and killer features. So keep reading to delve deeper into it.
Zendesk apps - Data Migration
If you start your path with Zendesk after using another help desk platform, this application will be your time and cost-saver. The main advantage of this application is that you need no code to move necessary data from one platform to another. The Migration Wizard will do everything for you; you only need to set up the records transition in a few steps. Besides, you can migrate default and custom fields from an instance, and the app helps match these fields across the old and new help desk.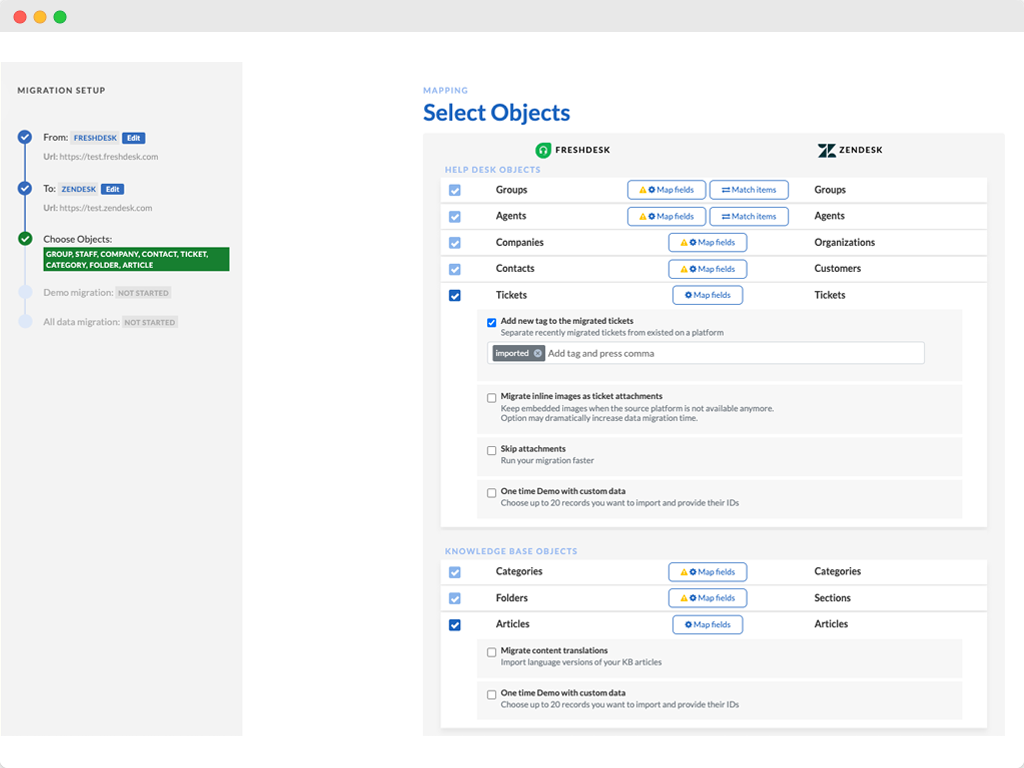 Moreover, it is possible to:
create new custom fields while the mapping process;
schedule the migration activity;
include or skip attachments;
use customization features.
Thus, it's not even the complete list of what you can do. If you got interested, choose a Free Demo and migrate 20 items to Zendesk.
This team made migrating over 100,000 tickets easy. I would highly recommend and would use them again in an instance. Some partners make all the difference to the success, and this team is one of those kinds of partners.
Zendesk apps - Tickets optimization and feature complementation
Almost every agent knows how frustrating it is not to know whether the recipient read a sent email. And now, a lot of tools are aimed at solving this issue. The Zendesk app store offers the most convenient tracking extension for Support – Email Tracking, which:
tracks email opens and notifies about this;
counts the time taken to open an email by a ticket requester;
offers the best time to send an email based on the customers' activity;
gathers and processes the data from all tickets and transforms it into statistics with line graphs.
Another advantage of the email tracker app is that you can track links applied to emails. It contains similar information as tracked emails. Besides, agents can see the statistics data for each link separately and vice versa.
This a great app. We can quickly identify when emails have been read by customers, which helps us to retarget customers and also allow us to track that important information has been received by including delivery and invoice instructions. The support and Development team also responded with great speed and efficiency when we encountered a small issue. Choose this app over any others!
Another Zendesk Support app worth your attention is a tool for sending mass email campaigns. As Zendesk itself does not provide mailing lists and bulk email, Proactive Campaigns complements it. By the way, Proactive Campaigns is the alternative for Zendesk Connect, which was closed on October 31st, 2021. This app is even more advanced and helps agents to:
Create target lists with users, tickets, and organizations.
Send mass emails to specific audiences.
Import a CSV file with requirable users.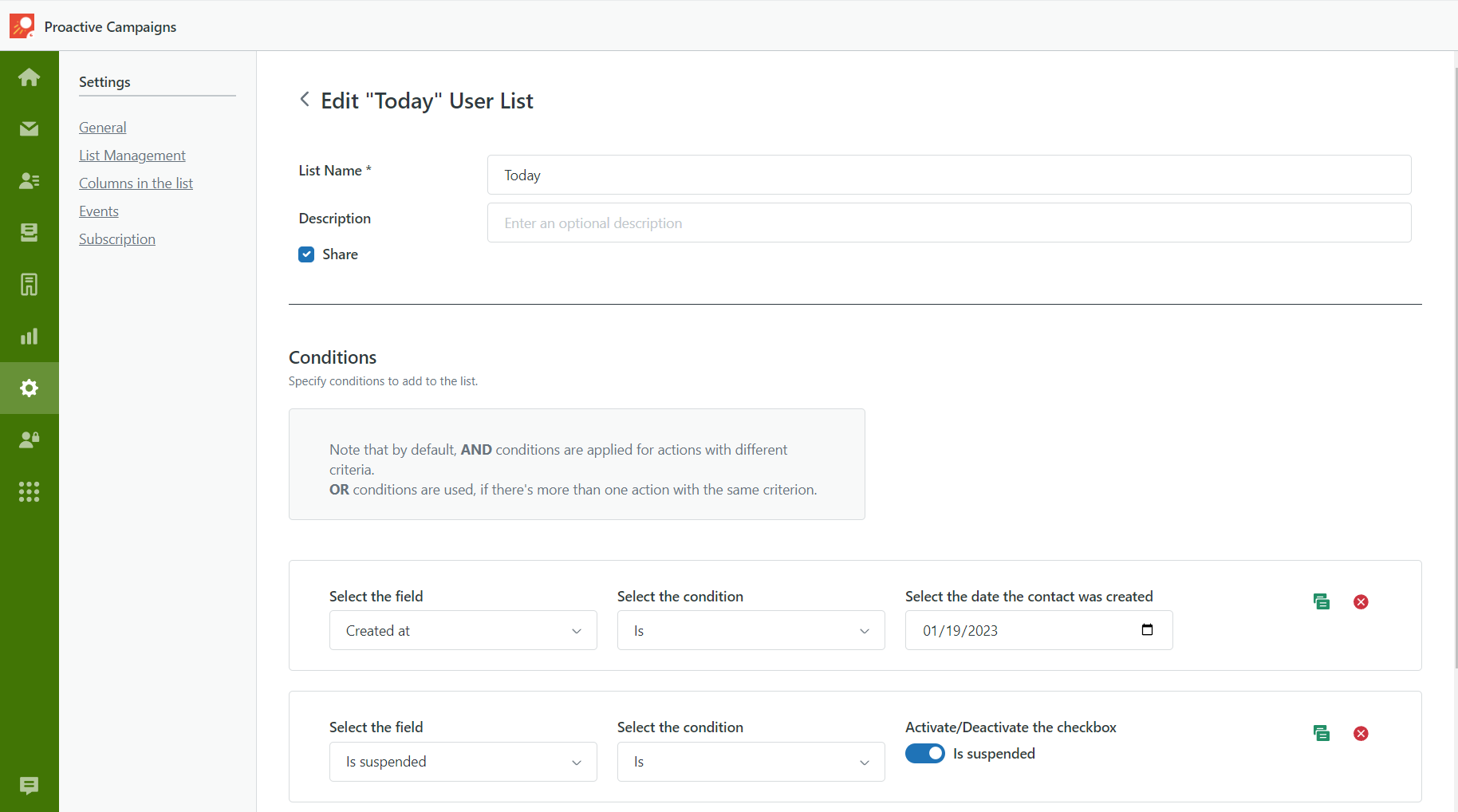 Besides, there are a lot of email customization functions, such as:
The email editor panel;
HTML code editor to use the full range of body customization opportunities;
HTML templates loader;
Zendesk Macros;
Files attachment.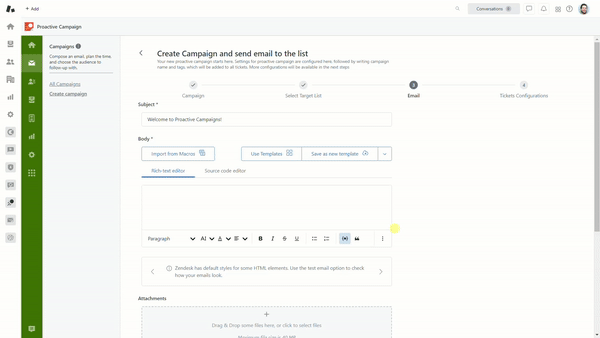 Also, you can select a ticket form, brand, assignee, alias, add tags, and share a campaign with colleagues. And finally, there is a Statistic page where all key indicators are gathered to see your email campaigns' success.
This app suits my needs and makes sending our backorder emails easier. Very easy to set up, and customer support is very responsive. I like the ability to use placeholder variables and format the outgoing message.
Customer support agents process an impressive amount of tickets every hour. Because of this, many ticket fields are set on the sidebar. This causes a messy working area that also influences the ticket assignee's productivity. Some of the ticket fields the agent needs to fill manually, but others can be filled out automatically because of triggers or tags. Such items are crucial for ticket arrangements and search, but agents are optional to see them.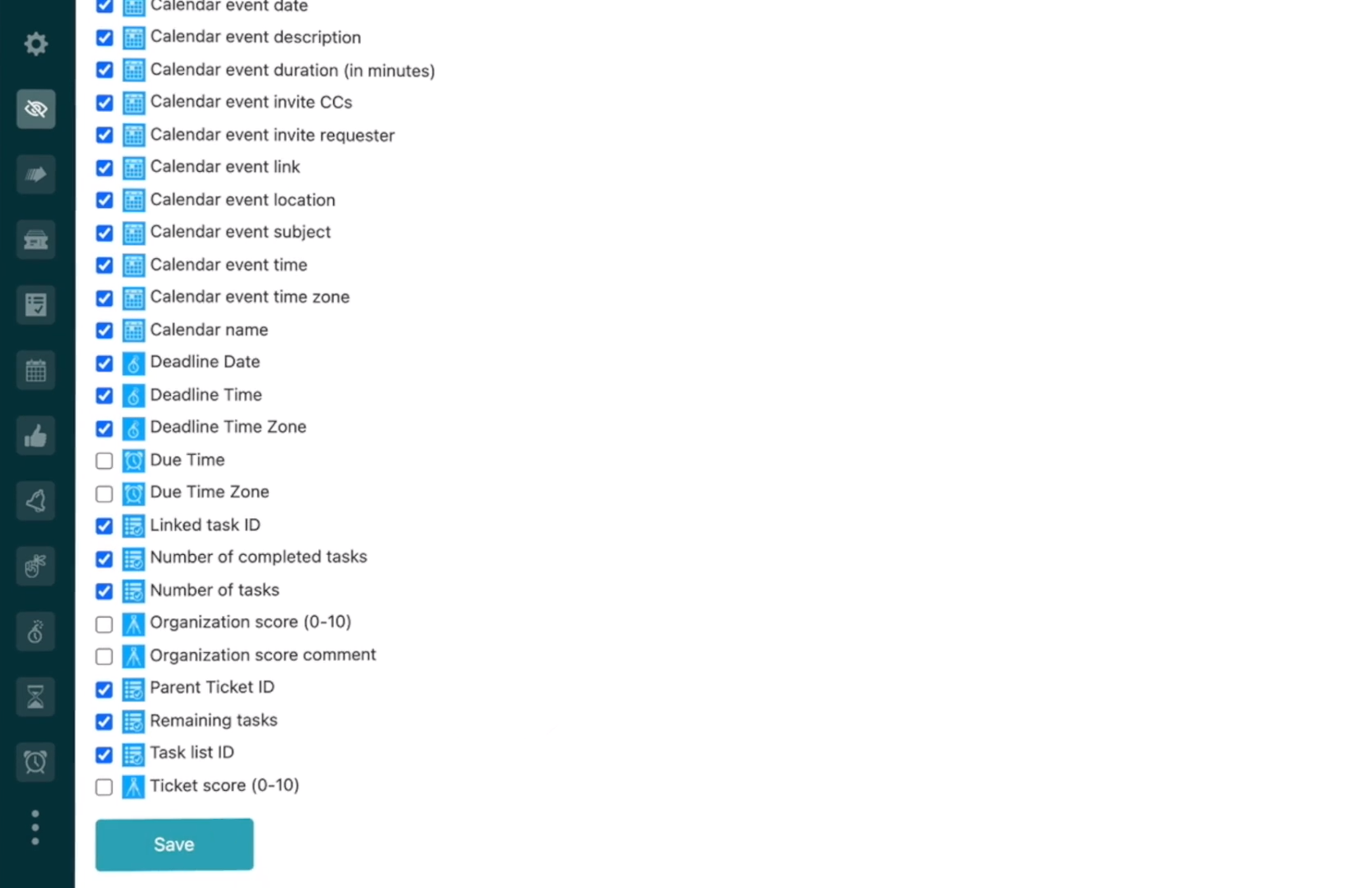 The Hide Ticket Fields plugin solves this problem. You only need to install a Free app, select the fields you want to hide from the agent interface, and save your choice. That's it. Super easy but helpful.
It was able to do what exactly we needed done - hiding fields which agents do not need to see to declutter the left panel. Amazing!
Sending 'Thank you' messages might be a little annoying for customer support reps as it takes quite a long time to respond to all tickets. However, the Thank you app is a beneficial and time-saving tool. The application workflow is next:
First, it goes through a solved ticket and detects the keywords and phrases that require a 'thank you' response.
Next, the app ensures there are no additional queries.
And finally, the ticket gets a 'solved' status back and sends a 'thank you' message to a requester.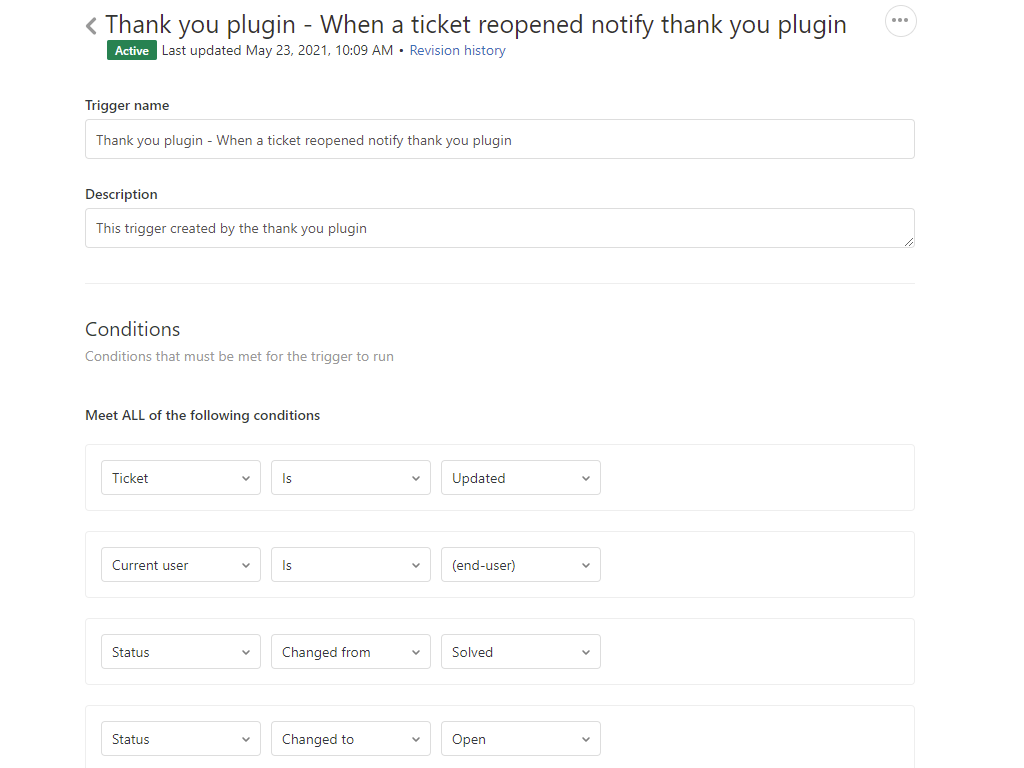 Such a function will fit you if you work with a thousand tickets daily and would like to increase your efficiency. Besides, the plugin does not store any data. All the information is deleted after the ticket has been processed and completed. In addition, it's free now, so it is the best time to try it out (consider that the price plan may be changeable).
The app is really useful. It helps us solve tickets much more efficiently than before, and frees up the agents to focus on important tasks instead of responding with a thank you. I'm blown away by how much time it has saved us.
Zendesk apps - Management and Arrangement
We all love games because of the enjoinment we get from passing the task or going to the highest level. Such kind of tool you will find on Zendesk App Marketplace. The Zendesk integrative platform Kaizo involves your employees in the game, where they have missions, weekly goals, and more. It also provides customization options, so you can set up the quality criteria to evaluate the agent's performance and increase their KPIs. In short, the platform offers:
The skill level system is based on agents' quality, productivity, and speed. Therefore, agents can set weekly personal goals and try to level up. For managers is a fast way to monitor the strengths and weaknesses of each agent.
Data gathering with real-time updates and regular reports.
Missions for agents to present them with clear goals and motivate them.
Notifications that contain the agent and team performance information.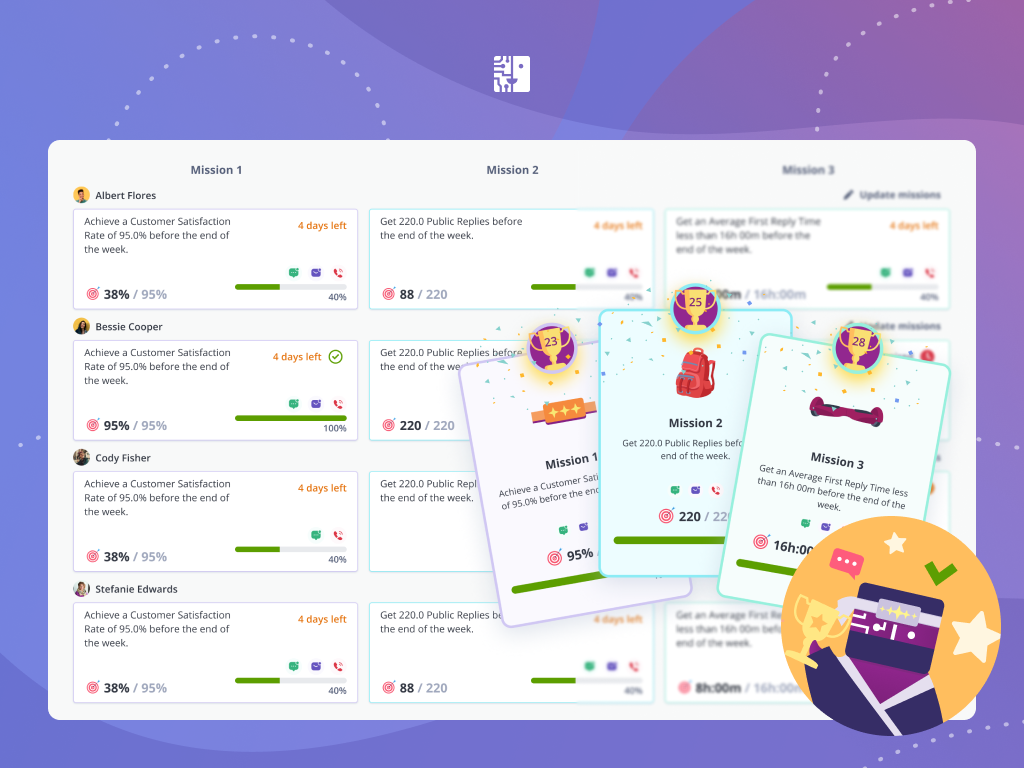 Kaizo is a wonderful software that helps us track our support agents' KPIs and activity in a pretty advanced way, and keep an eye on the Quality of the agents' replies at the same time. The metrics are presented in a clear, user-friendly manner. In most cases, we can see not only the metric itself but even check the list of tickets included into it. A fabulous finding of the year for our team! Saves a lot of time, crystal clear and transparent for agents and QA/QC managers. I am more than glad we found this solution instead of Google Sheets. Other similar services are not even close to Kaizo. Helpful tool with extraordinary assistance for everyone in the support team. Highly recommend!
When your agents' amount grows, the number of views in Zendesk Support increases proportionally. As a result, your agents see a messy, unorganized views area. Moreover, the Views page opening routine turns into hell. If you face a similar struggle, then Quickie PLUS can help. The application provides:
Quick and convenient access to all views over the Zendesk platform.
The views order structurization that depends on agents' needs.
The search by keywords.
Tickets bookmarking.
Additional views such as 'Suspended' and 'Deleted.'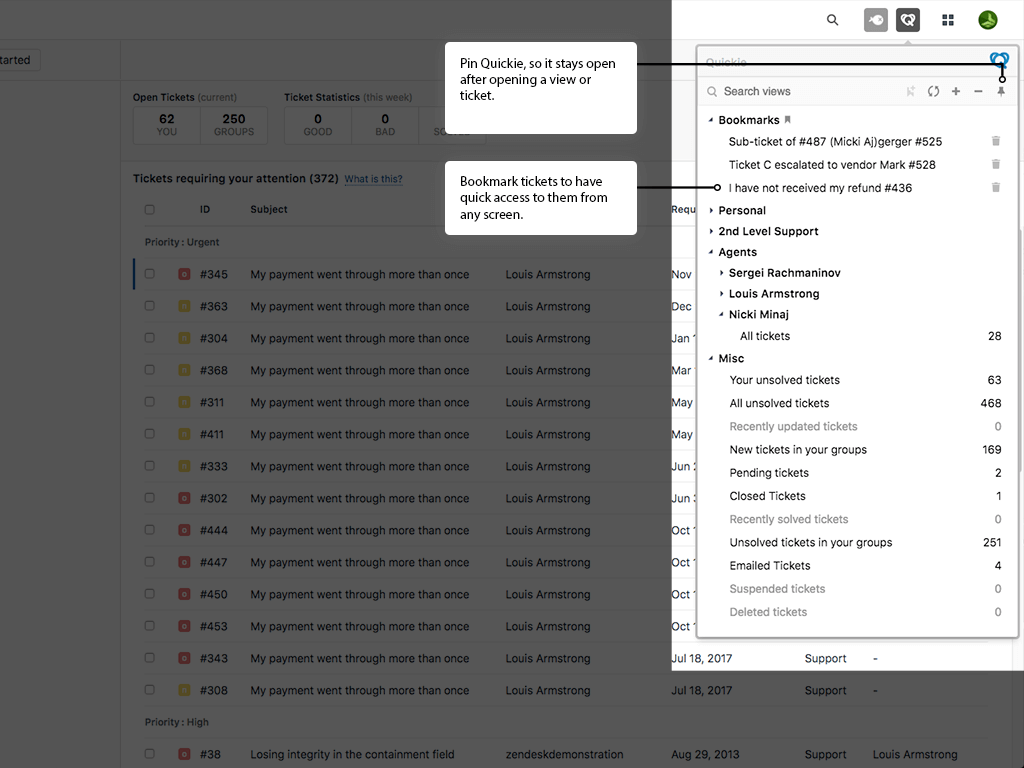 With this Zendesk app integration, you will get a satisfied and more productive customer support representative.
We have been using Quickie Plus for years now and couldn't live without it anymore. In a complex work environment consisting of multiple brands, languages, and teams, it is the only way to get a quick an effective overview of the different views. Our agents and team leads love it. The one time that i needed support, they have been outstanding.
Trello is one of Zendesk's plugins created to boost project management, where team members use Workboards and Cards to track the project's progress. If your team prefers working with Zendesk and Trello, you can combine these platforms and:
Streamline task management by adding tickets to the Trello elements.
Speed up the task-solving process.
Expand the opportunities for collaboration with the support team.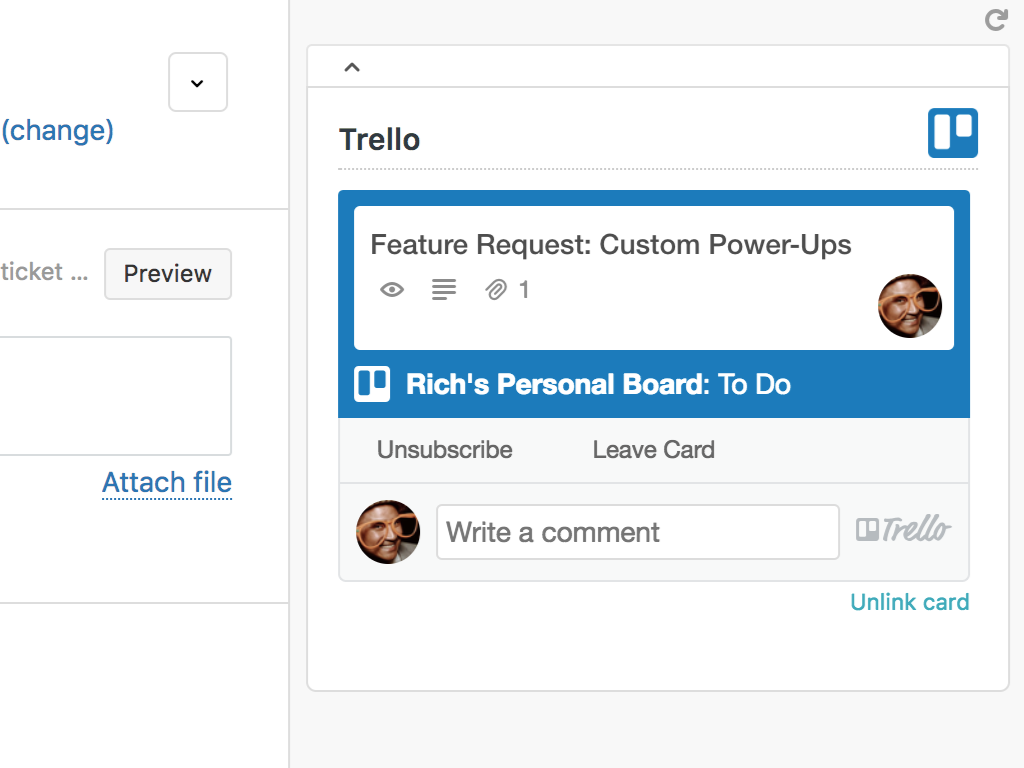 After Trello is integrated with Zendesk, you will see the app on the right-hand side of the ticket. There you can specify where a ticket will be inserted - the Board, List, or a Card. As you see, the ticket pairing process is as straightforward as possible.
With Trello we identified our tasks priority and that helped us to increase productivity.
The Jira software creates a Zendesk integration which is one of the most convenient and user-friendly tools for workflow optimization, issue tracking, and project management. With the Jira plugin installed, you can robust the support and engineering teams' collaboration. Besides, the general work principle is predictable: a support team links necessary tickets to Jira issues. This way, your engineers will be notified speedily about the technical problems your customers face with.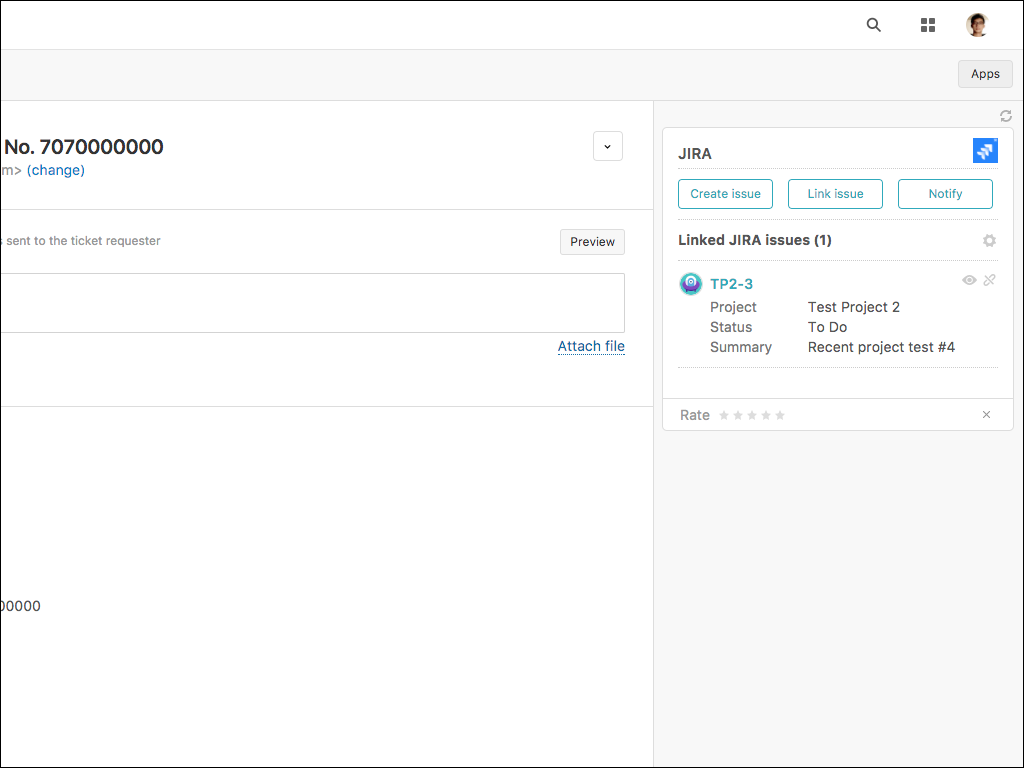 After a support team links the ticket to an issue, the responsible engineer will beagle to look over customer conversations. Therefore, defining the issue core becomes easier for both support and engineering members. To sum it up, the Jira app proposes the following features:
A new issue creation.
Linking issues to tickets.
Notifications.
I was having the same issue as Jamie and Tracy in the reviews below where I needed the inline pictures/attachments and full comments from the Zendesk ticket to appear in Jira. I couldn't figure it out then I "found" the solution hiding in plain sight. On the Jira ticket, just before the comments area, look for "Activity" then below that it says "Show:" and a few buttons off to the side of that - mine includes All, Comments, History, Work Log and Zendesk Support. Click "Zendesk Support" and boom- there is the full Zendesk ticket comment history INCLUDING the inline screenshots and attachments sent by the customer! So good! Now I just have to tell my dev team to click that button to see the history of the ticket from Zendesk.
CRM Substitution
If you are looking for a CRM tool that is for a reasonable price but provides you with enough functionality, it could be CRM and Deals app that integrates with Zendesk Support. It is an awesome alternative to Zendesk Sell. With this application, you can create and manage pipelines just from Zendesk Support. Besides, there are a lot of customization options and automation. Moreover, in case you use any other CRM platform, GrowthDot can migrate all necessary data to Zendesk so that you will continue the sales processes with no interruption in workflow.
Among the benefits is the soon-coming feature that allows sending mass emails from the CRM and Deals app, and if you think the app doesn't have specific functionality, the dev team will add such a feature to the application. You will pay no money for this, so that is a really good deal.
Zendesk apps - Data Security & Reputation
Do you know what to do to prevent the accidental loosing of €20 million or 4% of the company's worldwide annual revenue? You can spend hours manually deleting data in Zendesk to comply with General Data Protection Regulation developed by the EU. On the contrary, you can use the Zendesk GDPR Compliance app to process data in bulk, saving tremendous time. Work wisely, not harder. This straightforward application proposes:
Users, tickets, and organization segmentation to create different lists.
List combination (for example, delete users based on their tickets activity).
Complete and permanent data deletion.
Sensitive personal information anonymization.
Data retrieval, so it is pretty easy to send personal data on a customer's requirement.
GDPR data processing using a CSV file.
Automation configurations to schedule GDPR deletion/anonymization.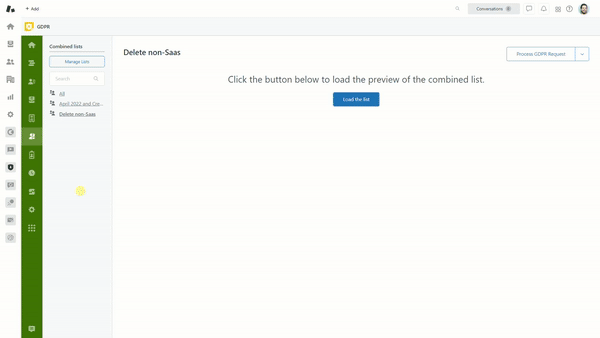 The app is exactly what we were looking for. Straightforward to set up, automation for data deletion and anonymization. I am really happy with the anonymization feature, because it ensures we are GDPR compliant and we do not lose reporting data from several years ago.
Excellent reputation is what your customer puts first when choosing a partner or supplier. On the contrary, businesses become more and more attentive to their customers. If you need to prevent a support team from working with lawbreakers, this Zendesk plugin does it perfectly.
With the Sanctions Check application, you will be able to:
Do an advanced search for individuals and organizations over OFAC and OFSI sanctions lists. No need anymore to hire a third-party agency or investigate by yourself.
Use the widget on the ticket sidebar to get the search faster.
Add internal comments to tickets, so other agents will see what reputation has its requester.
Upload a unique blocklist with customers you do not work with.
Zendesk apps - Support Enhancement
AI Chatbots are a big trend in 2023, so companies invest in Artificial Intelligence and Machine Learning even more now. Ada is a Zendesk AI-powered integration that replaced the first lone in the customer communication process. The assistant helps resolve nearly 80% of queries automatically, reducing the customer support load. This way, Zendesk agents get more energy on solving urgent and high-priority tickets, leveraging the quality of provided service.
With an AI Chatbot, there are more self-service opportunities appear for customers. Considering this, they can get the answer quickly and at any time. It is essential because your company's time zone can differ from a customer's.
Among the benefits that agents will get:
Access to the AI Chatbot with the function of preventing the conversation flow interruption.
Ticket automatic updates.
Omnichannel possibilities include Ada's presence across different communication channels.
The interface and ability to program the bot was very intuitive. The possibilities for multiple options and integration are endless. We've only scratched the surface of all the ways ADA can assist our customers in a more user friendly interaction. The deflection rate of customers coming through ADA is as advertised.
Sometimes agents from customer support feel that just words are not enough to solve a client's problem. Misunderstodness is a natural thing, but how to avoid it? Among other Zendesk apps on the marketplace, the Video Reply tool can enhance communication between customers and agents.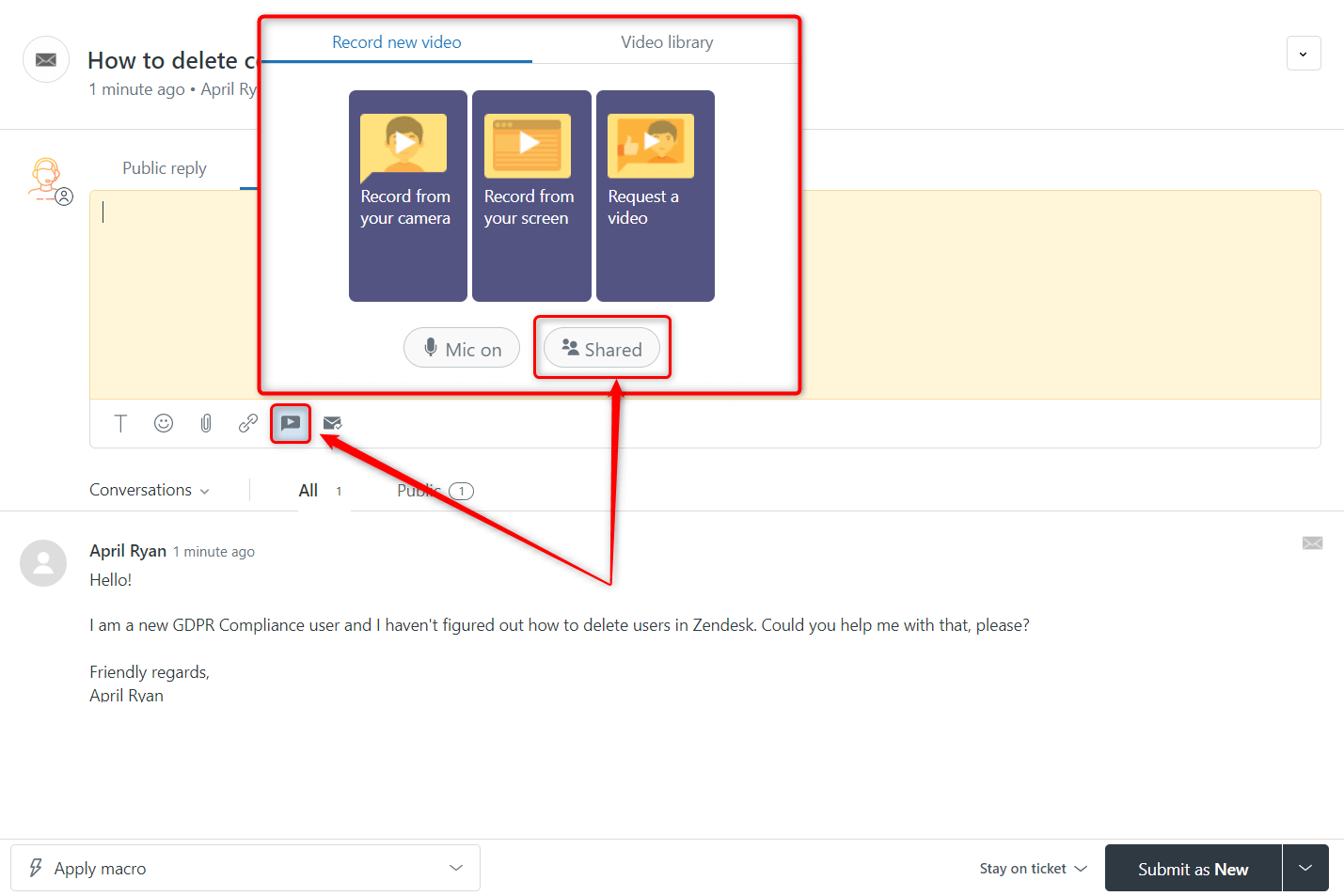 The video recorder helps agents:
Make quick and informative tutorials and send video messages.
Sends a link to a ticket requester that enables them to start recording a screen or a video. No tool installation is needed.
Customize video previews according to the company brand color, add a logo, general info, links, etc.
Store recorded videos in the Video Library.
Share videos with other agents and use items that were shared with you back.
Wonderful tool. There are so many situations when it's so much easier to create a quick video than to try to write stuff out. I've been using it almost every day lately.
Zendesk itself created this application to facilitate tickets assignment between agents. The Out of Office can do this if you need to prevent tickets from assigning to an unavailable agent. It works based on the support rep's availability. The main functions are:
Presence management. Every agent uses a widget on the ticket sidebar to confirm their availability.
Monitoring. Admin can view a separate page with all agents and check their availability status.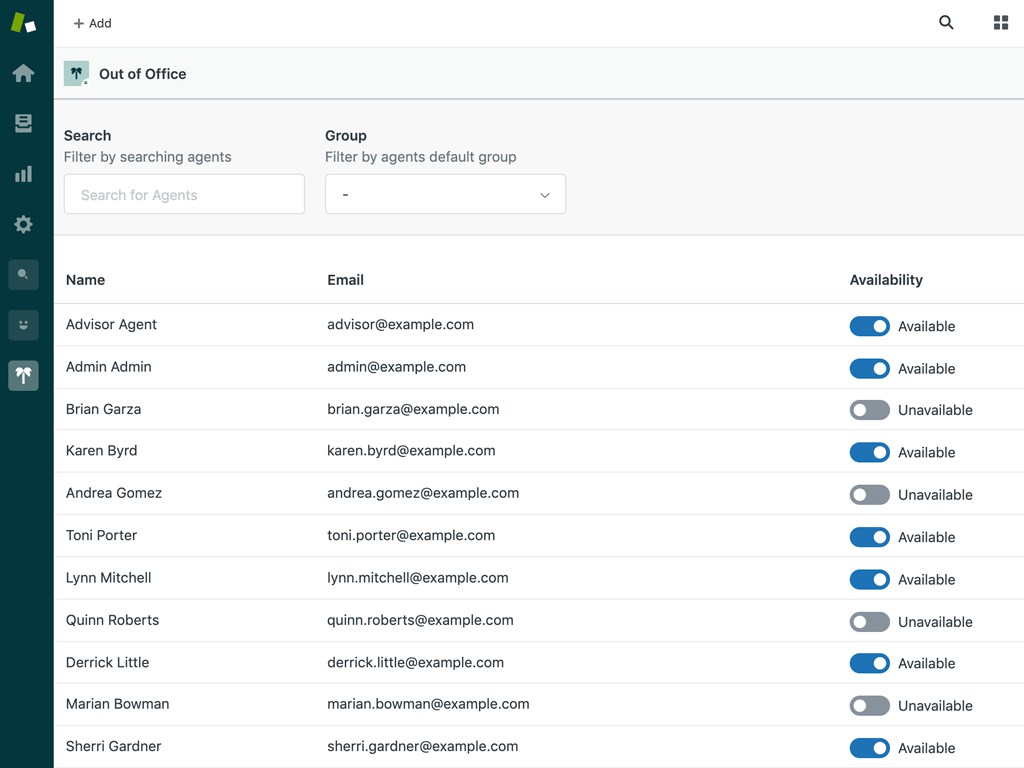 By the way, if the agent is offline, but the customer updates a ticket, the extension unassigns an 'open' ticket by default.
Like the app, would like to see the ability to set your status in the mobile app as well though.
Wrap Up
So, each application solves separate queries, but all of them aim to make you and your support team's lives easier. No matter what you choose. All these Zendesk apps earned popularity among Zendesk users and proved their reliability. So, we hope you will find what you really need!
Want to get more about Zendesk?
Read articles in our blog
Read more