Aalborg
Custom theme for Zendesk Guide
Make your Help Center more appealing to your clients with the Aalborg theme. Easily change the look of your theme depending on your needs.
Tax Includedinfo
You only pay onceinfo
It does not change contentinfo
This is what you get with our theme:
Aalborg theme is our newest product, so the latest UI design trends affected its look. The theme is visually appealing and simple at the same time. Aalborg is concise enough to fit any brand or industry and underline any corporate style. On the other hand, with Aalborg, your help Center won't take away all attention from your brand.
Functionality is the main feature, and that is exactly what you and your customers need. They get an excellent self-service hub, and you get a high-adjustable and fully compatible Zendesk Guide template.
Use an editor to change colors and fonts simply. The theme is modular, so all that can be done without coding. Add links in the footer or header to your social account or other resources to provide your customers with more information.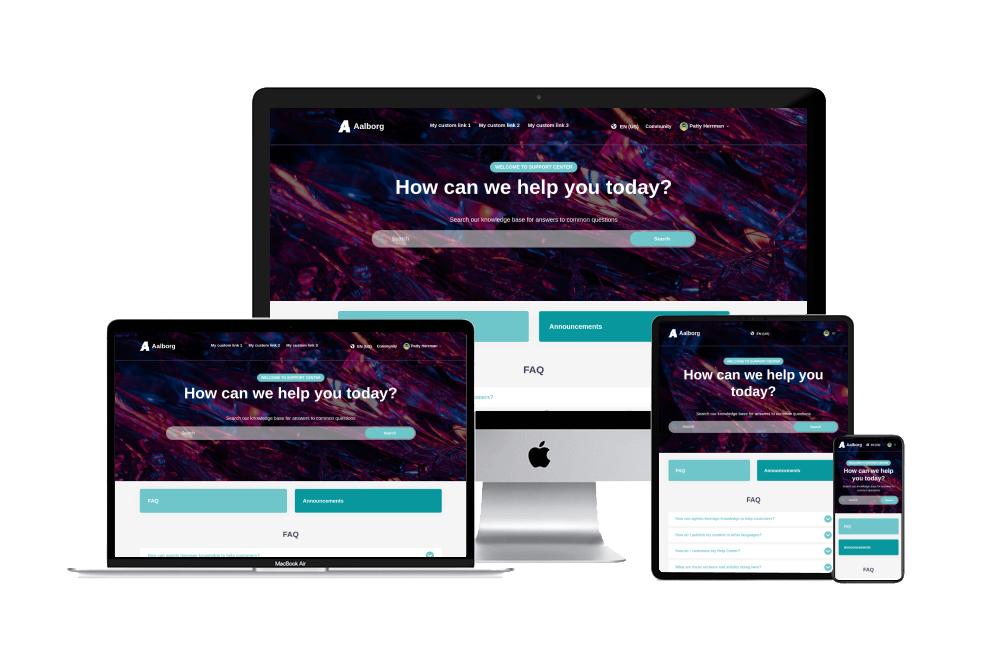 Multi-device theme
We accounted that more than 60% of all users are surfing the internet via tablets and phones, and this number increases year by year. Therefore, Aalborg will work equally well on mobile devices and desktops as a one-size-fits-all solution.
What about browsers? Your experience will be the same no matter what browser you use: Firefox, Chrome, or Safari. In addition, the theme comes with a completely bug-free warranty, so you have nothing to worry about, as your theme will always work perfectly.
Exclusive formatting element for best experiences
Even the best plain texts can lose their readability because of bulky formatting or due to their total lack. Besides, white space may not always cover your need, especially if you want your customer to notice the specific statement or warning. Thus our developers created fantastic elements so that you can highlight what is the most crucial. So enjoy using callout blocks, Table of content, and icons.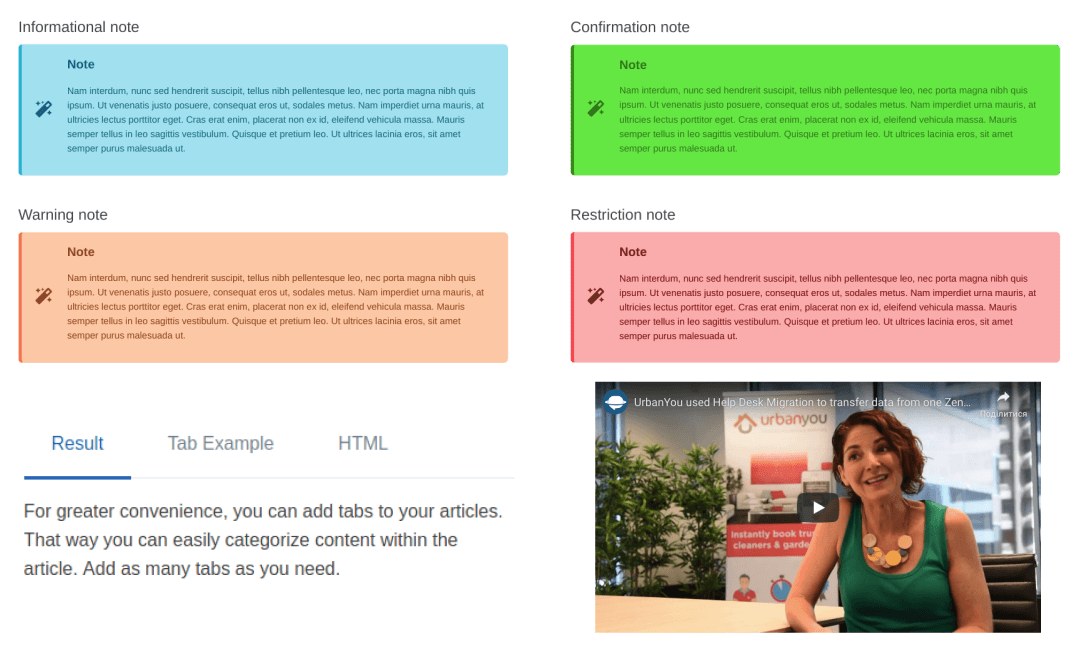 Why is it easy to work with us
Branding
We provide tools for changing colors, hero images, fonts, icons, and homepage layouts in all our themes. In addition, you don't need coding skills as you can do everuthing in the editor.
Need more time for branding? You can always order Branding services from us. So give us your brand book and wait a bit for the result!
Installation
Themes come with free installation services, so you can enjoy a hassle-free experience.
You don't have to wrestle your system when we can handle everything.
Oh, and if you're a hands-on type, check out this mini-tutorial here.
Customization
Customizable and clean code is one of essential features of any product. If you have some HTML and/or CSS knowledge, you can make Aalborg even more unique.
However, the Customization service is for you if there's no developer on your team. Or you may want to take the burden off your shoulders and concentrate only on customer support.
Features of the Aalborg theme
Instant Access
After purchasing the theme, you will receive the import file within 3-5 minutes. After that, it is ready to be downloaded and installed at once, and if you wish, it can be customized.
Complete Zendesk Compatibility
We ensure that every code line and element creates a perfect tandem with Zendesk Guide, as we are certified Zendesk partners and have more than six years of experience working with Zendesk. Even every nook and corner of the page you need to be made aware of works properly with the Aalborg theme.
Demo For Everyone
Use live demo tool to see what to expect from the Aalborg theme. Using it, you can test certain elements and see whether they work in your environment.
Crystal Clear Codebase
There are no more bugs, errors, crashes, or abnormal behavior. Our themes are tested multiple times before they are released. Using Aalborg will be easy from the start since it is not only tested but also well-organized.
Awesome Icons Included
Aalborg has a unique set of icons (over 700 included) from Font Awesome. Use them to boost up your homepage, articles, and even profiles.
Advanced Branding
With our themes, you can customize your branding in several ways. Aalborg allows you to do more with your Zendesk and extend its options. A wide variety of branding options are available to you, either doing it yourself or buying it from us.
Installation Included
We offer a free installation service, so don't worry about the incorrect process and save time.
Multi-lingual Content
It is possible to display titles, buttons, and other elements in multiple languages through Dynamic Content. Provide global access to your help center.
Support For Extensions
If you want even more customization options or some extra features, you are in luck. Aalborg is suitable for all kinds of extensions.
Learn About Other Features
Services for Zendesk Guide