Email Tracking
for Zendesk
— Get a read receipts app for your Zendesk.
Sales and customer support is a grind. Our app is developed for tracking email opens on Zendesk and making your life easier. Get a clear understanding of your open and reply rates. See which leads are more solid and be more consistent and proactive with your outreach, so you don't miss an opportunity.
Add structure to your day with the help of our Zendesk tracking app
Make the most out of
your sales and support emails in less time
Track email opens in Zendesk with accurate read receipts
Know exactly when to send a follow-up
See what types of replies make people engage
Visualize and analyze the overall and individual performance with in-depth reports
Track email
opens with ease
The app creates a read receipt with the exact time and date to let you know that the email has successfully arrived at its destination. You will also see how many times each Zendesk support email was opened and when was the first or last time anybody opened the email. Works even with messages running around the Agent Workspace!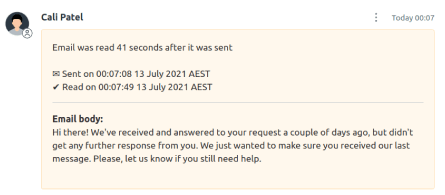 Receive desktop notifications

Do you send a lot of time-dependent Zendesk emails? With notifications turned on, you will get an instant notification about the read email and will be able to create an automatic follow-up to reach out to your customers when they need you most. Decrease ticket resolution time but increase customer satisfaction instead! The notifications can be disabled at any time.
Analyze who clicked on the link from the ticket
Available only in Pro plan
Meet a new advanced option - link tracking. It goes together with email tracking, so you get two read receipts. One of them is with link tracking info. Mark one or several links and get the internal notification with the exact time of the link following. Also, check out link opening activity using link tracking reports.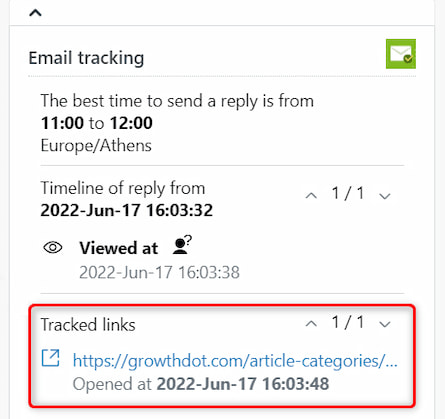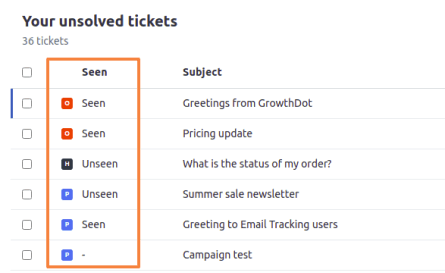 Step up your
follow up game
Zendesk Email Tracking tool creates a custom ticket field, updated automatically. You can create custom views around these fields to segment customers who need a follow-up, who react well to emails, and customers who require a different approach. Or, you can add Seen/Unseen columns in specific Ticket Views to highlight the opened and unopened tickets from any Zendesk view. Everything is made so that you don't even have to enter the ticket to know if it's been seen or not!
Send
replies at best times
Email Tracking analyzes and track email opens and customer replies to suggest the perfect time for replying. This information is displayed directly in the ticket sidebar, so you'll know precisely when your customers are most likely to read your message right away.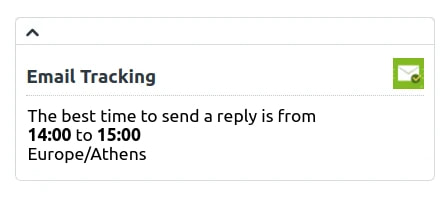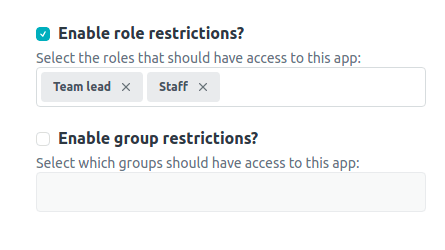 Control
who can use the mail tracker app
Our email tracker app is seamlessly integrated into Zendesk. Therefore, you can limit access to the app according to the default settings of Zendesk. Restrict access for certain roles or define the groups who should be able to use an Email Tracking app.
Comply with the gdpr
Click a single toggle to turn off tracking email opens on Zendesk for recipients who live in the European Union. Make sure that your email sales and support activities are GDPR compliant without putting in any effort.
Analyze performance of zendesk email tracking in detail
Get a better understanding of how your replies perform. See what macros work better, what types of replies users react to the most, and check the overall open rate across the company and each individual agent. To be more precise, here's what filters you can choose to get insight into your email activity performance:
Agent - analyze the performance of all agents, or specifically chosen ones;
Group - choose one of your groups to see the overall performance of its members. Or, you can also choose the specific agents within this group to view the data for;
Time - choose a custom date range and display the results daily, weekly, or monthly;
Macros and Triggers - if you use pre-defined ticket answers, it'll help to see which ones work better and which need a review;
Tags - see which emails work better for which recipients.
All Reports are downloadable to the CSV format, so go ahead!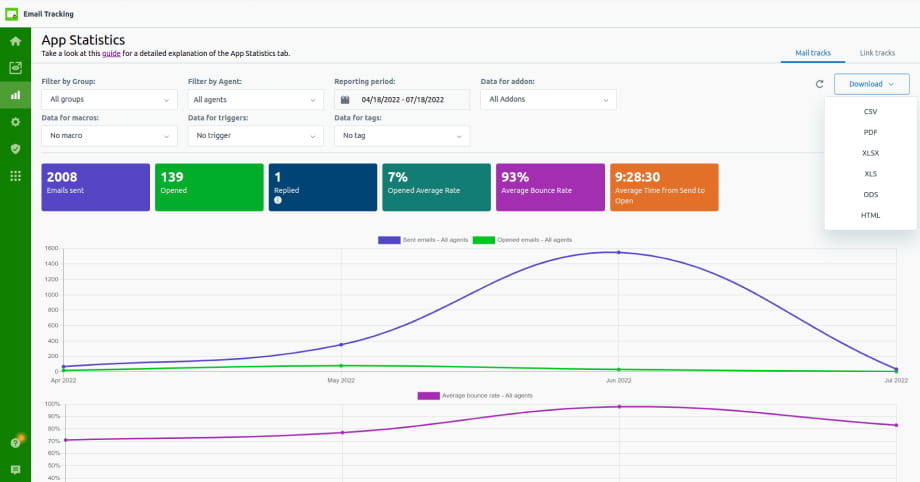 Automated Blacklisting
Email Tracking app seamlessly blacklists agents in order to prevent them from accidentally creating a read receipt. You will know for fact that email opens are tracked correctly.
Simple Installation Process
You can add read receipts to your Zendesk Support account by merely a single click! There is no hassle of filling out any additional forms to start email delivery tracking.
Clear Pricing Structure
The app costs only 2 dollars per agent per month. And you get a free 7-day trial. There are no additional hidden payments or long-term agreements. Subscribe and cancel anytime.
Safety comes first
We guarantee private data security and we don't collect or retain any information
about you, agents, or customers, except:
Your Zendesk subdomain, and its URL
Agents IDs and their authorization tokens
Agents IPs to exclude their open events
Tracked Ticket ID
Custom field IDs which are required for this add-on
Comment and Macro ID
Transparent fee
Simple pricing
Billed Monthly
Billed Yearly
Lite plan
$2
$1.67
per agent, per month
per agent, per month
Buy Lite
Track the delivery of sent emails
See the exact time and date of openings
Check how many times your message was opened
Real-time receipts and a timeline with tracking info
Send replies at the best times
CCs and followers tracking
Define the device type used to open the email
Automatically add ″unseen″ and ″seen″ tags to tickets
Check in-depth reports
Adjust settings to fit your workflow
Be compliant with GDPR and CCPA
PRO PLAN
$3
$2.50
per agent, per month
per agent, per month
Buy Pro
Everything in Lite
Link tracking option
Change link tracking parameters
Advanced statistics with link tracking
Join 2,000+ of our happy customers that already increased their customer satisfaction level by 33%
Definitely a must-have for customer follow-up, it is very easy to use and gives much-needed information about the notes sent to the clients. And they have amazing customer support, the helpdesk has been great and supportive in helping us understand the app. Thank you!

Fantastic app that allows us to determine exactly when to follow up with the customer and to troubleshoot when we can see no read-receipts are generated.

Really useful for tracking the opens! Nice seamless integration with the platform and very helpful support team.

Wished we discovered this feature when it came out. Been hoping for this for YEARS. Excellent! And the support is stunningly good. Thanks so much, Team!

Notably swift, friendly support; clear walkthroughs as you get up and running; great data to inform decision-making without spending time fiddling with something bespoke.