According to the US National Retail Federation, this year's holiday season is very promising for retailers. The shopping spending of over $600 billion is going to be exceeded this year, and the amount of money an average person is going to spend on gifts and holiday preparations will reportedly grow from $802,45 (last year) to $805,65. Moreover, the survey findings promise great profits for the online merchants, with 46% of buyers going to shop for gifts online, which is the biggest number in the history as for now.
As a retail business owner, you definitely expect the best profits during the November-December period, just like every other merchant. But instead of simply expecting, you can act and use best practices to get the most out of the magic holiday season. You're wondering how you would do that? Well, find the smartest ideas below and make sure both you and your customers have truly merry holiday experience.
Get your website ready
Since it is your major sales tool, make sure it works properly and displays well on mobile devices, as around 38% of shoppers state they will be using their smartphones and tablets to research products. Why don't you catch this chance to engage with more customers?
Help your clients with the gift ideas
No doubt, everyone has experienced hardships when choosing gifts for some of his relations/friends/colleagues etc, and would be grateful for a tip or an idea. So, compile a list of suggested presents for different categories of people (e.g. mom, husband, best friend etc) and send it to your registered customers. Don't hurry, it's best done in the course of a few days, and preferably well in advance before sending the newsletter, so that you could brainstorm all possible variants and then select the most relevant. Complement the email with item suggestions from your store - and expect the surge of buyers.
Offer free or discounted shipping
For many shoppers, shipping rate is an important factor when choosing gifts. Presenting your customers with a smaller or zero shipping fee, you can win not only gratitude, but also bigger sales volume, and - in all probability - new loyal clients.

Offer free gift wrapping
This relatively cheap and easy to do thing can attract much more customers to your store. It can become the drop that overweight your competitors' offer and wins you a sale.
Share the giving mood of the holidays, and offer your current customers great deals on the products they buy most often. Even if you don't make much money out of it, you'll certainly win your clients' appreciation and spur their desire to recommend you to a friend.
Offer gift cards
This is not a novelty, but the idea is especially relevant to the businesses selling items or services that aren't considered gifts traditionally. Instead of watching others busy with the growing number of customers and sighing sadly, you can have your share in the fun. There are definitely people who would be happy to get a dry cleaner's gift certificate, have their house cleaned or nails done. Gift cards are also great helpers in case making the right choice among the endless range of similar products is next to impossible (imagine a husband buying lipstick for his wife, and you'll know what I mean).

Send greetings
This tip is supposed to boost your sales, but it's best if you're not trying to sell anything for now. Simply create a sincere and heart-felt greeting with warm wishes, saying thanks for being with you and send it to all your clients, even those who haven't been active for a while. It would be awesome if you could send cards via regular mail, rather than email, handwritten being the absolute winners. Still, no matter in what form, these cards should evoke positive feelings, and, of-course, remind your buyers about your business.
In a few days, you may follow up with a newsletter with your special offers and sales, and measure the result.
Extend your online presence
Most of your clients surely spend time in social networks, so make sure you're not missing out on this opportunity to engage into communication with them. Surely, it won't bring any breathtaking results if you start out a week before the holiday season. But anyway, it's never late to start. Use your existing Facebook, Twitter, Youtube, Instagram accounts etc. to let your followers be the first to know about your hot deals. Also, organizing contests is a great way to expand your audience. Make sure you have exclusive offers and discounts for your followers, which makes a great incentive to become one.
Offer product bundles
It always evokes interest if you are ready to give away an item at no cost to accompany the one already bought. It works for gifts even better. So, simply rename the "Buy one, get one free" promo into "Buy one and get one free as a holiday gift" and you'll kill two birds with one stone - help customers pick gifts for others and boost your sales.

Make them come back for more
Don't let your customers leave with simply the item they were looking for. Present them with a bonus - a discount for the next purchase, a coupon code for a special category of items/services etc. This helps establish closer relationship with clients since they will be tempted to come back soon. Using this recommendation is also going to keep you busy once the holiday season is over.
Put together a holiday "map"
When you're ready with the plan for the upcoming holiday sales - discounts, special offers, seasonal items etc, share it with your customers. Create a landing page showing what you've got in store for them. Even if your sphere doesn't exactly relate to the holidays, be creative and think how it can be made relevant and what could be of value for your customers during this period. Let them know about it - no doubt they'll appreciate your efforts.
Have you already tried any of the above tips? What are your special holiday treatment for clients keeping them happy and helping you grow the revenue? Make our day and join in the discussion below!
Every sales manager wants to be smarter and applies more creative solutions to sticky problems. You can try to motivate yourself with millions of different ways, yet still fail in accomplishing your goals. This list of must-read books for sales will educate and delight you. Moreover, you'll redefine your issues and change your work habits.
Either way, apart from deepening practical skills and assessing their effectiveness, you will affect your performance from a different perspective. So this selection of sales books will aid in uncovering the ways to boost your productivity and switch on the selling machine hidden in you.
#1 Cracking the Sales Management Code
by Jason Jordan and Michelle Vazzana
Quick Summary:
Being considered as a groundbreaking research, this book enables the tried and tested practices for improving sales team performance. The main emphasis is placed on the fact that sales reps can't manage the result. However, they can build and organize the processes that drive to the desired results. This sales book will show you how to employ the data-driving metrics and speed up buyer's journey.
Takeaway:
With this blueprint book, you will get instructive tips
Defining the main processes for effective sales process running
Figuring out how to apply sophisticated thinking and good management instead of working harder
Optimization the critical sales objectives
Aligning business goals with the actions taken by sellers
Selecting the best-tuned process flow for your team
#2 The Little Red Book of Selling
by Jeffrey Gitomer
Quick Summary:
This must-have book for sales managers that reveals the secrets of the trade and teaches the strategies of increasingly successful performance. The author describes the key elements to prove the selling, and explains why the customers actually buy. With this simple and exciting piece of reading, you figure out how to offer, give the positive response and acquire more enthusiastic, motivated approach to convincing non-decision makers. So in few words, this one of sales books that will help you to find the answers every rep is looking for on the daily basis.
Takeaway:
Turn-key methods covered in this book
Give a hint how to make people buy instead of being sold
Show real life whims of sales people with workable responses to handling issues
Enrich your performance with new, inspirational ideas
Make your sales go to with the easily explained principles
Teach how to offer the worthwhile sales journey in 8 simple stages
#3 Secrets of a Master Closer
by Mike Kaplan
Quick Summary:
Every sales rep wants to learn how to drive the customer attention and control their interest in the product or service features, as well as show them an easy way to solving the issues. This book for sales will teach you how to encourage people to buy instead of manipulating them. Here you find useful techniques and best practices for converting even the most skeptical clients. Your books for sales list won't be complete without this one.
Takeaway:
Make a life of sales manager a whole lot easier with
Depicting the specific stages of the process and steps worth to take
The approaches to keep the pipeline full and moving with gaining more loyal customers
Acquiring the deep insight into the eight sales steps
Defining the must-have parts of the presentations
The right time management to ensure you use it wisely
#4 Agile Selling
by Jill Konrath
Quick Summary:
Selling process is often seen as a roller-coaster ride, and the desired outcome requires well-tuned skills and techniques. In contrast to other sales books, this one teaches you how to develop the agile mindset for your skills upgrading and provide your customers with the outstanding buying experience. Here you'll find a new resource for building your proficiency in ever-changing selling world.
Takeaway:
Apart from practical advice, this book offers you the following assets as
The guide to learn quickly new information and show the desired results in selling
Tips on the strengthening the credibility with clients and establish more impact on their sales journey
Easy-to-implement strategies for speeding up a pipeline
The coaching art insight and tools to provide everyone on the team to win
The instructions on to win modern crazy-busy leads and prospects

#5 The Ultimate Sales Machine
by Chet Holmes
Quick Summary:
How many sales books do you refer to after reading? This one will be that useful and practical. The author suggests the 12 foundational principles of selling to smooth pipeline, keep it full and increase the number of customers. The goal of this book is to teach you how to blow of the competitors and fulfill the prospects expectations.
Takeaway:
The following aspects will impact your workflow and you will
Get the clear insight into the 12 key sales areas
Set the proper focus, targets and tactics
Improve your time and planning
Tune up every activity of your sales team and company
#6 Difficult Conversations
by Douglas Stone and Bruce Patton
Quick Summary:
Despite your experience in sales, the negative and complicated talks with prospects and customers have a place in your daily round. The desire to eliminate such incidents shared by many leaders. Various books for sales offer strategies, yet with this guide, you'll find the productive solution for these arguments and learn how to avoid them.
Takeaway:
To make the tough conversations less stressful, this book lays  
The options to improve the performance of your team
The basic skills and tactful ways for negotiating with tough clients
The tricks to stay balanced and calm during the accusations and word attacks
The principles for convincing talk instead of emotional argument win
#7 Smart Calling
by Art Sobczak
Quick Summary:
More often cold calling is seen as an old-school practice that doesn't work anymore. This sales book busts all these preconceptions and reveals numerous workable strategies for successful prospects pitching over the phone. After getting inside these techniques and tips, you'll figure out how to avoid rejections and how to make the persuasive objectives.
Takeaway:
Other books for sales may perpetuate the idea of cold calling as game while this paperback quips you with
The value and requirements to the systematic preparations for the calls
The tips for creating a welcoming and friendly atmosphere of the conversation
The presentation secrets and the importance of the first 10 seconds of the call
The right time the sales rep should ask for a sale

#8 Insight Selling
by Mike Schultz and John E. Doerr
Quick Summary:
Modern buyers are well-informed and educated, and often consider the product or service as easily replaceable. The authors of this book provide the workable assets and tips for the transformation of selling performance and increase of competitiveness. After studying the 3 level model offered by these experts, you'll improve your skills in b2b selling and get the higher ROI.
Takeaway:
By far not all tips and advice in books for sales are useful and good, but here you find
The buyers' perspective on the selling process and their requirements for closing the deal
The strategic and tactical guide for better connecting and collaboration with customers
The tips for directing clients' attention, influencing their choice and agenda
The potential pitfalls in the buyer's journey and effective solutions for overcoming and elimination
#9 The Inside Game
by Mark Shriner
Quick Summary:
The attitude and mindset of the sales rep have a strong impact on the performance. The author emphasizes the importance of the planning and activities you day during the day and explains how to take the advantage of time and reach your goals. Read this sales book to improve your skills and enrich your practices with the best examples.
Takeaway:
Discover a new perspective on
The time and activities management for becoming a better sales rep
The personal attitude to the work and value of emotional atmosphere within the team
The approaches and techniques in cold calling and networking
The constructive and helpful pieces of advice for boosting your sales skills quality
#10 Selling to the C-Suite
by Dr. Stephen J. Bistritz
Quick Summary:
As a one of the best books for sales, this one is a must-read for those reps that aim to succeed in the b2b area. The proven tactics and techniques will help you to get the right moment when the CEOs are ready to make their decisions. The book itself consists of the interviews with the C-level executives, and provides the tips to improve your pitches and proposals to ensure the decision-makers will hear you.
Takeaway:
There is no silver bullet in this book, but you will
Get the guidelines for connecting with C-executives and offer real solutions
Find the sample of agenda of CEO and tools for establishing relationship with them
Discover the field-tested approaches to the main challenges faced by sales reps
Figure out the key constituents of the value proposition
Draw A Line
There are thousands of books for sales offering you tips, techniques, and solutions. The list collected above is aiming to give the best sources for joining the winner's circle of successful selling professionals.
Imagine that you are to buy the thing you need, but cannot see it and only rely on the person near you to give it a proper description. Now, swap the roles with the other person and try to make him/her buy the product they don't ask for, or even don't suspect of its existence. Don't forget that your interlocutor is blindfolded and the only way they can learn about the thing is from your words.
Sounds next to impossible? In fact, this is what thousands of people do every day on a constant basis - selling on the phone. If you are one of them, and would like to drastically increase the number of successfully closed deals, you're in the right spot. Read on for the detailed guidance on product presentation over the phone.
Common product presentation issues and their solutions
Presentation is actually the only stage of the sales process when it is the seller who speaks. However, the key point here is not simply deliver the monologue about the numerous advantages of your product (that you've almost learnt by heart and keep repeating to each new client). As a sales agent, your task is to build a dialogue with your client and discover the needs that your product can help fulfill or issues it can solve prior to presenting it. Only then do you have to start talking about the advantages of the object you're selling, but only those which directly respond to the client's needs.
Professional presentation in sales is art that has to be mastered through learning and training. Besides, there are a number of common mistakes hindering the progress, which are listed below. Knowing your enemy is half the battle, so if you find out you're making some of them, it'll be much easier to avoid them further on.
Inconsistent knowledge of your product
This is easily detected by your potential client, since the seller's monologue gets too "watery" and lacks specific details. It also sounds lame and unconvincing, and definitely won't evince any positive response.
How to solve:
never cease to study the product. Repeat what you already know and do your best to discover its new features and benefits. Try the following exercise: ask the person who is an expert in the sphere to ask you as many questions about your product as possible. Note down each question you couldn't answer or weren't sure how to answer. Then, find out the answers to each of them. It will do you good to do it from time to time with different experts to always keep in a good shape.

Seller's shyness
Do you frequently feel intimidated when talking to strangers? You find it hard to build a dialogue with your clients because you lack confidence? Well, no matter how well you know the theory, your hesitations in speech and diffidence in your voice are the enemies killing your clients' interest.
How to solve:
listen to your dialogues and to those of leading sales agents. Compare them and note down what is lacking from your speech. Then, ask a colleague to remind you about behaving and sounding more confident. Gradually, you will need less and less reminders, and then it'll be a great motivation to again record your dialogues and compare them to the previous ones.
Lack of faith in the product
No doubt, every sales agent's been there: selling something he/she doesn't believe in. No matter what is the reason - the competitor's product that is much better, seeing no practical use to it or anything else. The problem is, if you cannot see why anyone would want to buy it, it's only natural you keep failing to persuade your clients.
How to solve:
make up a list of your product advantages and issues that it helps to solve, plus track as many positive feedbacks about it as possible. If you think that the competitor's offer is better, make sure you study it well and note down all its disadvantages along with negative feedbacks. This will help you see the object you're selling in a different light and change your attitude towards it.

Irrelevant advantages
If you truly believe in the universal formulas to persuade anyone, like, 'You'll save…' or 'Our price is lower than the competitors'', welcome to the club of sales agents who might use some training.
How to solve:
Talk only about the features/benefits that will be relevant to your client. This is why you talked to him/her before presenting your product - to discover the needs and then use the info in your presentation. In case you haven't succeeded - you'd better delve deeper than simply enumerate the general features.
Darting from stage to stage
There's a sure way to lose a deal - it is going back and forth between the stages of the sale, like starting the presentation, then working on discovering the needs, then continuing the presentation and so on. Even if your client isn't aware of the techniques you're using, the unprofessional approach can still be felt, and you won't earn trust. The same happens when you give false promises during the presentation or make up new advantages of the product to impress the potential buyer.
How to solve:
This one's easy: stop. Take a deep breath. Go over the conversation, point out what was wrong or sounded lame and never repeat it again. Find a partner and work out all stages of the sale again till you feel confident and sound professional.
Silent pause at the end of presentation
Making a pause when you're done with the product presentation can bring your efforts to nothing, because it lets the client ask you questions for which you are unprepared. Plus, it gives him/her time to think over your offer and find reasons to decline it.
How to solve:
Be the first to ask a question after the presentation. It not only help avoid questions, but also keeps you in control of the situation. Mind that the question should be open, for instance, "What do you say", "What do you think about it" and the like.

Well, hopefully the recommendations above will help you hack the success strategy in telephone sales and become a guru. Meanwhile, we are interested in hearing about your tactics and thoughts on the matter, so you're welcome to join the discussion!
Inborn sales and interpersonal skills are the features of the perfect sales rep. But such talents don't come naturally; they require training and practicing. Every manager has faced some sales mistakes during the career building. Although, no obstacle is ever insurmountable, and there is no issue unresolved. Check out this solution blast of the common mistakes done by the sales people, and use them for tuning your skills.
#1 Listen to Your Customers
As a rule, the talkativeness is a required virtue of the sales staff, yet it is also their vice. The success of the deal closing lies in the listening to the customer's needs, but not the sheer desire to reach the set the quota.
Solution:
To bypass the extra talkativeness, you should prepare the list of questions and figure out the needs of your customer before the presentation. Make sure you don't ask only the yes-no questions unless your clients are found of questioning.
#2 Work on A Prospecting Script
The script also takes a top position in the sales mistakes chart. To be more specific, when the sales rep uses phrases as "I help companies..." or "Many clients rely on me..." work as a repellant from potential customers.
Solution:
Instead of focusing on yourself, prepare phrases that will show how the company products helped to solve problems and brought the benefits to the existing customers.
#3 Develop Your Communicational Skills
Low communicational skills are a rather unbelievable problem that influences on the success of sales rep performance. Apart from fear and anxiety, lots of managers suffer from talking too fast or too slow. Many reps require their grammar and pronunciation improvement.
Solution:
Expressive and emotional speaking is a half the sales pitching success. For satisfied customers, you should work out your communication skills, as well as derive a enjoy from storytelling. Besides, the positive and lively voice gain more trust and increase the retention.
#4 Don't Use Question As An Answer
Some sales people think that the strategy "question as an answer" will help them to drag out more information out of a potential customer. These tactics also join to the sales mistakes as it confuses clients and lowers the trust.
Solution:
Forget this irrational approach, and never use it again. If a customer asks you a question, offer the extended answer. Don't make any pauses and keep the initiative of the conversation with putting the next question.
#5 Put Away Familiarity and Aggressiveness
Lots of sales managers try to avoid formalities and talk to the customers like they are buddies. The thing is inappropriate in b2b when you are convincing a decision-maker to close a deal.
Solution:
First of all, revise the business etiquette and listen to the call records of the sales professionals. Despite your work experience, find the courage and listen to your first calls records. This will bring you back to earth; there is always room for improvement.

#6 Going by the Right Name
One of the biggest sales mistakes is the getting the wrong name of the person you are talking to. Referring to a potential customer with a wrong name shows the lack of attention to details and low interpersonal skills.
Solution:
Introduce yourself and make sure you refer to the client with a right name just to avoid any confusions.
#7 Mention the Customer's Name More Often
To gain the client's trust, you need to set up a close contact. Don't hesitate to refer to the potential customer by the name. All people like the sound of their names.
Solution:
Avoid the usage of any generalized words when you are pitching your client. Work out the habit of referring to people by the name.
#8 Keep to the Topic
To succeed with the deal closing, you should get the customer trust without getting off the topic. While you are trying to figure out the problem, you hear nearly the life story of the potential client.
Solution: For avoiding this mistake, sales reps should keep to the plan. Be friendly and listen to the customer, but remember - you should solve the problem not become the client's bestie.
#9 Turn Off Judgments and Arrogance
Another set of the nastiest sales mistakes is arguing with the clients, interrupting them and showing off the contractions in their statements.
Solution:
Spare some patience, and work on your desire to interrupt. The experienced sales reps know that the confident and friendly explanation of the benefits will aid greatly in the deal closing process.
#10 Show Confidence
Often sales managers find the confidence and being pushy as the equal things. You can present the offer with bright colors but when it gets to the objections, you are simply lost and numb. In this situation, none of your sales arts will help, except the deep knowledge of the product.
Solution:
Find time to learn every detail about your product or service. Besides, the confident sale truly believes in the commercial offer and knows how it will help the potential customers.

#11 Set A Win-Win Aspect As A Goal
Another sample of the shared sales mistakes is a direct promotion of the company. Put yourself in the client's shoes and think - would you be interested in somebody's bio or profits? To be honest, such a call is destined for failure, and the cold lead gets freezing.
Solution:
Use the best practice and tell what are the benefits of your partnership. Find out the customer's problems and offer the resolvement that your product or service can provide.
#12 Minimize Information Overload
Long sentences with heavy words are the hang-up for customers. People just get confused with loads of the information, and this feeling won't make them your customers.
Solution:
Remember in the pitching the customers you should provide only the information required by the customer. Avoid any sophisticated phrases, mind-blowing jargons, just make your message clear and concise.
#13 Take 'No' for an Answer
Customer's 'no' means 'maybe' is another point in the sales mistakes list. Some managers get upset with the first 'no' while others keep pitching the customer even after the 10th 'no'.
Solution:
Don't panic if your potential client says 'no.' Get used to the negative responses and objections. Sales is a skill that can be trained, so improve your pitching script.
#14 Don't Become A 'Yes' Man
Anytime your customer makes a request; you say yes. Looks like a normal, ordinary situation, yet it is rather a slippery slope. The fantasy and creativity of the clients can be quite impressive.
Solution:
Take the initiative in your hands and try to figure out what details bother your client. Stick to the principle: only reasonable request receives the answer yes.
#15 Make a Complete Presentation
It is vital to run the presentation, benefits explanation and then the price. Either way, omitting one of the steps leads to a failure. So skipping a step in the presentation is one of the biggest sales mistakes.
Solution:
To get the result in the most sales, you have to spare some patience and learn the strict order of the sales pitching process.

#16 Customer in the Middle
Lots of managers sure that every offer should be focused on their company, product, or service. Nevertheless, it always should be about the customer.
Solution:
Make sure you have done homework and collected customer's data, as well as prepared a clear sales presentation. Don't forget to draw up the answer list of all possible objection and questions.
#17 Product Won't Sell Itself
Benefits received by the customer from the offer are more important than the feature set. Sales mistakes list won't be full without the constant extolling of the product or service as a reply to client's questions.
Solution:
Knowing the product is important. But instead of pushing it due to the outstanding feature set, you should explain how it will solve the customer's needs.
#18 Fees, Price or Cost?
The semantics is also vital in a sales process. Many sales reps use the word ''fees" and then see how uncomfortable the potential customers feel.
Solution:
The word "fees" is comprehended as a bunch of payments, and customers aren't the fans of counting. Use "price" or "cost", these words mean the all-in sum.
#19 Close Deal in One Touch
The sales enthusiasts are too often sure that they can close a successful deal in a single call. When the customer feels forced, the offer will be rejected despite all the guaranteed benefits.
Solution:
Give the potential client general information about your product and offer to acknowledge with more details, then schedule another call. In this way, the customer will find more interest in your product.
#20 Clear Schedule for Follow-Ups
Many sales reps fail in aligning to the customer's agenda so that they delay or forget about the follow-ups, scheduled call.
Solution:
Focus on the win-win aspect and take the customer schedule as a top priority. Set a definite day and hour for calls that will show the logical and emotional value of potential clients and their time.

Summing Up
This hit-list of sales mistakes collects the most common missteps done any every manager during the career. Some of these tactics you may already successfully use and others can be workable suggestions for improving your skills, gaining more satisfied customers and raising your quotas.
You've certainly been in the situation when the incorrectly worded phrase offended your interlocutor or brought the results totally opposite to the desired. And you're also well aware of the fact that even not very beneficial offer can appear incredibly seducing when described using the right words and phrases.
Today, words are key tools not only for novelists or poets. Thousands of businessmen and salespeople learn to tame the great power words possess and turn it in the necessary direction. It's high time you discovered the simple words and techniques that work magic in closing deals.
The key point here is, there are no magic spells or new vocabulary to learn - just the usual words or phrases that nevertheless persuade your interlocutor to take the desired action when used in the right context and setting. Intrigued? Then, let's get directly to the point without further delay.
"You" instead of "I"
No matter what you're speaking about, try to always focus on the person you're talking with, and therefore "you", "your" should dominate in what you say. Even when speaking about your company or product features, think about transforming the sentences to fit this formula. It demonstrates that you care about your prospect, and adds personalized touch to whatever info you've got, which reportedly increases sales.
"And" instead of "But"
This seemingly trifle replacement that is hard even to notice at the first sight, can actually make a big difference. Take a look at the following sentences:
'I understand what you mean, but let's look at the other side of this issue.'
'I understand what you mean, and let's look at the other side of this issue.'
Using the first sentence you sound as if trying to contradict the other speaker, which makes him/her instinctively stand on the defensive. The second example, however, just keeps the conversation flowing and makes him/her feel that you're on the same side. This creates positive background and spurs to making decisions in your favor.

"What" (why, when, where, how) instead of "Do" (shall, would)
As proven by specialists, specific questions starting with W-words that call for an open answer are much more productive in sales, since they provide an excellent opportunity to learn more about the person, their needs and preferences, and thus maximally personalize the offer. On the contrary, general questions with
do, shall, would
etc. in the beginning usually are answered with "Yes" or "No", and don't facilitate the conversation.
Consider these examples:
Do you agree with me?
What do you think about it?
While essentially asking the same, the second one will let you get more information from your interlocutor, so even if he/she doesn't agree with you, you will learn why and be able to provide arguments to show the issue in different light.
"Opportunity" instead of "problem"
Psychologists recommend to avoid the words with negative meaning, like "problem" in our case and replace them with something neutral or positive. Even the usual "No problem" in response to a thanks should be better worded as "You're welcome" or "My pleasure.
"You do…?" instead of "Do you…?"
Essentially, the trick is in using affirmative constructions with questioning intonation when you need to ask a question. According to many psychologists, this slight alteration of the construction can help you kill two birds with one stone. First, used at the beginning of a conversation it makes your prospect agree with your assertion and intuitively prepares them to do the same further on. Secondly, it can be used as part of the "Yes-set" (a person is asked a series of trivial questions that predetermine the answer "Yes", and then when the key question is asked, they instinctively want to continue the pattern and respond positively.)

Because
This simple word is actually a strong power word extensively used by marketers, and is proven to bring good results. Being one of the five most persuasive words in English, it instantly answers the question "Why do I need this?". This is said to work better than lengthy explanations in a few sentences after the initial statement because it provides the crucial info at once. Well, it never hurts to try.
Imagine
This word can turn your potential client into a protagonist of the story about the better life that is possible thanks to your product or service. So, instead of passively perceiving the traditional list of benefits, he/she will be actively participating in the process and is more likely to wish that imaginatory events come true.
The changes and words described above may seem too subtle to make any difference, but they can be exactly the drop that will weigh the scales on your behalf. However, even though the alterations in everyday phrases seem easy, they require training to master and then use them automatically.
Have you got your own power words or phrases that work like a charm? We are anxious to learn about them, so feel free to share your ideas and recommendations in the comments below.
In our previous post we discussed the proven
formulas and tactics of cold emailing
that can help get your email not only noticed and read, but also responded to. You must be anxious to try them out if you haven't done so yet. Probably the only thing that stops you is finding the email address of the person you want to contact. Then, get ready to create your email masterpiece, since in just a few minutes needed to read this post you'll be well equipped to find out virtually any email address. If you are expecting to find the well-known Rapportive method, you'll be disappointed since it is not here. There are much more effective ways of looking up email addresses and we have prepared a short overview of the top 10 resources.
#1. Getpoke.com

If you don't feel like installing lots of extensions for your browser, or finding leads is not what you do very often, this tool might suit you well. Simply visit getpoke.com and enter your contact's name and corporate domain into the corresponding fields. A few seconds of waiting - and the email will appear on your screen.
Price:
Free
Visit GetPoke
#2. Email Hunter

Available both as a Chrome extension and a full-featured webservice or via an API Email Hunter specializes in looking up email addresses by company domain. It provides the list of emails associated with the specified domain, so finding the right one is not a problem. Being a premium tool, it offers searching as much as up to 200 domains a month, which can be enough for moderate needs and are available after registration.
Price:
$0 for up to 200 domains/month $49 for up to 3000 domains/month $99 for up to 10000 domains/month $199 for up to 50000 domains/month
Visit EmailHunter
#3. Voila Norbert

The simple to use tool is helpful provided you know not only the person's name, but also the company he/she works for. In this case, you only need to provide these basic details and wait for the requested address to appear. Mind that it pings the mail service in order to verify the found address, therefore there's a possibility of its being blocked after a number of attempts.
Price:
10 free requests $5 one hour access $10 one day access $50 one month access
Visit VoilaNorbert
#4. Datanyze Insider
Being one of the Datanyze prospective tools, Insider is available as Chrome or Firefox extension. It is extremely convenient since it allows finding out the person's email address without leaving the page you're browsing. Simply highlight the name you're interested in and right-click to receive the email address almost instantly.
Price:
Free
Visit Datanyze Insider
#5. HeadReach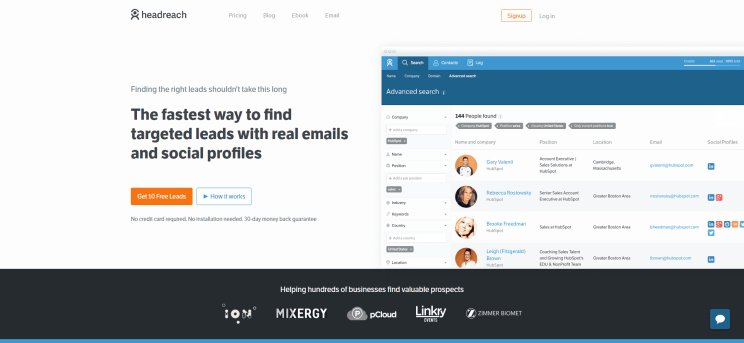 HeadReach is a prospecting tool designed to help sales, marketing, and data research people find valuable business contacts. With HeadReach you can find targeted leads with their real emails, social profiles, and contextual data. No chrome extension needed. Just search inside the app.
Price:
10 free emails 100 emails for $19 250 emails for $39 500 emails for $79
Visit HeadReach
#6. CEO Email Addresses

Right as the name implies, this tool is useful if you're looking for a really "big fish". It has a big database with email addresses of companies' CEOs, so if you're lucky and your contact is on the list, make sure you send him/her an awesome email.
Price:
Free
Visit Ceoemail
#7. Conspire

This is a networking app that presents a totally different approach to contacting the needed person. In layman's knowledge, as soon as you sign up and provide your email address, it connects with your network and builds the path to the one you're looking to contact through the people you're already connected with.
Price:
Free
Visit Conspire
#8. LinkedIn Email Export

This method is simple, yet known to "the chosen ones" mostly. If you have extensive LinkedIn connections, it may be enough to find the necessary contact. So, all you need to do is go to Advanced settings - Connections and select Export LinkedIn connections to have their email addresses moved to your Gmail contacts.
Visit LinkedIn
#9. Twitter Advanced Search

It may sound weird, but Twitter can be useful for finding email addresses too thanks to its advanced search option. There's a condition, however - the person in question must have included the email into one of their tweets, otherwise the search will give no results. Anyway, checking it out is quick and easy:
In the Words section, line "All these words" insert search terms (at) (dot).
In the People section, line "From these accounts" insert the person's Twitter handle.
If you're lucky, the desired address will be found within seconds.
Price:
Free
Visit Twitter
#10. Google Search

Don't hurry to omit this tactic as ineffective. Basic as it is, it can help provided you know how to ask. So, try the following queries, taking care to preserve the punctuation:
"[name] + email (address)"
"[name] + contact (information)"
"[name] + [company] contact"
If you don't feel like looking through the entire company website for the contact info, this is the quick way to search it via Google:
"site:company.com + [name] + email'
"site:company.com + [name] + contact"
Price:
Free
Visit Google
Bottom line
Definitely, the list above isn't exhaustive, but it represents the most effective tools and methods of email finding. The great news is, you don't have to commit to only one of the resources above. Instead, they can be used interchangeably or even simultaneously, and since most of them are free, the process is virtually lossless. Have you got your favorite tools that we missed? Are there any special tactics that helped you obtain the desired contact info? It'll be great to learn about your experience or any suggestions, so feel free to share them in the comments below!