CRM system or Customer Relationship Management system is something more than just managing the leads', prospects', and customers' info. CRM for Zendesk is a tool that can bring your sales, marketing, and service teams together. It's the system for facilitating their efforts in collaboration and improvement of business relationships in general. It indeed provides indispensable benefits for every department of any company. Namely:
salespeople can create pipelines and automate the processes that take a bunch of their working hours;
marketers can create and send bulk marketing emails, as well as plan and manage all types of adverts to capture more leads;
the customer service team can track all their customer conversations, communicate with contacts via live chat and automate stacks of their routine tasks, thus, resolving more customer issues in less time;
even company leaders can put this kind of software to advantage. Just imagine how they could benefit from these tools. They could help organize staff and contacts in a perfectly-structured system, monitor everything from contacts' website activity to your team's productivity, create reports, etc. A splendid CRM system provides business executives with everything to keep full control of their staff and take care of team management in the best way.
We've already covered in detail what CRM is in our previous blog post. Now, it's high time to tell you what CRM for Zendesk is and why it will be your best choice for business relationship management.
Why we decided to create a CRM and Deals for Zendesk
Providing leads, prospects, and customers with a personalized experience is critical. Especially if you want to grow sales and retain your clientele - that's a fact. And having years of experience working with different business software, we know how difficult it can be. It is important to find a reliable system that will perfectly suit all requirements for an apt price.
Also, it takes a lot of time and effort to collect all the data from various communication channels, structure and then analyze it by hand or with inefficient software. So, why hold the growth of customer satisfaction and loyalty rates back when you can power up the team collaboration options to bring about more success?
You're right, there's no reason to do so. And we decided to create our own CRM application. Companies like you could seamlessly add it to the existing Zendesk products and manage all types of business relationships with ease.
So, why CRM and Deals for Zendesk?
Thousands of CRMs are similar to each other. But ours is different.
Imagine a well-coordinated mechanism that can help you manage contacts and pipelines. You could also sell products, collect data from various channels, create reports on all the data received, and even forecast your sales. Don't forget that it's also easy to operate and perfectly tunes into your already existing workflow of Zendesk products. Sounds implausible? But it is real!
CRM and Deals: Pipelines
Our CRM for Zendesk brings to the table every little feature a successful business might need. Want to see and handle the entire sales funnel on a single page? Please! Want to track and analyze the performance of your sales, marketing, and service teams in a set of straightforward reports? Here you are!
Remember, determining the target even in the smallest elements of your company's workflow must be one of the top priorities. And with CRM and Deals for Zendesk, setting goals for nearly any process in your company's workflow is a breeze. But that's not all. In order to plan your business strategy better, use the CRM system to track the actual sales, marketing, service, and other departments' result and then compare them with the goals you have.
Also, there is a great ability to check the reports, summarise all the statistics and to analyze the quality of sales.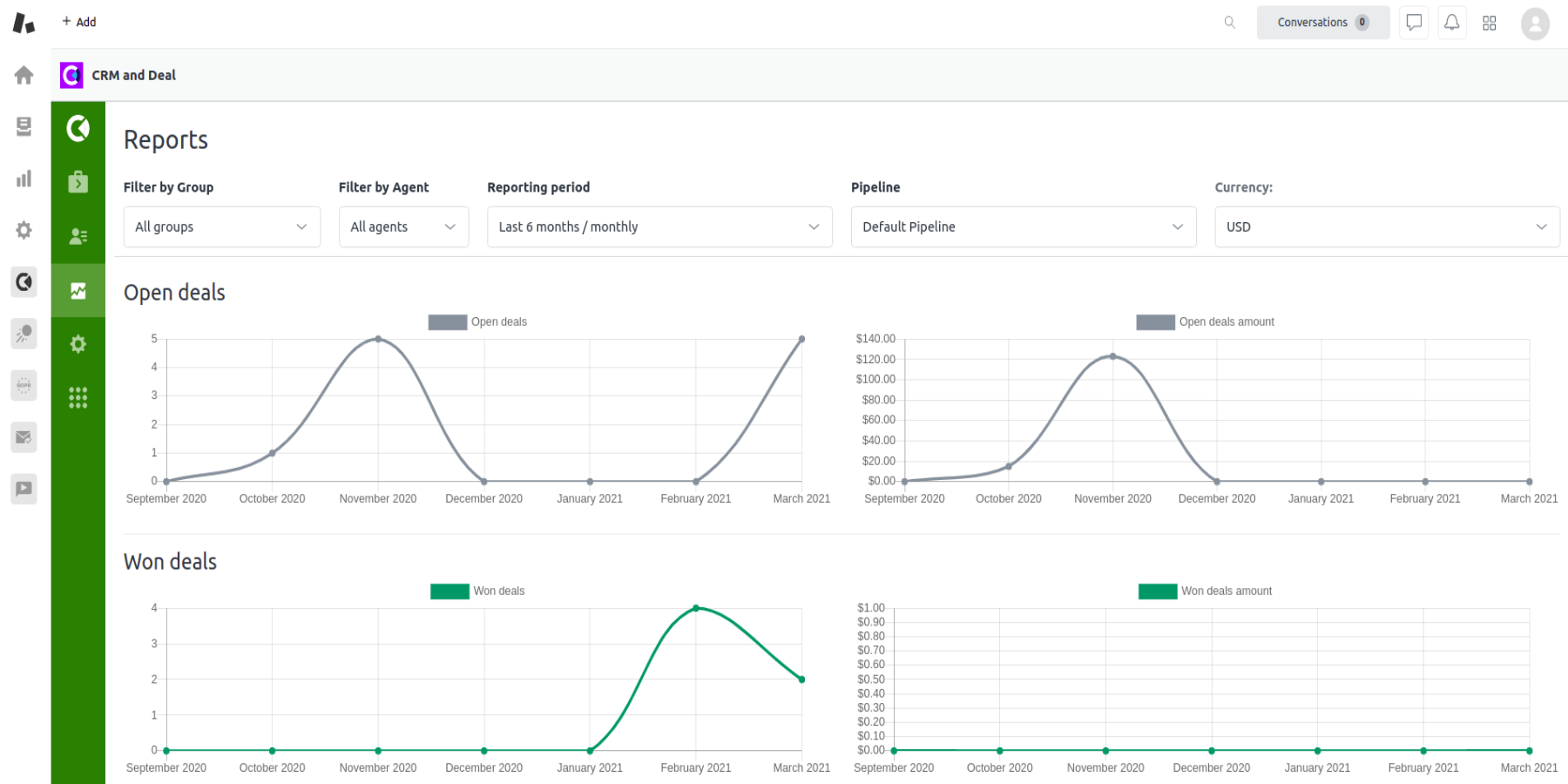 CRM and Deals: Reports
Lost deals are usually things that are very unwanted but sometimes present in companies. In the Report tab, you can estimate the reasons for lost deals and check their amount.
CRM and Deals: Lost Deals
And if you're sometimes struggling (or even if not) when planning any aspect of your sales strategy, CRM and Deals for Zendesk offers a forecasting tool. It will show you the optimum actions to move the deal to the next stage of the funnel, close it better, or win it faster. But how can you rely on a computer program in the long run? The thing is, the forecasting tool analyzes everything. It goes through all your deals (open and closed), agent actions, and customers' responses. And all these to find out the patterns that work best in specific situations. And then, it gives you recommendations for the best options for further actions.
That's our CRM and Deals for Zendesk and its benefits in brief. However, you are always welcome to check out the full description of the functionality and test the software yourself. Everything is up to you!
Manage your customer relationships smoothly and enjoy moving sales to a brand new level quickly. Our CRM and Deals for Zendesk is ready to serve all your needs.
Try CRM and Deals for Zendesk!
Track and nurture leads directly from your Zendesk Support
Read more