Custom Zendesk reports for any business
Keep all your customer support metrics in one dashboard with Zendesk Explore
You get customer data via numerous channels, so that's important to keep it well-organized. GrowthDot will help you customize your Zendesk reports and translate the customer data into informative insights.
Try now →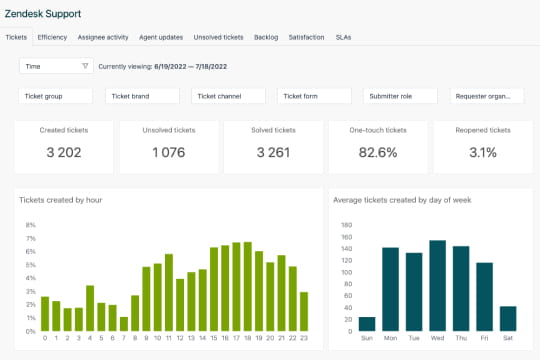 See the following performance indicators
in your customizable dashboard:
The number of incoming, resolved, and unresolved tickets per day, month, or other periods
Time your support reps spent on ticket resolution
Customer satisfaction rating and client dashboard
The number of complaints and requests after the due time and ticket deflection
How to track your customer support effectively?
GrowthDot will configure your Zendesk Support, Zendesk Talk, and Zendesk Explore reporting to collect and keep all the customer and team success data in the built-in Zendesk reporting system.
We'll make sure that you have direct access to accurate and in-depth insights in your Zendesk Explore without the manual work.
Everything that can be done automatically should be so.
Discover the pleasure of personalized reporting in Zendesk
It takes lots of time to customize all by yourself, so let the professionals do the work for you!
Connect data from a number of support channels in a single dashboard
Get custom data insights and turn them into visualized tables, infographics, charts, etc.
Share your data and insights with your agents
Send additional files to your live dashboard
The Process of Integration
Step 1. Investigating your business requirements
To make sure our solution fits your workflow, we'll compose an exact list of your unique requirements.
Step 2. Developing a plan
With the precise list of requirements, we'll develop a plan for building your Zendesk reporting & analytics structure.
Step 3. Configuring Zendesk Explore
After you approve our plan layout, we'll configure all the necessary settings.
Step 4. Checking the reporting quality
Quality is the priority, so the next thing to do is make sure all your Zendesk reports are formed properly.
Step 5. Maintenance of the integrated system
At additional request, we'll regularly check your Zendesk account at all pinpoints.