Every day there are published millions of post on the Internet, and it becomes challenging to get the most useful ones and don't sunk in the flow of info. So the point lies in finding the sales blogs that deserve your time.
Do You Really Need to Read Blogs for Sales?
Sales managers better than everyone else know that time is money. And every rep or executive wants to surf the Internet and get the new insights and workable advice. With the help of sales blogs, you will be aware of the new techniques and strategies, as well as keep the pulse on the technology innovations. Usually, the posts are written by sales pros, so you acquire best practices and proven tips in the metrics and motivational areas.
5 Requirements to Sales Blogs
Many people start their morning with checking the inbox, and look for something interesting in the blog subscriptions. Obviously, the catchy headlines make you click on the link, yet if the post holds you for reading one or two paragraphs - that's great. But you close it and subscribe this sales blog. To avoid your disappointment in the content you receive, you should pay attention to the following requirements to the blogs for sales:
Updates constantly appear  (not less than 14 days)
Posts are original and practical
Content is well-searched and easy to read
Include educational information
Tell about sales but don't sell anything
10 Sales Blogs Worth Your Attention
We used the above requirements and collected the list of must-read blogs for every sales pro. Each of the sources provides a specific point of view and sales insights, as well as gives actionable advice and tips. So, the list of blogs has the brief outline and frequency of the content updates.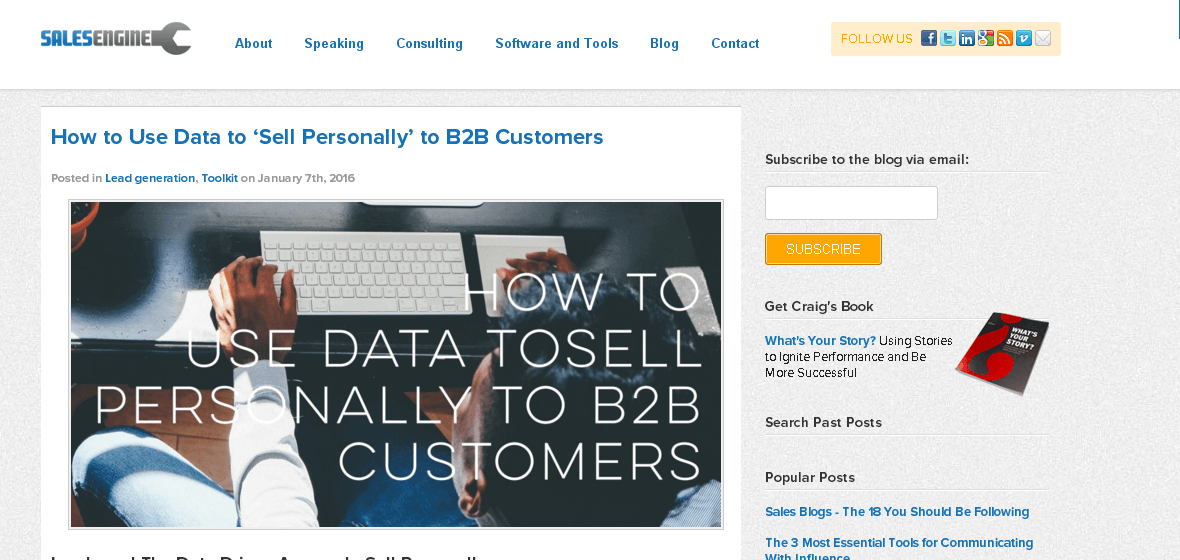 Brief Outline: This is one for the blogs for sales that deals with the b2b area. The posts cover various topics - starting from the tips for rookies sales reps, prospect nurturing, sales pipeline optimization to productivity tips and effective strategies. Authors of these articles are the sales and marketing directors, as well as SEOs and sales influencers.
Content Updates: once/twice a week.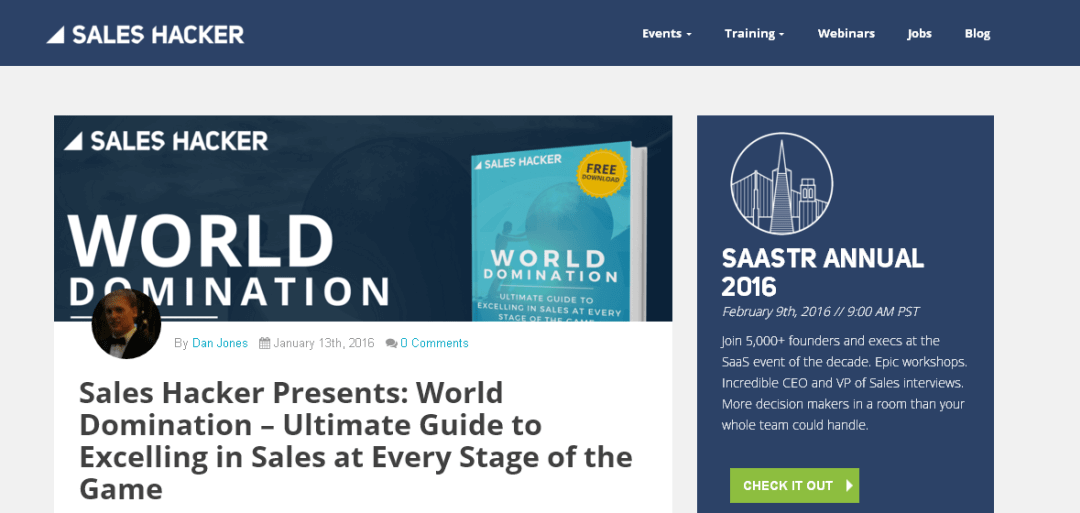 Brief Outline: The main focus of this blog is b2b sales, and the posts are written by sales directors or company co-founders, in other words by people who have useful information to share. Here you will find the lead generation and cold calling strategies, approaches for the sales team management, processes automation, improving analytics and growing opportunities.
Content Updates: every 2-3 days.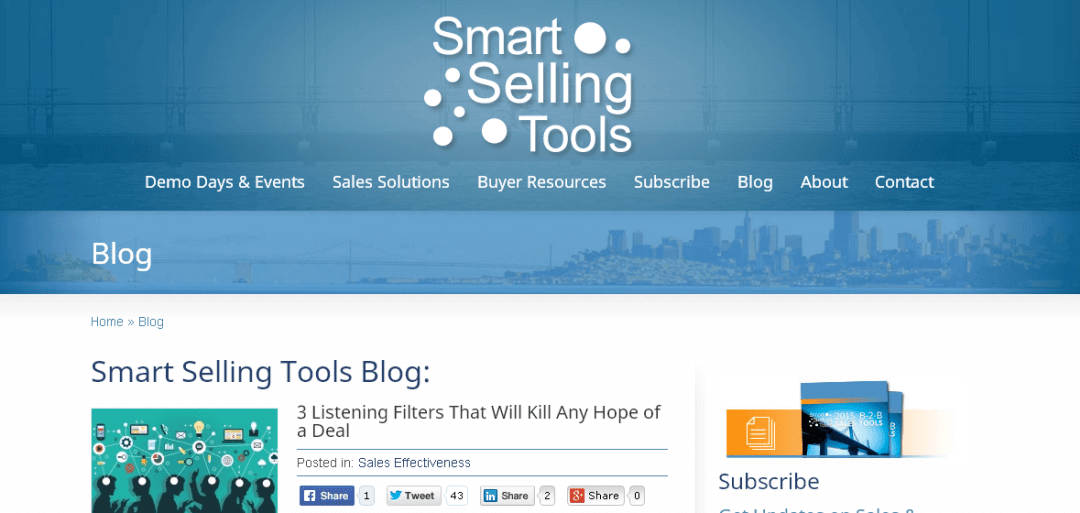 Brief Outline: If you want to apply technology and take the most of your sales performance, this is blog is just the job. Apart from tips on prospecting technology, it offers the best practices for increasing the business revenue. This sales blog is run by Nancy Nardin, sales expert and President of Smart Selling Tools.
Content Updates: regular.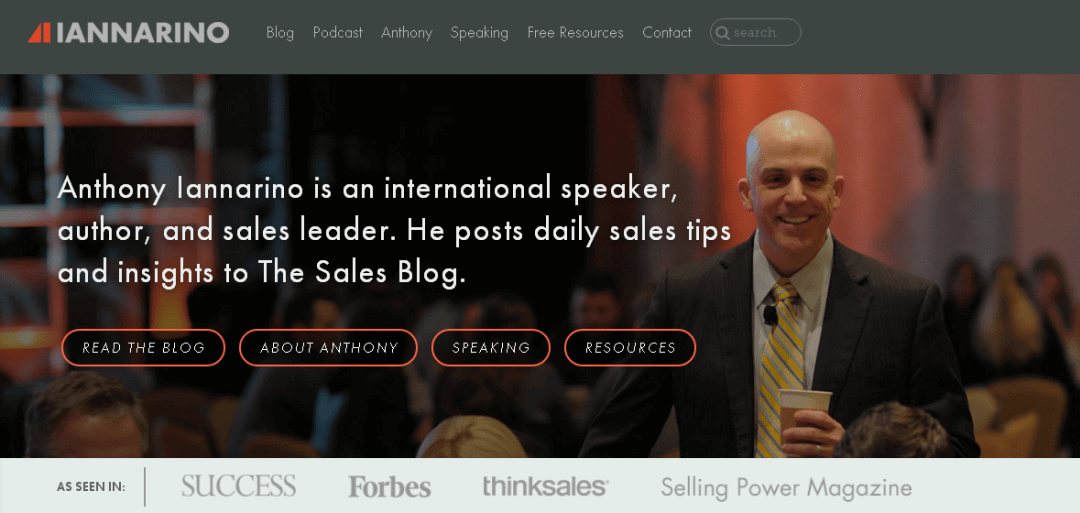 Brief Outline: Selling is a complex process, and those who want to improve the effectiveness and use the full company potential in action, will find this sales blog a piece of cake. Anthony Iannarino, the author of this blog, writes about processes setting up, team management, high-level insights into the value creation, and gives the tips for improving the current strategies.
Content Updates: every day.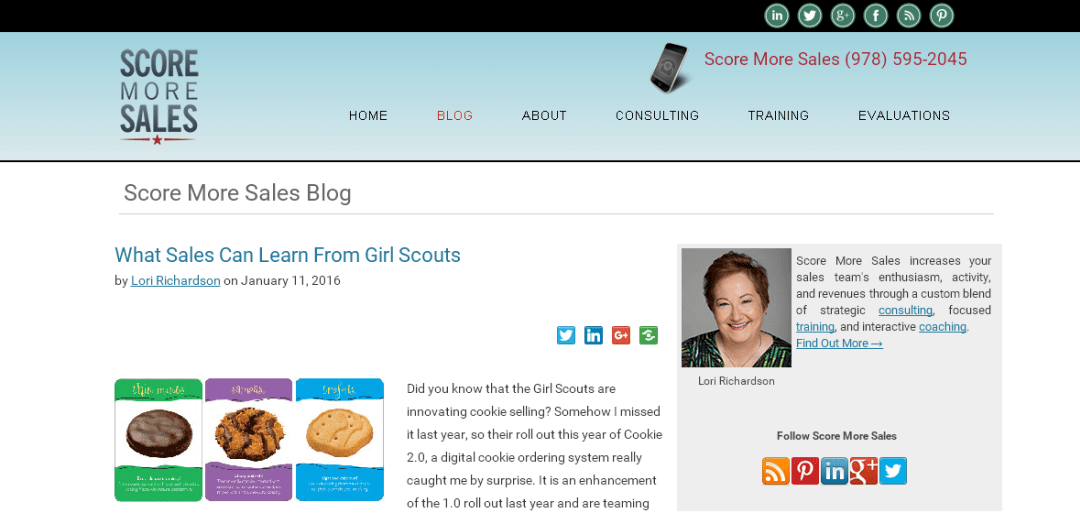 Brief Outline: This is one of the blogs for sales, the sales leaders and directors will find useful and practical. Being led by Lori Richardson, named as one of the 12 influencers by Forbes, this blog covers the sale and non-sales issues the companies usually face. So here you will find actionable advice on building team enthusiasm, workflow, and closed deals.
Content Updates: once a week.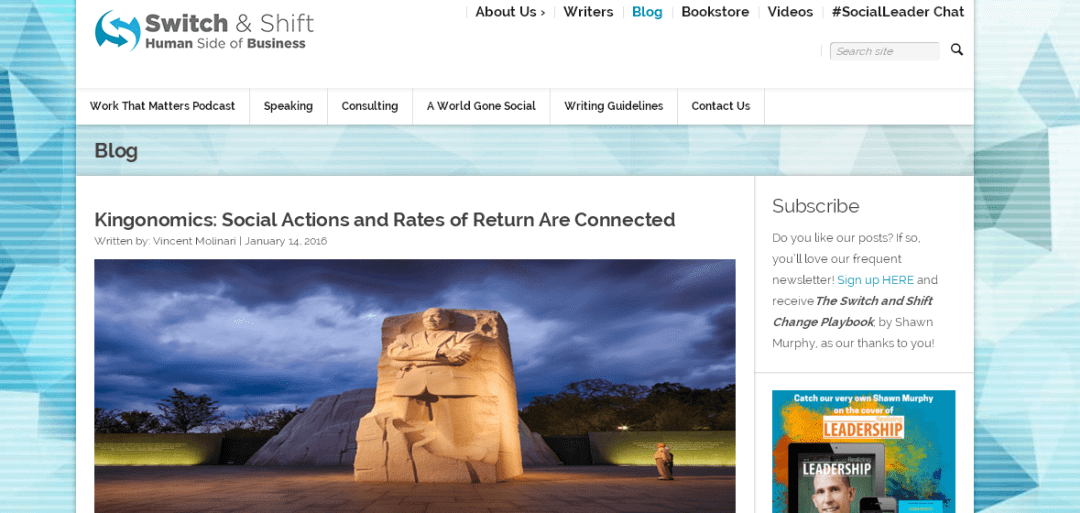 Brief Outline: Being run by the experienced salespeople, this blog has a focal point on offering best practices for managing sales teams, and provides the insight for business optimization. Here you will find lots of tips for transformation your strategy to people-centered. Differing from the other sales blogs, this one aids in improving business running and team management.
Content Updates: once/twice a day.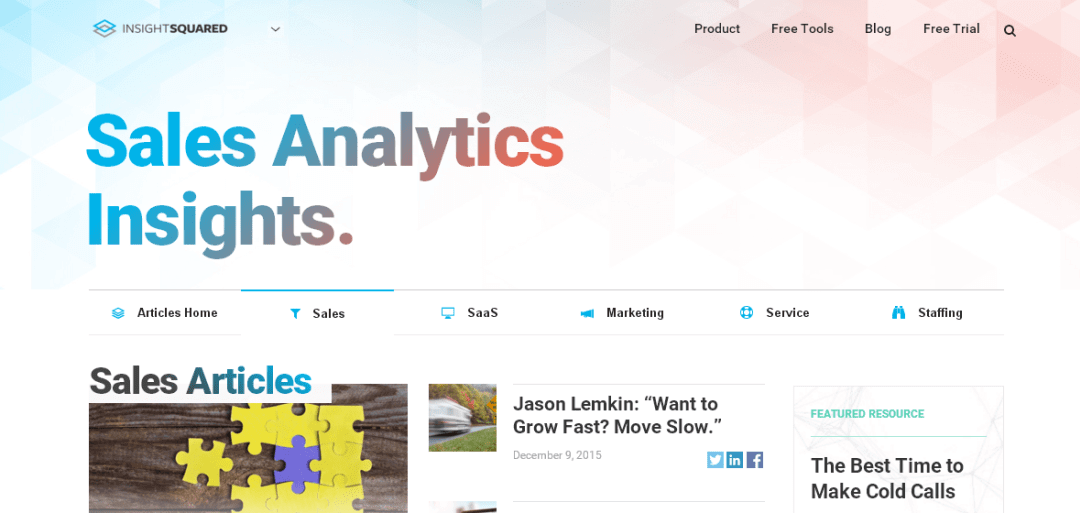 Brief Outline: The blog of data intelligence suite enables you with a well-searched and well-written content. The posts cover such topics as pipeline optimization and forecasting, profitability metrics, approaches to workflow management and improving. Besides, this blog for sales suggests you the valuable insights for advancing your business strategy.
Content Updates: once a week.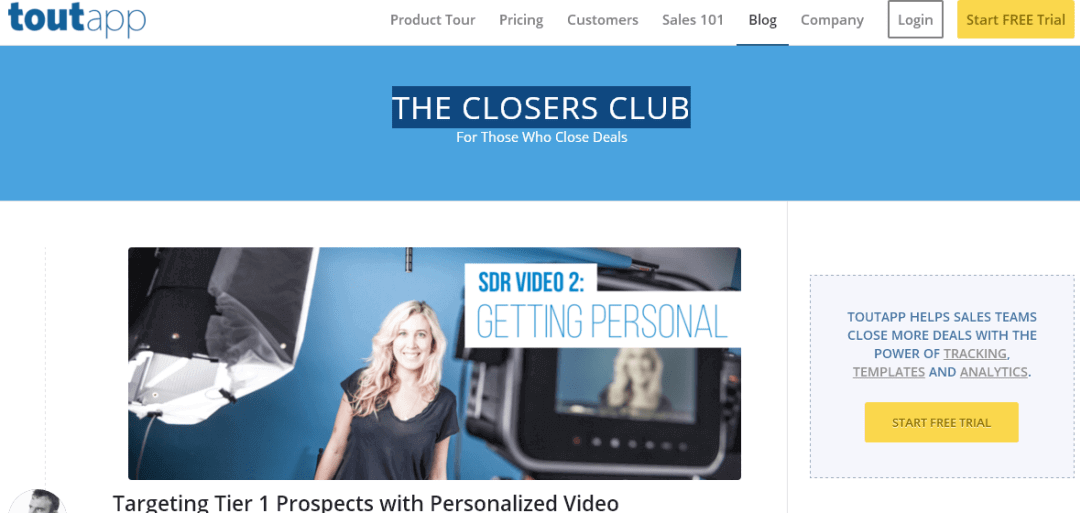 Brief Outline: Looking for actionable insights for boosting your personal productivity? Then you should add this source to your sales blogs list. Apart from the details on skills improvement, you will find tips on selling strategies trends and automation. This blog offers a specific view on sales and business running.
Content Updates: every day; every 2-3 days.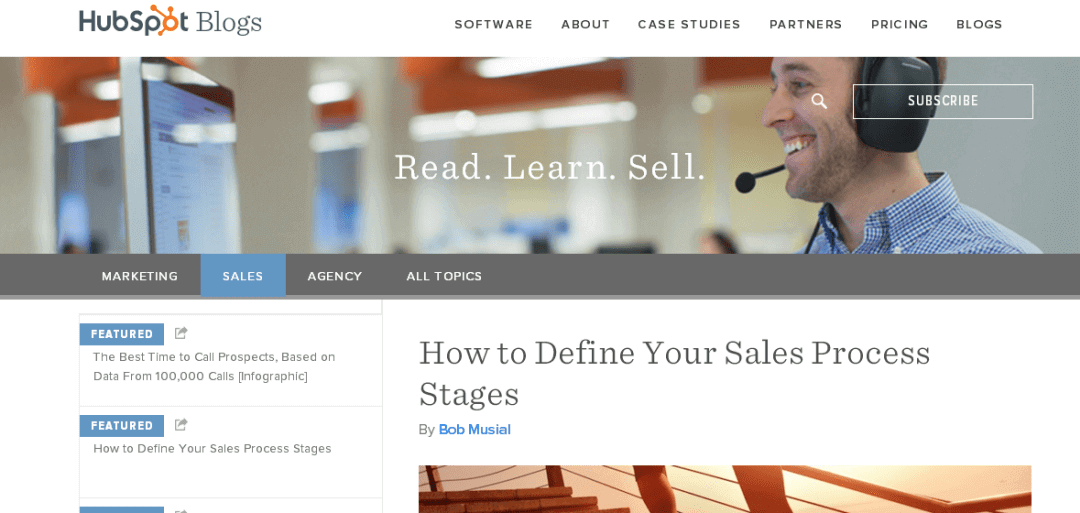 Brief Outline: Best practices, case studies and valuable insights into the business sales trends are the key takeaways you will gain from reading this blog. The content, offered by the inbound sales authors, is relevant and helpful for team management and business strategy update. Time spent here won't be regretted.
Content Updates: every day.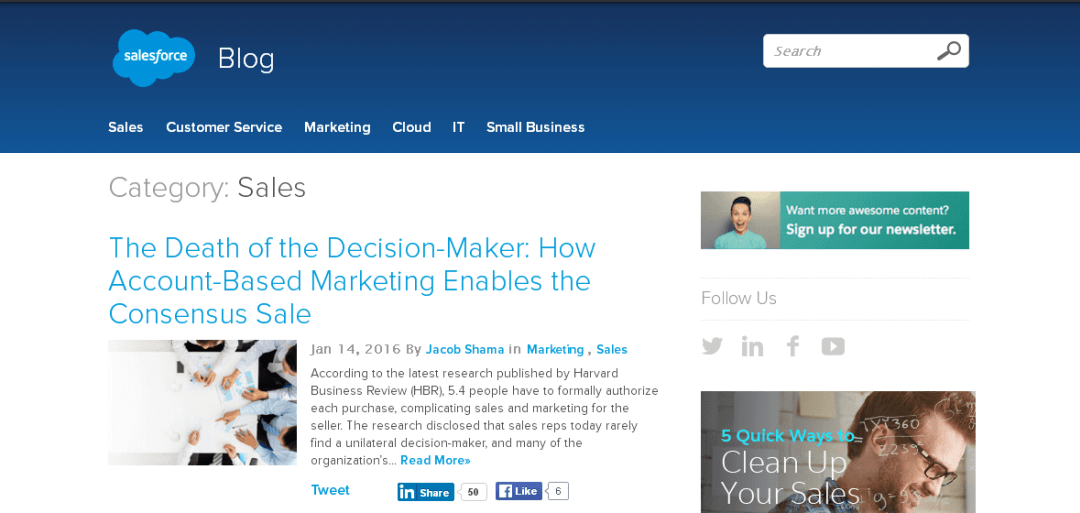 Brief Outline: Not surprisingly that Salesforce blog is mentioned as the one of must-read blogs for sales. This is a source for gaining personal and professional efficiency for every sales rep. Here you will find numerous posts that cover the business processes from each corner and help to reveal the hidden opportunities of the team and company.
Content Updates: twice a day.
Sum Up
The successful sales manager never stops learning and improving the skills of the craft. Despite your position, the department director or a professional rep in the direct contact with customers, you should always be aware of the latest news, trends, and tools used in the industry. So take a closer look at this list of sales blogs. Have more closed deals and loyal clients!
P.S. Don't forget to subscribe to our blog 🙂