Zendesk is a leader among help desk software providers for a good reason. It's all because after setting up you get a set of robust features that will definitely help you help your clients. However, if you know about tips on how to use Zendesk, your workflow will increase. It happens even if you have been using this instance for ages.
If you're just getting started with Zendesk, then keep reading to learn 8 tips to enhance the efficiency of your support team and keep your customers happy from the get to.
#1 Set up triggers to automate mundane actions
Triggers in Zendesk is such a thing that can really save your customer service team so much effort that they won't notice how a huge part of unnecessary work will vanish. It's all because this feature is a basic tool for eliminating actions that make support reps waste loads of time.
For example, if someone raises an urgent ticket meaning that it requires help from other agents or even departments, they will be able to automatically notify any agents you choose. Thus, everyone who has received the notification and is available at the moment will know they need to help. So, this way the issue will be resolved more promptly.
The main working principle for triggers is to check predefined conditions and if they're met - to fire. In other words, if you create "if" and "then" statements and the trigger meets them, it will immediately carry out the pre-set action.
This way, your agents will be able to help each other. Also, they can jump in if someone is unavailable, automatically update the customers on their issues, escalate tickets, and much more. Everything depends on your imagination and creativity!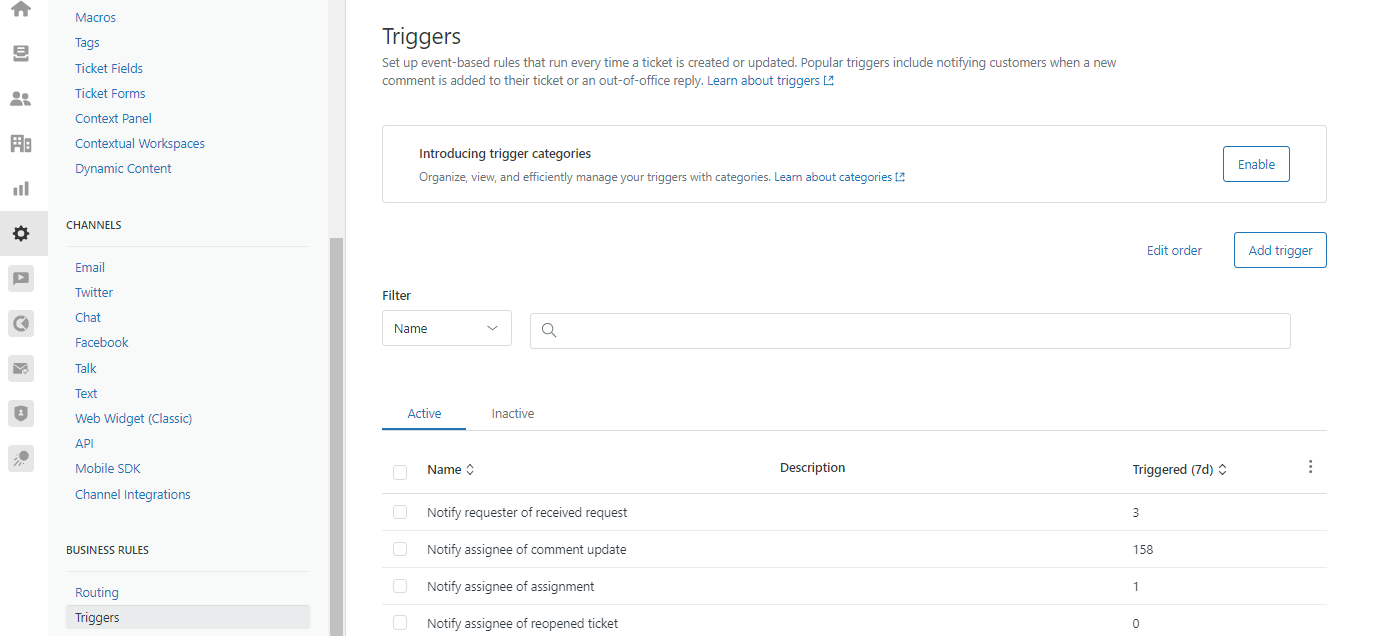 #2 Use tags to quickly browse through the workflow
This tip is simple yet very helpful for an organized ticket assignment and storing. In Zendesk, it is possible to add words or their combinations to create so-called Tags. Thus, you can automatically assign tickets to certain departments, for example. In addition, you can distinguish which type of services or products in your company cause the most issues.
Later, it will also be very useful to search even occasional emails or messages according to the Tags connected to them, filter tickets, and have an additional source for reporting.
You can even try to create chains of Tags. So that you have unlimited flexibility for managing and customizing your customer support operations. Or, you can utilize Tags with external services to deal with customer requests in unusual for Zendesk ways.
#3 Create macros to save agents' time
If you're tired of making repeated actions over and over, then Macros will become another life-saver for you. Their purpose is also to make part of the workflow hands-off for advanced users, however, they are different from triggers and automation.
Their main principle is to conduct actions automatically, only without any conditions. It means that agents can set up certain actions (e.g. updating ticket properties, replying to tickets, sending canned responses, etc.). And then only activate them when needed. This way, they don't have to make a chain of actions every time.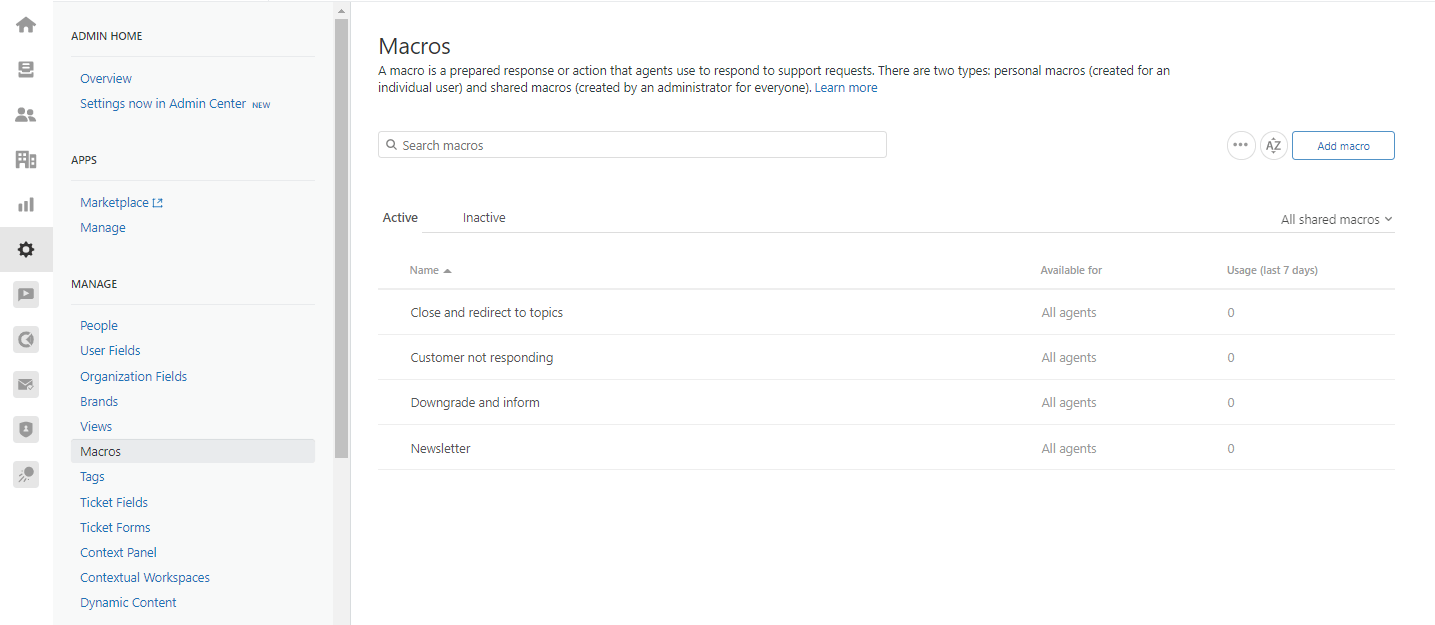 What about other great possibilities of Macros? They include the ability to:
Send customers answers with a template message instead of writing it from scratch every time;
Automatically change ticket status, for example to Resolved;
Add or remove tags;
Modify form values;
Re-assign or escalate tickets;
and many more!
Although, be sure to use the right amount of Macros in your workflow, scaling their usage and complexity as your customer experiences grow.
#4 Use shortcuts for Zendesk
Consistent customer service takes a lot of time and human resources, however shortcuts for any customer service software are a really useful time-savers for agents. But, before you start enjoying all the benefits of hotkeys, you need to activate the option in profile settings. Here is a detailed Zendesk's guide to the process. You can open the general view of all shortcuts by clicking the profile icon.
#5 Connect ticket updating to Slack integration
This is one of the easiest Zendesk set up tips. As soon as you connect your Zendesk account to your team's Slack channels, your team will no longer have to constantly switch between applications. So now, new ticket raises and updates will notify a required staff member directly from Slack!
What is more, your support team will also be able to create tickets themselves as well as add internal notes within Slack messaging system. Thus, you will always keep your support agents coordinated and focused on working faster!
#6 Use automated reminders to remember each customer issue
There are a lot of situations when agents can forget to close certain tickets. For instance, when they wait for an update from a customer or another teammate before they can completely close the ticket. Then, to jog their memory, you can set up custom reminders that will fire after a certain number of days and enable the employees to remember the ticket is there.
Of course, you can additionally customize the required number of days that must pass before the reminder has to fire. The most important thing is that using automated reminders you can make sure that not a single customer request slipped away from your team.
#7 Add internal notes for customer context
A very useful Zendesk feature is Internal Notes, however, not every Zendesk user takes advantage of them. They really enable managing customer requests effectively when you're throwing customer requests through many different support reps. Leaving Internal Notes, agents that are passing their ticket to another team member can provide them with customer context or any other additional info about the case. This way you will easily facilitate your information sharing.
Make sure to also read: Customer Context: How Zendesk Facilitates Personalized Support
An internal note will never be an unnecessary update as you will definitely supply your teammates with useful context on the case. You will communicate with them over the issue without making your customers read a cluttered conversation as well. So, it's better to consider using this Zendesk feature in case you still haven't.

#8 Link problems to incidents to eliminate a series of issues
There is also a possibility that many incidents are caused by the appearance of one single problem. Then, your support team will be receiving a constant flow of similar customer requests. You can link all these requests under one problem ticket that is related to them and then simultaneously send updates about the resolutions info or close the tickets altogether when the issue is solved. This also provides better access to customers since you can find any customer by the linked problem.
For example, when there are huge problems with your mobile app, many customers will raise tickets due to this topic. As soon as your agents can figure out the approximate resolution time, workarounds, and else, they will be able to send out messages even to thousands of customers at one time.
The bottom line
These were top tips on how to use Zendesk customer support software at the max level. Don't hesitate to try them out as you will definitely feel the change in the workflow effectiveness and customer satisfaction. And if you're already using some of them, great of you! Maybe you could share more useful Zendesk tips and tricks with us!