Often, customer support goes well beyond what your support team can deliver. It can be anything, from things such as extra availability to extra communication channels, the list goes on. Yet, many big and small companies seem to handle the incoming ticket flood just fine. How is that so? Well, the answer is quite complex but simple at the same, believe it or not.
Some use a dedicated help desk tool, others use help center software, and some use Zendesk Support. Unless you've been living under a rock for the past five years, you probably already heard about the company and their excellent help desk solution. But Zendesk Support isn't just a help desk. It is a customer nurturing system that business owners use to not just serve current customers but to attract new ones as well.
Again, it is all complex and simple at the same time. To help you learn more about the tool and digest better what we already stated about the tool, we've decided to cover the platform in full. This will be a long one, so we suggest that you grab a cup of something warming but not too warm (if you catch my drift) cause we're about to get started!
What is Zendesk Support in General?
In general, Zendesk Support is a ticketing solution built to help you learn, follow, and prioritize customer service problems. This is the gist of the tool. It's perfect for project management, too. But in all honesty, the tool is much more than that. As we said, the tool is used to support the sales team and nurture customer relationships, and what we mean by that (or rather what Zendesk means) is that you use the tool to provide a unified experience across the board.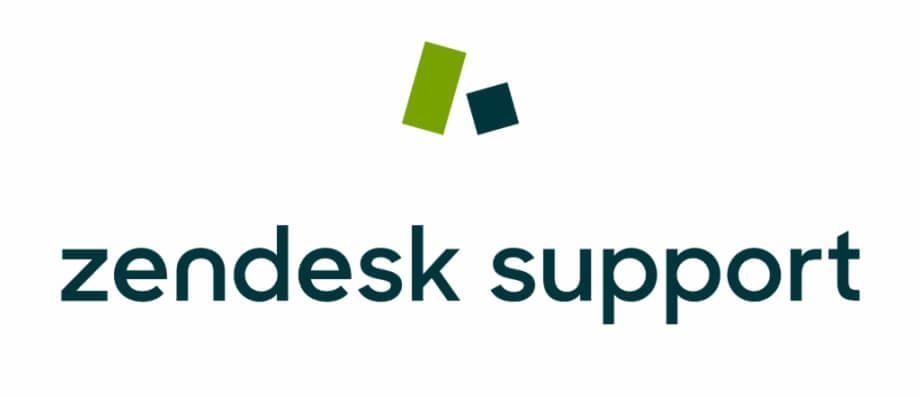 Many, if not all, customers these days expect you to be everywhere, and at all times, that much is clear. However, what Zendesk Support is all about is standardizing the service level across the board. Regardless if you ask as a customer for support from the coast of Asia or from within the US, Zendesk Support will make sure you get the proper treatment. This helps you build a brand, and as we all know, the brand is king when it comes to marketing and customer awareness. And this is a good segway to our next section, which are key advantages and key disadvantages.
Key Advantages
Each tool has its own set of pros and cons, this is just normal. Let's start with the good news because there's many things we'd like to talk about. We just won't have a better time talking below. Either way, we specifically want to mention the Zendesk Support features that help you achieve proper customer relationships.
Ticket forms
Ask the right questions and gather all the information you need from your customers up-front. With ticket forms, you can create multiple support request forms that show a unique set of ticket fields, making it easy for your agents to know what kind of support your customers need.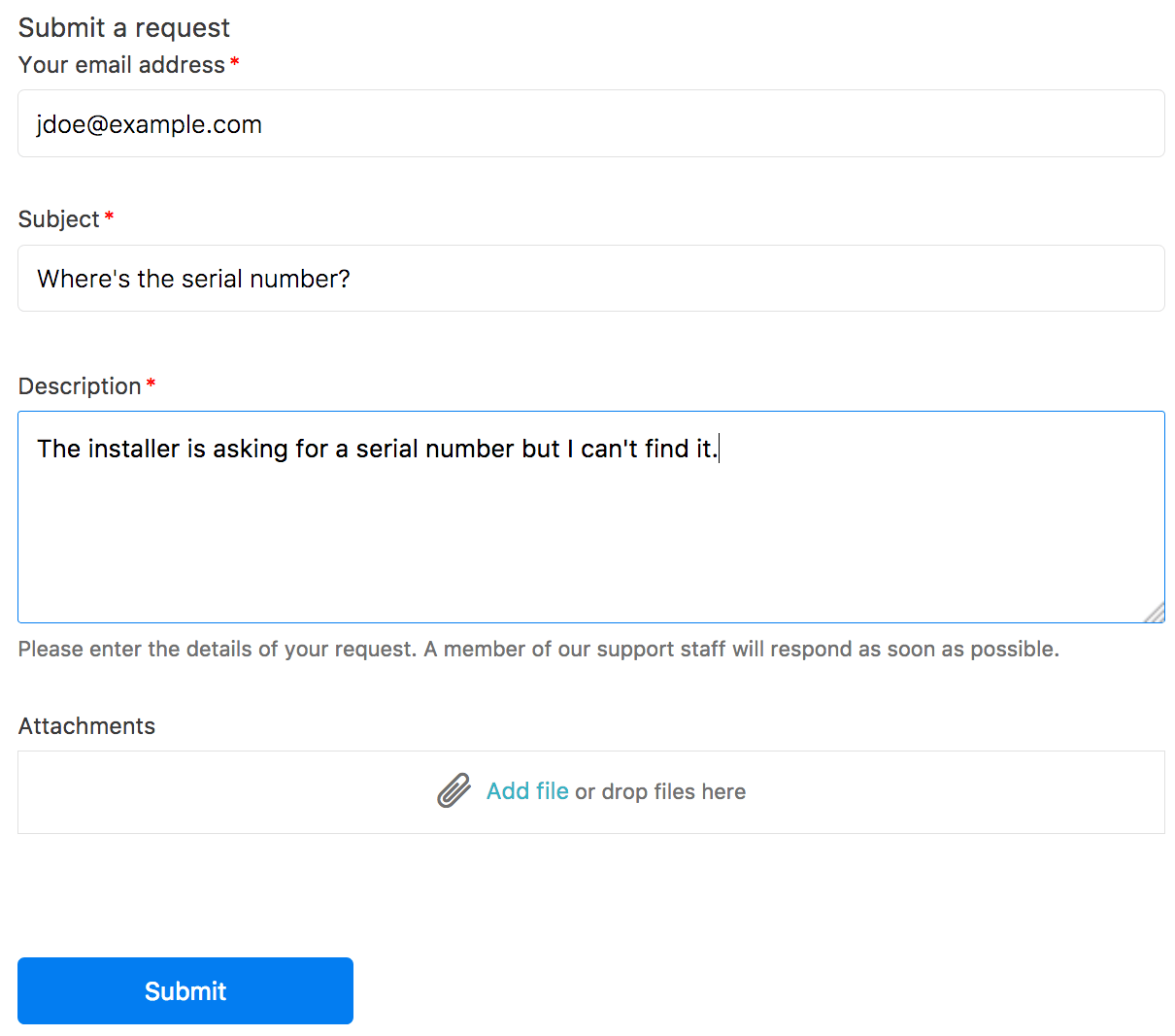 Source
Conditional & Custom Ticket Fields
Zendesk Support is a tool that will help you create a perfect ticket template for your product or service. Add custom fields, checkboxes, and description requirements to all your incoming tickets so that your agents wouldn't have to ask for them from the customer in the first place. This will speed up service, as well as it will improve the resolution rate because you'll have more information to work with.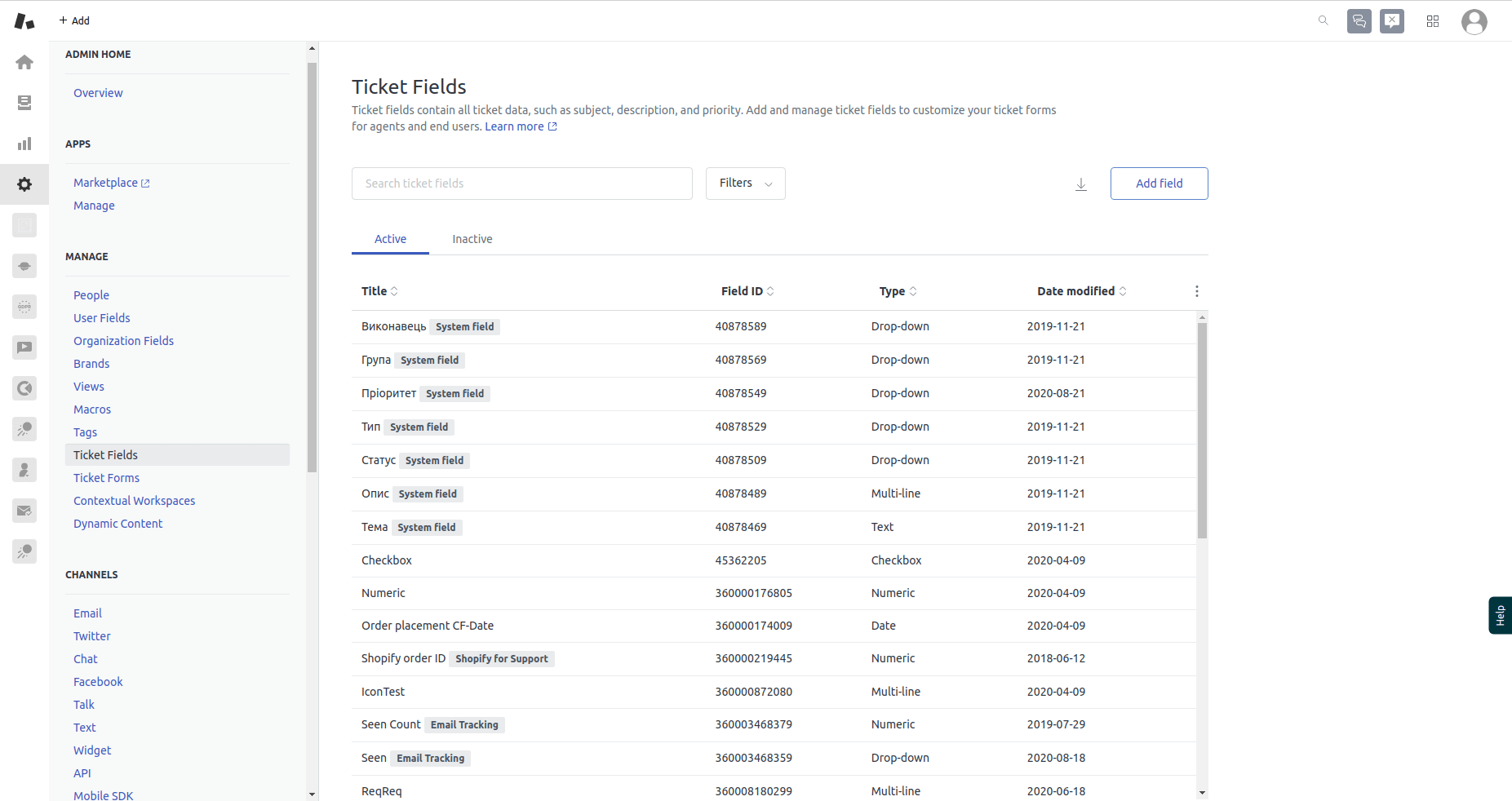 Dynamic Content
As the title suggests, the Dynamic Content system will allow you to communicate with your install base in the language they prefer. The tool will pull data from your knowledge base and translate it to the needed language automatically. The best part of this system is that it also allows you to swap automatically translated articles to manual ones. This will ensure that your international customer is reading the right version of the text.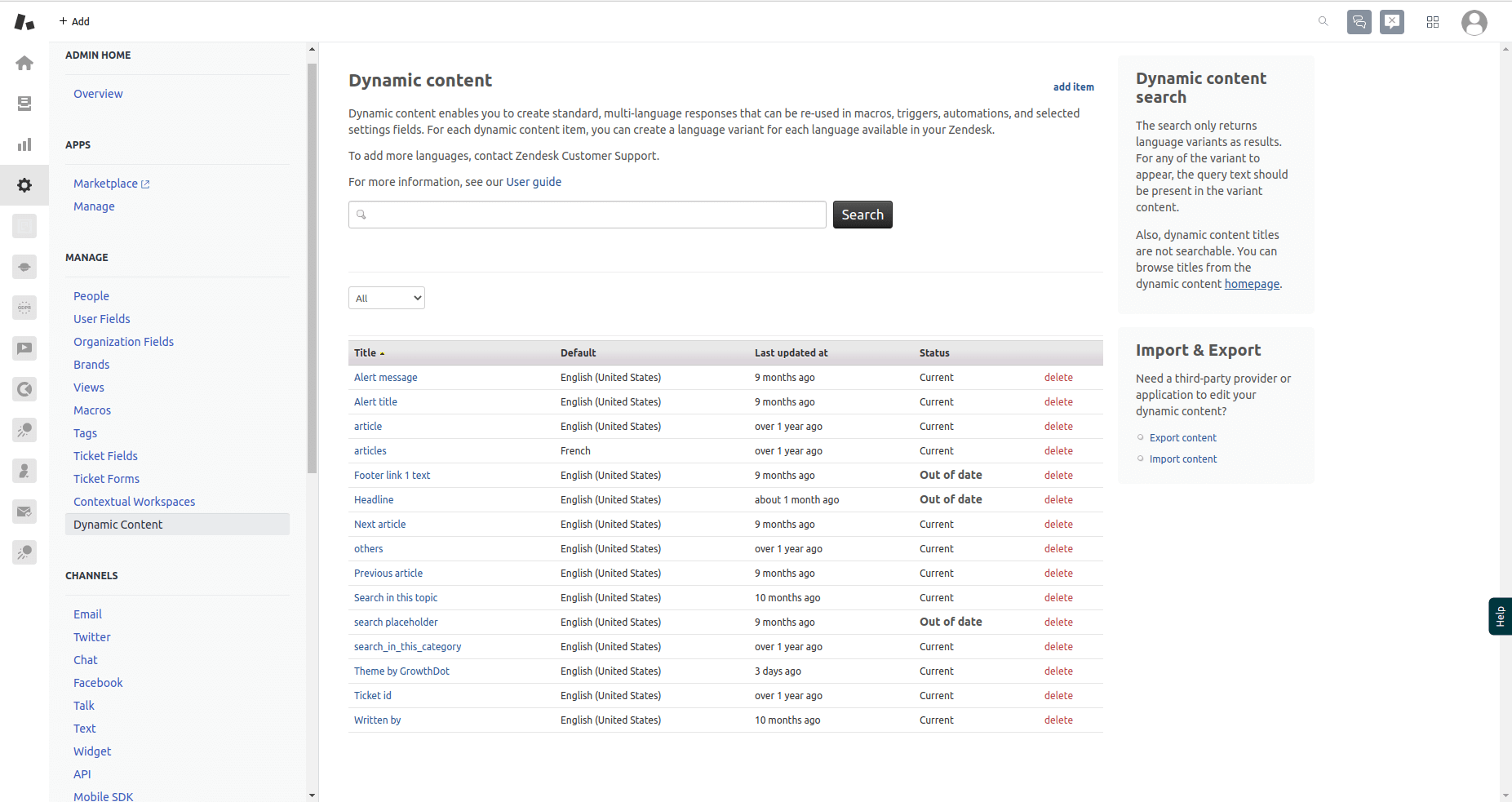 Pre-defined Ticket Actions
The number one problem your support staff faces every single day is commonly asked questions. Why waste their energy on mundane work that requires no real attention when a robot can do for you. Set a macro that'll send a pre-written solution every time a trigger for such a request is introduced. Furthermore, this tool will also allow you to set other triggers such as altering fields, changing the status, and pinging specific specialists.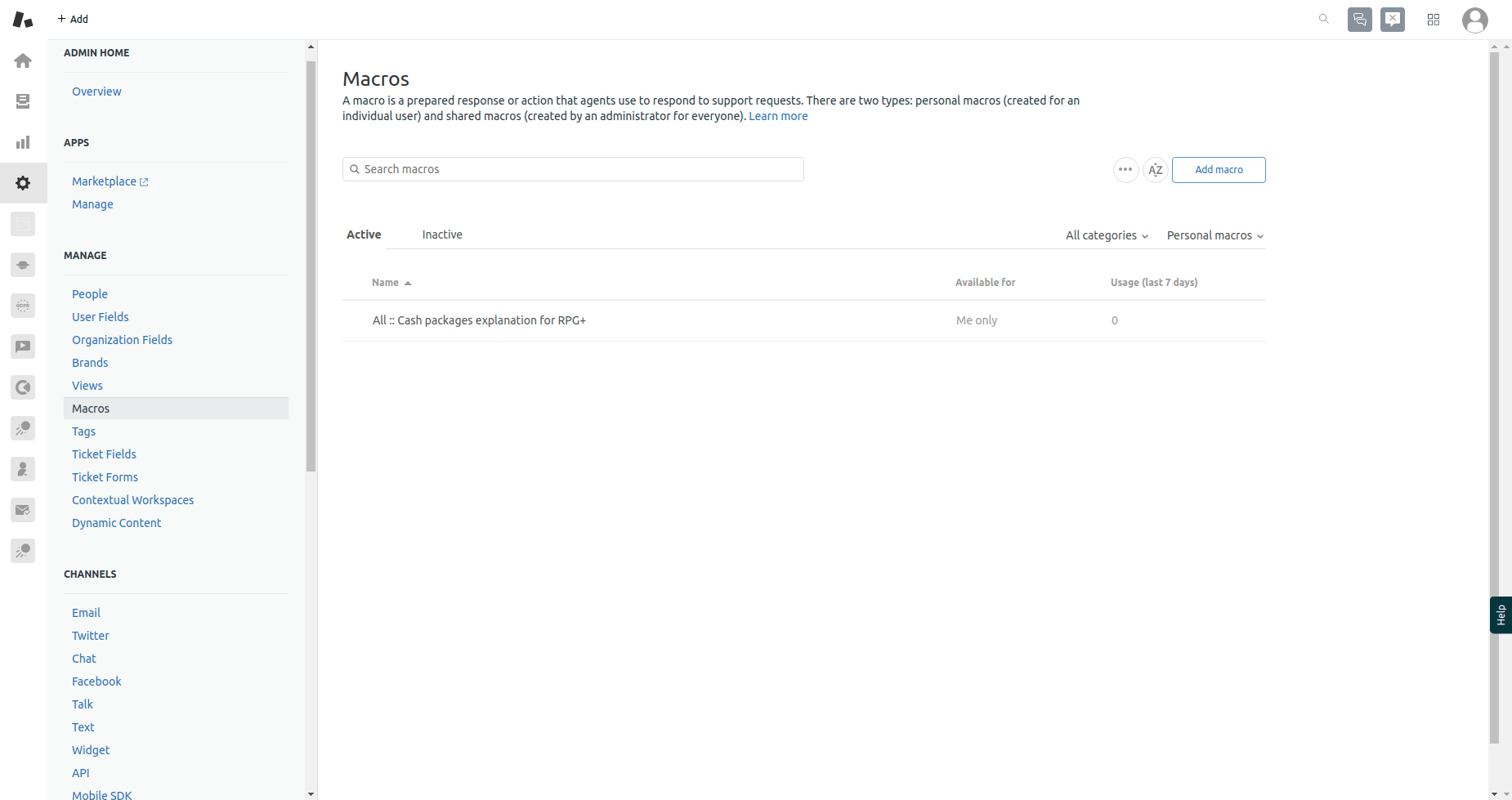 Satisfaction Prediction
Last but not least, the Satisfaction Prediction tool will, well, predict how content your customers are about your support. The tool might seem like it pulls prediction out of the blue, but in reality, it is powered by a sophisticated machine learning system. It scans how your people communicate with your customers and identifies what made communication successful. It is still in its early days but suffices to say it works and works well.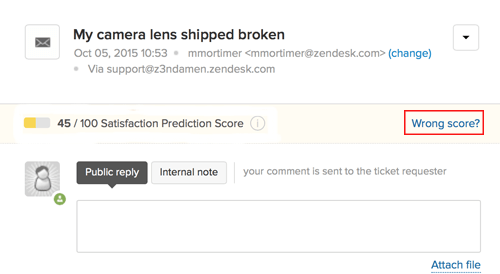 Key Disadvantages
The easiest way to fail as a critic is to say something is perfect. What we mean is that Zendesk Support does indeed have its fair share of flaws that we must talk about. First off, the system is not well-suited for beginners. Not that it is hyper complicated and overly bloated with toggles and menus but rather the fact that it requires you to go through a relatively steep learning curve. To take full advantage of Zendesk Support, it would be great to know how a similar system might work. Otherwise, you'll have to refer to the provided documentation.
Another disadvantage of the system comes from the massive integration suite. This might look like something that you should be proud of, but that isn't always the case. You see, not all businesses will make good use of the tool straight out of the box. But they can add missing functionality through the integration system. Over time, the average number of added features will grow, and so is the cumulative pricing. This is a specific use-case, but it is a possibility that not all budgets can stomach.
Finally, as with every piece of software, there are bugs. Yet, somehow, in Zendesk's case, this is a problem, especially when you consider the pricing of the tool (more on that in a separate section). You want a highly refined tool that you are positive, about 100% of the time. Yet, small bugs can still occur, which isn't good. Then again, they will most likely be ironed out over time.
General Usability
Now we won't be talking about how your business should be using the system to gain more prospects but rather explain how the entire process of creating a new agent, custom field, and automation looks like. Now the reason we do this is to demonstrate the accessibility rate of the platform.
Creating a new agent
First thing first, head over to your Zendesk admin account and locate the "+Add" tab. Once there, specify the Name and Email of the person you want to register, then select a Role. After that, you click on the "Add" button, but you might encounter an error, which can mean that you don't have enough seats bought. Finally, you can continue to edit the profile and even add Permissions (provided that your plan supports this feature).
Creating a custom field
Just as we did with the agents, you must log in to your Zendesk Support account as an administrator. Once you are in, you need to click the cog icon located on the sidebar. This will open up a bunch of menus, but we need to pick Manage, then Ticket Fields. Then, you'll see the option "Add Custom Fields." This will open a menu where you'll see many different types of field icons, so pick whichever one you need. You can also set up Permissions, where you can specify who can see and edit the field. Admins get to choose from Agent Only, Editable for end-users, and Read-only for end-users.
Setting up automation
Last but not least, automation. These are quite complicated but nothing that an average user couldn't do. Anyway, the algorithm is as follows. As an admin of the account, you head over to the Admin settings page, which is the aforementioned cog on the sidebar, and pick the Automations option. This will take you to a screen where you'll have to input the name of your automation. After you are done doing so, you need to specify conditions and actions for your automation. You can learn more about the actions and conditions here and here.
So as you can see, basic stuff such as adding new users is pretty straightforward, but when it comes to things such as automation, reading is required to make things right. Yet, on the flip side, if you've already used a similar tool and managed to set up automation there, you'll feel right at home in Zendesk Support.
Pricing
And now for the pricing. We already said that the pricing can get high, but the initial upfront investment isn't that huge to begin with. It is quite democratic, especially considering the overall value of the system. Also, before we jump into the pricing, we'll only outline the best features of each plan, so if you feel like you need to learn more, we suggest that you head over to the official Zendesk Support pricing page. Either way, here's what you can choose from:
Zendesk Support Pricing Options
Essential 5$/mo/agent
Team 19$/mo/agent
Professional
49$/mo/agent
Enterprise
99$/mo/agent
Elite
199$/mo/agent
Pre-defined business rules
Interaction history
Custom business rules
Performance Dashboards
Public apps and integrations
Multilingual content
CSAT surveys
Multiple ticket forms
Skills-based routing
Contextual workspaces
Satisfaction Prediction
Multibrand support
99.9% uptime SLA
1-hour service level objective
Advanced security
Datacenter location
Note: Each subsequent plan includes all features from the previous one.
For our money, the Enterprise one is the most valuable. However, it is also on the more pricey side of the assortment. It also won't make sense in a small business. For smaller teams, the appropriately named Team plan is the way to go. Don't go bothering with the Elite plan as it is a very specific use-case.
Technical Specifications
The reason we like to include these specifications is that it allows users to see whether the tool fits their current toolset. This also shows them what kind of adjustments they might have to make to take full advantage of the platform.
Zendesk Support Tech Spreadsheet
Device Compatibility
Language Availability
Pricing Option
Customer Type
Deployment Option
Android
iPhone/iPad
Web-based
PC/Mac
English
Dutch
Polish
Turkish
Swedish
Monthly payment
Annual Subscription
Small Business
Large Enterprises
Medium Business
Freelancers
Cloud-based
Just as its sister products, Zendesk Support sports a pretty similar technical spreadsheet, which is a good thing. It supports virtually every popular platform and is available in many languages, making it a great option for international use. As for the deployment options, it is only web-based, which might prove to be an issue in places where the connection isn't stable enough. Make sure you test your current network environment to see whether it might affect your workflow.
User Opinions
The age-old truth, one head is good two is a hydra…. or what was it? Jokes aside, we like to post what other people say about the system as they can test things we couldn't (like a mass scale automation scenario), as well as they will be able to cover every nook and cranny, something we just don't have time to do on our own. Either way, here are some Zendesk Support reviews: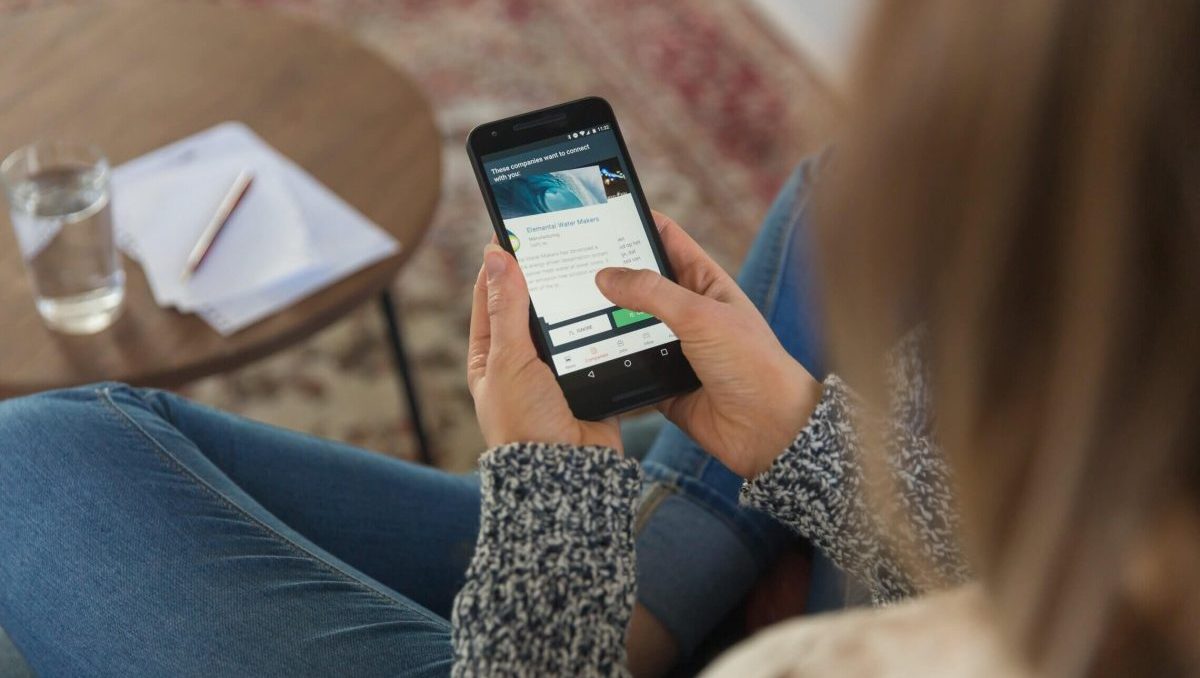 Pros
One of the best things about Zendesk is internal notes and side conversations. These are very useful and can help at times tremendously.
The ability to organize everything makes a difference.
Cons
Sometimes, both our trained and untrained employees end up sending a response to someone unintended.
With the amount of info presented on the email page, the communication can end up being a tad too much.
Pros
We were able to solve a lot of customer issues.
For the most part, the tool is pretty user-friendly.
Allows you to collaborate with your team effectively.
Cons
The user interface could have been better organized.
Often, finding a specific ticket can be overwhelmingly hard.
Pros
After you are done setting everything up, it is very powerful and useful.
Cons
The key issue is that setting everything up is hard. Also, it can be hard to know how the tickets appear to customers.
Beneficial Zendesk Integrations
Now that we have all the different reviews under our belt let's take a look at some great Zendesk integrations that you can take advantage of. There are a ton of them, but we decided to stick to just five.
Growthdot Proactive Campaigns
If you are working in a very hectic industry, such as, say, software development, and you need to share an update, you probably know how hard it can be to manually create tickets on behalf of the client, exporting the database into a third-party email client, and other stuff. Why waste time when you can take a shortcut. With this integration, you can just pick the criteria you need and generate a list of customers to send out updates to your contact database. Easy!
CloudTalk
As the name suggests, this is an intelligent cloud-based phone system. The key idea of the platform is to help customer support teams, especially those working in SMEs or startups, manage calls and messages effectively. It provides an abundance of call-center types of features, as well as its integrations. Be sure to give it a try.
If you are having a hard time learning what kind of messages your customers like, then this integration will allow you to learn valuable information in a streamlined fashion. This tool will track what emails were open, how long they were open, and whether they were read in the first place.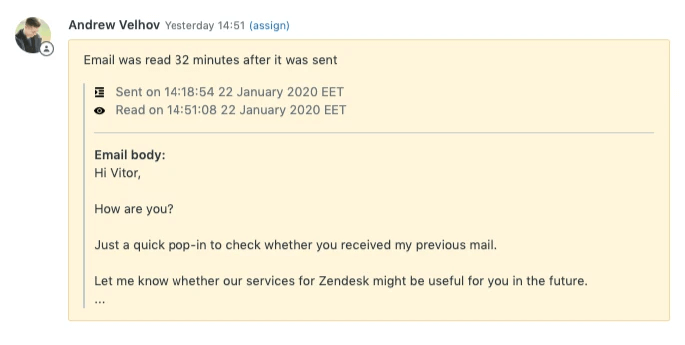 Email Tracking in action
Stella Connect
If native Zendesk tracking capabilities aren't enough for you, maybe it is time you install Stella Connect. This system will allow you to track the performance of your agents, see what kind of bottlenecks they face, and finally, provides you the ability to create a service recovery workflow.
Instead of sending dull messages, why not send a quick, high def video as a response? Well, this is what this plugin is all about. In mere seconds you can create detailed product tutorials, demonstrate a solution, or simply send a personal invitation. This system is a perfect fit for any business that aims to provide personalized service.
Final Notes
And there you have it — a detailed, in-depth look at Zendesk Support. The system is incredible and delivers on the promise, despite having some small issues. The pricing can be right, and the ability to add custom functionality is simply marvelous. Yet, if you feel like you need help picking up integrations or maybe you want to learn more about Zendesk integrations, be sure to let us know. But in the meantime, thanks for joining, and we'll see you in our next article.

Get an advanced Zendesk customization
Upgrade your Zendesk account in a few clicks!
Try now