Despite being one of the driving forces of the business, the marketing process runs via constant changes, shifting into more complex processes. Potential clients use multiple devices in interaction with your company, so now it is far more than conversions. As a result, digital professionals rely on marketing automation tools to handle everything from social media activities.
Defining Marketing Automation Tool Concept
Marketing automation software helps companies to use personalized, useful content to nurture prospects. So the ultimate target of the marketing automation platforms is to:
firstly, make managers' job more efficient by task prioritization;
secondly, generate leads and nurture prospects;
thirdly, specify criteria and interpret outcomes;
finally, bringing more revenue and higher ROI.
Surely, marketing automation is such a buzzword, and a lot of digital marketers have illusions and think the performance will look like a robot's work. However, these tools are designed for the execution of marketing tasks in a simple way.
Top 7 Proven Marketing Automation Tools at A Glance
Of course, there is an insane amount of various marketing functionalities and tools. But this situation is explained by the reasoning that each platform has different features. So, let's look at the benefits of marketing automation systems.
Here is the shortlist of proven marketing automation tools for SMBs and enterprises as well.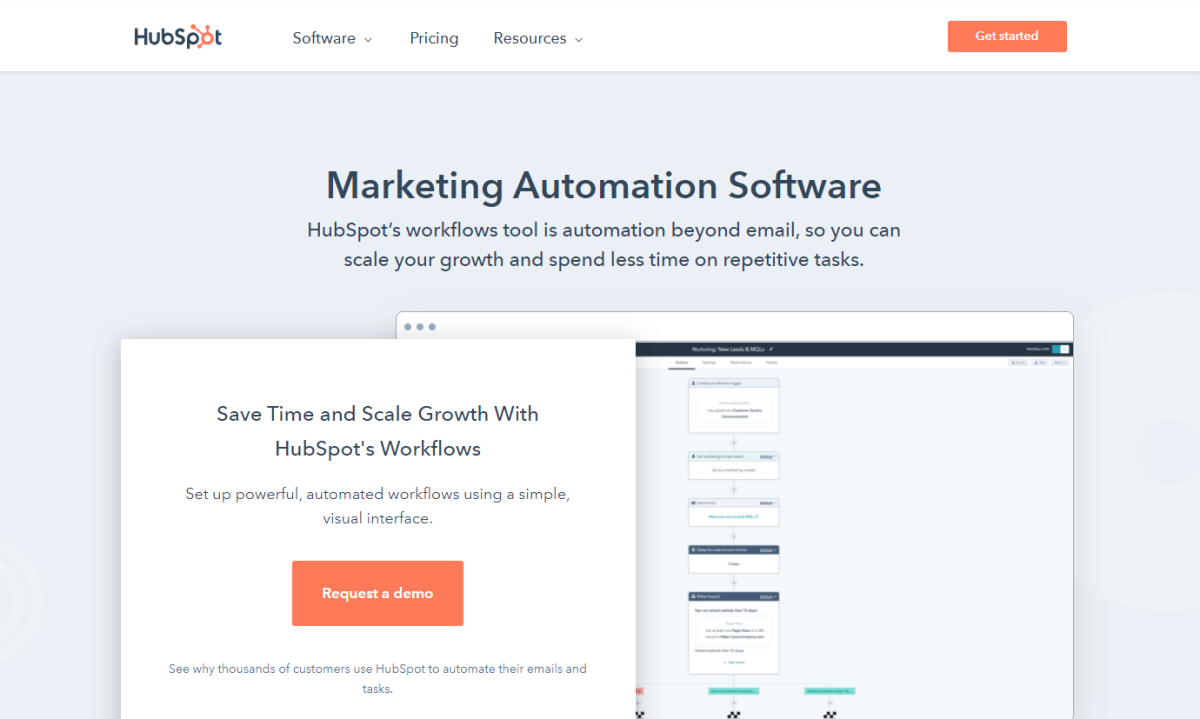 As a rule, the inbound marketing approach is associated with HubSpot. Indeed, this software offers a huge amount of tools and advanced features. Besides, this marketing automation tool combines SEO, blogging, social activities, email marketing, analytics, etc.
Leading Features
Set up workflows based on your marketing strategy;
Manage the content;
Monitor prospects, landing pages, and performance;
Score, track, and categorize your leads;
Customizable campaigns;
Content library and reuse options;
PPC/Adwords and Salesforce integration.
Costs
Provides a free trial, but you should contact for a quote.
Pros
HubSpot is an all-in-one solution with wide functionalities. Moreover, it's one of the best marketing automation tools for small businesses. Besides, they will educate you on how to use their solution.
Cons
The software does a lot of everything, yet some of its features can be found in some other free marketing automation tools. To clarify, they require an annual contract, and tech support is paid.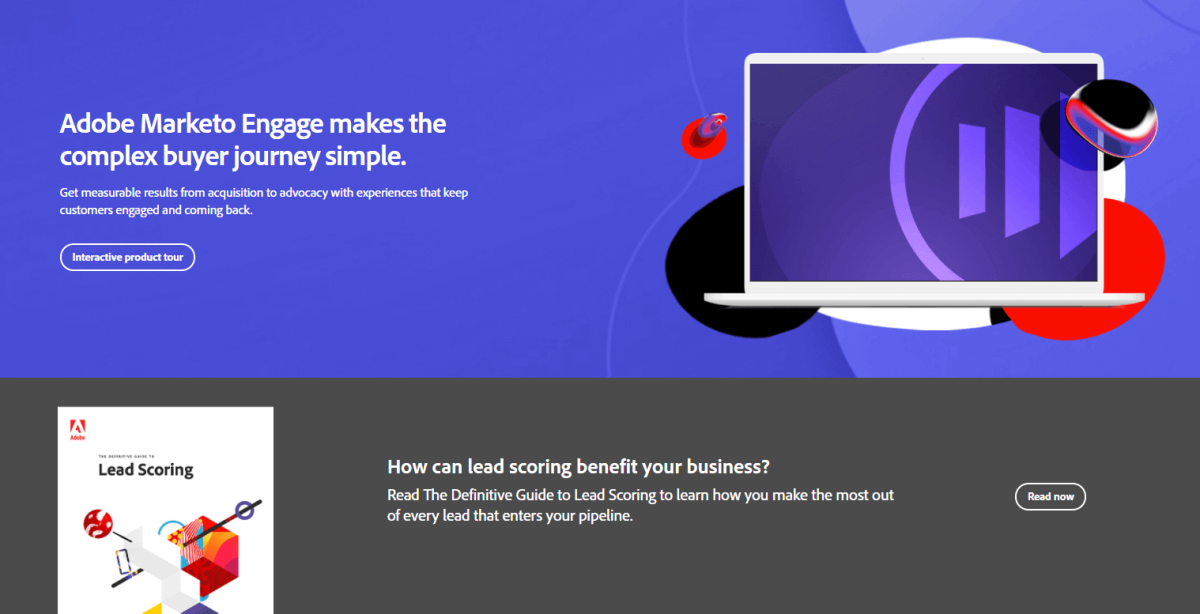 Marketo is a well-known multi-functional marketing automation platform with marketing automation features, customer engagement, budget planning, and calendar tools. By the way, this is a cloud-based platform. Moreover, Marketo helps marketers and sales reps to boost incomes and keep good relationships with clients.
Leading Features
Score, and manage your leads;
A/B testing tools;
Advanced email marketing automation;
Landing page and forms builder;
Social media marketing;
Revenue and campaign analytics;
API integrations and Adwords support.
Costs
There are four pricing plans available: Select, Prime, Ultimate, and Enterprise. Whatever you choose, you need to contact the sales department to book a subscription.
Pros
The marketing automation tool is intuitive, quick, and easy to set up, and also it offers great customer support.
Cons
Despite the benefits, the platform has limited analytics and reports functionality. Also, the builder of the landing page and forms has room for improvement.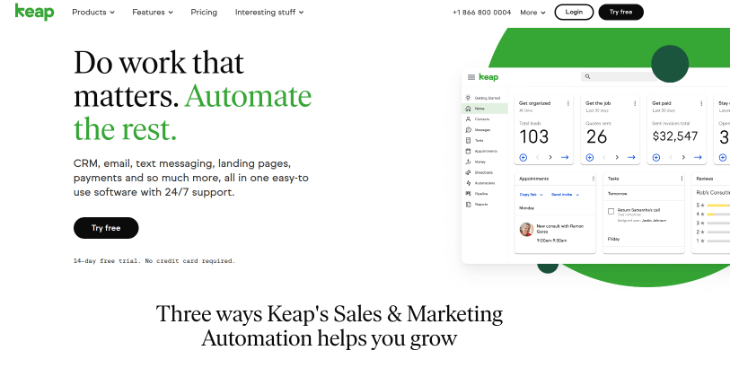 Another competitor in the list of marketing automation tools is Keap. These are the CRM and marketing tools that help in campaign building, social media and email marketing, and analytics. In short, this is an all-in-one solution for SMBs.
Leading Features
Marketing campaign builder with triggers;
Designing landing page and form tools;
Email marketing automation tool;
Monitor your website, and visitors;
Real-time reports and analytics;
Social media marketing tools;
Integration with CRM.
Costs
Lite - $56 per month - offers basic marketing automation tools;
Pro- $119 per month - for growing businesses;
Max - $140 per month - for companies with a sales team and also online stores.
Pros
Keap provides tracking across marketing channels, and API integration and also has a built-in shopping cart.
Cons
Nevertheless, the platform has no native integrations with 3rd-party tools. Extensions and apps at the marketplace may require additional payments.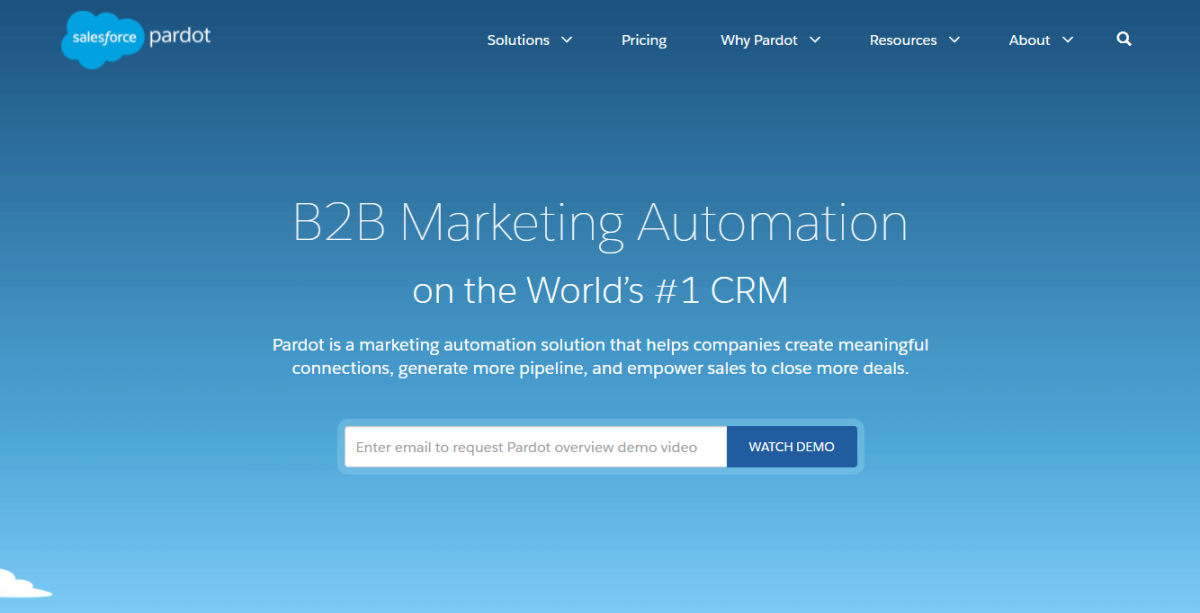 Salesforce.com company offers Pardot, a B2B marketing automation tool. So, this suite offers lead management, email campaigns, analytics, and CRM integration. In addition, you will shorten the sales cycles.
Leading Features
Landing page, form builder, and research connectors;
Email campaigns with branded templates;
Built-in testing tools;
Leads scoring, grading, and nurturing;
Audience segmentation wizard;
Prospects tracking;
Real-time alerts and reports;
Multichannel social marketing;
Reunion with CRM.
Costs
Growth - $1250 per month;
Plus - $2500 per month;
Advanced - $4000 per month;
Premium - 15000$ per month.
Pros
Evidently, Pardot is one of the most customizable marketing automation tools, with great customer support and prospects' tracking.
Cons
However, API access and A/B testing are available only for Plus users.

To begin with, Oracle Eloqua provides an automation marketing tool for targeting and lead management, campaigns, testing, advertising, and analytics. Also, the mission of this platform is to simplify the lead generation process.
Leading Features
Multichannel personalized campaigns;
Smart editing tools for landing pages and forms designing;
Scoring and routing your leads;
Content marketing management;
Audience segmentation;
Built-in digital advertising;
Dashboard for real-time reporting;
API and CRM Integrations.
Costs
Basic - $2000 per month with more than 10K contacts;
Standard - $4000 per month with more than 10K contacts;
Enterprise - requires a custom quote.
Pros
In summary, Oracle Eloqua offers an easy campaign and microsite builder and integrates with 100+ 3rd party platforms.
Cons
Despite being a quite expensive digital marketing automation software, Oracle Eloqua also has no integration with Adwords.

AdRoll is another marketing tool whose basic feature is performing advertisement campaigns. In addition, AdRoll Integrates with popular advertising platforms to reach the target audience everywhere. Also, It helps marketers in managing ad campaigns through all possible channels. Besides, AdRoll offers a precise view of the whole ad campaign.
Leading features
E-commerce marketing automation;
Creating email campaigns;
Supports customer data platforms (CDP), CRMs, and reporting and tracking tools;
Works with popular advertising platforms (Facebook Exchange, Google, Yahoo, and Microsoft);
Creating targeted email and add campaigns.
Costs
Free - 0$ up to 5000 email send/month;
Growth - 19$ up to 20000 email send/month;
Contact AdRoll if you need more.
Pros
For example, it integrates with other platforms and popular CRMs and saves your costs.
Cons
To sum up, the user interface is a little bit complicated according to client reviews. Also, there's no integration with WordPress.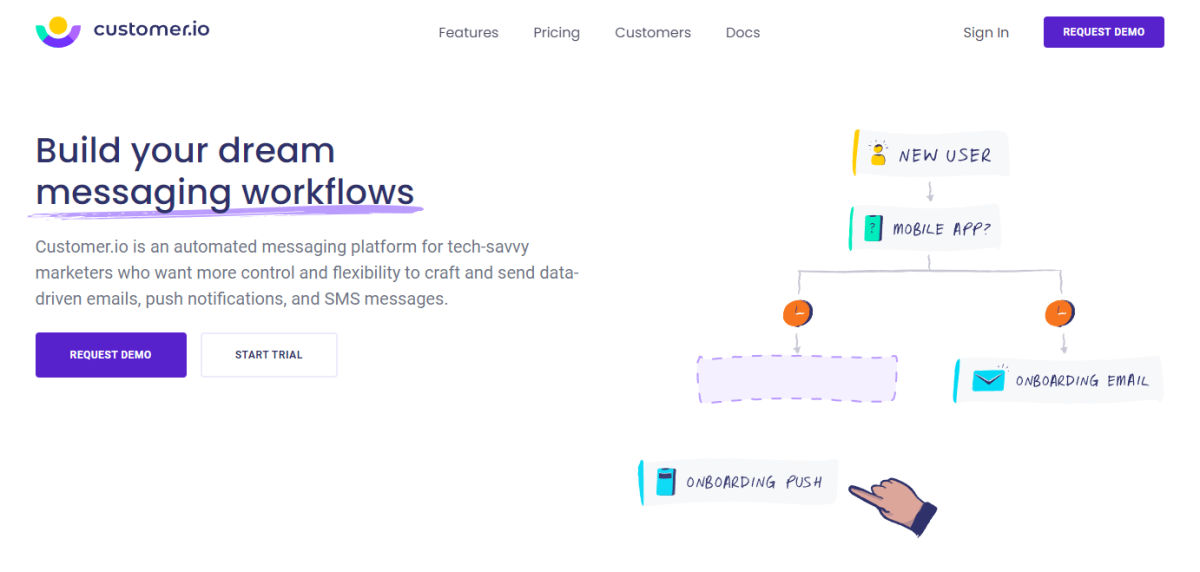 Customer.io is a relatively new player among digital marketing automation tools. Also, It is an automotive messaging platform for crafting and sending emails, SMS messages and push notifications. Besides, Customer.io has great usability, customer support, and A/B testing option.
Leading features
Sending mass email campaigns;
SMS campaigns;
Push notifications;
Data import and export;
Dashboards and statistics;
Third-party integration;
Fast contact segmentation;
Individual profile data for every contact.
Costs
Basic - 150$ per month with basic features;
Premium - 995$ for all basic features plus dedicated Customer Success Manager, deliverability control, and more.
Pros
It is extremely flexible and integrative with other tools and services, and easy to use.
Cons
In short, iCustomer.io concentrates on emails mostly and has a weak functionality for push notifications. Also, it is suitable for small businesses without huge contact amounts.
Brief Sum Up
To sum up, there are many more marketing automation tools, and this short-list gives you a comprehensive insight to the top 7 of them. So all you need to do is to select the most suitable platform for your business goals and start your marketing efforts.
Need info about useful tools and tips?
Check it in our blog
Read more