Providing customer support services and conducting marketing campaigns might transform into a fight with time. Zendesk users waste tremendous efforts manually sending emails and messages to regular or potential customers. Therefore, there becomes a moment when they decide to change some of a business workflow and optimize them by integrating software that can automate sending mass emails. And in this article, we will be covering the battle: Mailchimp vs Proactive Campaigns.
No matter whether you only started searching for a tool that can be integrated with Zendesk and will help you easily send email campaigns or just eyeing a particular product, we are here to support your choice.
You have probably heard about the leading marketing application called MailChimp. If not - we will talk about it later. So, this integration is suitable when you need to make a breakthrough in implementing marketing automation. However, there is a quite convenient way to improve both customer service communication and email marketing. And this is the Proactive Campaigns application for Zendesk.
Let's overview the difference between these integrations and choose which will benefit you more.
What is Proactive Campaigns for Zendesk?
Proactive Campaigns is an application that complements Zendesk Support. Besides, it's super effortless to use and launch email campaigns when using this app. So, the add-on will lure your attention if you want to send out campaigns from Zendesk natively to target users.
Dealing with numerous clients from Zendesk, you usually reply to each requester within one ticket. This is ok when your agents should solve a small number of thematically different queries. But what if you face a situation when all customers should be informed about new product features, sales, webinars, or even server issues? Will you really send each email to each customer one by one with the same content?
Indeed, we all tend to avoid such time-consuming work. This is why Proactive Campaigns assists agents in customer segmentation. For example, the app allows agents to create user lists based on different criteria and custom filters or upload CSV files with target contacts. Another feature, such as creating branded mass emails in a few clicks, is also a considerable advantage. So, you can build up a specific template or upload it in HTML format. Thus, personalized emails will help to establish trust between your brand and customers.
By the way, Proactive Campaigns allows you to check out where bulk emails will be delivered (into promotion, inbox, or spam) before sending them off. Therefore, you will always know when you need to change an email body so that your customer will be aware of updates, discounts, and other important information.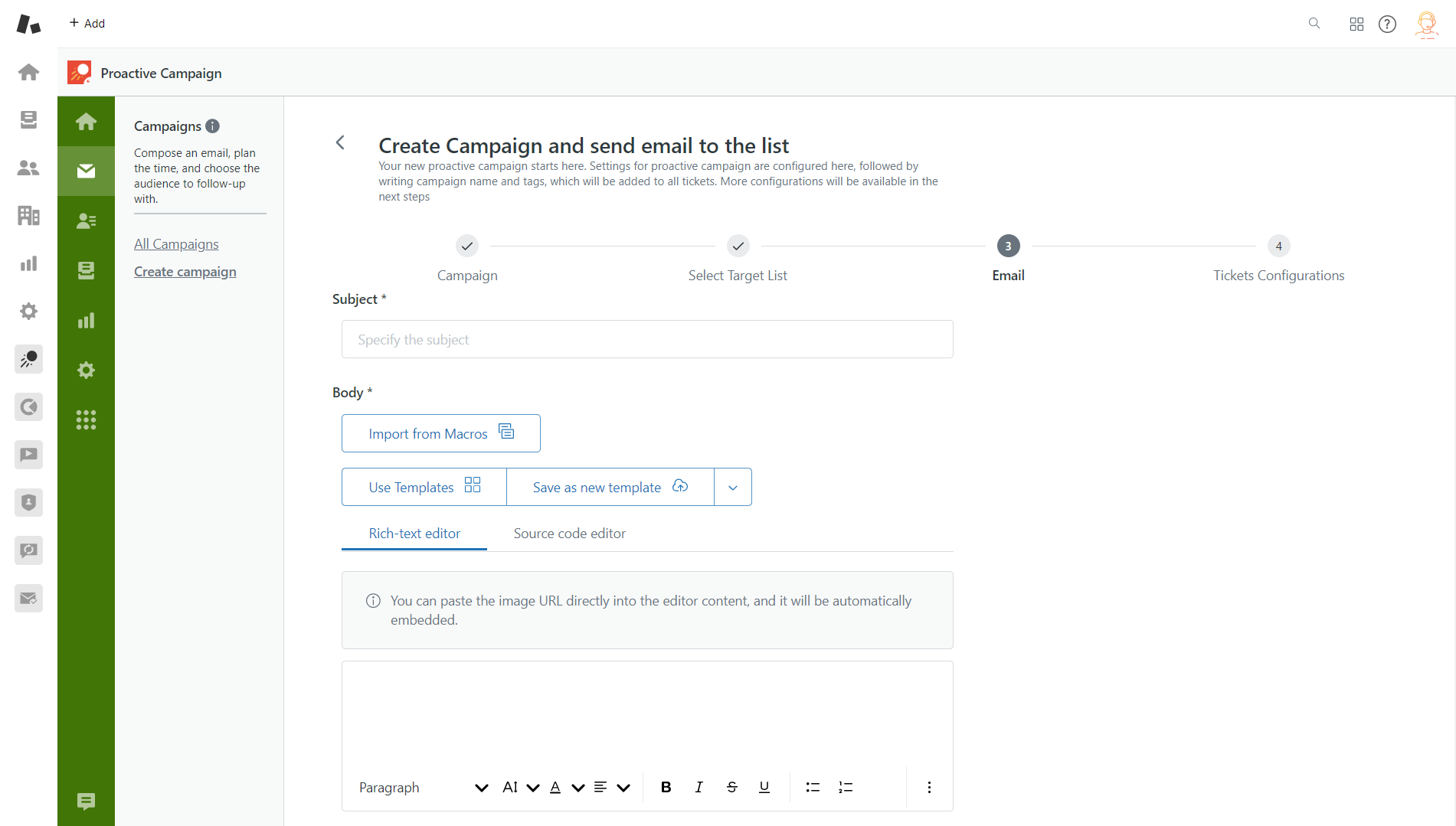 What is Mailchimp Campaign for Zendesk?
Mailchimp is a marketing automation platform for those who mainly use emails to promote and reach customers. So, the difference between Zendesk and Mailchimp is that the former is a tool for customer support, and the latter is for marketing.
Along with it, Mailchimp Campaign is also a Zendesk plugin produced by Mailchimp. As Proactive Campaigns, the add-on integrates with Zendesk Support to send mass emails using custom templates.
With this extension, you will send email campaigns and follow-ups to a target audience. Besides, user segmentation by customer lists is also available, so you can emailing to a particular group of users, making communication more personal.
Nowadays, branding becomes crucial when talking about service, marketing, or product. Considering that, Mailchimp Campaign allows its users to select from existing email templates or design a new one. You can edit them whatever you like to reflect your brand identity.
Notice that to utilize the Mailchimp Campaign app, you need to fulfill the following conditions:
Have a Mailchimp subscription.
Your Zendesk Plan should either be Professional or Enterprise.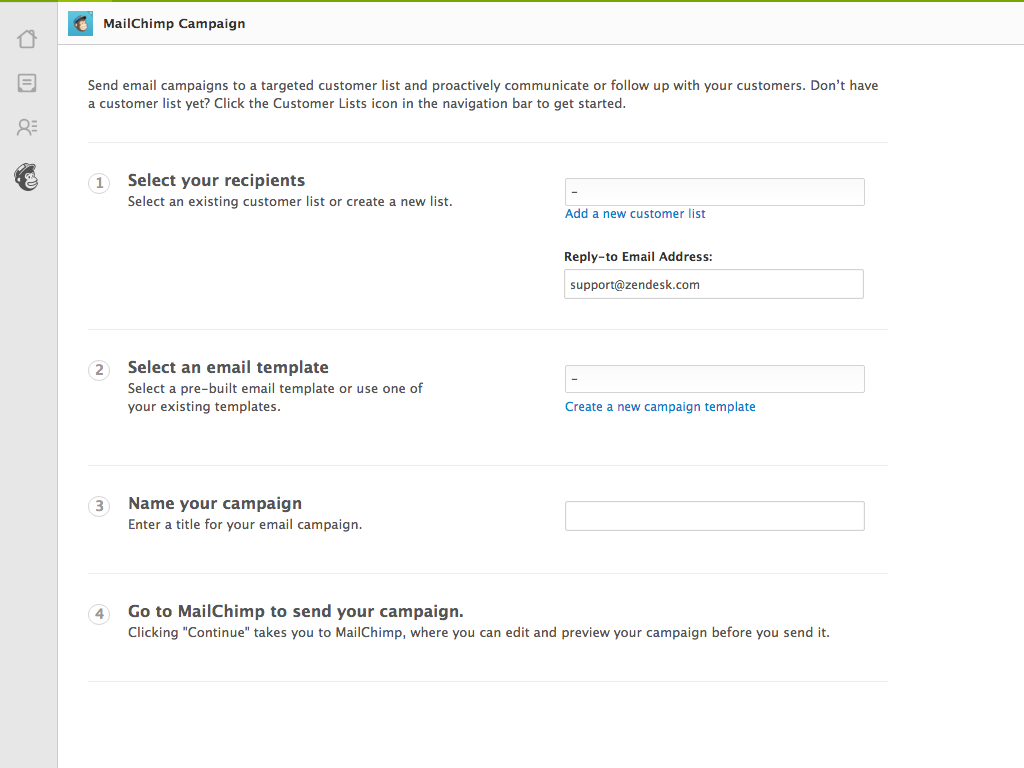 Mailchimp vs Proactive Campaigns
Which one is better for sending mass emails?
Now we are going to figure out which application will really match your needs - Proactive Campaigns vs Mailchimp Campaign. Before starting, you should determine what aim your company is reaching. Do you need an advanced tool for managing email campaigns with statistics, metrics, and tracking capabilities? Or maybe you will feel enough to have software that just sends mass emails.
Anyway, if you choose not only to create campaigns and speed up your customer support representatives work, then it should definitely give a preference to Proactive Campaigns. The app offers customer base filtering, bulk tickets, mass follow-ups, email tracking, automated email tagging, Zendesk ticket creation, HTML templates, campaign statistics, CSAT, and many more. Using all these functions in a complex will decrease the bounce rate and give you information about customer preferences and behavior.
Therefore, Proactive Campaigns does a lot to lure newcomers and increase the customer retention rate.
Otherwise, in case you are not really interested in proactive communication, email marketing analytics and surveys, and fully customized emails, then it is convenient to use Mailchimp Campaigns. So, you will just solve the problem of wasting time by sending mass emails.
Mailchimp vs Proactive Campaigns: Features comparison
As we investigated the purpose of each app, then we can sum up the main advantages and disadvantages they have.
Criteria
Proactive Campaigns
Mailchimp
Integrations
Email Campaigns

Select target customers
Create lists
Upload CSV file with contacts
Edit the email body
Insert placeholders
Use HTML templates
Add Attachments
Insert rating or feedback
Track emails (available with the Email Tracking add-on)
Tagg campaigns
Send to test recipients
Set the alias for agents
CCs

Select target customers
Customer lists
Choose templates
Send emails from the Mailchimp instance
Edit campaign before they are sent

Customization

Templates customization
Create custom fields
Add brand
Customize the email address

Statistics

View data for the reporting period
All created campaigns
Total emails sent
Successful/Unsuccessful campaigns
Draft campaigns
Bounce rate
Email reading percentage (with the Email Tracking add-on)

Data protection
Price

Free of charge (but you need an account on the Mailchimp platform)
We have mentioned the Email Tracking app a few times in the table. So, we should clear up what it is. This is another application developed by Growthdot that allows tracking emails in Zendesk Support. Therefore, Proactive Campaigns and Email Tracking can work together to give more valuable information about the campaign's open rate, links following, and other indicators.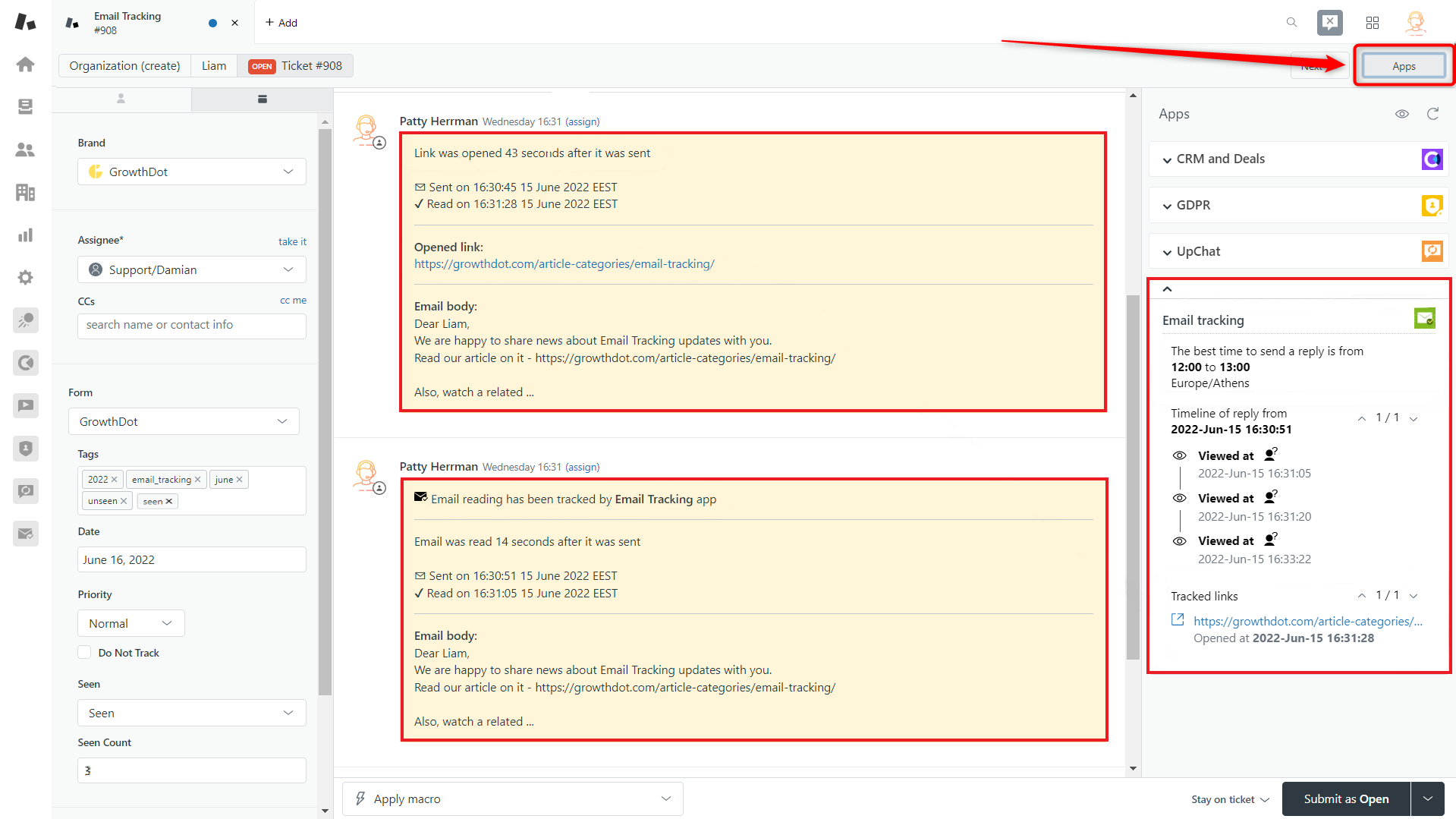 Installation and subscription
We are about to finish the journey around two Zendesk integrations. That is why we need to investigate installation and subscription peculiarities, in case you got interested in one of them.
The easiest way to install applications is to visit Zendesk Marketplace. There you are also available to get along with each application and read user reviews.
To become the Proactive Campaigns user, you simply need to click on install and activate the plugin in the Zendesk instance. If you struggle with subscription moments, then the Growthdot support team is ready to assist you and make this step as easy and transparent as possible. However, there are a lot of users who love self-service, so you can read related articles and watch video tutorials on this topic.
Talking about the Mailchimp Campaign, you might find the installation process quite complex if you are not a Mailchimp user. Additionally, you can't use a free version of the app until you buy the Professional or Enterprise Zendesk Plan.
Verdict: Proactive Campaigns Earned a Triumph
So, Mailchimp vs Proactive Campaigns: who is the winner? The Proactive Campaigns app will definitely grab your attention if you are looking for a perfect link between marketing and customer service communication. Surely, Mailchimp also deserves your attention if you require to run simple campaigns from Zendesk and not more. It's free, so it's reasonable. But consider that you won't have enough flexibility in application settings, and it doesn't offer statistics or any reports.
However, Proactive Campaigns gives an extended workspace in Zendesk Support for reasonable money. By the way, it has a user-friendly interface that supports creating and sending mass emails within a second. Therefore, this help reduces the average time your agents spend on mailing customers. Besides sending mass email campaigns, the app is also capable of the same with internal notes. So, don't worry about how to provide efficient communication between Zendesk agents. Just switch the campaign from public to private.
Again, more about formatting, proactivity, and productivity. You can make the most of editing the outgoing messages using formatting tools. If you wish, also add created email to your templates, or use an HTML from a desktop. Moreover, simply insert placeholders to make emails more personalized and push out leads. Nevertheless, Proactive Campaigns is still being the automation so that you will reach the mass of your customers.
Last but not least most important advantage of the Proactive Campaigns app is a super fast, responsive support team. They not only help Zendesk users implement the app but can also give advice and train how to use the platform. So, if you have any concerns, the support team won't make you wait.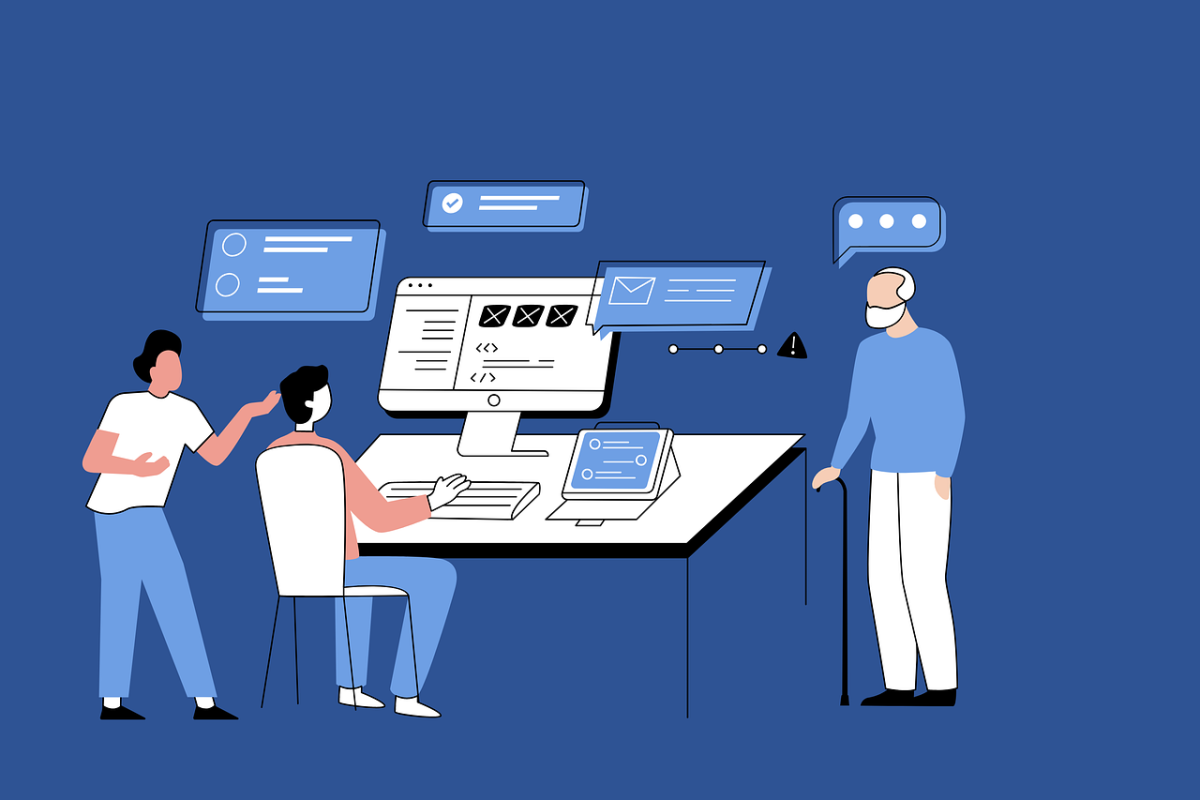 Wrapping up
So, make your daily business much easier with the Proactive Campaigns for Zendesk. Enhance your email marketing and customer support work by taking control of sending emails and tracking the delivery status of created tickets. Faster notify your customers of upcoming promotions and updates.
Moreover, the really intriguing thing is that when you are using the Proactive Campaigns by Growthdot and find something inconvenient or have great ideas on how to optimize the application, the dev team can transform your suggestions into new features. As the application follows the proactivity approach, it also is being developed daily, improving its functionality.
If you have any doubts about implementing Proactive Campaigns, then test the app and try all the features mentioned above. And stay proactive!
Need Proactive Campaigns for Jira?
We made it!
Read more