Your help desk is a huge reservoir of insights from customers that your customer service, sales, and marketing departments can draw knowledge from. But sometimes they aren't so obvious for businesses and can hide among the other tracked metrics.
So, once your help desk's configuration is over, take a look at these valuable Search Engine Optimization insights you can extract from your help desk analytics.
Keyword Analytics and Research
When your customers search your knowledge base or submit a support ticket, what are the most common phrases they use?
You can export all your support tickets in a CSV file or view the insights with the application itself. From here on, there are several text analyzer tools available to assist you in recognizing the most common queries or issues that clients are facing. 
You can also recognize how individuals can find your help documentation. Are they finding it through your internal search functionality or via organic search?
If the majority are arriving at your documentation from Google, this may indicate that:
You are driving search traffic from non-clients
Your help documentations' layout is not fulfilling your clients' requirements, and they are looking for the best documentation via Google. 
If you are drawing non-clients to your help desk docs, this can be a good chance for you to introduce these people to your awareness stage content. However, if your current customers aren't satisfied with the help center content you provide, this should be a place to set off with improvements.
Formation of Ideas for Content
After your knowledge base is organized, you can go through the analytics data to see what sort of topics individuals spend the most time perusing.
Google Analytics' custom reports are a great help to organize your data in this manner. This kind of reporting will let you know which other documentation you need to create through your marketing or customer service department.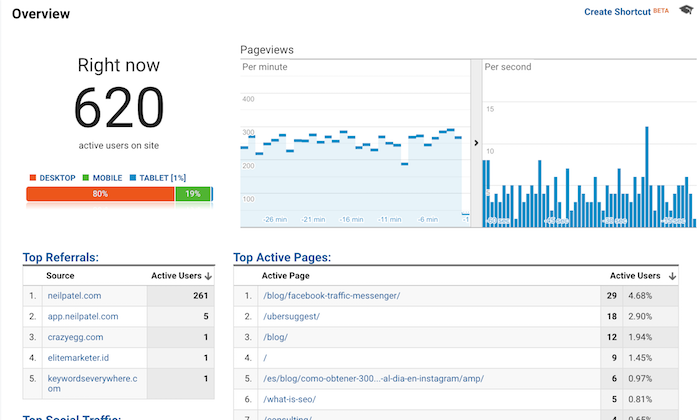 Source: neilpatel.com
Finally, remember to submit your articles of help documentation through the GSC (Google Search Console). This will also help you to recognize other topics created by your search results. So, that's another great point to dwell on.
Finding Topics to Draw Attention of Partners or Affiliates
Ticket data can help you if you create a channel for your business. This data can assist you in identifying particular issues that may find potential affiliates or partners while planning to engage referral relations that are more formal in nature.
So, the best approach to find topics that your future partners will need to check out is to segment and mine your current affiliates' ticketing data.
But don't worry if you do not have any partners or affiliates yet. You can easily compile a list of prospective affiliates and partners. You can also make use of Moz or SEMrush to find the non-brand-based queries types they rank for.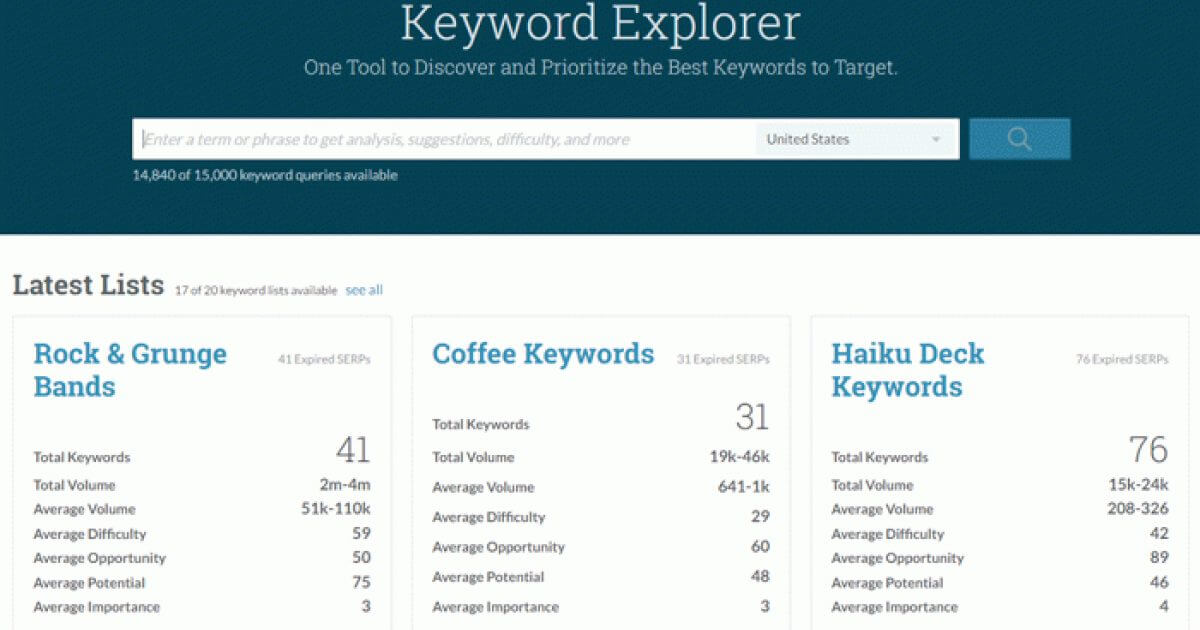 Moz Keyword explorer main page. Source: moz.com
Then, utilize this valuable information in your prospecting crusades to them to show your arrangement with these affiliates and partners. You will show that your clients can benefit from each other as well via referrals owing to the overlap in your content in terms of different sorts of topics.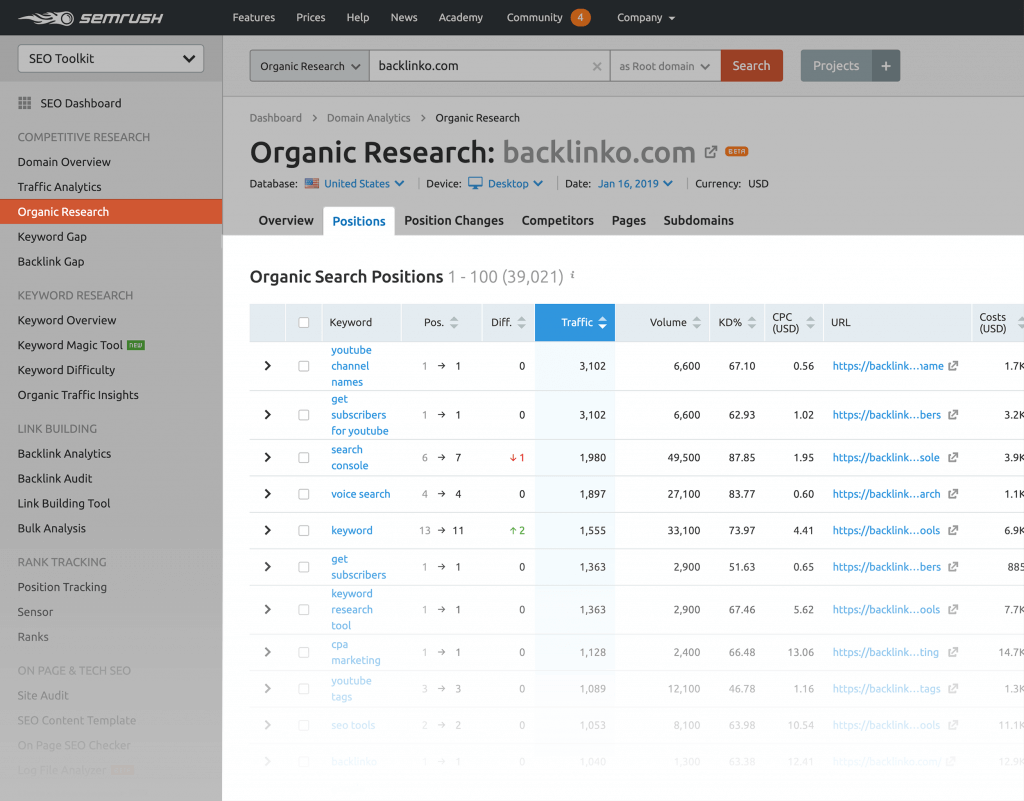 Viewing organic research rates in SEMrush. Source: backlinko.com
Likewise, you can make use of SEO (Search Engine Optimization) data to recognize which partners or affiliates to focus your concentration on from a co-marketing point of view.
It is great if your prospective partners or affiliates have a significant Search Engine Optimization "share of voice" for particular topics you wish to rank for. These are the partners/affiliates you ought to plan co-marketing with via a co-branded webinar or book. 
Seasonal Search
What you should also keep in mind is that individuals tend to ask particular questions at certain times of the year. 
So, the best thing is to perform quarterly or monthly analysis of consumer ticketing data to see if you can spot any trends in the search behavior of your customers.
If you can foresee the hike in help desk inquiries in particular times of the calendar year,  you can become a more successful customer manage or active marketing agent. 
This proactiveness on your part will assist in highlighting:
Do you wish to publish a conference component or specific campaign about the product?
How many customer service agents do you need on a specific day or week?
Your capacity to distinguish between harsh problems of fair abuse and seasonal weather rates
Device Usability
The next question you should ask yourself is 'How do individuals access my help desk?'
Google Analytics data (device-level) helps us to comprehend how and in which specific situations individuals are looking for customer support.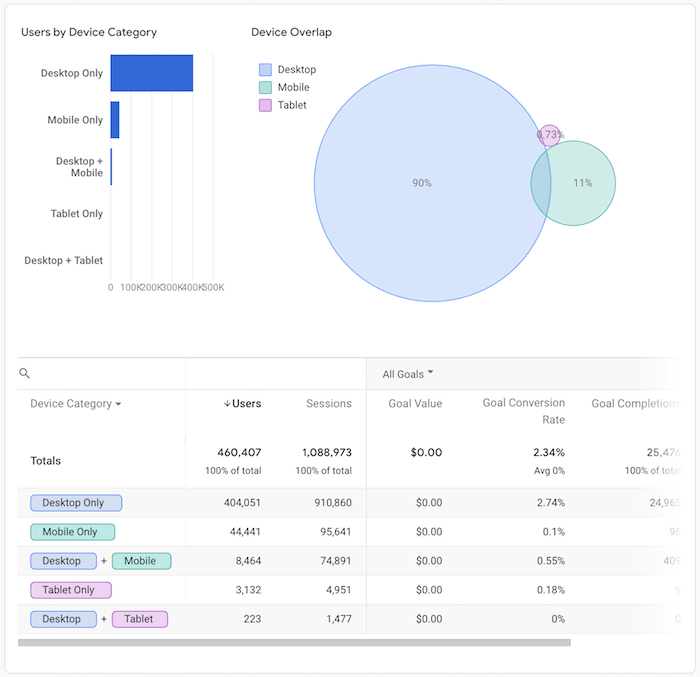 Source: neilpatel.com
If you observe that a greater number of help desk queries are originating from smartphones, this can point to the fact that the majority of the users are facing problems when they are not at their work desks. 
As a next step, pair data (device level) with user recordings and heat mapping to quickly find out where exactly the users are running into obstacles. 
Decisions Regarding Product Roadmap
If you choose to keep your articles (knowledge base) ungated, compile data relevant to Google Search for specific keyword impressions and find out trends in integration queries and feature requests. This will significantly help you in prioritizing decisions related to product development. 
Also, based on a subdomain or subdirectory, Google Search Console enables you to create an account. So this allows you to separate the data for keyword impressions, which is explicit to your help desk system.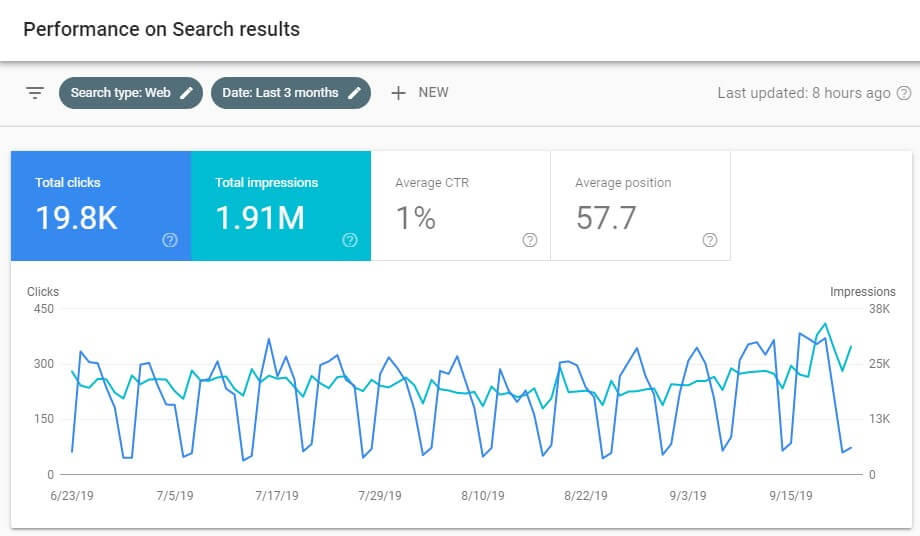 Source: botify.com
Localized Campaigns
Do you know how do your clients' search behaviors vary by their location?
If you don't, here's where to start with. First of all, make your help desk data indexed. Help desk data that is indexed provides the advantage of drawing traffic from both of the prospects and customers. 
For this purpose, you need to make custom Google Analytics reports. It will help you recognize which sorts of topics make people arrive at your website to find out more about. Such valuable help desk insights can go a long way to help training and customer marketing departments.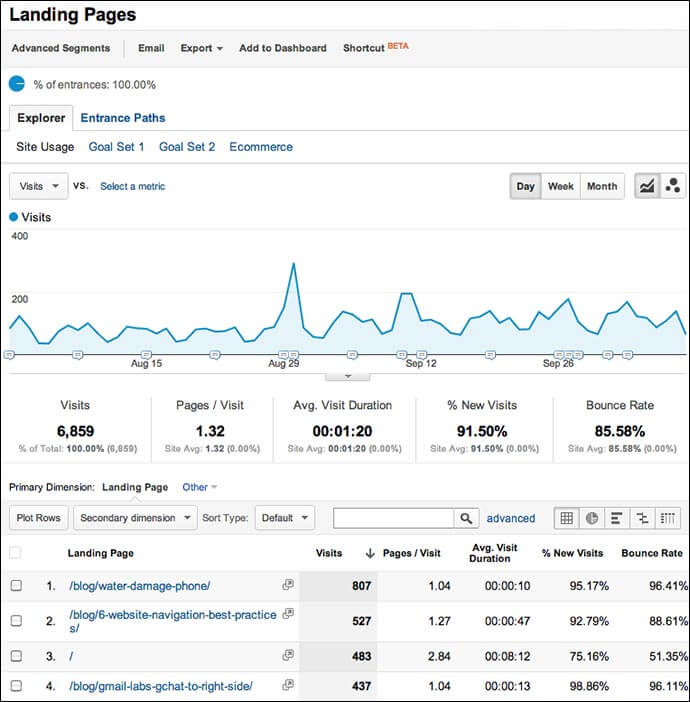 Landing pages report to learn which pages are the most popular among visitors. Source: wiredimpact.com
As a case to point, if you observe an increase in the help desk search traffic originating from a particular consumer segment and a particular area, you should consider including their topics (support) inside buyer education,  product marketing campaigns, or localized user groups. 
As an alternative strategy, if you are drawing traffic from non-clients to particular product support documentation, this can be a fantastic chance for lead conversion (target these non-clients visitors) through chatbots or CTA's (Call to Action's). 
But remember not to make a mistake of assuming that all search traffic coming to your help desk comprises just your paying clients! As we mentioned before, you should take into consideration the non-clients rate and make your decisions respectively.
To sum up
So, now you know that you can align your sales, marketing, and customer success groups more effectively with the help of:
Knowledge-base Search queries (knowledge base).
Basic analysis of your consumer service tickets
Data relevant to Google Search Console keyword-level impression 
If you apply these insights to your marketing strategy, you can be sure to fulfill your prospects' and customers' requirements as well as reach out to them more proactively.
Want to impove your Zendesk Support or Guide?
GrowthDot offers best Zendesk customization options
Power up my Zendesk now