Deleting and Anonymizing from CSV File
The data can be processed in GDPR Compliance app from the CSV file. It either deletes or anonymizes significant users' information in Zendesk by extracting data from your CSV file.
If you want to try this way in proceeding with data, then follow the steps below.
Import a CSV File For Deleting or Anonimyzing Data
First, go to the Contact Views page and click on the Import CSV-file button.

Now you see the New process from CSV-file modal window. Second, drag and drop a prepared CSV file or click on the gray space to select a file from your PC.

There are some stages you need to go through before creating the process:
1. Select the column which contains users' emails from the dropdown list;
2. Enter the Process name (not obligatory);
3. Choose which actions will be conducted with the data. For that, pick the Delete Data or Anonymize Data button and continue by clicking on Create the process.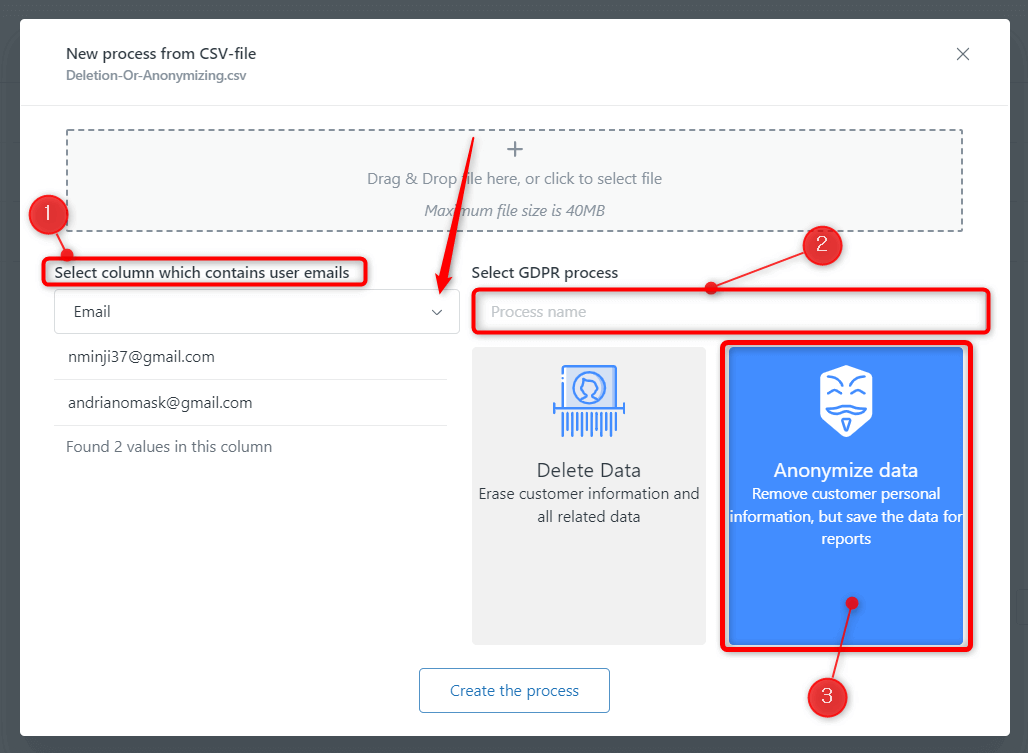 Note: select only the column with users' email addresses to match with emails in Zendesk. Otherwise, the process will be failed.
After checking whether you have chosen valid data, press on Start Process and Confirm actions.

Next, click on the Tag to look over the processed data.

You've found out how to delete or anonymize data using a CSV file. Hope it will make your workflow more efficient, thanks to that.
Still have any questions or suggestions? Please feel free to contact us.