How to Add a Contact list and Ticket list in GDPR Compliance for Zendesk
We recommend creating a Contact and Ticket list to process data in bulk instead of treating every person's data separately. So here, we are going to show you how to separate your contacts and tickets into lists to delete or anonymize data.
Creating a Contact list
1. First of all, go to the Settings tab -> click Lists Management -> choose Contact lists -> and Add New List.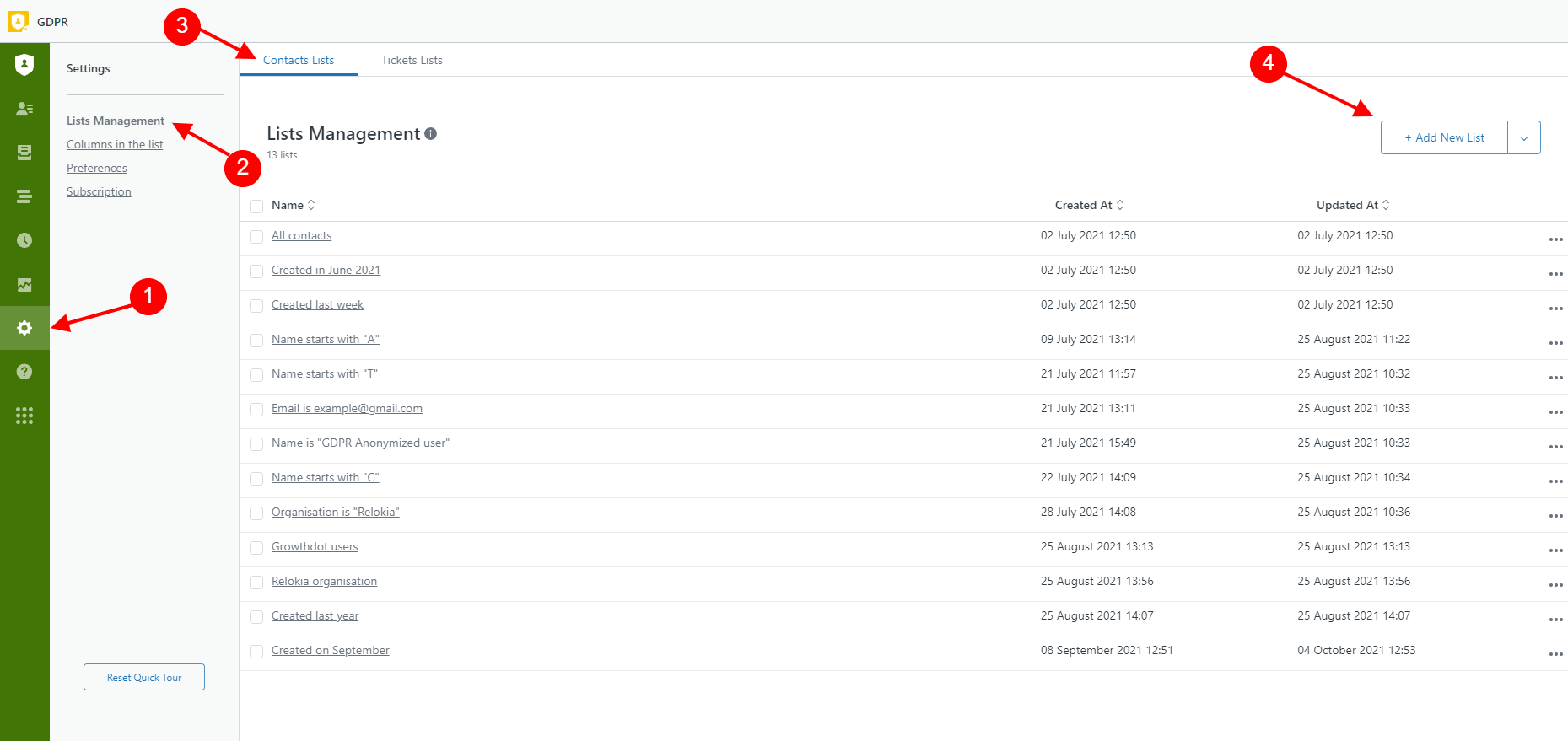 2. While creating a list, you need to add Name and set Conditions that will divide contacts into list.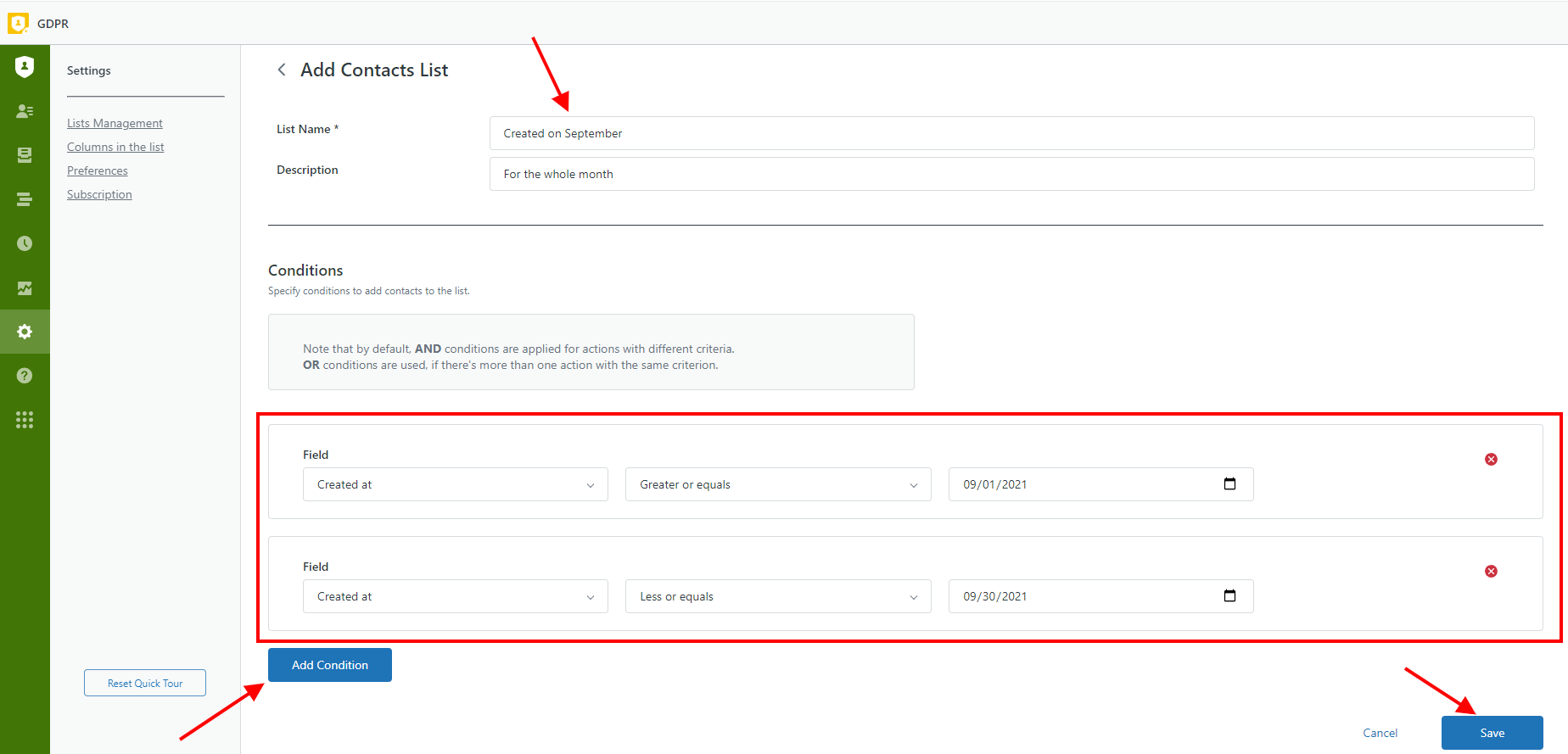 3. Finally, hit the Save button and now your list is ready.
However, let's check the different approaches of setting conditions to receive a general understanding of the whole process.
Filter Contacts by Tags
The first approach to separate a contact list by criteria is to add specific Tags to Users. For example, you want to anonymize GrowthDot customers' emails. To do so, view the Conditions drop-down list for the Tags that fit the requirements and enter the needed tag.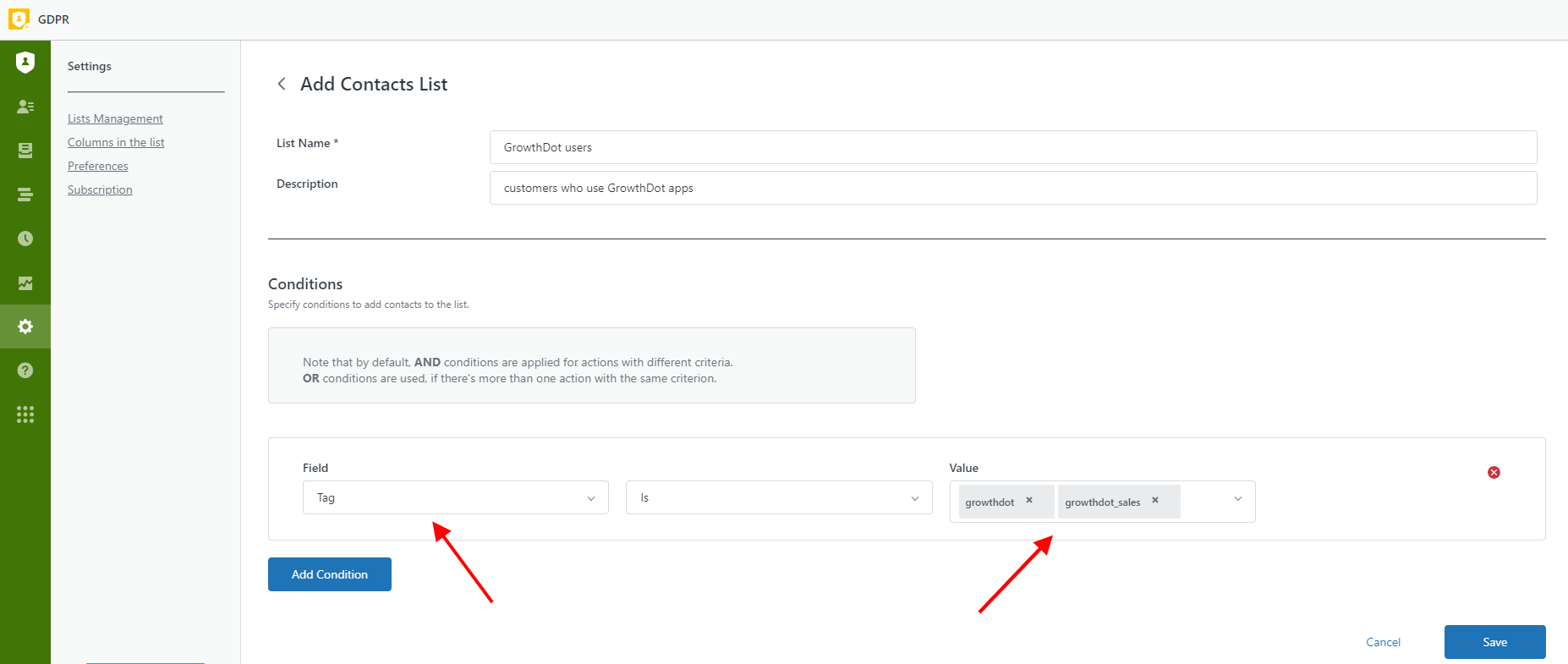 If you have never used the tagging feature in Zendesk, you need to enable it before adding Tags to Users, Tickets, and Organizations. Go to Admin -> Customers -> click Enabled in the "Tags on users and organizations" section -> Save.
Filter by Custom User Fields
Custom user fields can also be used as the criteria for creating a Contact list. The whole procedure is similar to creating a list by tags, but you select your custom field. For instance, we selected the "Active user" custom field and set it as true for our list.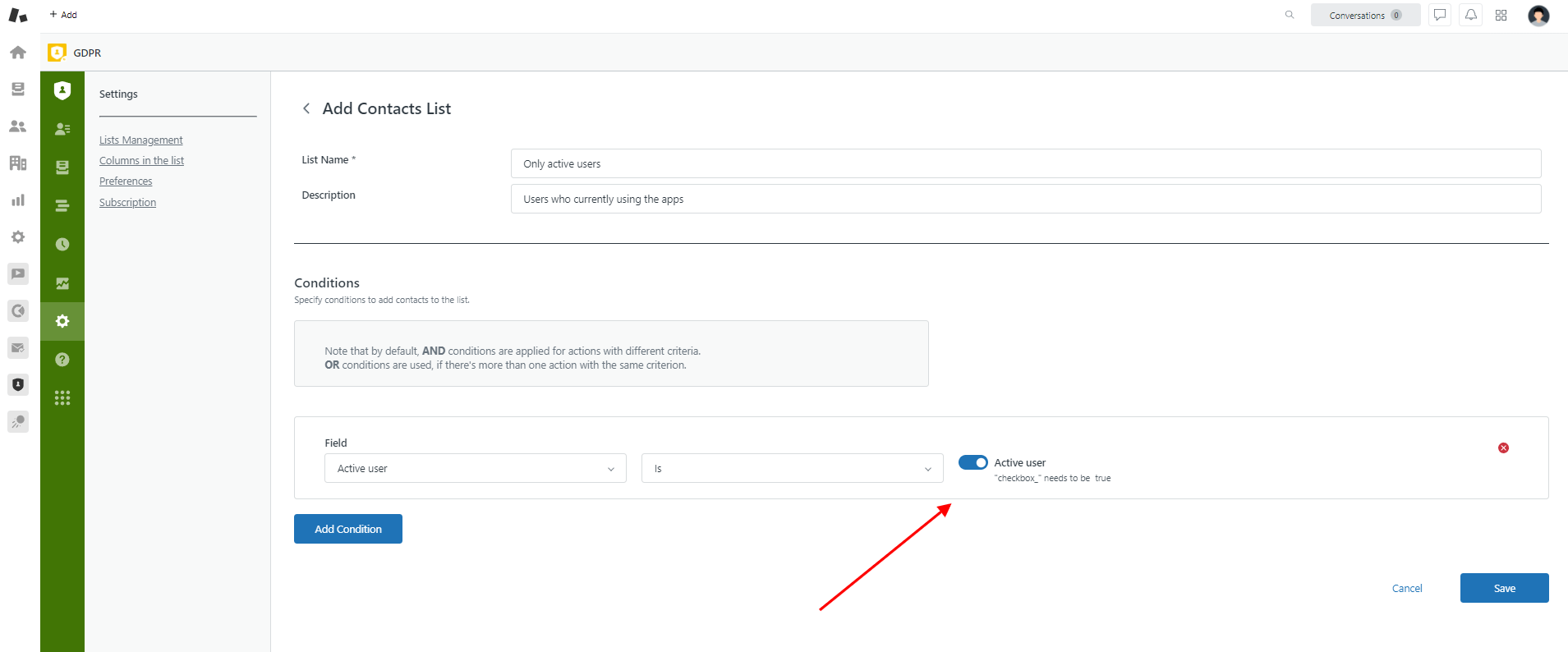 Filter by Standard Fields (like created_at, updated_at, etc.)
These fields are updated automatically, so you don't have to perform any actions to set Conditions. For instance, you want to anonymize the data of all end-users over a specific time period according to GDPR protocols. If so, you can just select the particular date and user role.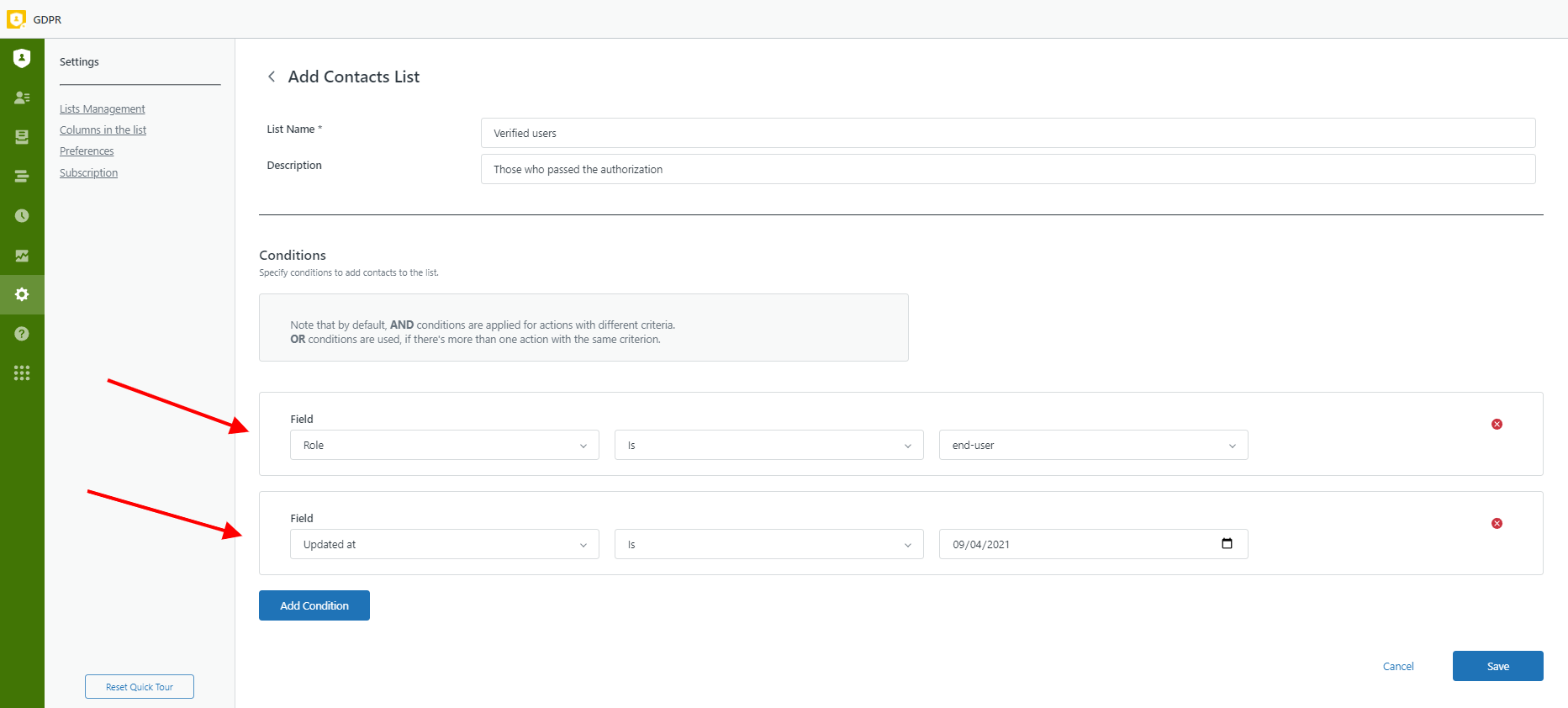 Creating a Ticket list
In general, the process of creating a Ticket list is almost similar to creating a Contact list.
The difference is that conditions consist of different kinds of fields. For example, "Priority" or "Requester name", but obviously, this is a different type of data.
To create a Ticket you need to:
1. At first, open the Settings page, and then, go to the Lists Management tab and select the Ticket Lists tab. In the upper right corner, click the Add New List button.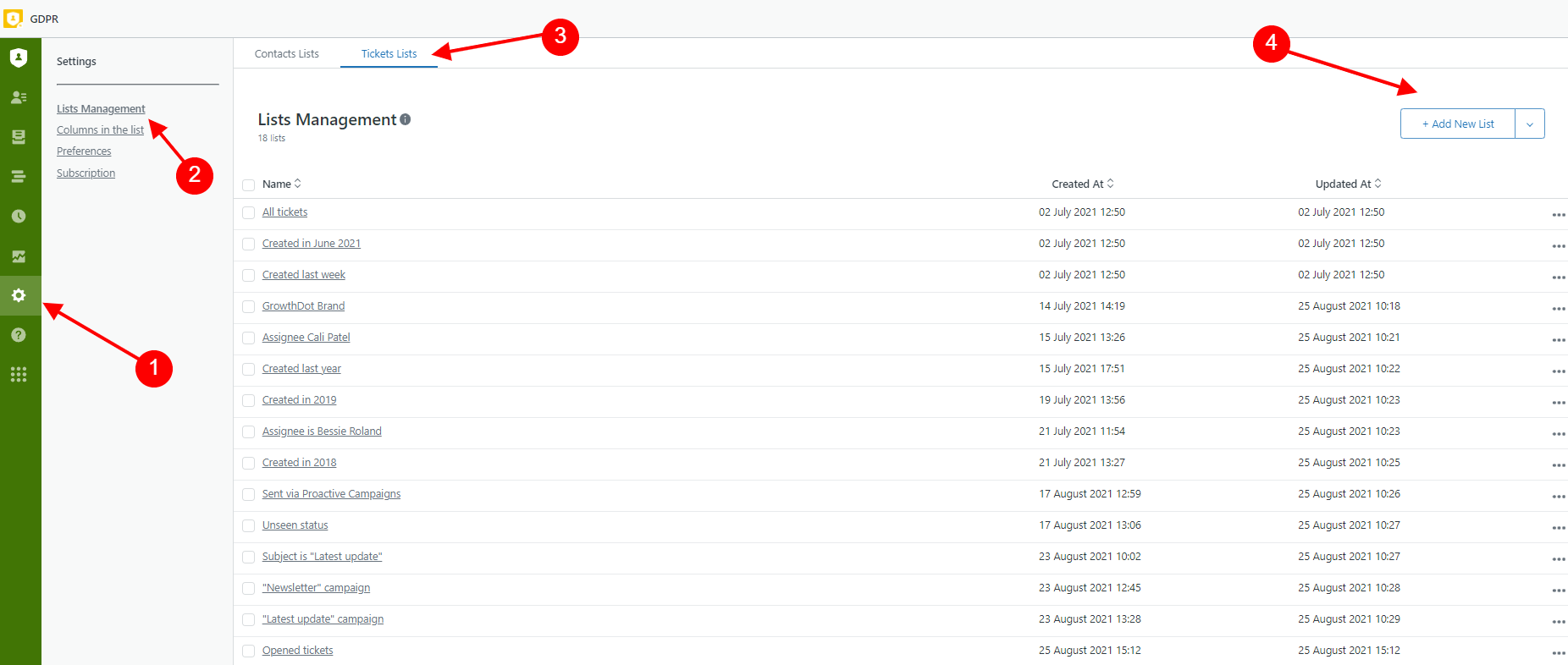 2. Then, follow the same steps as for the Contact list and click Save.
When you are done, you can run the needed data process. You can contact us around the clock in case of any additional questions.