Still don't know what to choose: Zendesk vs Jira? These two help desks are widely popular among businesses for managing tasks and tracking issues. As they both are similar in functionality, you may find yourself at a crossroads on which one will better suit your business requirements.
Here, you will get a detailed overview of Zendesk vs Jira service desk, their features, as well as similarities and differences.
What is Zendesk?
Zendesk is a handy cloud-based help desk aimed at helping businesses with customer service and tech support over numerous communication channels. Due to its cloud nature, it can be easily accessed via a browser. Besides, it can also be used to store and manage your customers' data, keep track of customers' issues, and establish communication with customers via email.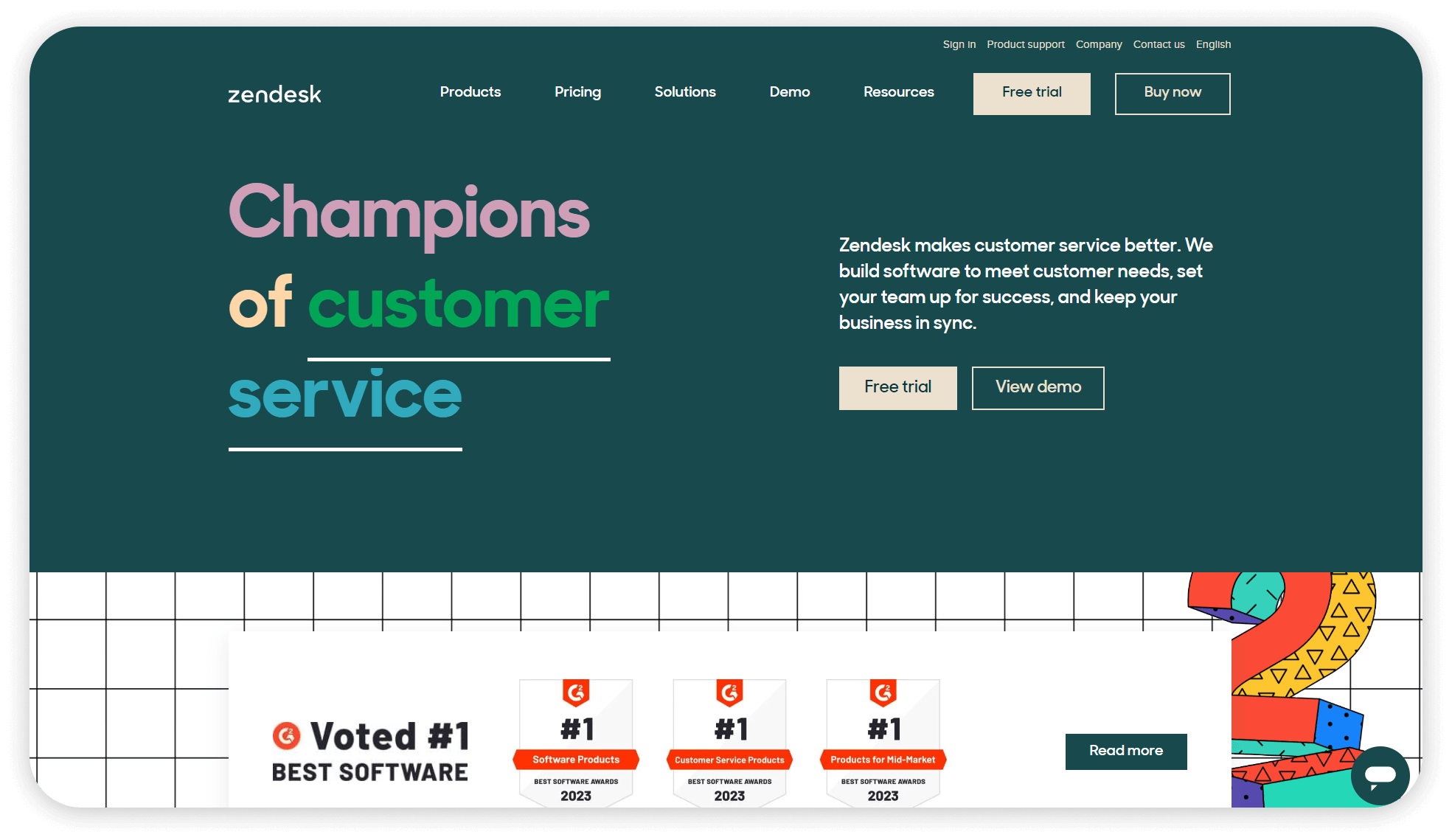 What is Jira?
Jira is a project management and bug-tracking software that employs Agile methodology. It allows its users to effortlessly track issues, manage projects, as well as automate workflows. Many IT teams use Jira today, including marketing, IT, HR, finance, legal, etc.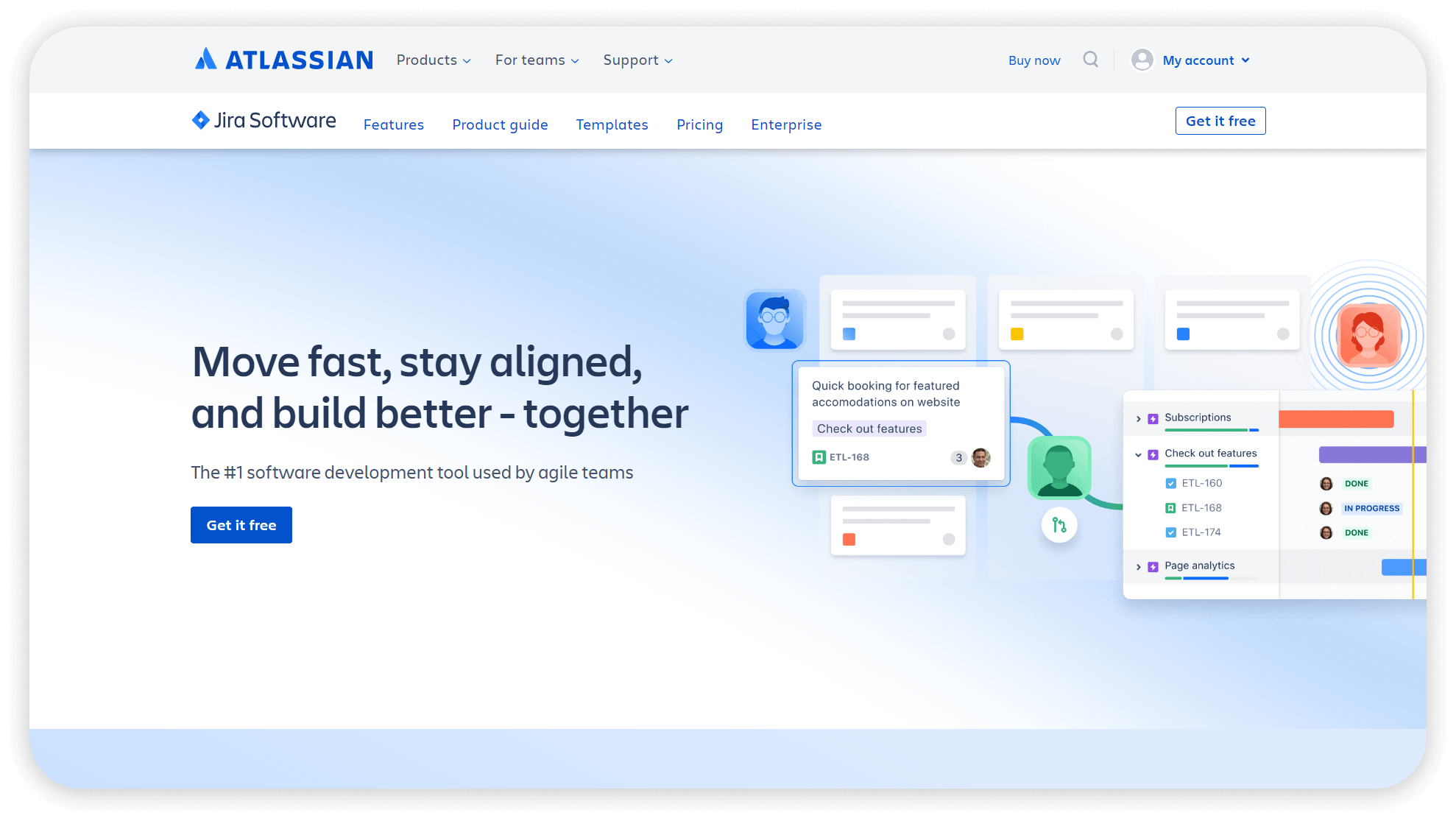 Zendesk vs. Jira: Key Differentiators
Let's find out what set Zendesk and Jira apart. Here are some of the most crucial points:
Types of users
• Zendesk
Zendesk is a popular advanced help desk solution for big corporations and brands. It employs numerous robust AI-powered features and complex functionality that can scale alongside your business. However, it has expensive pricing plans that might not fit SMEs perfectly.
• Jira Service Desk
Jira Service Desk was originally built for IT support teams whose needs go beyond just having a ticketing system. However, today Jira is used for many other teams as well, thanks to its robust ITSM features such as change, asset, incident, and request management capabilities. Overall, it can become a match for small to mid-sized companies searching for help desk software.
Interface
• Zendesk
Despite being a trendy help desk, many users state that Zendesk's interface is quite dull and needs modern touch for its design. This problem adds to the UX, so many users admit it takes quite a while to get to know Zendesk well. However, the Zendesk team did a great job, provided users with detailed onboarding, and offered helpful tips on using this app smarter.
• Jira Service Desk
Speaking of Jira's UI, if you have already been using some of the products made by Atlassian, you will find Jira very similar to them. However, its user interface is not the best and clearest, but still, users won't find it difficult to learn its functionality. If compared to Jira vs Zendesk, we can say that the learning curve for Jira is much steeper, so your team will spend less time learning about its main features.
Pricing
• Zendesk
Here are the pricing plans of Zendesk:
Team - $49 per agent/month
Growth - $79 per agent/month
Professional - $99 per agent/month
Enterprise - $150 per agent/month
Undoubtedly, Zendesk is quite an expensive solution starting at $49 per agent per month. But there is a 14-day free trial for those who try it for the first time.
All Zendesk pricing plans include basic features such as a multi-channel ticket management system, various automation and workflows, reporting and storage features, as well as numerous integration options. When you opt for a more advanced Enterprise plan, you will get a broader customer base, customer portals, knowledge management, advanced reporting, team roles, and permission features.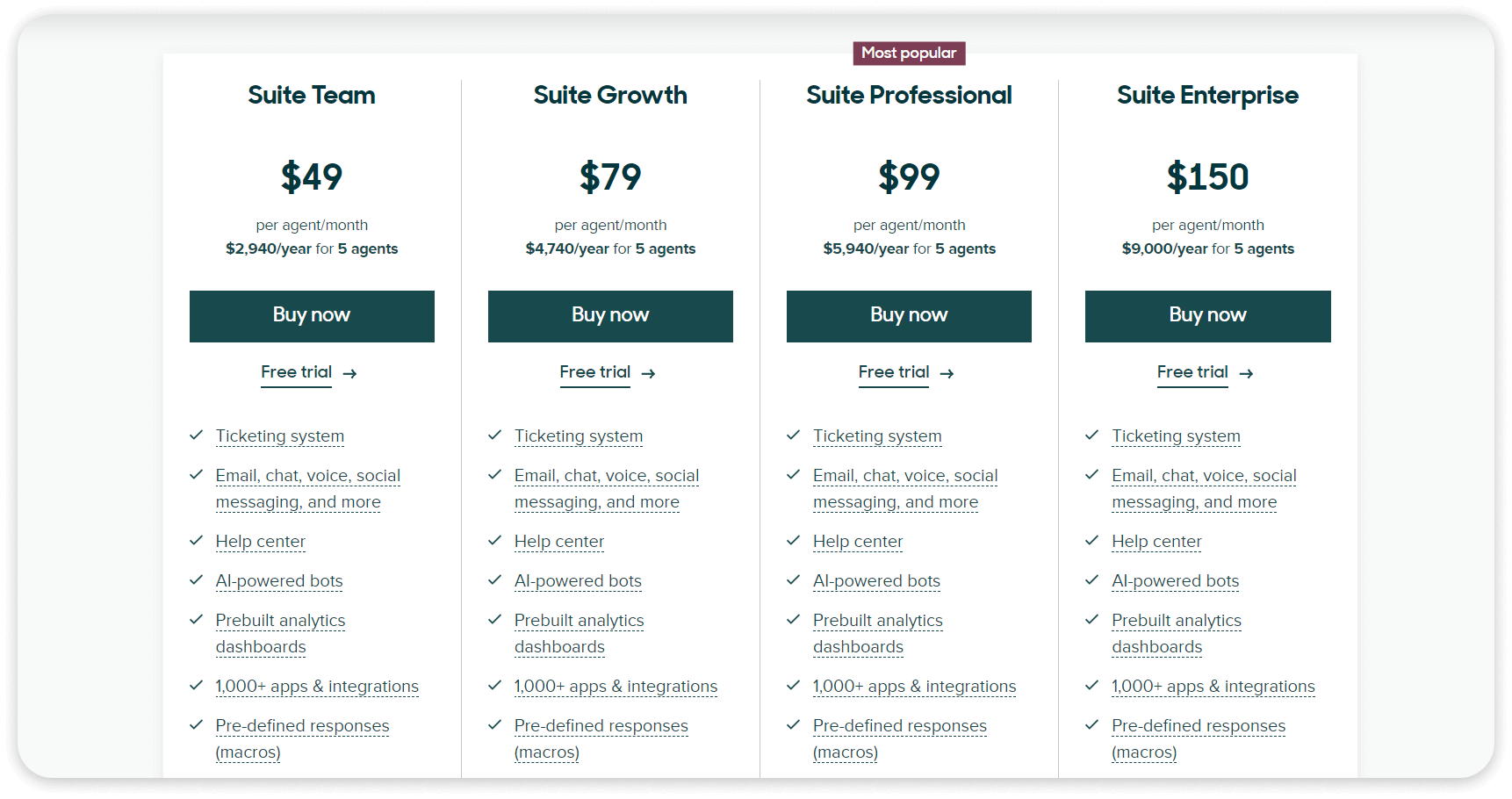 • Jira Service Desk
Jira has the following pricing options:
Free - for up to 3 agents
Standard - $20 per agent/month
Premium - $40 per agent/month
Enterprise - on demand
If you compare Jira vs Zendesk, you'll see that Jira is much more affordable, and it even offers a Free plan for up to 3 agents. Using it, you can enjoy some basic features. If you want to get the most out of Jira Service Desk, you need to opt for its Enterprise plan. With it, you can enlarge your user limit by up to 5,000 agents, get your dedicated support team, 99,95% of guaranteed uptime, and unlimited storage.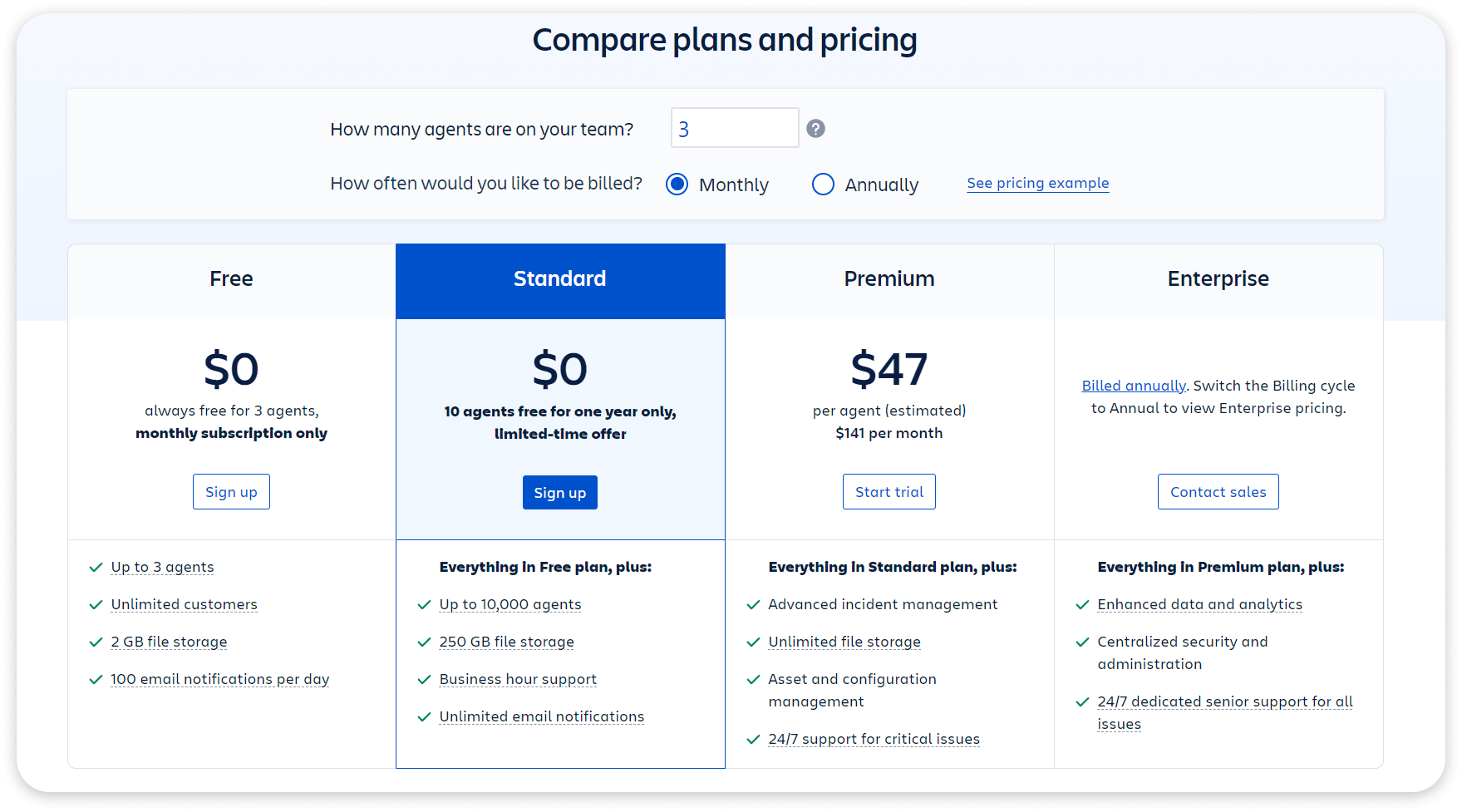 What are the Similarities Between Zendesk and Jira?
When comparing Zendesk vs Jira Service Desk, there are also some similarities between these two cloud-based SaaS solutions. Here are some of them:
Both Zendesk and Jira have a fast and clean user interface;
There are customization possibilities;
All the updates and syncs are done automatically;
They both have mobile apps;
Getting customer feedback is much easier with them;
They support numerous third-party integrations;
Zendesk vs Jira Service Desk: Features
Our next step is to compare Jira vs Zendesk in terms of their main features.
Live Chat
• Zendesk
Although Zendesk's live chat is not visually appealing, you can add it to your mobile app or website to communicate with customers and assist both potential prospects and existing ones. What is more, you can create an intelligent AI-powered bot that will help with end-user communication when your team is unavailable.
• Jira Service Desk
When Zendesk is compared to Jira, the latter doesn't have a built-in live chat, but you can download it separately from a marketplace. When it's installed, you can chat with your customers and improve customer experience on your website or help center. Plus, you can easily measure the customer experience by sending CSAT surveys through your live chat.
Knowledge Base
• Zendesk
Zendesk has a handy help center called 'Do it yourself service.' There, customers can find answers to the most common questions, which, in turn, can help reduce ticket volume and costs for support. Besides, agents can share their knowledge by creating various FAQs and policies with the help of the Team Publishing feature.
• Jira Service Desk
In this Zendesk vs Jira battle, Jira is a step ahead regarding self-service. You can create an AI-powered self-service portal both for your internal team and customers in Jira. You can also add ML to upgrade the search for various articles or FAQs. There is also a handy scoring system that helps assess which article is more helpful by rating them.
Reports & Analytics
• Zendesk
Zendesk is an excellent choice for reporting and analytics as you can easily track your team's performance and find out your weak points there. Basically, you can create reports for each communication channel you use and monitor your customers' interactions with your team.
What is more, you can easily schedule your reports and share them with your team. However, this might be too much if you own a small company or startup.
• Jira Service Desk
When comparing Zendesk vs Jira, Jira falls a bit behind because it doesn't allow you to create separate reports for each of your communication channels. However, it allows you to set multiple SLA policies, track SLA breaches, generate customer satisfaction reports, or use templates to create and share reports with your teammates.
Integrations
• Zendesk
There are numerous possibilities when it comes to Zendesk integrations. Some of them include:
CRM and Deals: it is a handy solution that helps transform your Zendesk into CRM to better manage sales pipelines and nurture leads more effectively. With it, you can get all the needed information just in your help desk, as well as automatically shift your deals after the adjusted time.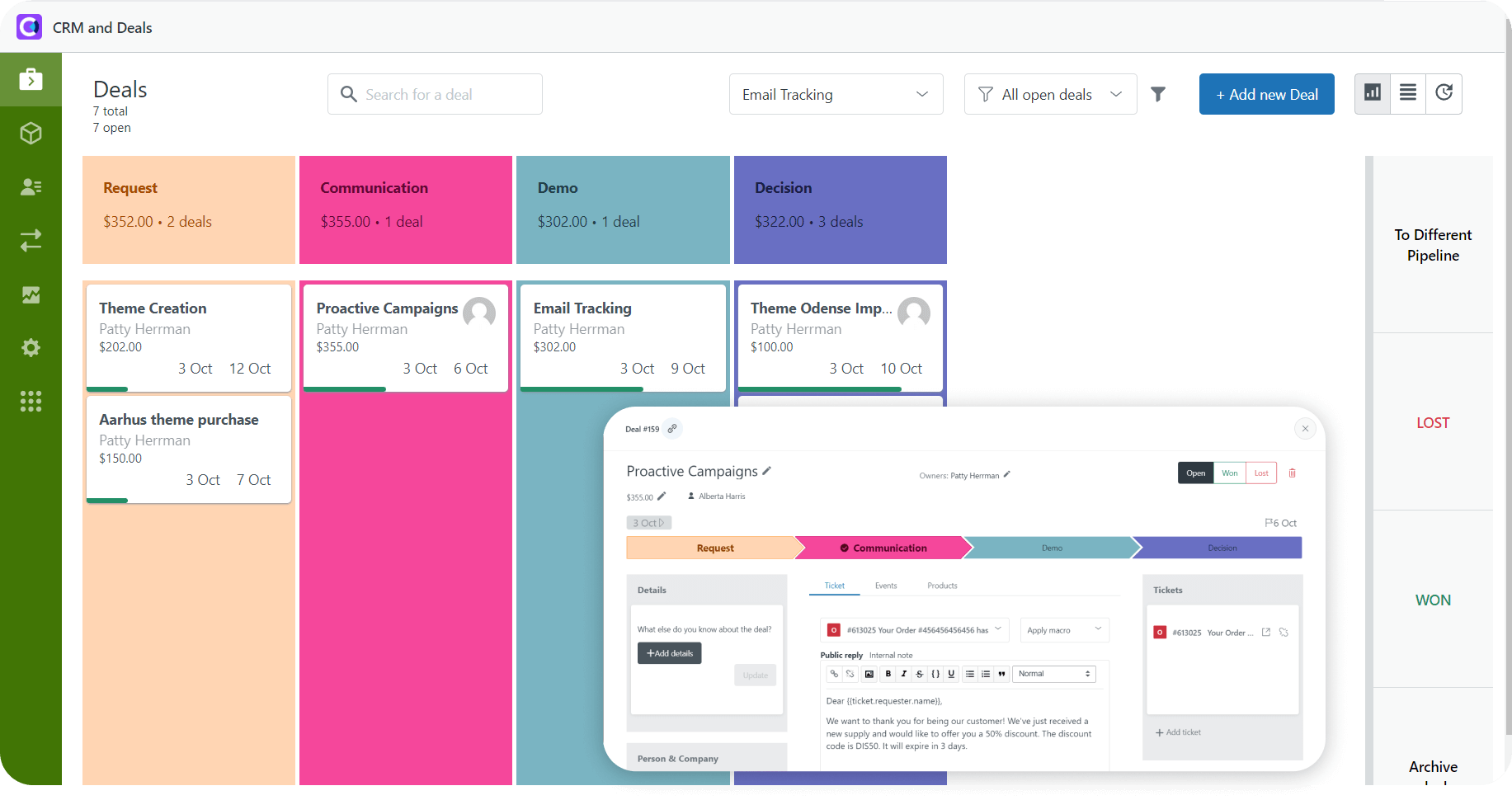 Proactive Campaigns: the key aim of the app is to make sending mass email campaigns faster and more convenient. Its additional features include filtering your customer base, automated tracking of customers' responses, and customization of emails.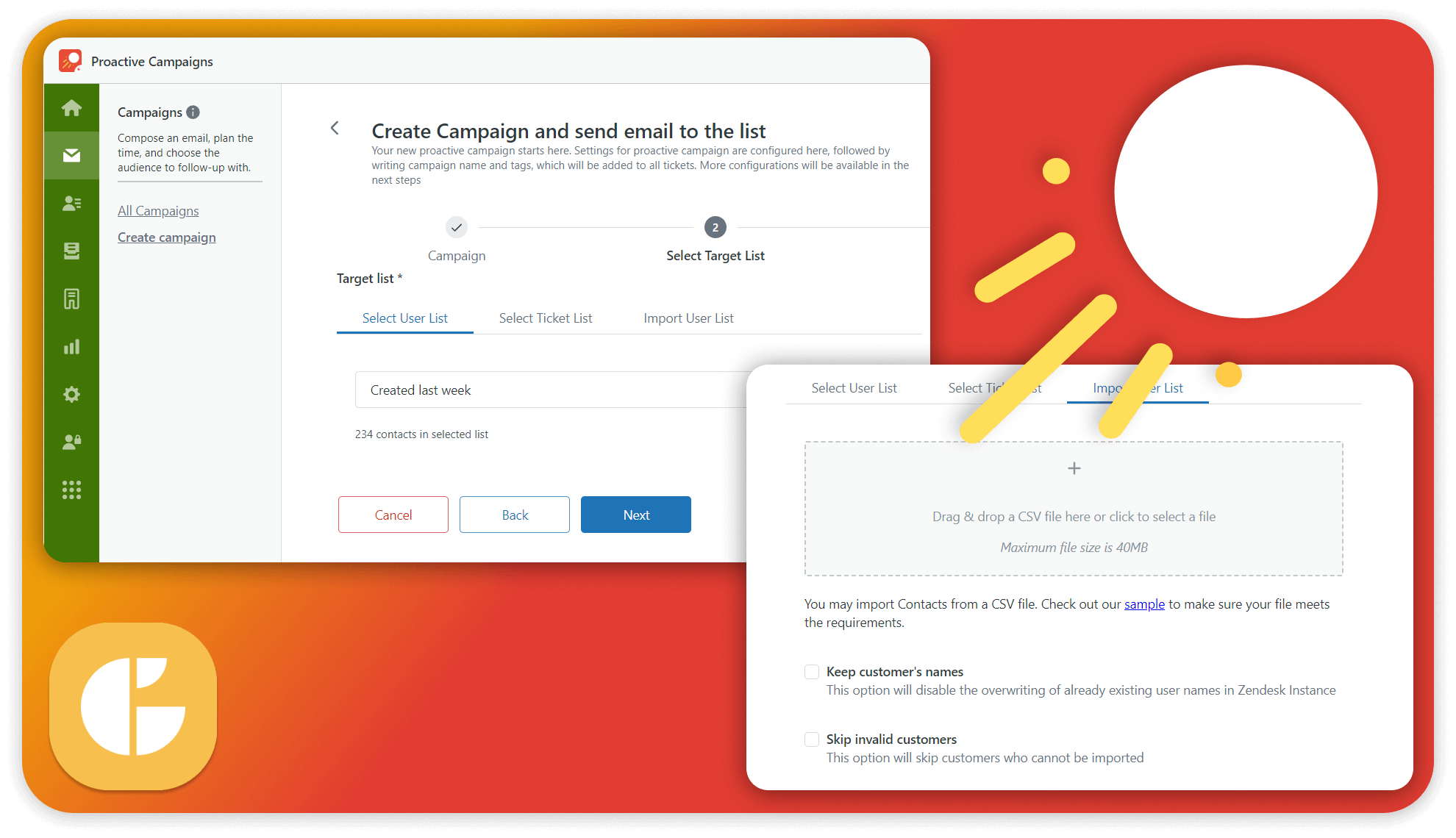 GDPR Compliance: this tool helps your company stay GDPR-compliant. It allows you to keep the necessary data of your customers, remove the data on the request, edit users individually or in bulk, and even schedule your GDPR activity.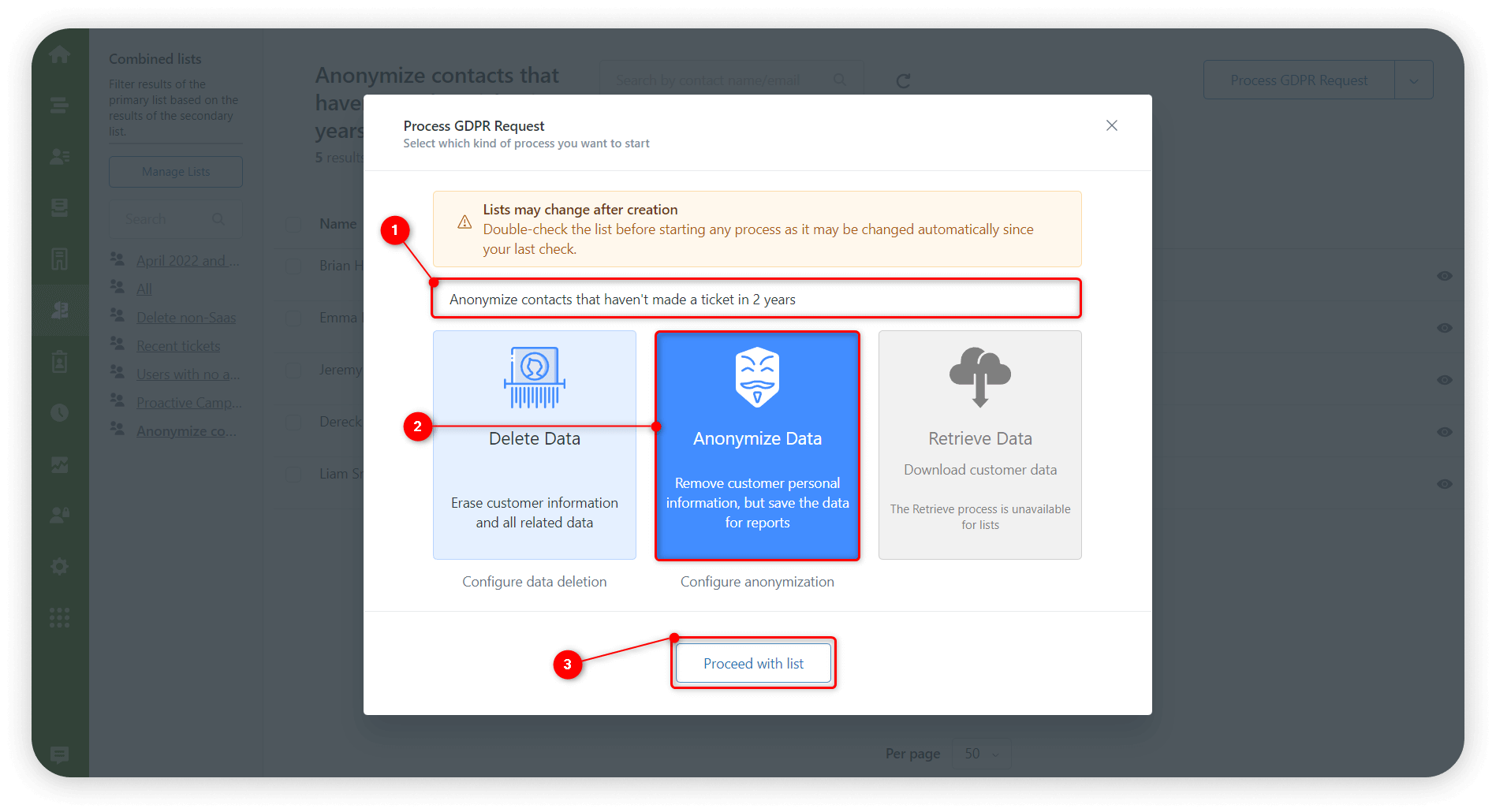 • Jira Service Desk
Atlassian's marketplace offers lots of apps, too. Besides, its marketplace is really well-organized, so you can browse various categories like top-selling apps, newest apps, cloud-based apps, or many more to find your match.
Some of the most popular apps include Proactive Campaigns for launching your mass email campaigns directly from Jira. Using it, you can create proactive mass tickets, easily sort out your clientele using filters, customize the design of your emails, as well as schedule your email campaigns.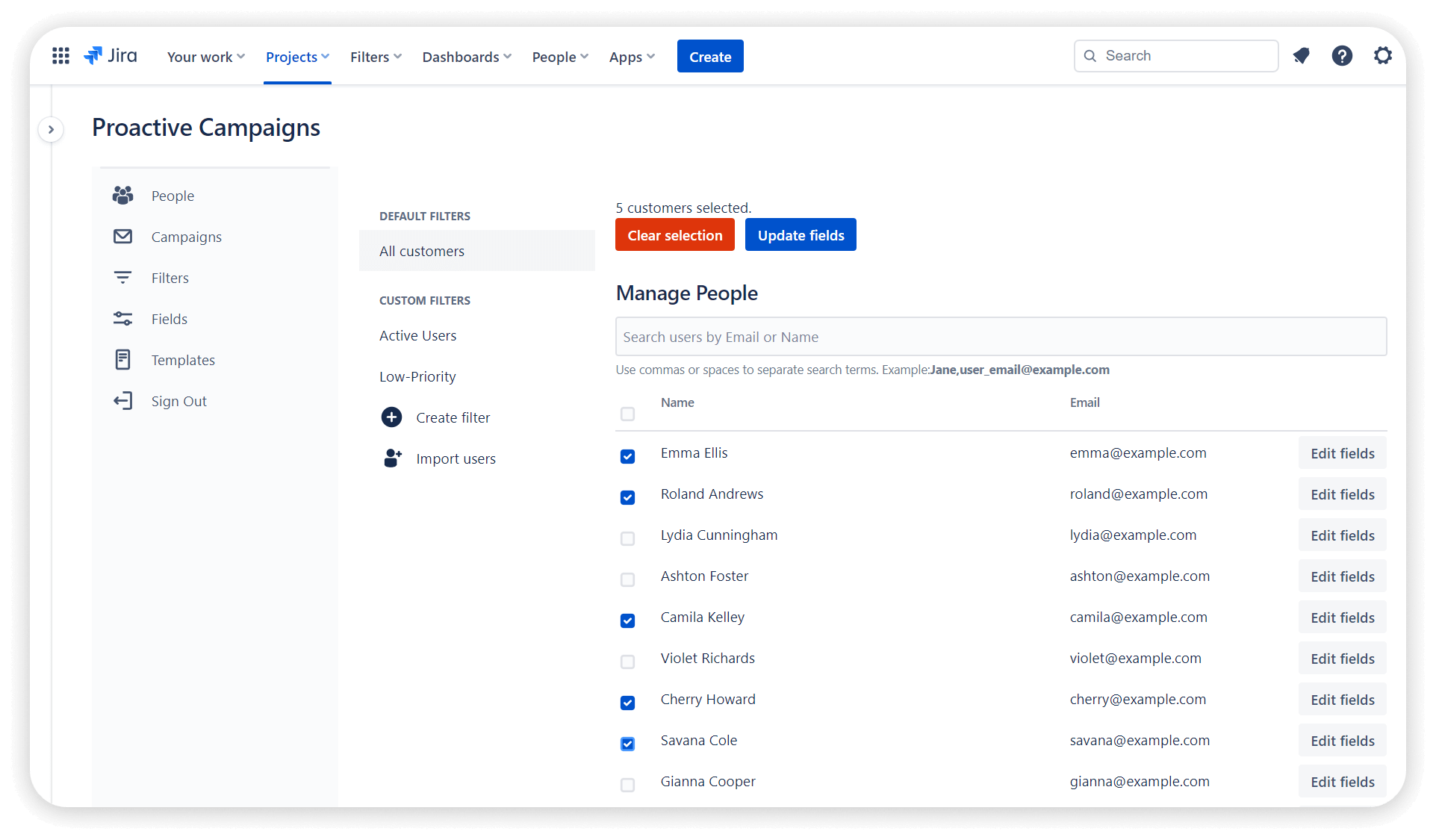 Zendesk vs Jira Service Management: Customer Support
• Zendesk
There are numerous options for getting assistance if you use the Zendesk help desk. You can visit their website or talk to an agent via live chat to get an instant response. You can also use self-service, such as the FAQs section available in the help center, where you can find answers to the most common questions. There is also a large online community for Zendesk users where you can get an answer from an expert, talk to other users, or learn about recent company news and announcements. However, you won't find the number or email of Zendesk's customer support to communicate with them directly.
• Jira Service Desk
Jira Service Desk has many support categories available for users where you can find out about pricing, tech support, billing, and many more. If we compare Jira Service Management vs Zendesk, Jira also has a help center and community forum. But unlike Zendesk, Jira does provide its users with the contact information of their support team as well as the location of their offices around the world.
Conclusion
Our Zendesk vs Jira comparison shows that both solutions employ helpful features and a good user interface for an outstanding customer experience.
However, there are some peculiarities that set them apart and make them serve different business purposes. Jira Service Management is excellent if you manage customer and employee requests. And if it is united with other Atlassian products, it becomes even more powerful. On the contrary, Zendesk is a very flexible and user-friendly solution with intelligent analytics and reporting tools.
If you can't decide which product to choose, you can always try both or opt for a trial period and then make up your mind.
When should you choose Zendesk?
If your budget is unlimited, try the Zendesk help desk solution. It comes with various helpful features such as branding, reporting and analytics, customizable dashboards and round-the-clock customer support. It will also suit teams who want to have unlimited integration options.
When should you choose the Jira Service Desk?
If your main focus is IT needs and support, Jira Service Desk is your go-to choice. Although it won't be as advanced as Zendesk for some teams, it is a much cheaper option that will suit small to mid-sized companies. It comes with all the key ITSM features, including change, asset, incident, and knowledge management. However, Jira lacks advanced reporting and a wide variety of integrations.
FAQs
Why is Zendesk better than Jira?

In the Zendesk vs Jira battle, we can't say who is the winner as they suit different business needs. Jira is great for the organization and management of your projects, while Zendesk is an excellent choice for communication with users.

Is Zendesk the same as Jira?

No, Zendesk vs Jira is not the same. While Jira Service Desk mostly aims to submit requests to a support team, Zendesk is about project and team operations.

Does Zendesk integrate with Jira?

You can easily sync Jira with your Zendesk help desk for better collaboration between your support and product teams. This way, your customers will be able to report bugs directly in Zendesk, and then you will send bugs to Jira.

Is Jira good for customer service?

Yes, sure. Jira Service Desk has an easy-to-use portal where you can select necessary tools for tracking your tickets. Plus, you can automate your workflows for better productivity.
Want to know more about customer support services?
Take some info from our blog
Read more