Get your own Zendesk implementation plan
GrowthDot provides excellent solutions either your team is looking for a from-scratch Zendesk implementation or wants to enhance the customer support processes. We'll get your Zendesk products up and running no matter what size or industry your company is.
GrowthDot is a team of certified professionals in Zendesk development, implementation, and customization services. Just let us write down your requirements, and we'll produce a personalized solution for your business.
Implement Zendesk now →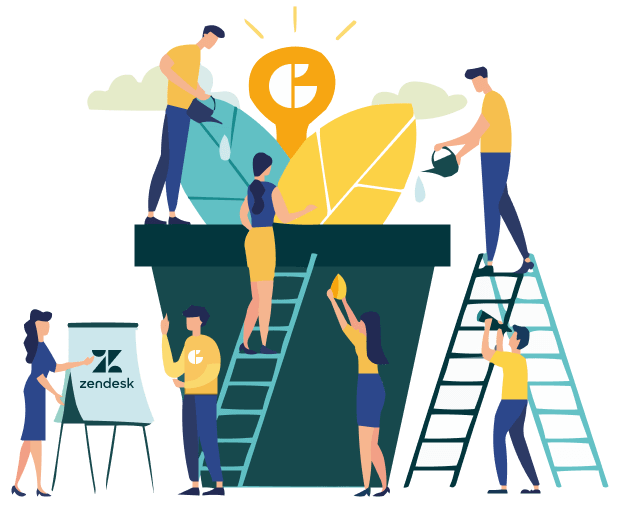 Professional Services for Zendesk
This is how we see the process of developing a perfect solution for your Zendesk implementation.
Let's see how it can assist in improving your customer service and success.
Step 1. Building a list of your requirements and developing a consulting strategy.
GrowthDot team wants to make sure that everything will fit your needs in an exact way. That's why we collect all the required information and develop a strategy on its basis.
Step 2. Importing data into Zendesk instance.
If you're moving to Zendesk from another help desk, it's better to come with historical customer data. Thus, you'll have all the necessary info to get your customer support processes moving right away.
Step 3. Adjusting your Zendesk instance settings.
Sometimes an efficient customer service workflow is just a step away from success without the necessary settings. Zendesk functionality can sometimes seem tangled; that's why all the adjustments are on our specialists.
Step 4. Creating a custom design.
GrowthDot designers develop a unique design for Zendesk Guide with attention to detail. And you can make sure the design was created to mirror your brand identity in the right way.
Step 5. Configuring robust Zendesk integrations.
There's a variety of awesome Zendesk integrations and plugins that can facilitate Zendesk customer service. Just let us know what functionality you appreciate in a support system, and we'll find the optimal solution.
Step 6. Implementing your incredible customer service solution.
As you approve the ultimate sample, we will proceed to the implementation process and go further up to the solution release.
Why use GrowthDot service?
As Zendesk official partners, we offer advanced solutions for seamless workflow optimization, implementation in a short period of time.
Our pricing is maximally clear and requires no hidden extra expenses after your implementation.
We deeply study your business' processes and requirements in order to provide a functional solution tailored to your needs.
We create a layout and implement it only after your approval.
Improve CX with additional Zendesk products and services
We develop our own effective integrations for Zendesk Support.
See the featured Zendesk products and services that we offer.
Implement excellent customer service solutions with GrowthDot
Contact us to get excellent Zendesk tech support in a few clicks.
Order Zendesk implementation