How to Create a New Campaign in Proactive Campaigns
Creating and sending mass email campaigns is the primary function of the Proactive Campaigns application. This time, we are going to show you how to create and send a new campaign using our plugin. So, click Create Campaign on the Campaigns tab to get started.
1. Campaign
The app will display the first stage of campaign creation, where you need to provide it with the following information:
Campaign Name;
Tags (optional) - when the campaign is sent, the app creates tickets (for each email) and adds tags pointed at this stage to them;
Share (optional) - a checkbox permits sharing a campaign between agents.
Click the Next button to move to the next step.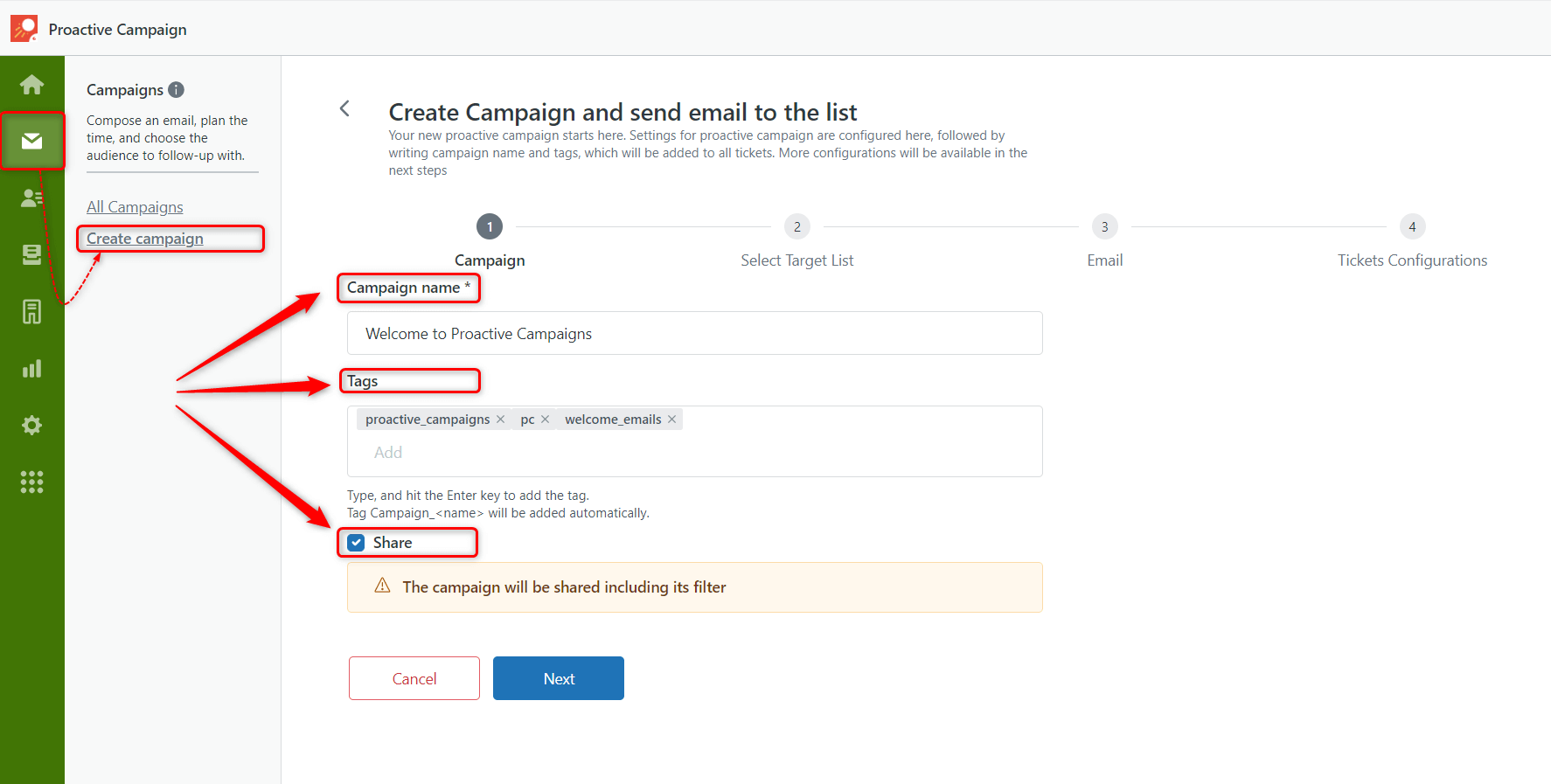 2. Select Target List
On the Select Target List step (the second stage of a campaign), you will have three ways to reach a target audience: through the User list, Ticket list, or Import User list.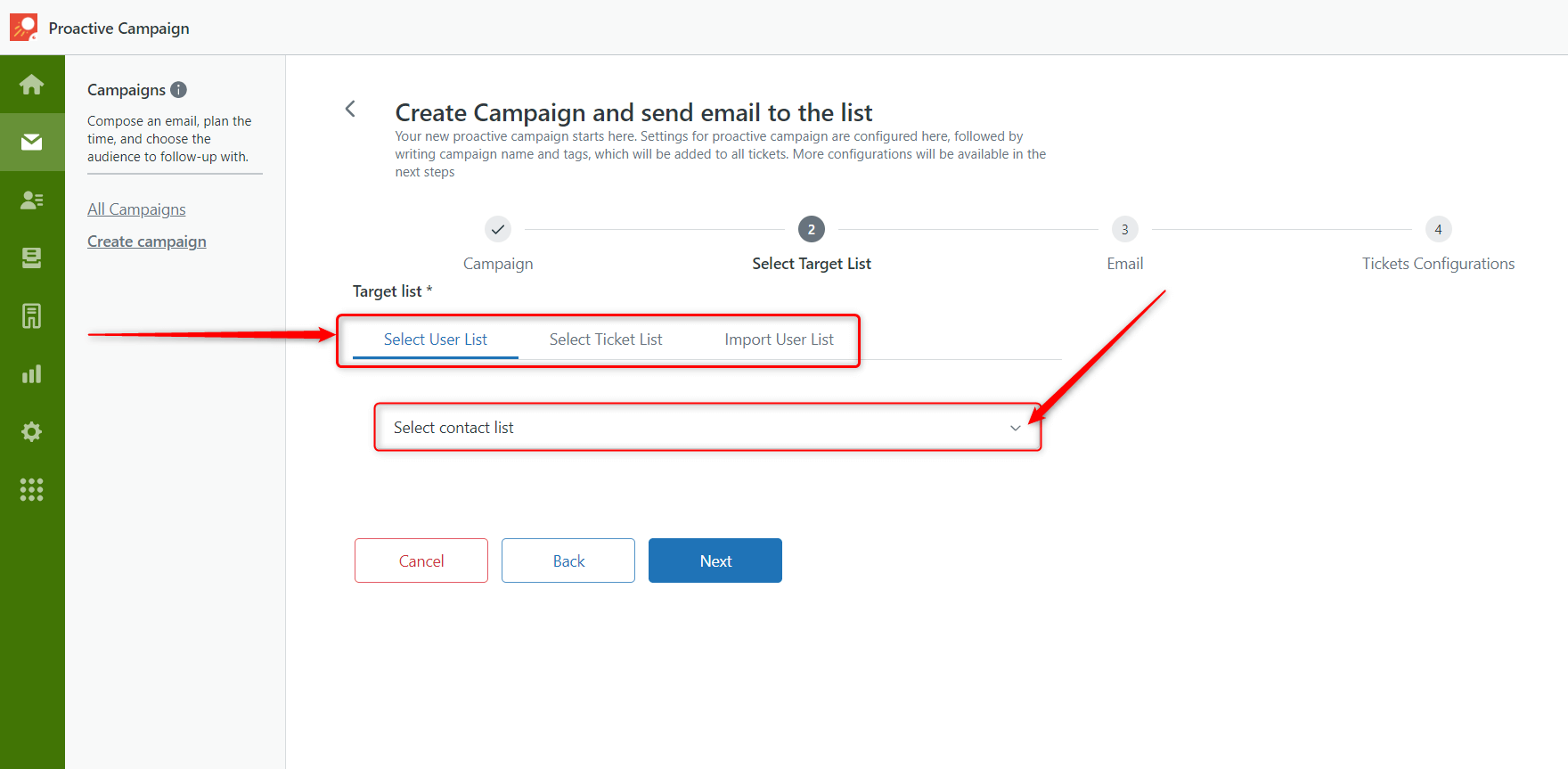 User list - a list that contains contacts filtered by specific criteria (conditions).
Ticket list - contains already created tickets filtered by specific criteria (conditions).
Import User list - allows uploading a CSV file with target contacts. These contacts must previously be added to your Zendesk instance.
3. Email
Next, go to the Email step and fill in the required Subject line and email Body. Besides, you can edit the email Body using the instrument panel of the Rich-text editor.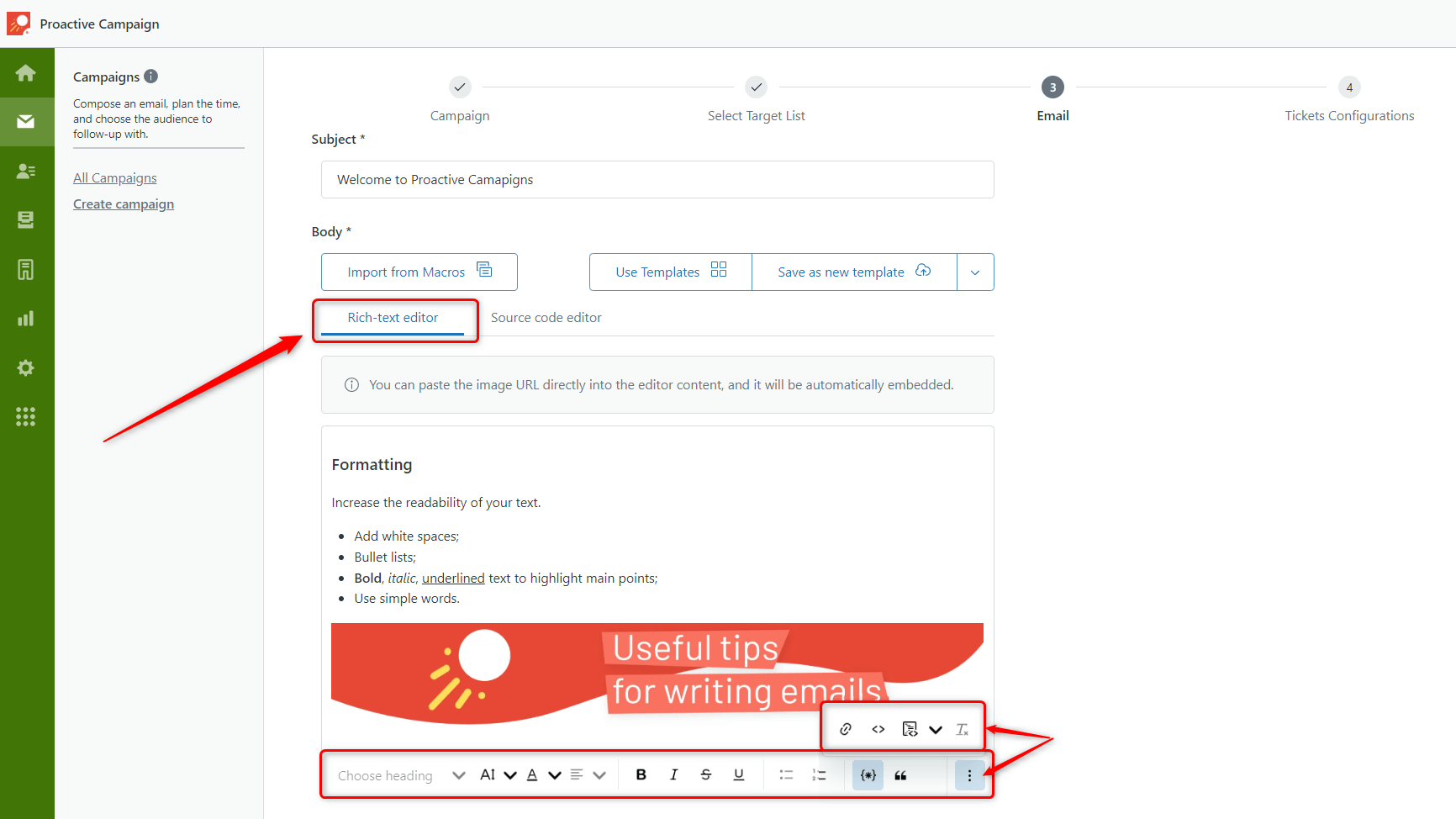 Another way to make a unique email is to use the Source code editor and write it with the HTML code.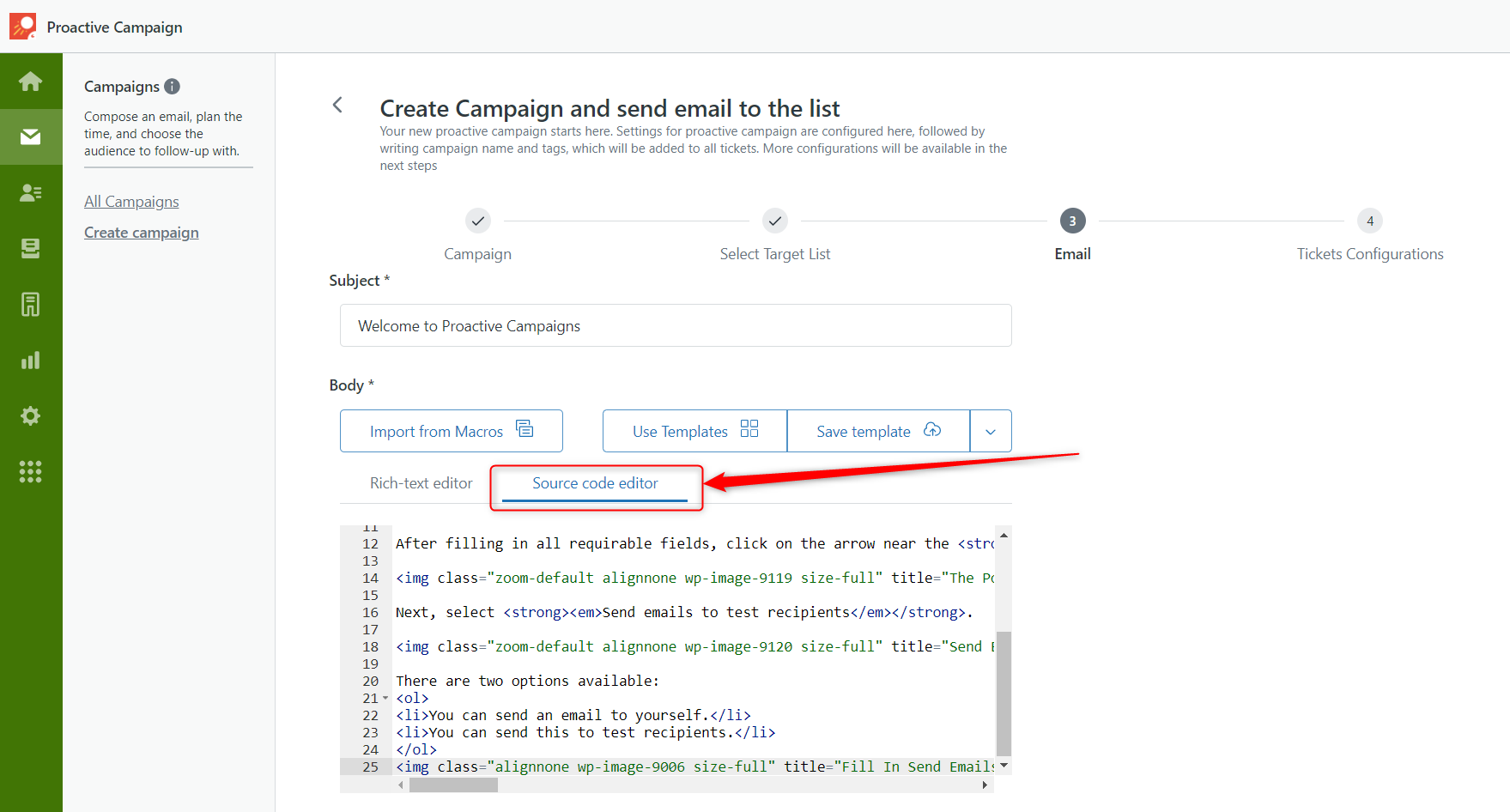 Above the Rich-text and Source code editors, you will see additional email body options:
Import from Macros: applies Zendesk macros to an email campaign;
Use Templates: stores saved or uploaded email templates with formatted text, images, and links. You can select and edit them at any time;
Save as new template: saves email body with already formatted text;
Upload template from file: allows uploading ready-to-use HTML templates.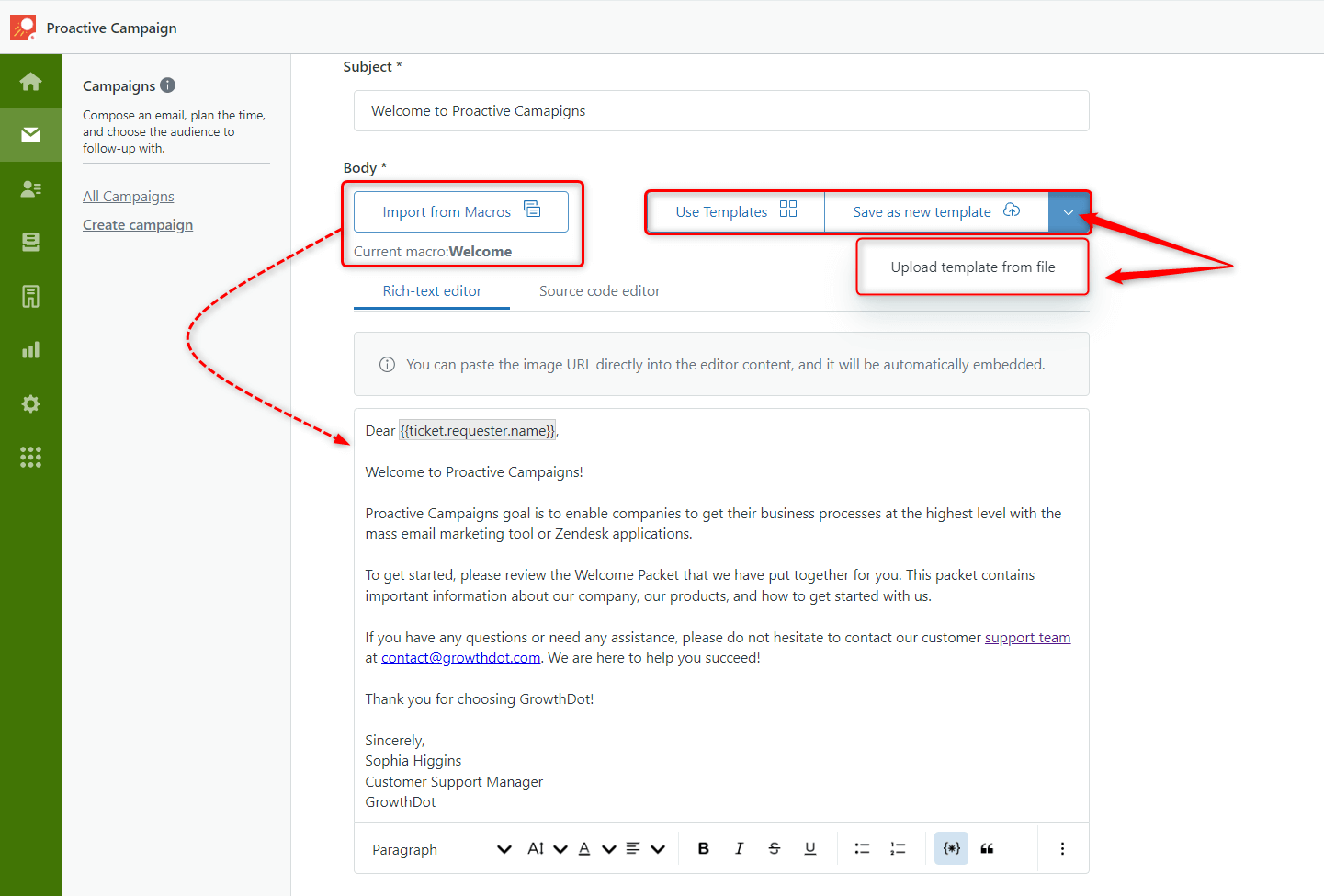 In addition, adjust the following settings:
Attachments - add specific files to your emails.
Customer Rate or Feedback - inserts rate or feedback to the email so that customers will evaluate the campaign or service you provide.
Internal note - if the 'Internal note' box is toggled on, the app will send tickets within a campaign as internal notes, and requesters won't receive an email notification. It works similarly to Zendesk tickets, and it's useful if you want to inform your agents only.
Track email opens - tracks whether or not emails were read by receivers (available with the Email Tracking add-on).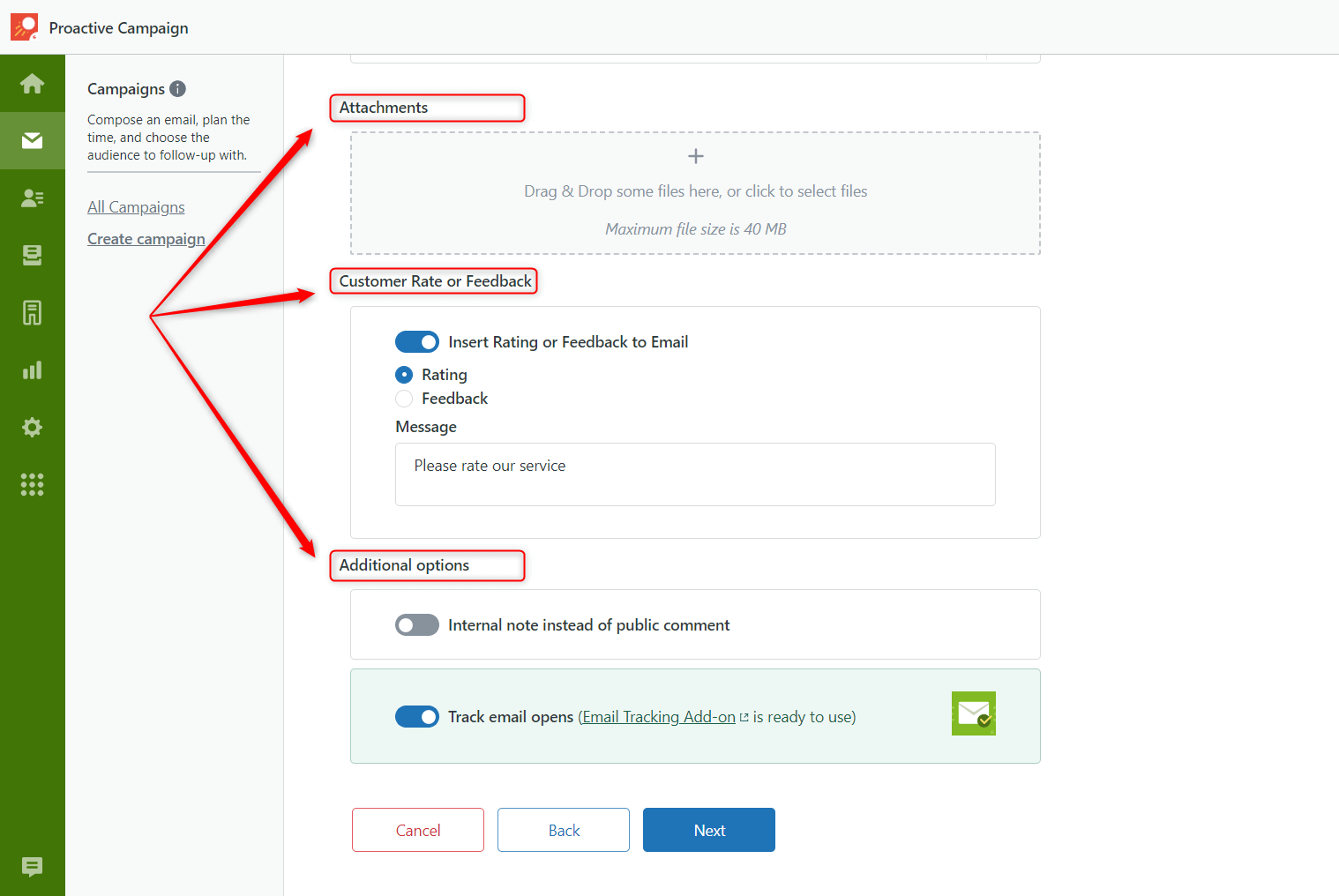 Tickets Configurations
Afterward, go to the Tickets Configurations tab (the last stage of a campaign's creation), and select or fill in the following fields:
1. Ticket Form - if you have predefined ticket forms in your Zendesk instance, you can use one to create all the tickets from this campaign.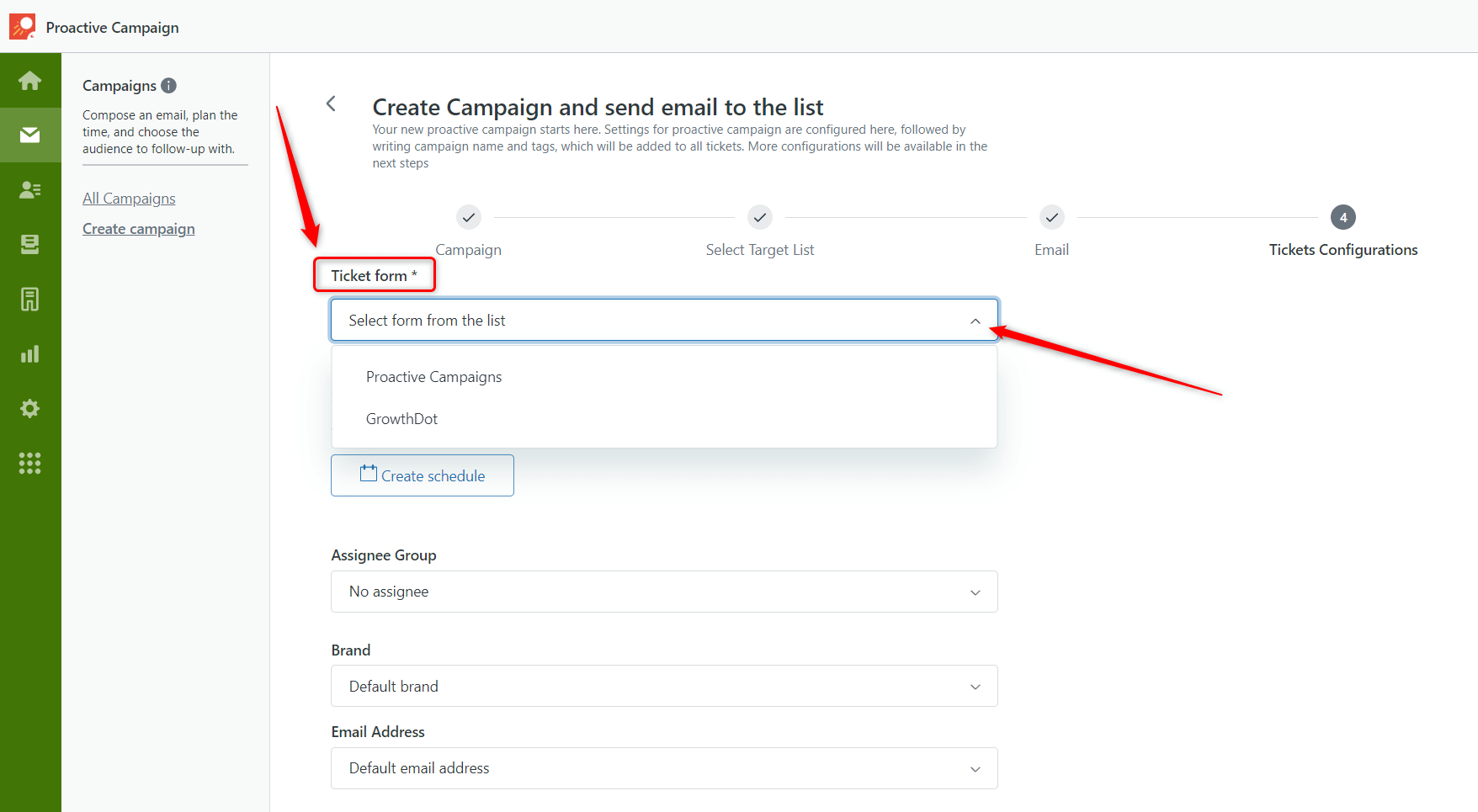 2. Ticket Fields - they will appear when you choose one of the predefined ticket forms. You will have to fill in the ticket fields you've set as necessary when creating the ticket form (you can modify the list in the Admin tab of your Zendesk instance).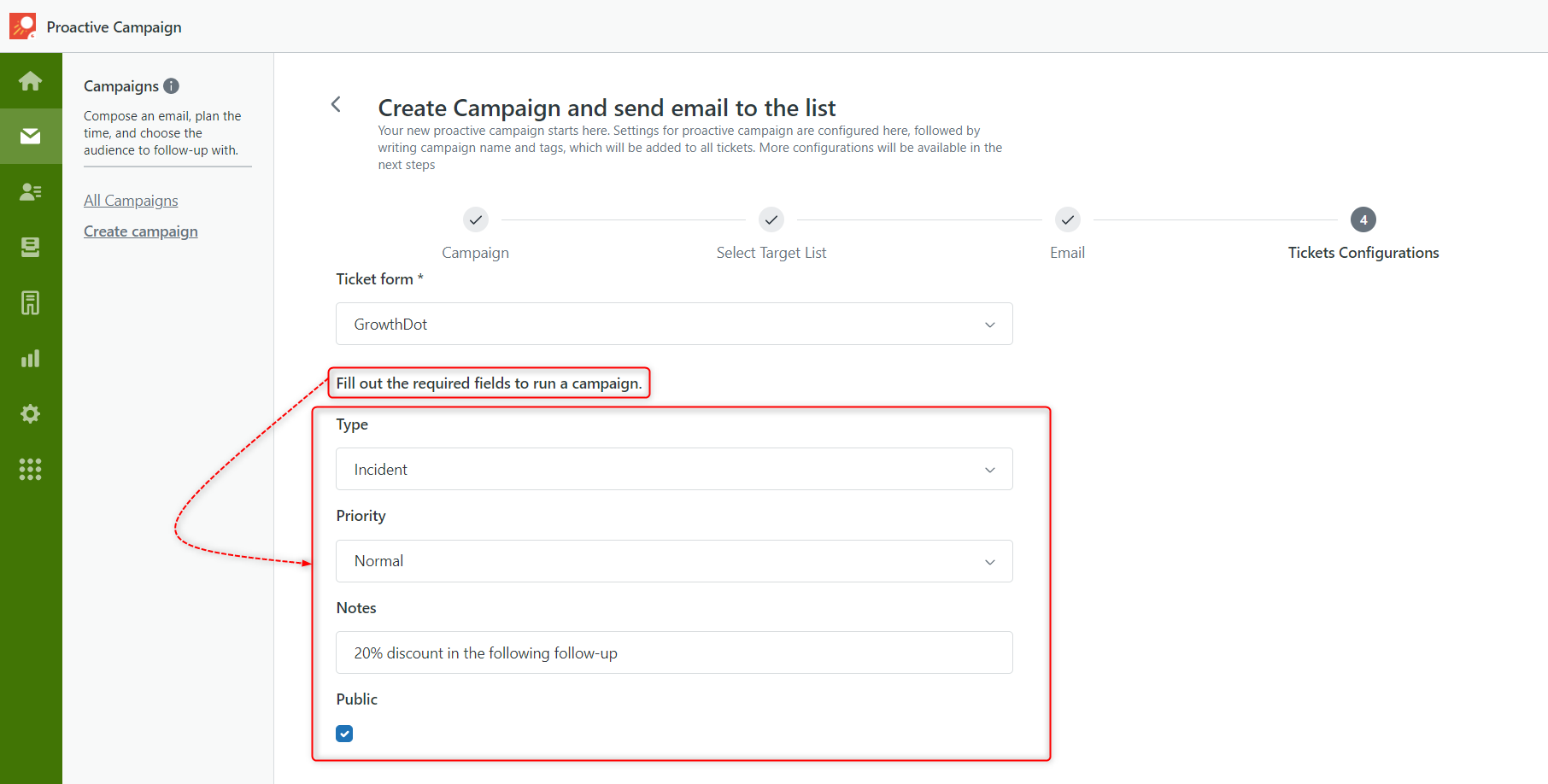 3. Schedule your campaign - you can set your campaign for a specific date and time.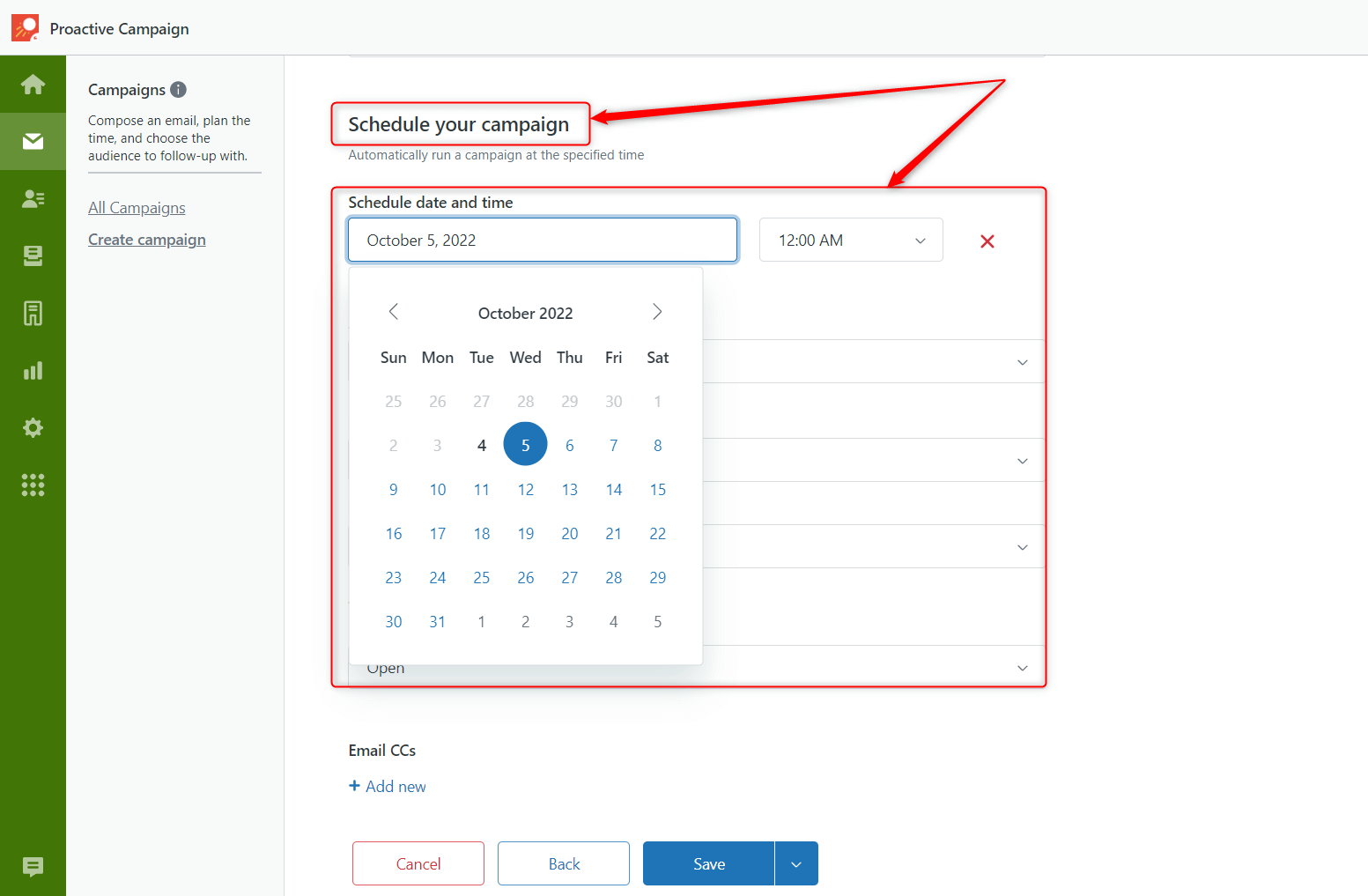 4. Also, select Assignee Group/Agent, add an Alias, set Brand's parameters, Ticket Status, and CCs.
Note: not all the fields are obligatory to start the campaign. The fields necessary to start your email follow-ups are marked with the asterisk sign (*).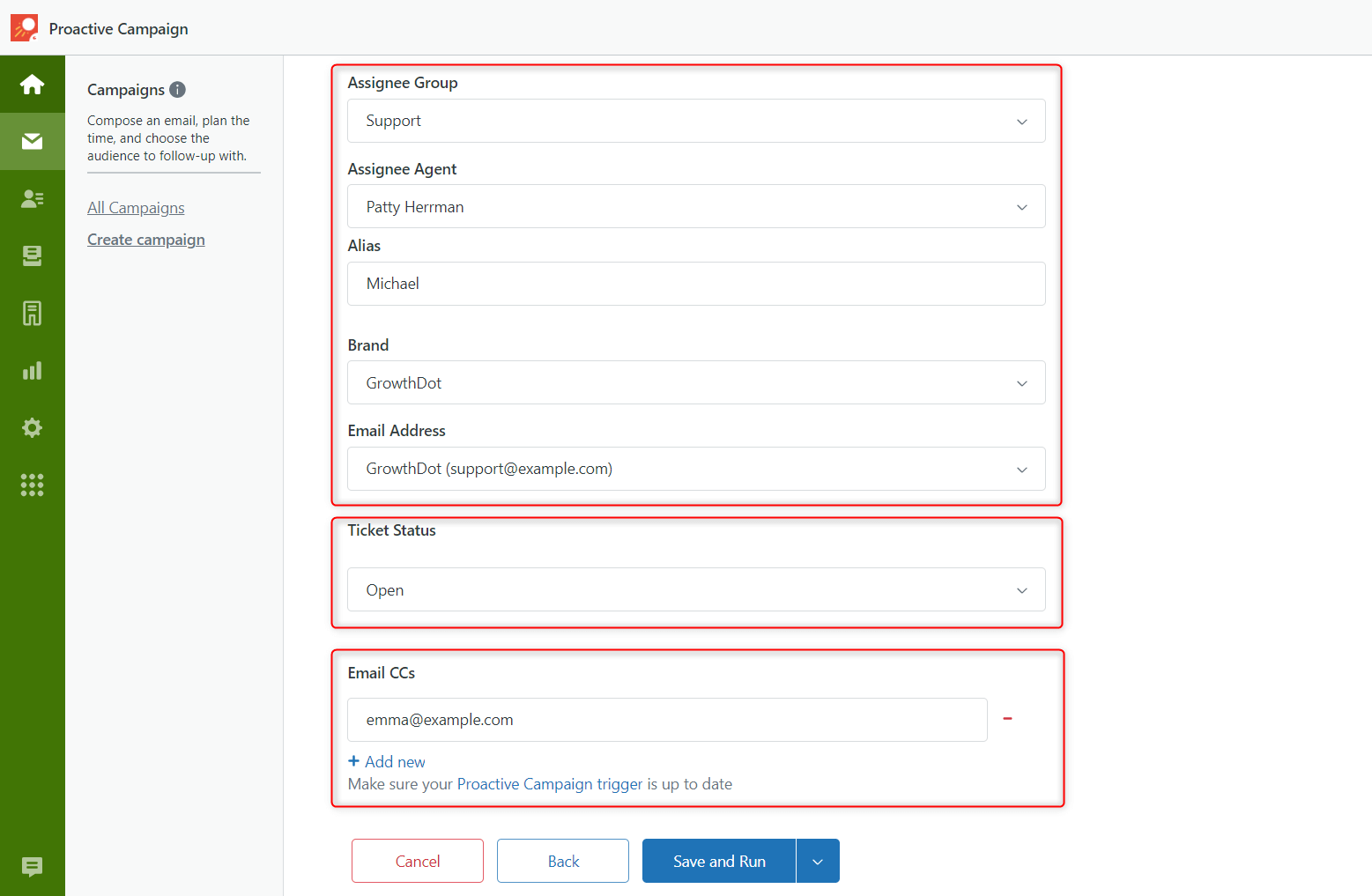 Finally, click on Save or Save and Run if the campaign is not scheduled. You can also save a campaign as a Draft or send them to test recipients before launching it.
By the way, here is a trick that allows sending a new campaign directly from the Views tab. So, click the Send Email to List button in the top right corner of the Views tab. Then, the app opens the same Create Campaign page described above in this article.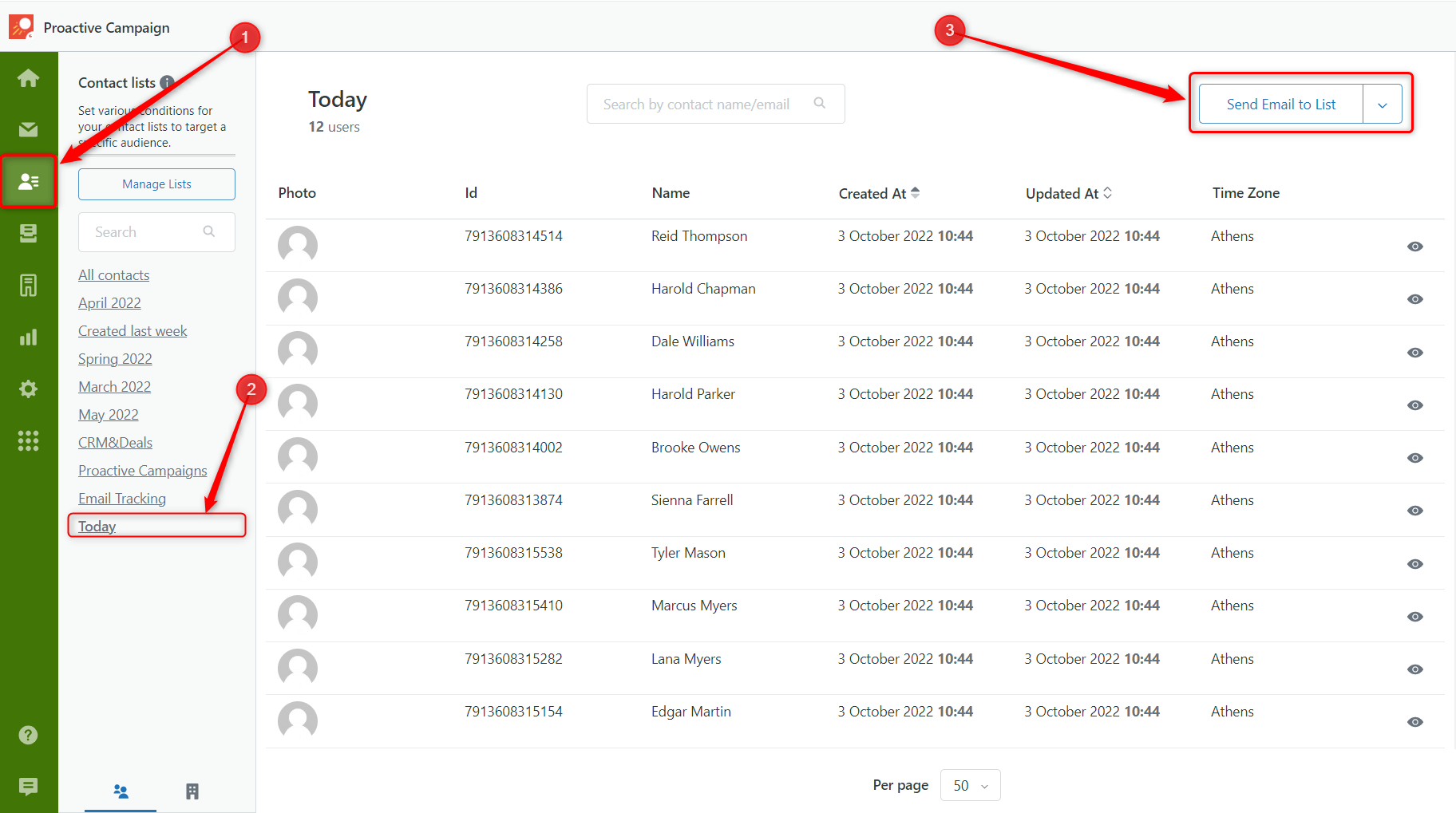 If you still have any questions about the test emails or suggestions, please contact our support team.