Digital marketing is a strict industry that requires practical tools to achieve great results and provide lead generation. If you are looking to increase conversion and get the most out of SEO and ad campaigns, you need specific instruments - conversion rate optimization tools. With the ultimate goal of turning more visitors into customers, businesses of all shapes and sizes constantly look for ways to improve their conversion rates.
Your website, landing pages, and blog are valuable resources, and to make them profitable, you need to understand what attracts your visitors and what makes them leave your domain. And what better way to do it than with these ten proven conversion rate enhancing tools. Let's get started!
What is Conversion Rate Optimization (CRO)
Before we begin, we need to define what it is and why someone needs to improve their conversion rates. If you already know this, you skip to the next section. Still, for the uninitiated, conversion rate optimization, aka CRO, is when the visitor does action at your website - signs up for a newsletter, creates an account, makes a purchase, downloads your app or plugin, etc. In other words, CRO is defining why your visitors aren't converting and what is needed to fix the problem.
After all, CRO is science, and guessing is not a good way to assess the problem to succeed in inbound marketing. You need raw numbers and a clear picture of how dire the situation is in terms of traffic quality. To boost conversions, you need to make sure that:
You receive valuable insights from your analytics and visitor feedback;
Have specific KPIs designed to help CRO;
A way to use the traffic you already have to your advantage.
Tips to Boost Your Conversion Rates
Despite having countless options to improve your website performance, there are always two fundamental limitations which are time and resources. To improve your conversion rate, you need to refocus your entire operations line to fix the core causing problems. Or in other words, this should be an organization-wide effort. When approaching the issue, we suggest that you keep an eye on these metrics:
The numbers you are shooting at;
Total conversions;
Conversion rate;
Bounce rate;
The exit rate for each page;
Engagement metrics;
Average time on site;
Average page views.
A lot? Definitely. But that's what you need to improve your conversion rates. If you feel that you don't have the technical capability to handle it alone, the conversion rate optimization tools below should help you.
Top Conversion Rate Optimization Tools for 2022
As they say, no obstacle is ever insurmountable, and the following 10 selected website conversion rate optimization tools will help you to handle the conversion issues and turn your site wanderers into your most loyal customers.
#1 Technical Diagnostics with GTmetrix
Life goes by fast, and long page loading doesn't win you anything, let alone a higher conversion. Therefore, when focusing on the optimization process of your site, we suggest that you start with page speed.
GTmetrix is a suite of CRO tools designed for improving your site performance. The solution uses around 30 various methodologies to assess your website. After inspection, the system provides you with a detailed recommendation report. You can use that report to see what can be boosted to increase load speed and, therefore, conversion.

GTmetrix
GTmetrix has a free plan (with the analysis of up to 3 URLs) and 4 paid plans with more features, API credits, and report filters in each one. The cheapest starts at $14.95/mo.
#2 Google Page Speed
Google Page Speed is an essential and one of the free testing tools to measure your website page speed. There are fewer features and metrics than the GTmetrix tool offers. However, there's no limit to the URL count. Also, you can get all fundamental indicators to estimate your website's work, and check what parameters need to be fixed and what you can improve.

Google page speed
#3 Google optimize for A/B testing
Google optimize is a free conversion rate optimizer that helps marketers and web developers check the visitor conversions of the same page with different content and graphics. For instance, you create your homepage A(original) and B(variant) or mix their elements for a multivariate test. Then, after a certain period, you can check the conversion rate of each page. Finally, you choose what page brings higher results.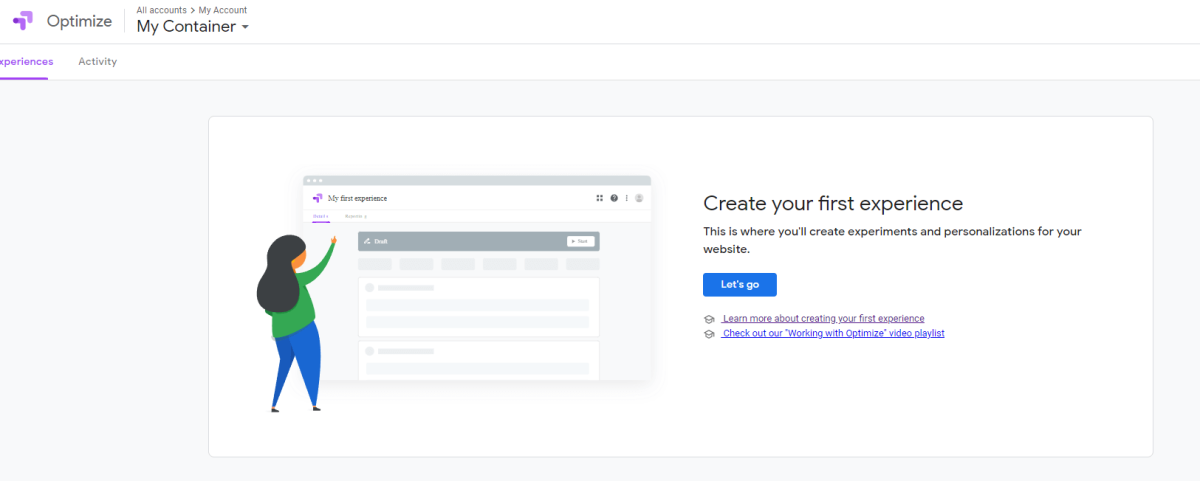 Google optimize
Take into account that there can be more than one-page variant, and the modifications may vary. That means you can test three or more pages that can be radically different or variants with fundamental changes.
#4 Lucky Orange
Lucky Orange is one of the all-in-one CRO tools that combines dynamic heatmaps, session recordings, and live chat. Here you can select visualization of your dashboards and charts and see the analytics of visitors' behavior. Also, the app creates real-time session recordings for you to know customers' issues before they go from your site.
Also, Lucky Orange presents shots of clicks, scrolls, and moves on your website for analyzing which corners were forgotten.

Lucky Orange
Check out sales and conversion funnels and contact your customer via live chat for a better customer experience. Lucky Orange conversion optimization tool has a 7-day trial and a free pricing plan. However, if you are looking for a wider range of features, you can select suitable pricing from 10$ to 100$ per month, depending on your company's size.
#5 Better UX with UserTesting
We can bust the myth about the non-existence of truly intuitive websites, or so the tagline sounds. UserTesting is a powerful tool you can use to create a test for your targeted audience. Then you get results and a video report in an hour about their user experience. Sounds unbelievable, but it is just that.
This tool allows you to analyze sites, apps, and even web prototypes. There are also many customization options such as device type, screen resolution, aspect ratio, and OS preference. You can choose the demographic parameters of your test group, design questionnaires, and even use pre-written ones if you're short on time.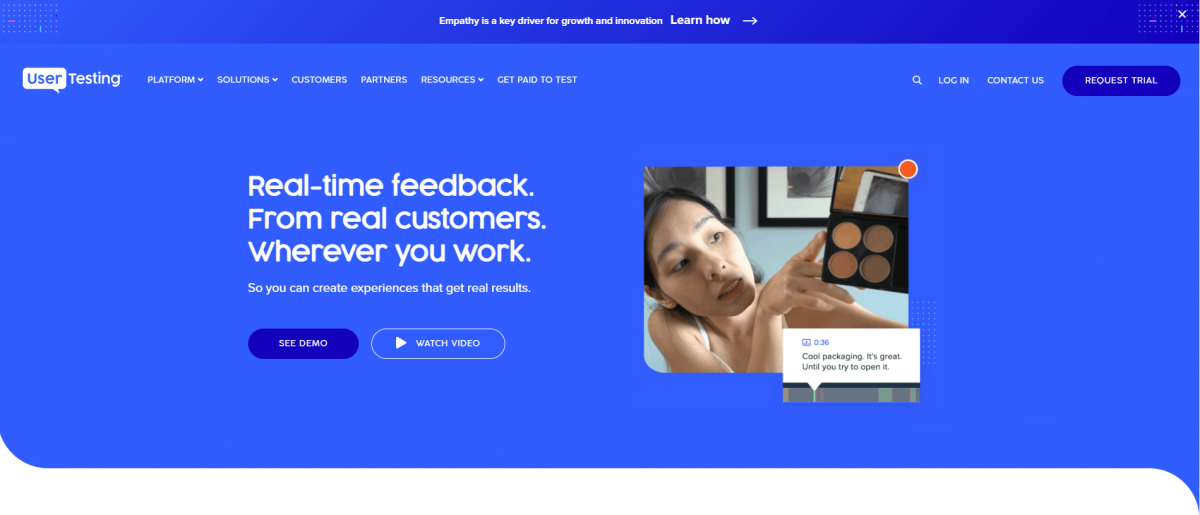 UserTesting
UserTesting comes at two price plans - Basic ($49/video; $99 after the first 10 videos) and Pro which requires contact.
#6 Optimizely for Reliable A/B Testing
Have you ever felt doubt about the changes in the content layouts you made? Or maybe you want to test new features without being burnt by users? Optimizely is your best friend, then. This platform will help you increase conversion by split testing on various devices across desktop, mobile, and apps.
Furthermore, as part of the service, you'll also gain access to an editor, analytics integration, cookies, IP targeting, and audience segmentation tools. All these analytics conversion rate optimization tools will help you get more valid results.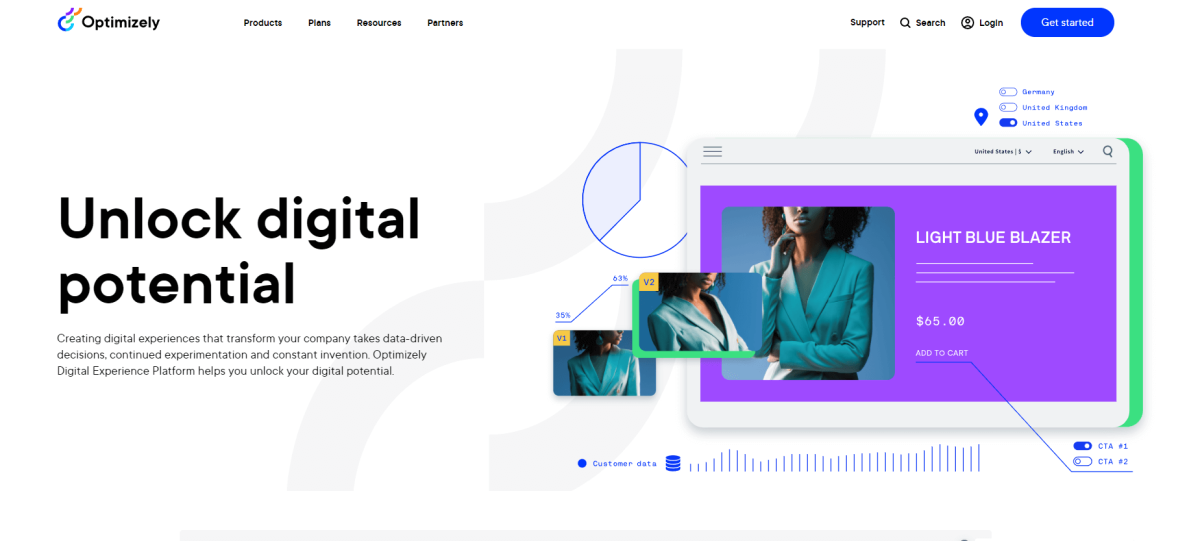 Optimizely
Currently, Optimizely provides a Started Plan (for free) and an Enterprise Plan (with business customizations) that requires getting in touch.
#7 QZZR: Engage Your Audience
Back in the day, we didn't know how many visitors are enticed, but as time went on, social media platforms became essential marketing assets, and the need for such a metric became evident. Fast forward today, we now have the engagement metric, so naturally, businesses started to build tools to improve it.
One such analytics tool is QZZR. With it, you can drive social traffic, generate quality leads and distribute targeted offers more methodically and accurately. This conversion optimizer tool allows you to transform your content into various quizzes and polls for easier sharing.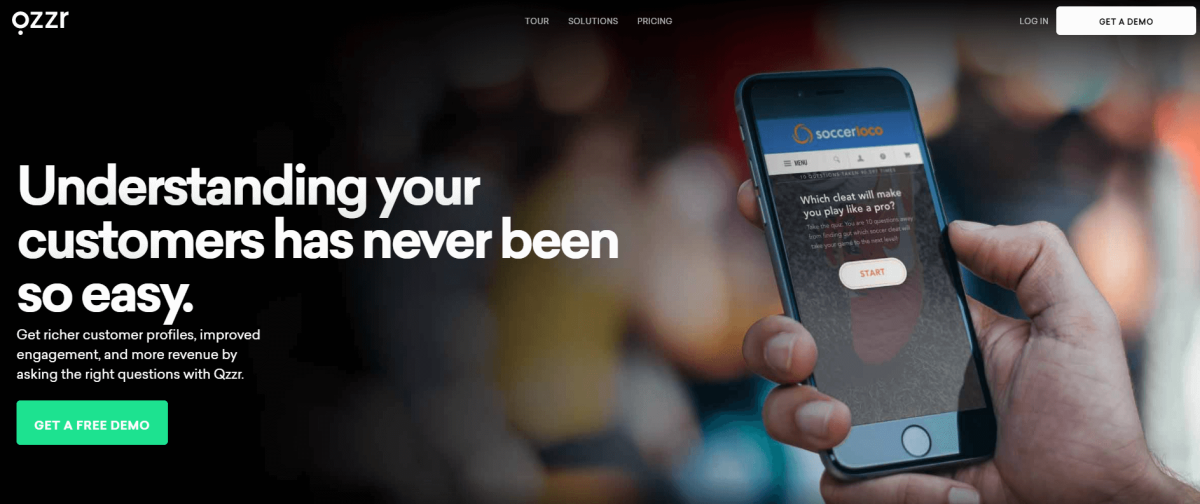 QZZR
QZZR offers three plans: Basic (free), Pro ($299/year), and Enterprise (customizable so requires contacting).
#8 Insight into Behavior Analysis with HeatMapCo
Have you ever asked yourself the question, "Can you increase conversion at first sight?" Probably not, but that didn't stop HeatMapCo. As the name implies, this tool will help you define how well your graphic or message entices visitor action.
This eye-tracking prediction technology uses an algorithm based on scientific research and real-time data. With HeatMapCo, you can view user perception of on-page elements and analyze them using user view information. But the best part of this system is that it doesn't require code changes on your website. Besides, you do not need to collect users' feedback.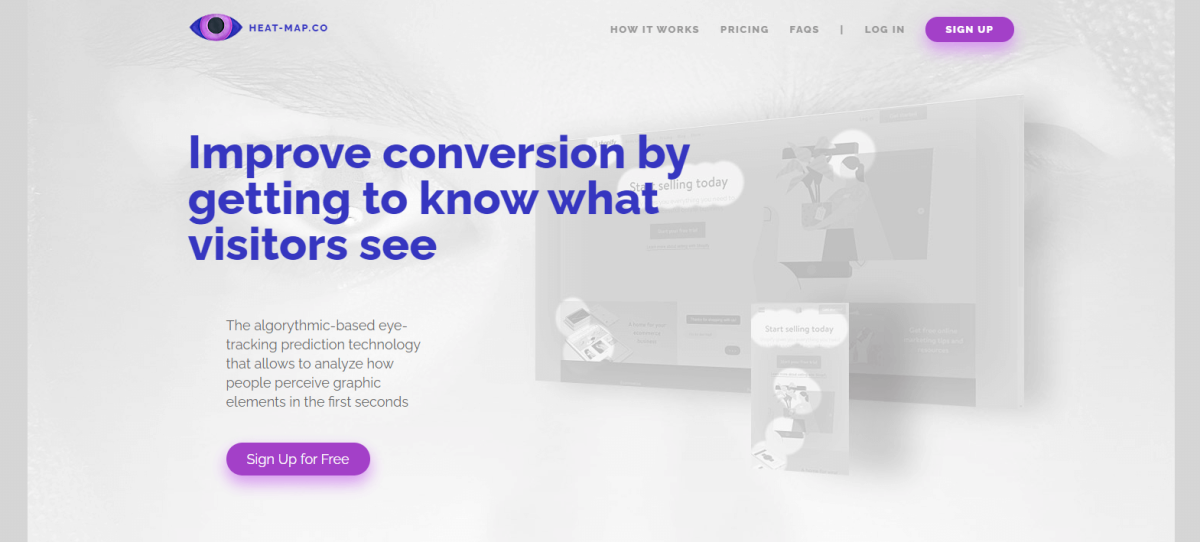 HeatMapCo
HeatMapCo provides the following pricing options:
Free plan (for two analyses and two collaborators);
Basic ($9/mo);
Professional ($29/mo);
Gold (custom service package) requires contacting the vendor.
#9 Unbounce to Keep Visitors Longer
Another solid tool to use is if your visitors just keep bouncing off your page. Generally speaking, Unbounce is more than a numbers tool. With it, you can create all kinds of test subjects. From simple landing pages to sticky bars to pop-ups, all without a single line of code.
As for analytics, the tool has a system that uses grades to show you how well your conversion rate holds up in your segment and how it compares to top dogs in your industry as a whole. This conversion rate optimization tool can also indicate whether your images are too big and whether you need to boost your load times.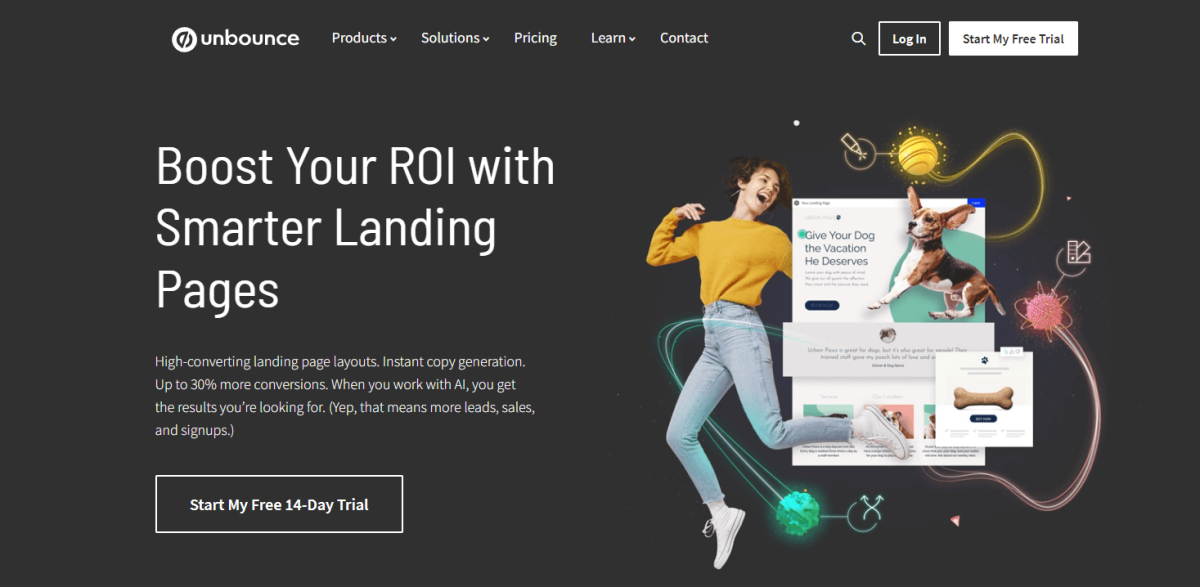 Unbounce
Unbounce starts at 99$/month, but there is a free trial if you want to test the system beforehand.
#10 SUMO for Audience Development
If you are looking for a Swiss army knife version of conversion optimization tools, you won't find a better fit than SUMO. This conversion rate optimization software has been on the market for years and is most known to provide excellent email campaign toolkits at no cost at all.
SUMO is a tool you can use to develop a following for your site. The platform has many traffic development widgets, social share buttons, and viral generators you can use to drive people to your website. As for conversions, the tool offers a "Smart Bar" system that lets you increase email subscribers and sign up people for free courses, and webinars, among other things.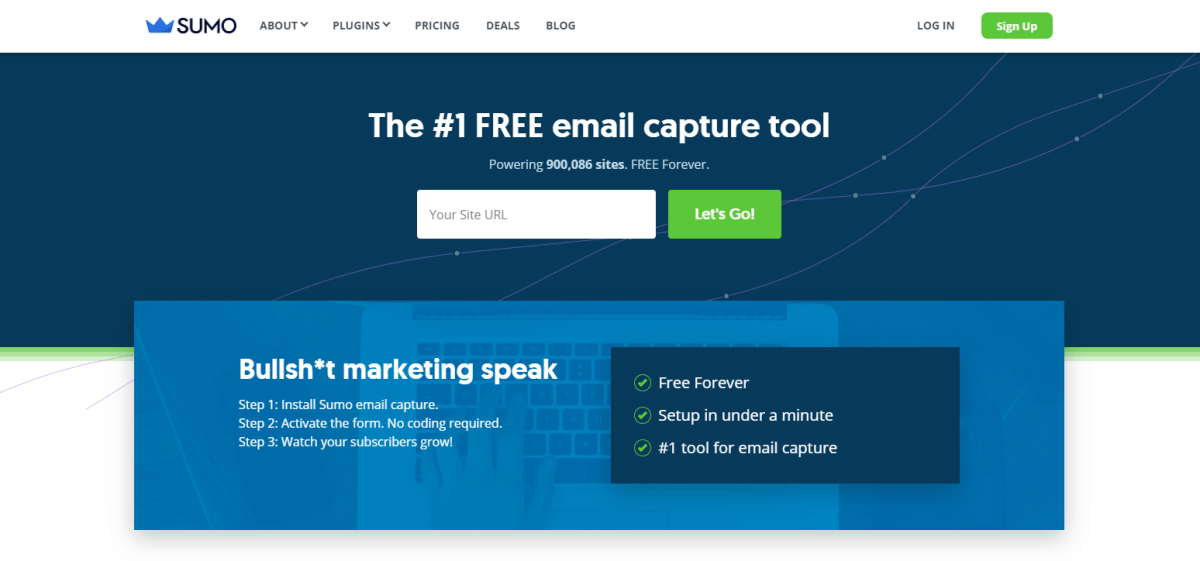 SUMO
As we already said, SUMO is free, but if you need extra features, you can get the Pro tier for just $39/month. A fair price for a compelling conversion-boosting solution.
Conclusion
As you can see, you can use conversion rate optimization tools to improve your website conversion rate. Time is of the essence, so instead of wasting time and doing guesswork, we suggest that you take advantage of these marketing automation solutions. But in the meantime, thank you for joining. If you want to read more articles like this, be sure to come back again, as we post stuff like this all the time and update info about conversion tools on a regular basis.
We have many interesting for you
Check out more about marketing
Read more