Let's talk about customer context. Imagine you've had a stressed day at work and in addition, you feel frustrated because you cannot find something in the store while doing shopping. In a situation like this, it is easier for a store assistant to identify the problem and approach you the right way. That's because they can read your body language, facial expressions and voice tone. They have complete customer context.
Now, let's take online shopping. In this case, the support representative cannot see you. They make their decisions and adjust their service depending on the information you provide them. In this case, the chance to provide the same level of customer service as in the situation before falls down to zero as there is too little visibility of the situation for the support agent.
The lack of body language is strongly felt in this case, so it's extremely important for internet support representatives to have more customer context. Only this way, they will step into the situation fully open to solving issues and be able to provide individual-oriented support.
The Source of the Issue
Most support teams have little to no visibility into the journey their customers take on after raising a ticket That's because the insights they have on this matter are not enough to completely understand customer's situation at the given moment.
There's another factor that affects the quality of customer support. It is a huge number of tools that agents can choose from during the assistance. Imagine having to jump back and forth between the tools. It's multitasking in its purest form. Which as we all know hurts productivity and focus.
Little visibility combined with a huge selection of tools results in delayed responses to tickets.
The Action Plan
What is the solution? Zendesk took care of creating special tools for dealing with this issue that is common to many support teams. In your Zendesk Support account, you can use such features as essentials card and interaction history. The first displays relevant details on a certain customer for the agent who is serving them. The essentials card may contain the information or some tips left by the agent that previously worked on this customer's problem for the next support representatives to improve the customer context.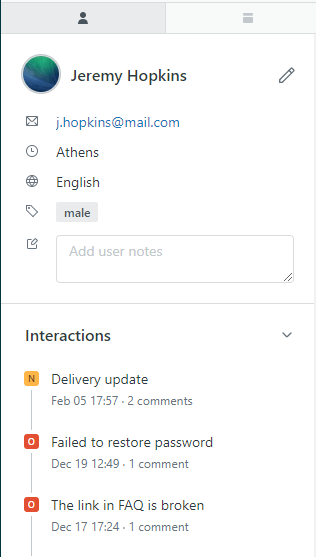 The interaction history provides the visibility of previous requests submitted by a customer so you can see what kind of help they were looking for recently. With such info, the coming support situations with specific customers would be easier to solve.

So, using both these tools, the agents will be able to receive relevant context about the customer's experience up to current time. Having such valuable information, your agents will have no choice but to provide excellent and high-quality customer support.
Power-up the support
Zendesk always yearns to improve general satisfaction with their personal customer experience, to get agents productivity to a new level and to help its users to scale overall. That's why these tools were so important especially for providing outstanding omnichannel support. Take a chance to personalize your support as much as you can, having everything essential up and running.