Email Tracking for Zendesk was conceived as a mail tracker first. However, it has gone beyond that concept from a long time ago. Now Email Tracking is a powerful software for monitoring clients' activity, tracking devices, checking statistics, creating ticket views, etc. Besides, we have recently added link tracking, and we are sure new refreshes are not far off.
So, let's dive into details.
The 12-hour Time Format for Internal Notes
If you got used to living by a 12-hour time format, but internal notes consist of time info in a 24-time format, then you need to know how to change it.
You only need to open the Settings tab in the Email Tracking app, find the toggle button named Use 12-hour time format in the private notes, and turn it on.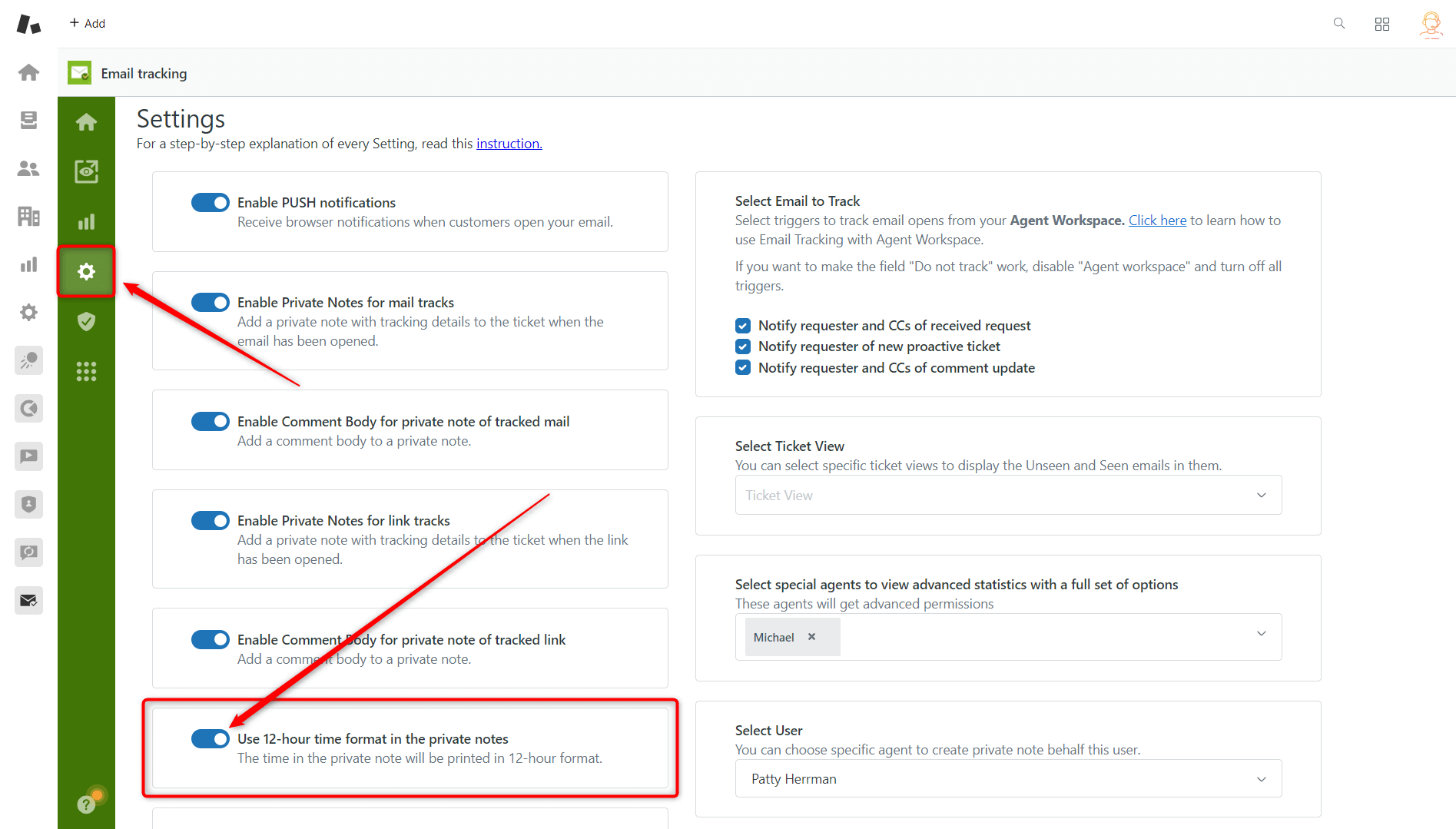 Here it is. Now your internal notes display a 12-hour time format. Hope it is helpful for you.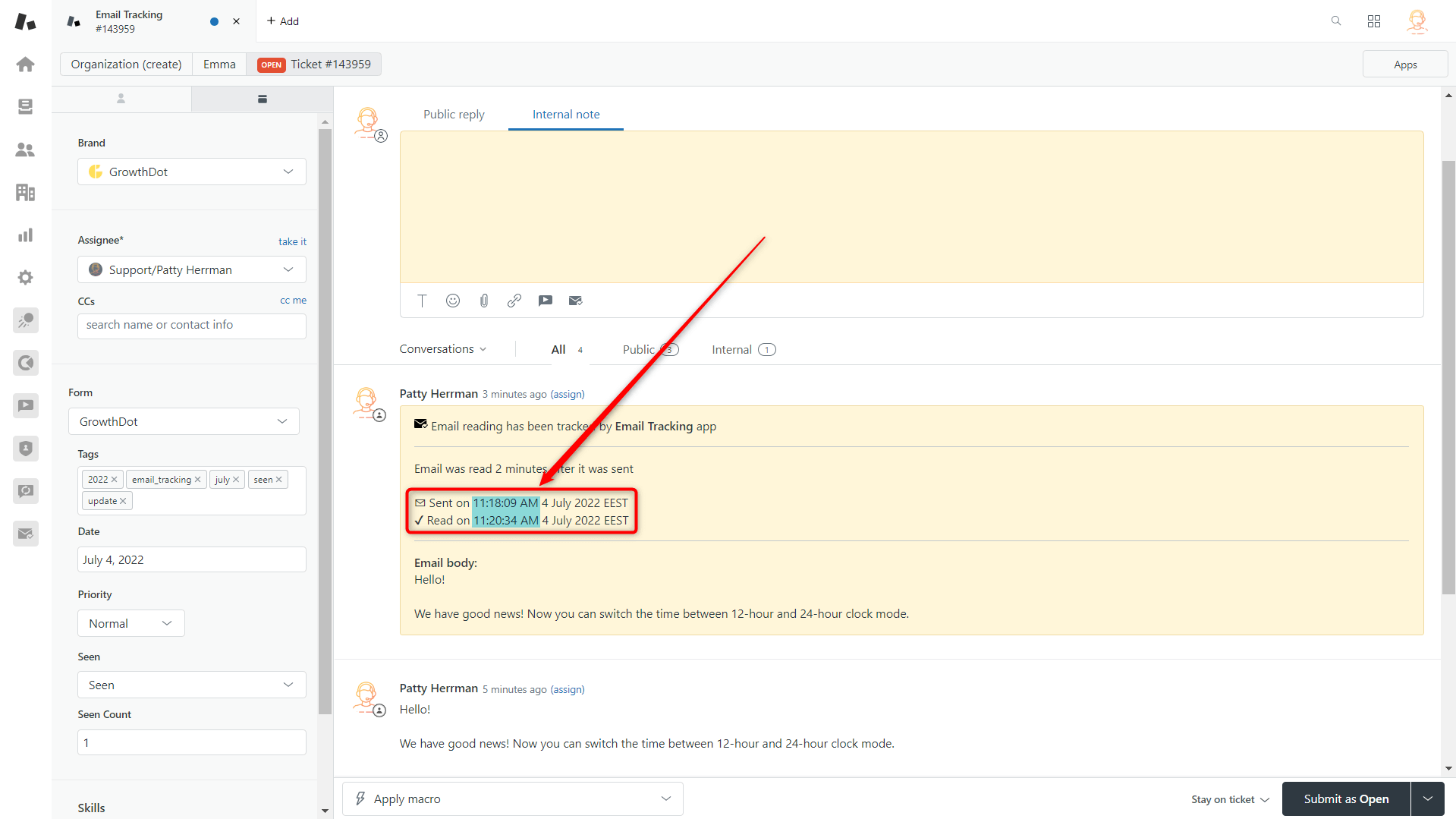 Link Tracking for Comprehensive Analytics
That is the option that will become your favorite one. Every agent can track any link openings inside their Zendesk without any additional analytic tools. Great, isn't it?
Besides, you can track as many specific links as you need in one ticket, as shown in the screenshot below. Just click on the Email Tracking app's icon under the email body and put the checkmark where needed and click on Apply.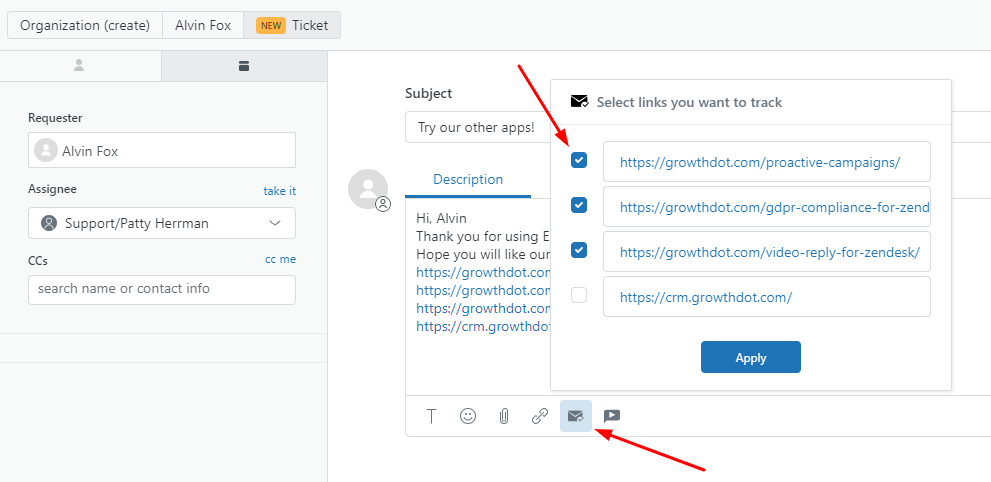 After the receiver opens the link, you'll get an additional internal note only with the exact time of the link opening. Moreover, you can see the info about all tracked links on the right sidebar under the timeline. That will help you to check how many of them were opened.

What's more, there's another specific tab named Tracked links to see the whole link list and statistics for each. Click on Details to open the statistics.

So, for example, you can select different parameters on the statistic tab and check the agent's performance during a specific period. Therefore link tracking option, which is thought-out to the details, will bring analytics closer to the customer support in Zendesk.

Try Email Tracking with Proactive Campaigns
If you are looking for a convenient mass email sender, it is worth trying Proactive Campaigns for Zendesk. Adding this app to Email Tracking will help you gain better results in your email marketing and customer support. For example, you can see who and when opened emails or if they were opened at all. So, without any doubt, contact our support team for more details.