If your company is big enough to warrant an entire support department, you are probably using a help desk system. After all, these pieces of tech are designed to help your support department solve tickets quickly, effectively, and in a scalable manner. But only some tools are created equally, as sometimes, your needs don't align with your tool's capabilities. So, what do you think about the 'Salesforce vs Zendesk' pair? Are they the same?
We've been there, and we know what it is. Hence, we decided to cover this process, the process of migrating your team from one system to another. Now, as a small disclaimer, we are using Salesforce and Zendesk for illustration purposes.
No matter what you choose, Zendesk or Salesforce are fantastic tools, but their core ideas are quite different, hence the picks. We'll also cover some basic things you should keep an eye on to avoid any troubles in the future. But enough with the introductions, let's dive into the article itself.
Zendesk vs Salesforce: Key Features
Sometimes people consider that Zendesk and Salesforce produce similar products for similar purposes. However, it only seems so. Zendesk aims more at customer support optimization, while Salesforce is more about business process management.
However, Zendesk can still be used for CRM, and Salesforce can work as a customer service solution. Nevertheless, we want to emphasize their main directions.
So, while Zendesk has a rich and simple ticketing system for request processing, Salesforce makes it more complicated. Thus, keep reading to get more about these platforms' differences.
Zendesk
Zendesk is a SaaS company that provides products to improve customer support services offered by other companies. Besides, the company developed solutions not only for building productive customer communication but also a CRM tool for effective sales.
Among Zendesk Products, you will find:
Zendesk Support - the main Zendesk platform for customer support. It has an intuitive and easy-to-navigate interface, where you will find several tabs. The main one is the 'Views' tab, where you will see all tickets delivered from multiple channels (such as Twitter, Facebook, Apple store, websites, emails, and others). A ticket is a form of conversation with the customer where agents get an inquiry from a client and try to solve it.
Zendesk Guide - is a customizable Knowledge Base. This self-service portal covers learning guides, tutorials, and articles your agent can use to solve a request quickly and create a better customer experience. If you need a branded Zendesk Guide, GrowthDot will create it for you from scratch. An easier way to make it look unique is to install Aarhus or Odense theme.
Zendesk Gather - is a community forum where customers are available to communicate with each other. Such customer interaction helps to reduce the agents' overload.
Zendesk Chat - the channel for live chat and customer messaging.
Zendesk Talk - the dashboard for making calls.
Zendesk Explore - allows seeing the analytics and reports for all services mentioned above.
Zendesk Sell - a separate dashboard for CRM to create and manage deals, analyze company revenue, forecast sales, etc.
Zendesk Support, Guide, Gather, Chat, Talk, and Explore are the parts of Zendesk for service. Some of them are enabled or disabled depending on chosen plan.
In addition, Zendesk has a wide range of third-party integrations (more than 1300), each of which will help you solve a specific task within the platform, expanding its functionality.
Salesforce
If you are reading this article, it probably means you know more about Salesforce. But we want to clarify its purpose to make the further comparison easy-breezy.
Salesforce is a company that produces cloud-based software for businesses that need to enhance customer support, marketing, and sales. It helps to strengthen communication between employees across all departments.
The core peculiarity is that Salesforce offers Customer 360 technology. Based on a client-centric approach, the company designed a portfolio of products, each collecting information about users from different perspectives. Then, departments such as Sales, Marketing, IT, Commerce, and Service can share this information with each other.
The most prominent products are:
Sales Cloud - this is a CRM platform that assists the sales team in automating many of the tasks a salesperson does daily.
Service Cloud - is a service platform that can help your company level up the customer support service and organize support teamwork. Service Cloud is similar to Zendesk, but we will discuss the differences later.
Marketing Cloud - this is a marketing platform that allows managing customer journeys, email, and social media. Besides, it includes content creation and management, data analytics, and marketing automations.
Commerce Cloud - this is the Saas eCommerce platform developed to provide seamless customer service and experience no matter where your customer is - online or in-store. Moreover, it allows customers' data integration to create engaging customer communication.
Zendesk vs Salesforce: Key Differences
Well, when people try to make a Zendesk vs Salesforce comparison, they mean Zendesk and Salesforce Service Cloud. Now you know that Salesforce offers many solutions for business or business processes. Zendesk is a more field-specific solution for customer support and sales. So, company destination is precisely the main difference between Zendesk and Salesforce.
The platforms overview
Zendesk vs Salesforce Service Cloud
| | | |
| --- | --- | --- |
| Comparison Element | Zendesk | Salesforce Service Cloud |
| Integrations | Tickets allow agents to communicate with customers and resolve their issues. To automate ticket assignments, you can set up triggers and automations. | Cases are the tickets analogy. The platform uses AI to assign cases to agents who are most qualified to solve them. |
| Interface | A neat and intuitive interface prevents agents from confusion. This is important if a company hires many new employees as they do not need to spend time learning the platform. | New agents can feel quite overwhelmed about the platform. Thus, it requires time to explain its functionality. |
| Self-service | Even the cheapest plan enables Zendesk Guide to create articles for customer self-service. Besides, it has vast customization capabilities and a multilanguage option. There is also a Zendesk Gather available so customers can manage their support requests. | Provides a Help Center with basic customization. The Professional plan doesn't include it. For an exceptional self-service experience, you need to purchase a separate product - Experience Cloud (Community Cloud). |
| CRM | Even the cheapest plan enables Zendesk Guide to create articles for customer self-service. Besides, it has vast customization capabilities and a multilanguage option. There is also a Zendesk Gather available so customers can manage their support requests. | Provides a Help Center with basic customization. The Professional plan doesn't include it. For an exceptional self-service experience, you need to purchase a separate product - Experience Cloud (Community Cloud). |
CRM and Deals is a Zendesk Support integration that allows customer service agents to create sale pipelines, manage deals, make sale predictions, set automation and filters, use customization, and view the statistics. Besides, deals are connected with Zendesk tickets so that you can see related customer tickets in the Deals and vice versa.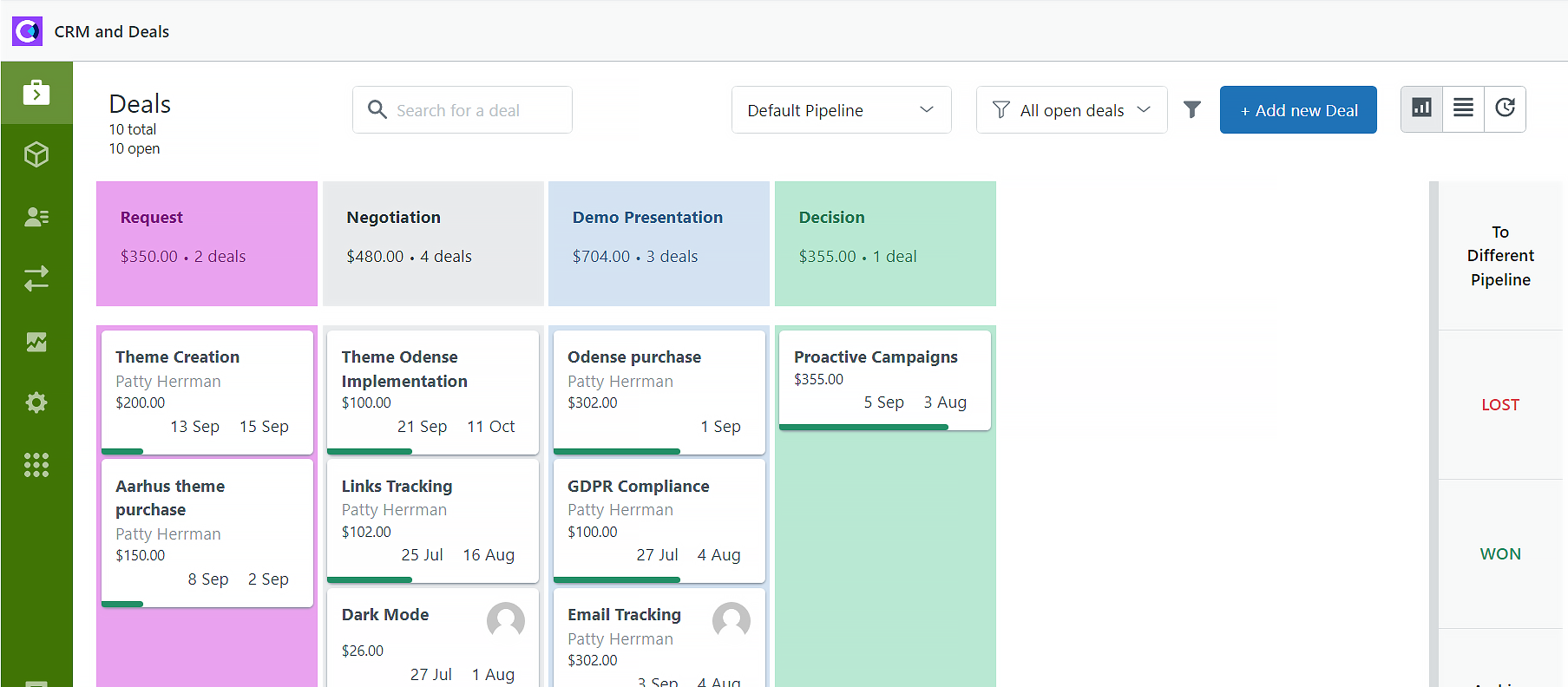 Zendesk or Salesforce? The price comparison
We also would like to add a few words about platforms' pricing tiers. Zendesk offers an impressively bigger range of planes, including Basic plan, Professional, and Enterprise. The pricings are also divided by Suit and Support plans that provide different amount of features.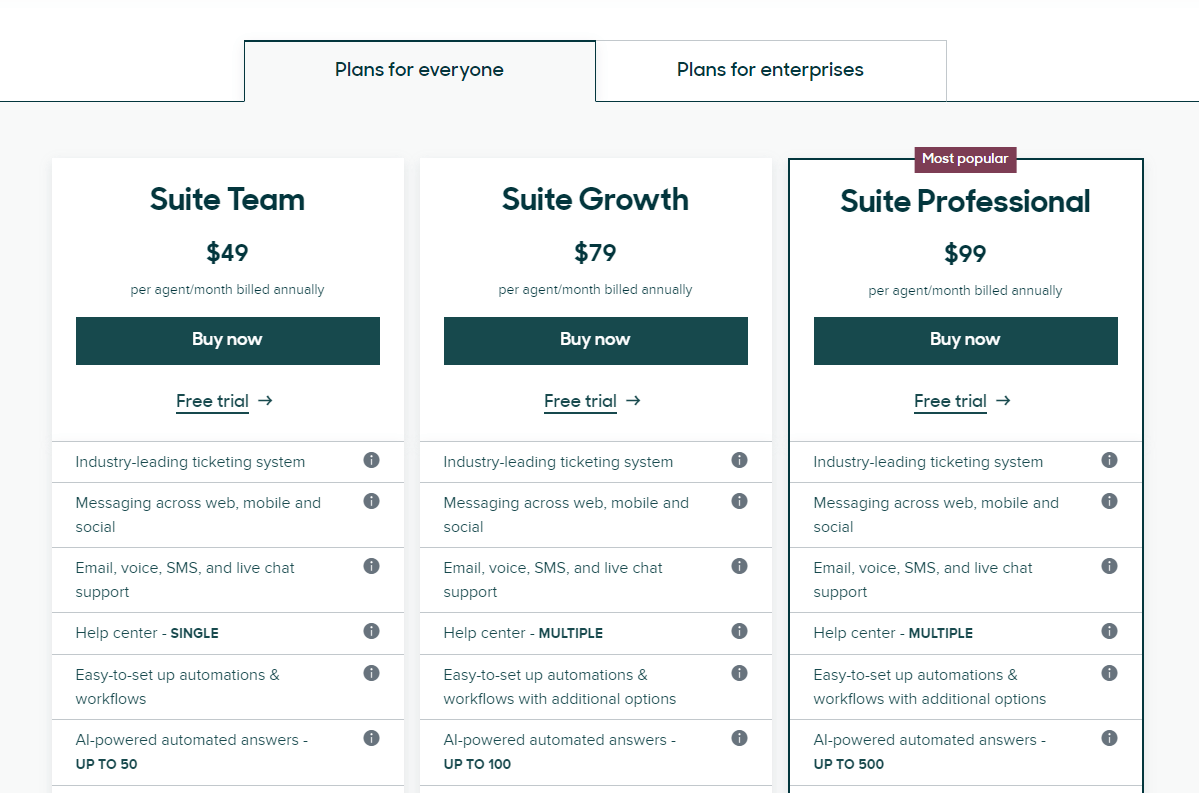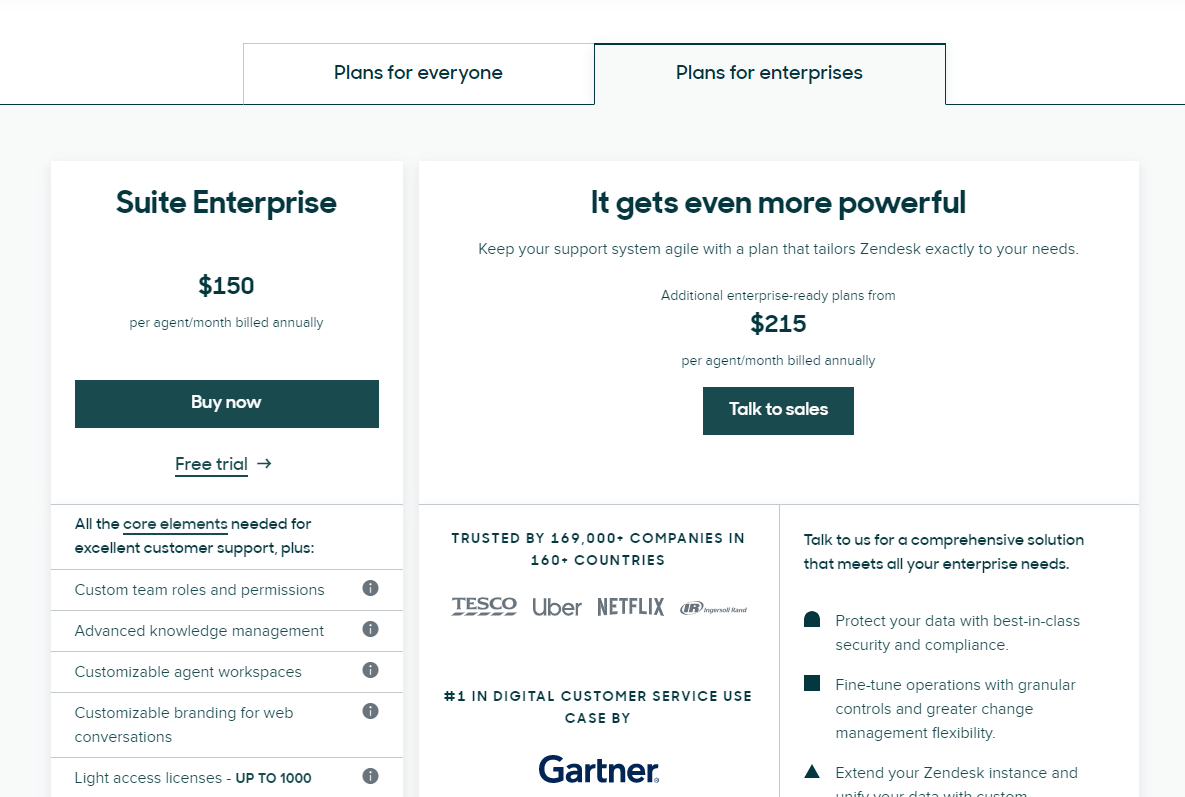 Here are a special set of plans only for a support team.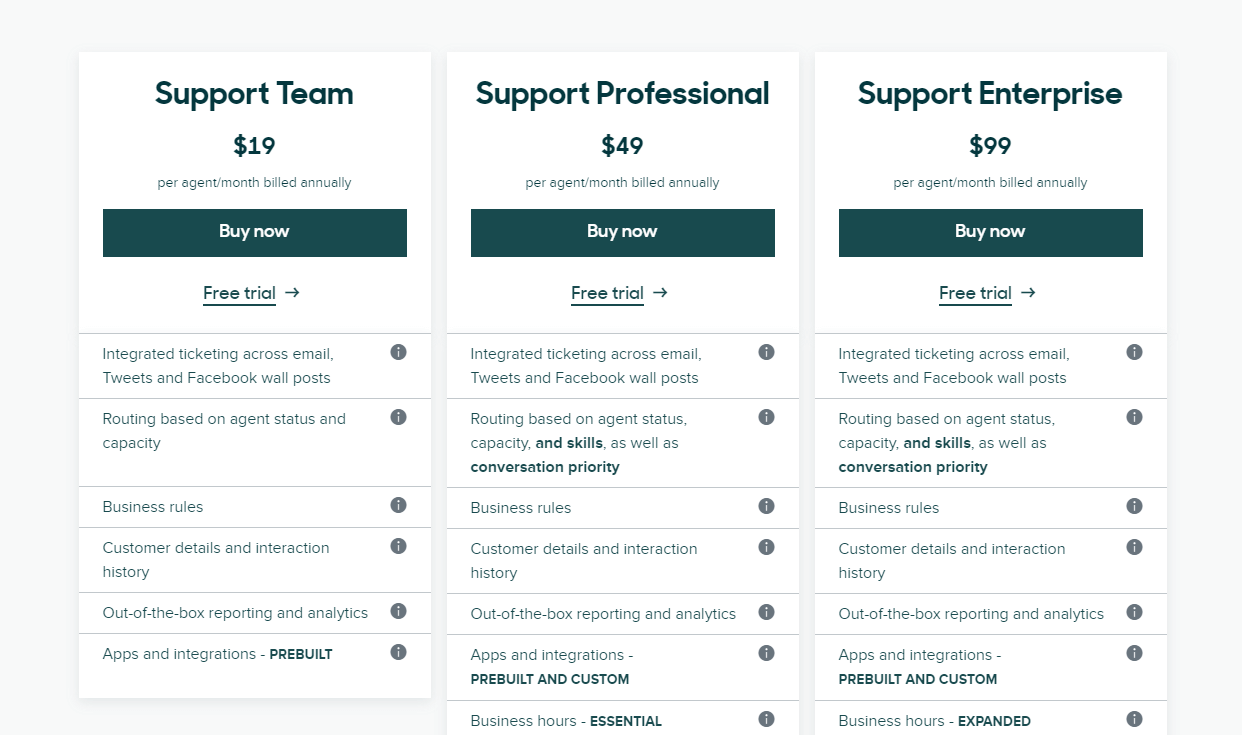 Salesforce Service Cloud has only four pricing plans.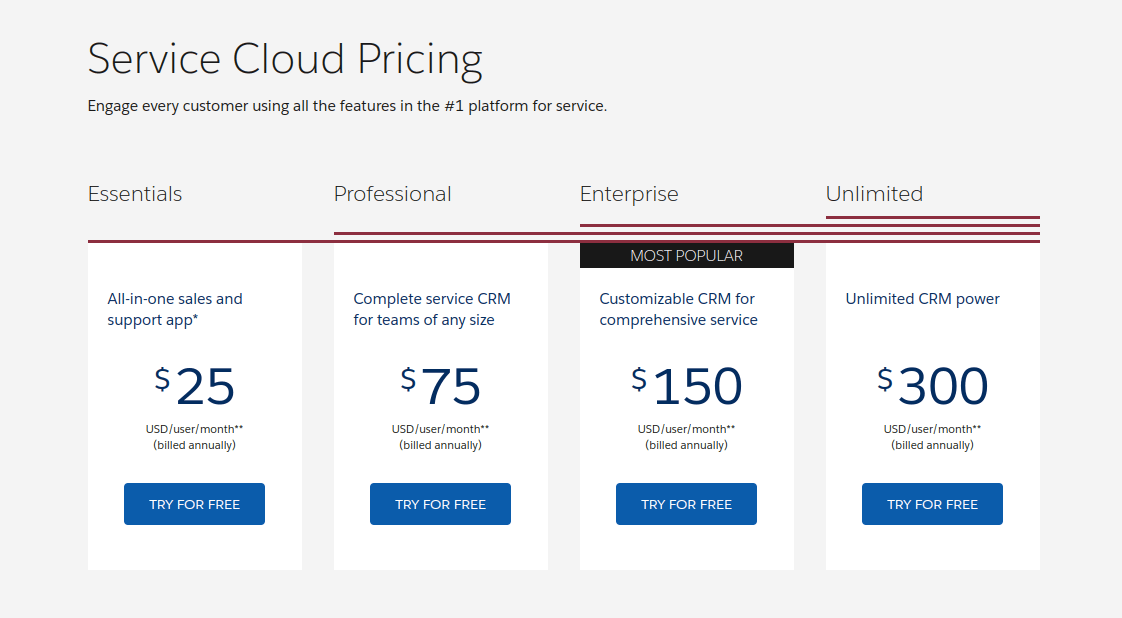 Salesforce vs Zendesk: Team collaboration
Continuing some kind of 'Salesforce vs Zendesk' battle, we can say that team collaboration is a Salesforce strong side if you use its products for several company departments or teams. Regarding Service Cloud, the team collaboration capabilities are the same as in Zendesk. Therefore, customer support representatives can be free about internal communication inside these two platforms. For example, Zendesk also has an internal comment option in tickets, and, in addition, it allows adding CCs, @mentions, and followers to each ticket.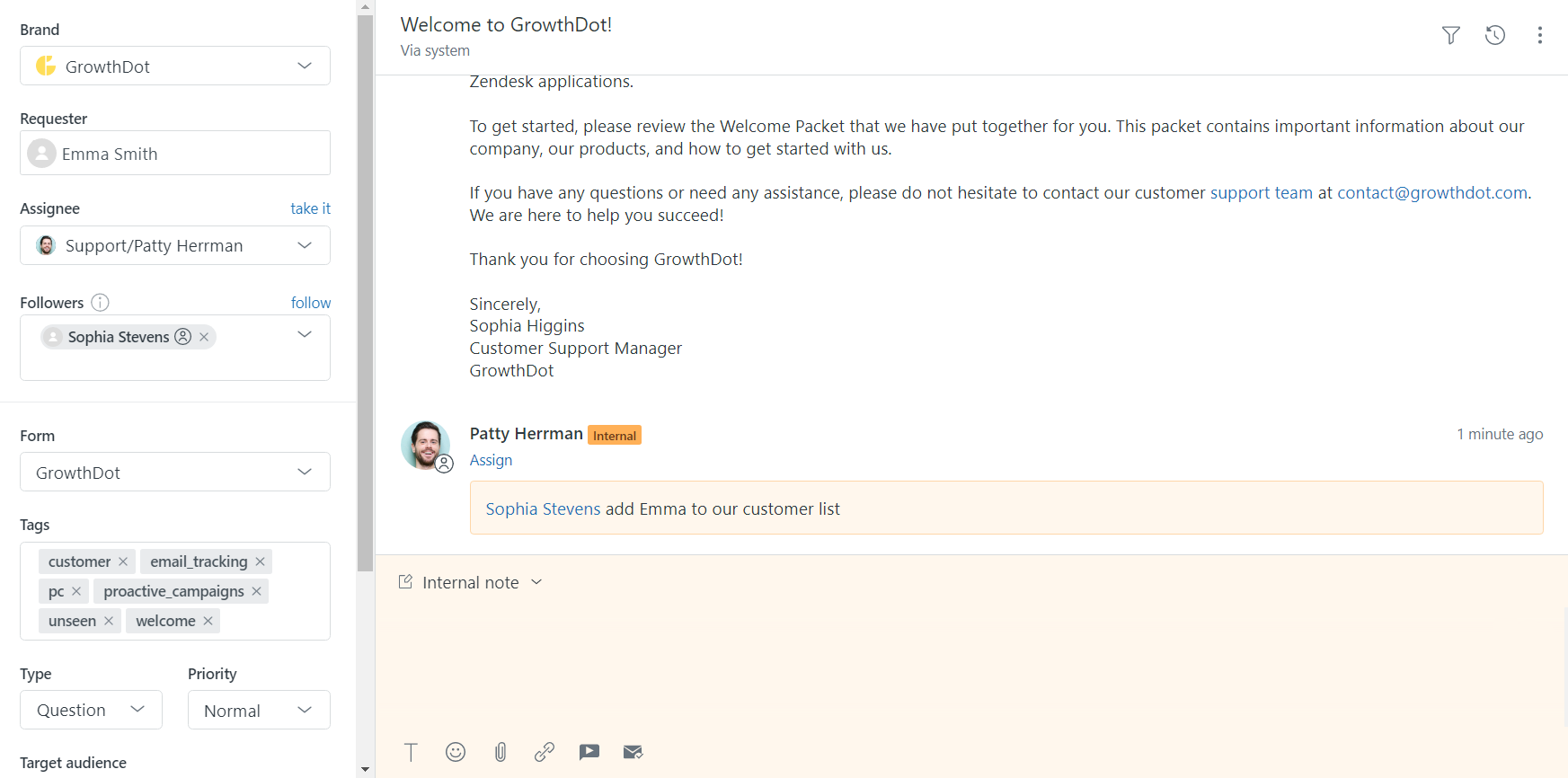 Salesforce vs Zendesk: Reporting and analytics
There is also a difference between Zendesk and Salesforce in analytics and reports. Zendesk Explore gathers data from other Zendesk applications to convert it into analytics and reports. Therefore, your agents can monitor agent performance, ticket statistics, knowledge base effectiveness, real-time customer satisfaction with CSAT and NPS Surveys, and many more.
With it, all data visualize in interactive and customizable Dashboards. So if we take Zendesk Support as an example, we will see how many tickets were created for a specific period and use different kinds of filters like assignee, channel, brand, ticket form, etc.
Salesforce Service Cloud does everything to provide personalized communication using analytics. Therefore, it also uses a dashboard to estimate the case volume by channel, open cases by status, agent productivity, etc.
Migrate Your Support From Salesforce to Zendesk
We hope you now understand more about these two platforms and their differences. So, if you decide to optimize your customer support, Zendesk can give you a lot to make interactions with customers reliable and long-term.
Next, we are going to explain how you can migrate your data from Salesforce to Zendesk in a simple way.
Ready? Let's get started!
Zendesk to Salesforce migration: Preparation Phase
Before we jump into the Zendesk to Salesforce migration process, we'd love to point out a few things in advance, as it will save you a lot of time and headaches. We won't be chewing them out but point toward the direction. So, here are five tips you should make use of:
Define what data you need to move in advance;
See what day of the week will have/has the least workload;
Make sure every staff (notably agents) is aware of the move process;
Create lots of data backups before committing to a new system;
Prepare the target platform.
Now, these are just the basics, and if you want to learn more, we suggest you check out these 10 data migration mistakes that occur during transfers. But in the meantime, let's head over to the Salesforce to Zendesk migration process itself.
Migration from Salesforce to Zendesk
Now you can opt to use the file method 'a.k.a' to pray the CSV file will fit nicely, but we advise you to start with the Help Desk Migration service. It is more reliable and a lot more flexible in what you want to move. For example, you can try to move some amount of data from Salesforce to Zendesk at no cost to see how it works. Among the data the software can transfer are tickets, users, organizations, standard and custom fields, Knowledge Base data, and more. Besides, there are ways to customize the migration process when you create additional fields or agents. Furthermore, this system does not require any coding or in-depth technical knowledge.
After you've provided the necessary details, the system will perform a demo migration. For those curious, this is done to ensure that data is 'migratable' and that no errors will pop up in the long run. After completing this step, get to pick what kind of data you want to move and what stuff should be left out. And that's pretty much it from your side. The migration team handles the rest.
Typically, the process takes one business day, but depending on the number of records and specifics of the work, it can take a little bit longer. To try data migration, visit the HDM website.
Help Desk Migration Benefits
Some of you might ask, 'Okay, if I want to migrate Salesforce to Zendesk, so what kind of benefits do I get?' We are glad that you did as there's enough of them.
1. Let's start with the fact that you don't have to deal with different systems and worry about incompatibilities. Sometimes, even a heavily edited (adapted) import file will still have stuff mixed.
2. Then there's the fact that you don't need to hire anyone to write a custom script. Hiring a freelancer won't be cheaper, either. With this system, you don't have to wait for things to be developed, nor do you need any testing. Just open the 'box' and use the contents without strings attached.
3. Last, you don't need to worry that something will go wrong. The people working there will be with you throughout the whole process. From start to end and beyond. They provide support even after the migration has been completed, so no worries here.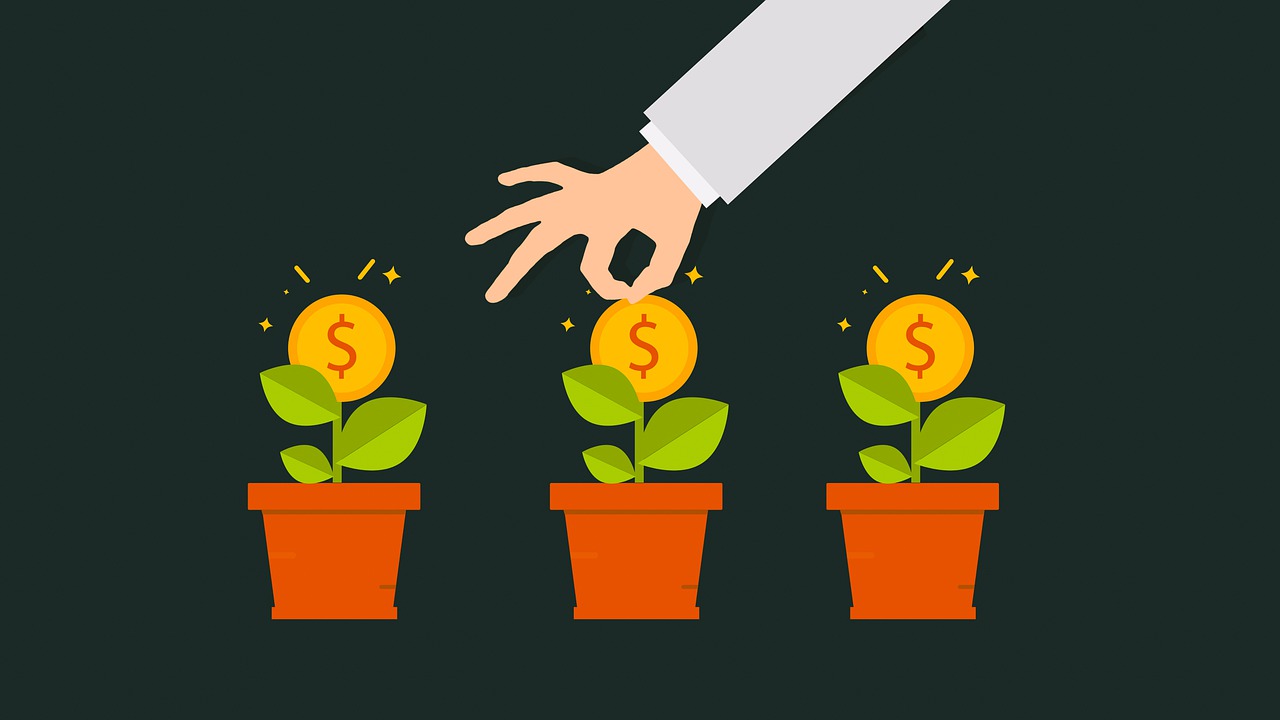 Bottom Line
If you are still on the 'I don't know side,' then worry not, as the tool's developers offer all of their customers a free demo. You will see the tool in action, and you can move a small number of records for free. Nothing to lose and lot's to gain. So if you are interested, drop them a message or give them a call, and they will get back to you ASAP to answer all your questions.
Want to level up a customer support service?
Read more about Zendesk data migration
Read more