Speed is critical when it comes to business. Your customers no longer require you to explain technical details, nor do they seek specific items. Instead, they want to know what they came for to you and how you can help them solve a concrete issue. Therefore, things should be fast on all terms, which also applies to migration. Yet, not all platforms allow for swift transitions, which also belongs to Freshdesk, especially when you want moving data from Freshdesk to Zendesk.
But worry not, as we have just an effective migration technique for you, and this is what this article is all about. Thus, let's leave the vain talk and dive directly into exploring the two helpdesk platforms' differences and learn about the data export from Freshdesk to Zendesk.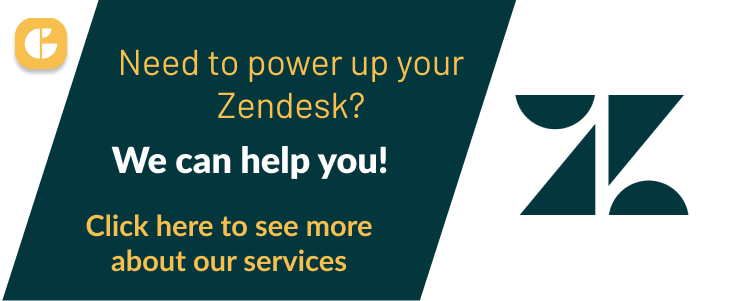 Is Freshdesk and Zendesk the same?
Many companies widely use customer support services essential to interact with clients or employees. So what do they mainly do? Well, such services, usually called help desks or service desks, optimize communication between a support team and customers. Therefore, Freshdesk and Zendesk are customer service tools designed to automate customer support workflows, reducing agents' responding time and leveling up a company's service.
Freshdesk is a customer service platform that makes customers' journeys smooth by offering different communication channels and easy transitions between them. Moreover, it possesses a cloud-based helpdesk ticketing system and provides the most extensive and flexible knowledge base.
Zendesk is also a robust customer support software that opens a little more room for agents while supplying customer services. This tool has an advanced and well-organized ticketing system that uses multiple channels to collect customer queries and direct them to one place for further processing.
Note: an agent is a representative of a support team.
To be more precise, let's look through each of them in detail.
Freshdesk vs Zendesk: What is Common?
Freshdesk and Zendesk, these two cloud-based customer support software, can be complementary because of their functionalities. Thus, we need to figure out what such customer service tools will bring to your customer service team:
Ticket Management. This is the main feature that lies at the center of helpdesk services. This way, platforms allow collecting users' questions, queries, or suggestions from different channels called 'tickets.' So, you can create, organize, and manage tickets and assigns them to responsible agents to create reliable communication with clients.
Knowledge Base. A self-service niche becomes more and more in use. Therefore, customers are available to search for an answer in an organized Knowledge Base that stores relevant content. Consequently, they don't need to wait for an agent's response, looking for answers to common questions.
Reports and Analysis. Detailed reports or custom reports are beneficial when talking about analyzing sales strategy or measuring an agent's work. Then, Zendesk and Freshdesk also provide these options.
Time Tracking. Every workspace should have a tracking system to observe and estimate the quality of an agent's communication or sales techniques. Imagine how good to integrate an automated timesheet that tracks a working process.
Live Chat. Again, the described customer support platforms provide features to conduct live chats. It's in trend since customers love receiving real-time communication and personalized offers. Thanks to this, customer satisfaction is growing either.
Customization. Branding is an inseparable part of every company's identification, and customization options are crucial in helpdesk services. So, you can adjust each support service accordingly to your brand identity and make customers feel confident in your company.
Data Protection. Both customer service tools support GDPR, ISO, HIPPA, and other security regulations. They keep all data secured and protected.
Freshdesk vs Zendesk: Main Differences
We've discovered what general features belong to Freshdesk and Zendesk, so it's time to concentrate on their differences.
Criteria
Proactive Campaigns
Mailchimp
Ticket Management

Canned Responses (automated messages)
Assign agents
Zoho CRM integration
Team Inbox
Custom Ticket Statuses
Skill-based query assigning

Macros (prebuilt messages)
Assign agents
Slack integration
Centralized Inbox
Allows SMS, chatbot, and forum ticketing
Custom Fields
Trigger-based workflow

Knowledge Base

Translating articles based on a multilingual knowledge base system

Bot integration
Multilingual content
Feedback forums
Community posts
Personalized article offers
Custom Fonts

Reports and Analysis

Gives info about incoming tickets and agent's work
Custom reports and dashboards
Inbuilt reports
Metrics (CSAT, churn rates)
Team dashboards

Gives info about customer search activity
Pre-built dashboards
Customized reports
Sharing options

Time Tracking

Time tracking feature
Manual timesheet editing

Tracks time manually/automatically
It allows checking: daily working hours, total time spent (on one ticket), number of tickets resolved (during a given time)
Time statistic reflection with reports

Live Chat

In-built live chat (free)
Tack chat's history
Support different bot sessions
Send chats into tickets

Rotes chat discussion to agents
Customized automations
Integrates with UpChat

Customization

Allows customizing the help desk using your company's branding
URL customization
Supports over 40 languages

Allows customizing help desk appearance as well as reports and graphs
Views customization

Data Protection

HIPPA
GDPR
AICA SOC
Cyber Essentials
TRUSTe
ISO/IEC 27001

HIPPA
SOC 2
Type II
ISO
FedRAMP LI-SaaS
Freshdesk vs Zendesk: Make the Right Choice
Well, we've already looked over the main functionalities of trendy helpdesk services within Freshdesk vs Zendesk battle. Therefore, comes a logical question: 'Which one will fit my company?'
Indeed, it depends on your customer service purpose, budget, company size, or personal preference. Freshdesk is suitable when you do not need advanced support options and just want to automate a work routine. You will either have access to analytical tools, metrics, and other beneficial features.
On the other hand, Zendesk is a winner when we are talking about the company's scale or if you want to provide excellent customer service. This CRM software stands out with its customization elements, online/offline support functions, deeper analytics, and comprehensive knowledge base.
To make the correct choice, simply try one of them, as they both have a trial period. If you already use Freshdesk and want to try Zendesk (or vice versa) but have no idea how to quickly migrate data between two platforms, try the Data Migration services.
Which one is better: Freshdesk or Zendesk?
If you asked us which would be better to choose, we would say that Zendesk got a few more points than Freshdesk. It has an intuitive design, automation functions, bots, and a lot of features that can make a customer support service marvelous. Moreover, there are an impressive amount of Zendesk plugins in the Marketplace that complement the platform in all senses.
Freshdesk also has its advantages, and it's more affordable than Zendesk. However, both tools are improving daily and launching different pricing plans for every taste and business need.
After reading this article, Freshdesk's users might want to try Zendesk. Thus, we will be covering how to export data from one platform to another. So, let's dive deeper into it.
Migration Options
Before we start, we'd like to point out that the tool we are about to use is not free. It is a paid solution, and not everyone will want to stomach the extra expenses. Hence why we would like to cover a free option first. Spoiler alert, though, is not fast by any stretch of the imagination, but then again, it is free.
Using a File
So, as we already mentioned, a free method will allow you to move some of your data to the new system. And it involves the usage of CSV or XML files. The basic idea is that you export a CSV file from Freshdesk and import that file into Zendesk, and to do so, you need to open your Freshdesk account. Once there, open the "Tickets" tab and pick the ones you need to move.
After you have selected it, you should click on the "Export" button in the top right corner. Then, you will be taken to a screen where you can choose what kind of fields you'd like to include in the export file. You are allowed to select from items such as Status, Source, Agent, and many other filters. Besides, it is also where you need to specify the file format. Therefore, you should decide between XML and CSV formats.
To make further data processing smoother, we suggest you go with CSV as it is the most accepted file. The advantage of this file format is that you can use it elsewhere (provided you need to). After all, you just hit the green "Export" button and wait for the file to cook.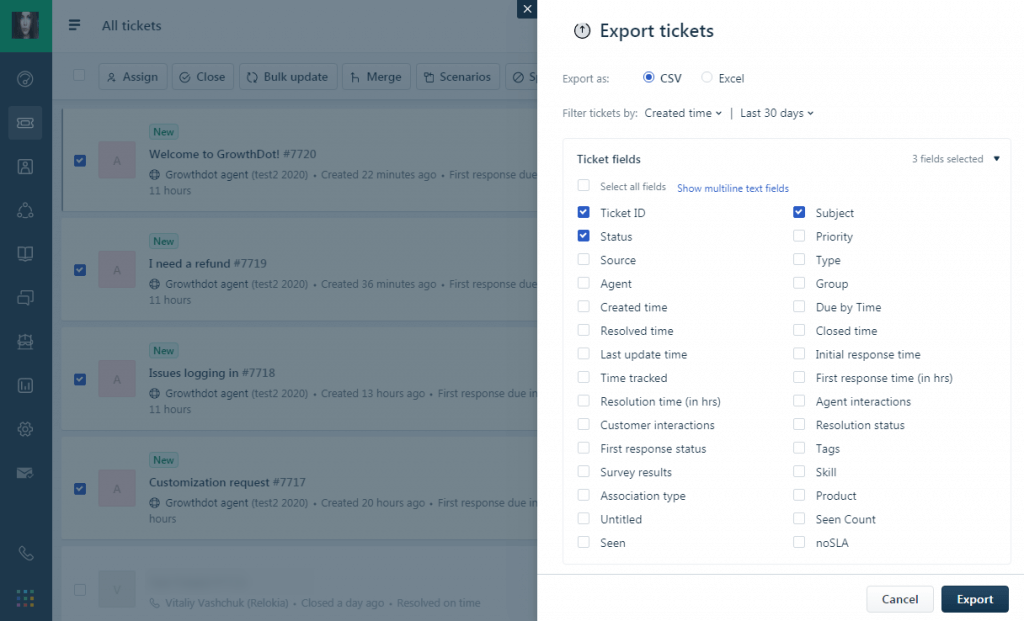 Now that we are halfway through, we need to log in to your Zendesk account and prepare a few things there. Namely, ensure your account has all the fields required and that your CSV file has no more than 2000 users. If it does, go to the next phase by splitting the thing into two files, and perform the following spets twice.
So, head over to the Gear (cog) icon and locate the tickets menu. Once you are there, upload the file and wait for the system to process it. Ideally, you won't have to change anything, and all will be buttery-smooth from the get-go, but that is not always the case, so bear that in mind. Now on to the fast method.
Help Desk Migration
So, unlike the previous method for Freshdesk to Zendesk export, this one is much faster. The Help Desk Migration software allows migrating data from one platform to another. Just head over to the HDM website and send a request. You can try the demo option to migrate tickets, users, and organizations from the Freshdesk platform to Zendesk. Besides, it is free of charge. That happens to ensure that everything is going according to plan. After the test migration is complete, you can proceed to do the entire migration process. And that's it. This way, tampering with files, fields, or other nonsense is unnecessary.
Once you provide the necessary details, you will be asked to set the platform from which you want to migrate the records and the target one. Next, you need to select the migration objects, like Groups, Agents, Companies, Contacts, and Tickets. Besides, you are also allowed to migrate objects from the Knowledge Base: Categories, Folders, and Articles.
Moreover, you can configure each object, for example, what default and custom fields will be moved to Zendesk. It is important to note that creating new fields during migration is possible. In the end, you will see the different pricing Plans, so just choose what fits you best.
By the way, if you are worried that your data is in danger of being compromised, calm down. The company guarantees all your stuff is under heavy guard, and you can rest assured. Check out the security and privacy policies to ensure the safety of your data import and export.
Migration Wizard Benefits
The system offers so many small but valuable benefits that it is hard to resist not talking about them. First off, you get a dedicated support team throughout your migration process. Secondly, you don't need to code absolutely anything, as the migration vendor handles the entire process. Third, the prices are reasonable as you only pay for the moved records. And on top of that, you are not limited in any way. So, no need to split the migration into two phases.
If you want to move your one million user base to the next system in one go, you can. Oh, and did we mention that everything is fast? Be sure it really is. Depending on the complexity of the work, it takes roughly a single business day to move everything you have to the new tool. Incredible!
Final Thoughts
If you are in a hurry, there's no better way to move your stuff than using the GrowthDot migration services. We are fast and secure; perhaps the most vital aspect is that our tool is accurate and reliable. You neither need to "fix" anything nor "adjust" something. Just hit import, and you are done. If you want to learn more about the tool or the prices, we suggest you call us and if you need to spice up your Zendesk layout, you know where to find us.
Export your data from Freshdesk right into Zendesk
Set up an automated migration now!
Request a Demo