Speed is key when it comes to business. Your customers no longer require you to explain them, nor do they seek specific items. They want to know what they came for and where they came to. Things should be fast on all terms and this applies to migration too. Yet, not all platforms allow for swift transitions and this applies to Freshdesk.
But worry not as we have just the right migration technique for you and this is precisely what this article is all about. Thus, let's not meddle any further and dive directly into the process of data export from Freshdesk to Zendesk itself.
Migration Options
Before we start, we'd like to point out that the tool we are about to use is not free. It is a paid solution and not everyone will want to stomach the extra expenses. Hence why we would like to cover a free option first. Spoiler alert, though, is not fast by any stretch of the imagination but then again, it is free.
Using a File
So, as we already mentioned, there is a free method that will allow you to move some of your data to the new system. And it involves a CSV/XML file. The basic idea is that you export a CSV file from Freshdesk and import that file into Zendesk and to do so, you need to open your Freshdesk account. Once there, open the "Tickets" tab and pick the ones you'd like to move.
After you are done selecting, you need to press on the "Export" button that is on the top right corner. This will take you to a screen where you can select what kind of fields you'd like to be included in your export file. You get to choose from things such as Status, Source, Agent, and many other filters. It is also where you need to specify the file format. You can choose either from XML and CSV but we suggest that you go with CSV as it is the most accepted file and you can also use it elsewhere (provided you need to). After all of that, you just hit the green "Export" button and wait for the file to cook.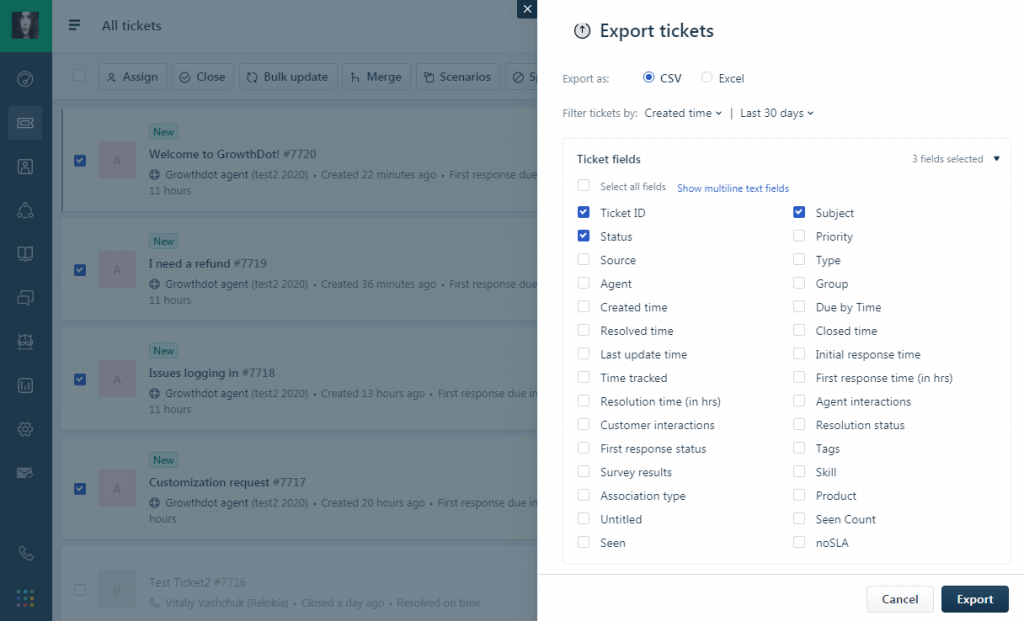 Now that we are halfway through, we need to log in to your Zendesk account and prepare a few things there. Namely, you need to make sure your account has all the fields required, as well as ensure that your CSV file has no more than 2000 users. If it does, then you need to split the thing into two files and perform the following spets twice.
So, head over to the Gear (cog) icon and locate the tickets menu. Once you are there, you will need to upload the file and wait for the system to process it. Ideally, you won't have to change anything and all will be buttery-smooth from the get-go but that is not always the case so bear that in mind. Now on the fast method.
Migration Wizard
So, unlike the previous method for Freshdesk to Zendesk export, this one is much faster. Basically, you need to head over to the GrowthDot migration services page and send a request. Later, during the process, you will have to select the source and the target platform. In our case, that is Freshdesk (source) and Zendesk (target). You will also be asked to provide credentials. This is needed for the two tools to communicate with one another. Without credentials, the process is impossible since no bridge will be established. In case you are worried about your data being compromised, worry not. All of your stuff is under heavy guard and you can rest assured.
Anyways, once you provided the necessary details, you will be asked to pick what kind of data you want to move to the target. The selection is wide and covers even knowledge base articles (complete with pictures). After you are done selecting stuff, a small portion of your info will be migrated free of charge. This is done to ensure that everything is going according to plan.
After the test migration is complete, you can proceed to do the entire migration process. And that's pretty much it. No need to tamper with files, fields, or any other nonsense.
Migration Wizard Benefits
Let's get this straight, the only downside of the method is the fact that it is not free. The rest is just nitpicking. The system offers so many cool little additions that it is hard to resist not to talk about them. First off, you get a dedicated support team throughout your migration process. Secondly, you don't need to code absolutely anything as the entire process is handled by the migration vendor. Third, the prices are reasonable as you only pay for the moved records.
And to top all of that, you are not limited in any way. No need to split the migration into two phases. If you want to move your one million user-base to the next system in one go, you can. Oh, and did we mention that everything is fast? It really is. Depending on the complexity of the work, it takes roughly a single business day to move everything you have to the new tool. Incredible!
Final Thoughts
If you are in a hurry, there's no better way to move your stuff than using the GrowthDot migration services. We are fast, we are secure, and perhaps the most important aspect, our tool is accurate and reliable. You don't need to "fix" anything nor do you need to "adapt" something. Just hit import and you are done. If you want to learn more about the tool or the prices, we suggest that you give us a call and if you need to spice up your Zendesk layout, you know where to find us. too.
Export your data from Freshdesk right into Zendesk
Set up an automated migration now!
Request a Demo