Knowing who is under sanctions is a must for companies as it influences their reputation. With Sanctions Check, you don't need to delegate this process to a third party, as you can do it right from Zendesk Support. Therefore, be sure you comply with Know Your Customer requirements and Anti Money Laundering policy. Besides, the application checks individuals and organizations through OFAC (Office of Foreign Assets Control) and OFSI (Office of Financial Sanctions Implementation) sanctions lists. So, you will know vital information about your clients in a few clicks. Also, here we post our Sanctions Check updates regularly. So, keep reading!
Free application on Sandbox
The good news is here! Zendesk users with Sandbox accounts now have access to the free app! Just install the Sanctions Check app for free on a Zendesk test account and see how it works. Let our support team know if you want to try this out!
Automations
If you are curious about all ticket requesters' reputations and want to avoid searching it manually, the new Sanctions Check update is precisely for this. Our automation feature creates private notes in tickets, informing you about the user or organization sanction status. The adjustment process and usage workflow are as easy as possible. So first, go to Settings > Automations and click the Enable Trigger button.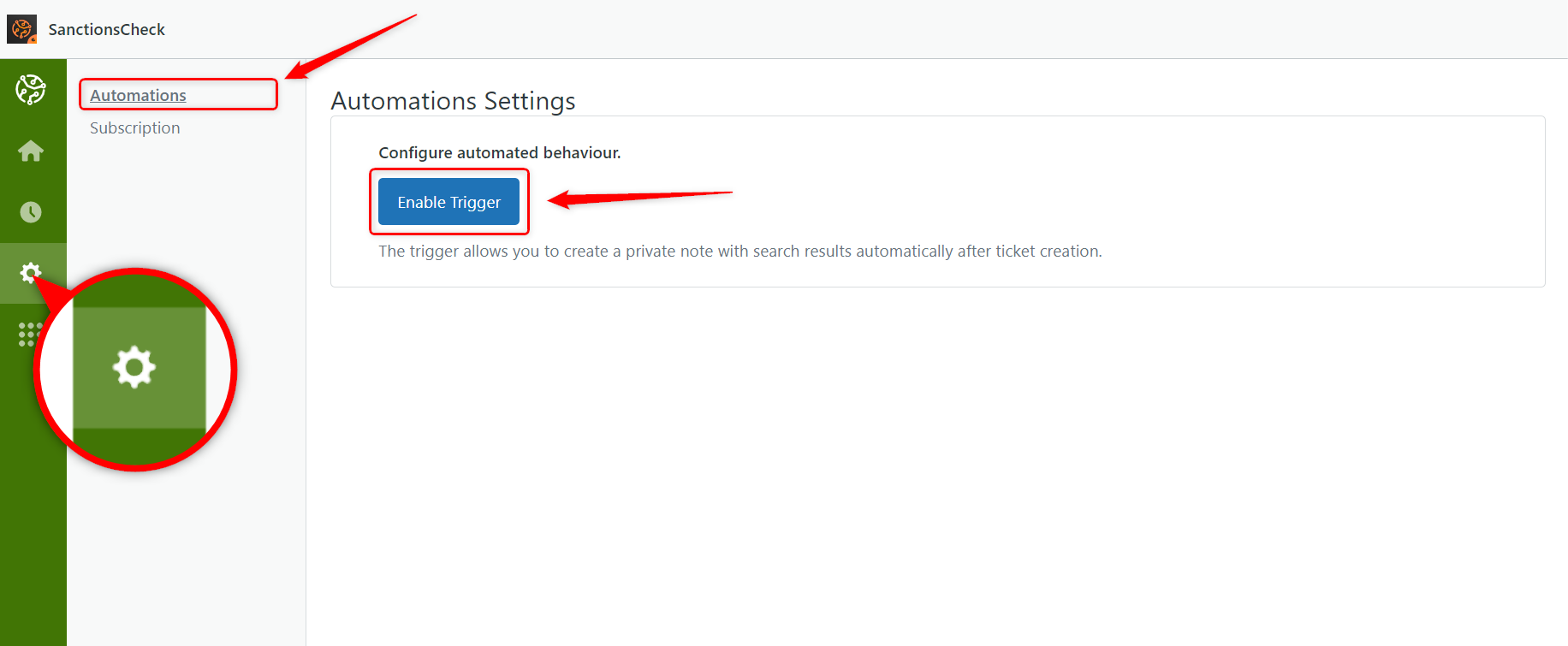 Next, when an agent creates a ticket or receives an incoming one, the app automatically sends you an internal notification. It includes the Search term (a requester name), Type, and search results.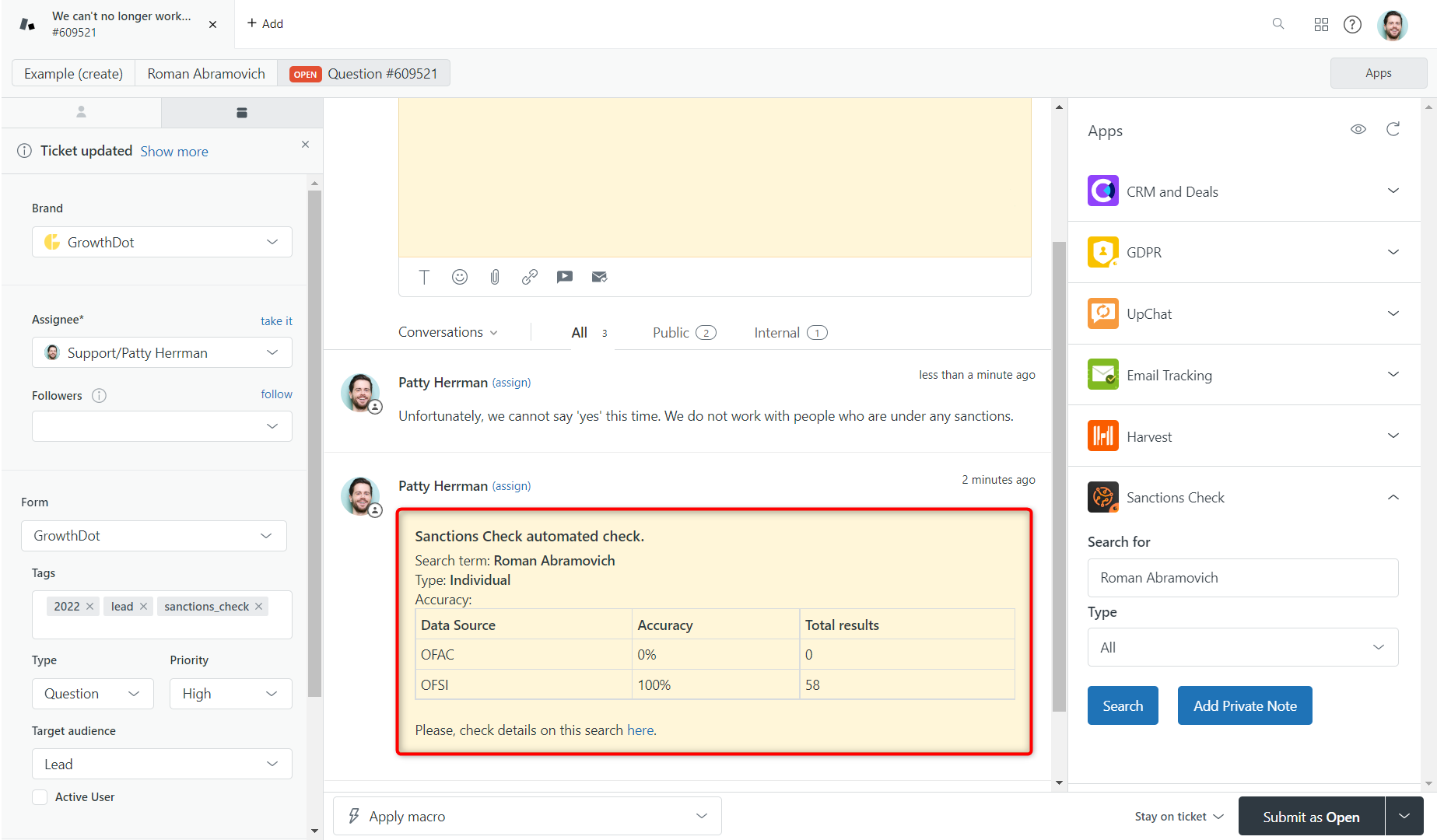 If you want to see such information only about particular users, instead of enabling the automation, click on the Add Private Note button on the ticket right-hand sidebar. This way, you will see the internal note only within a selected ticket.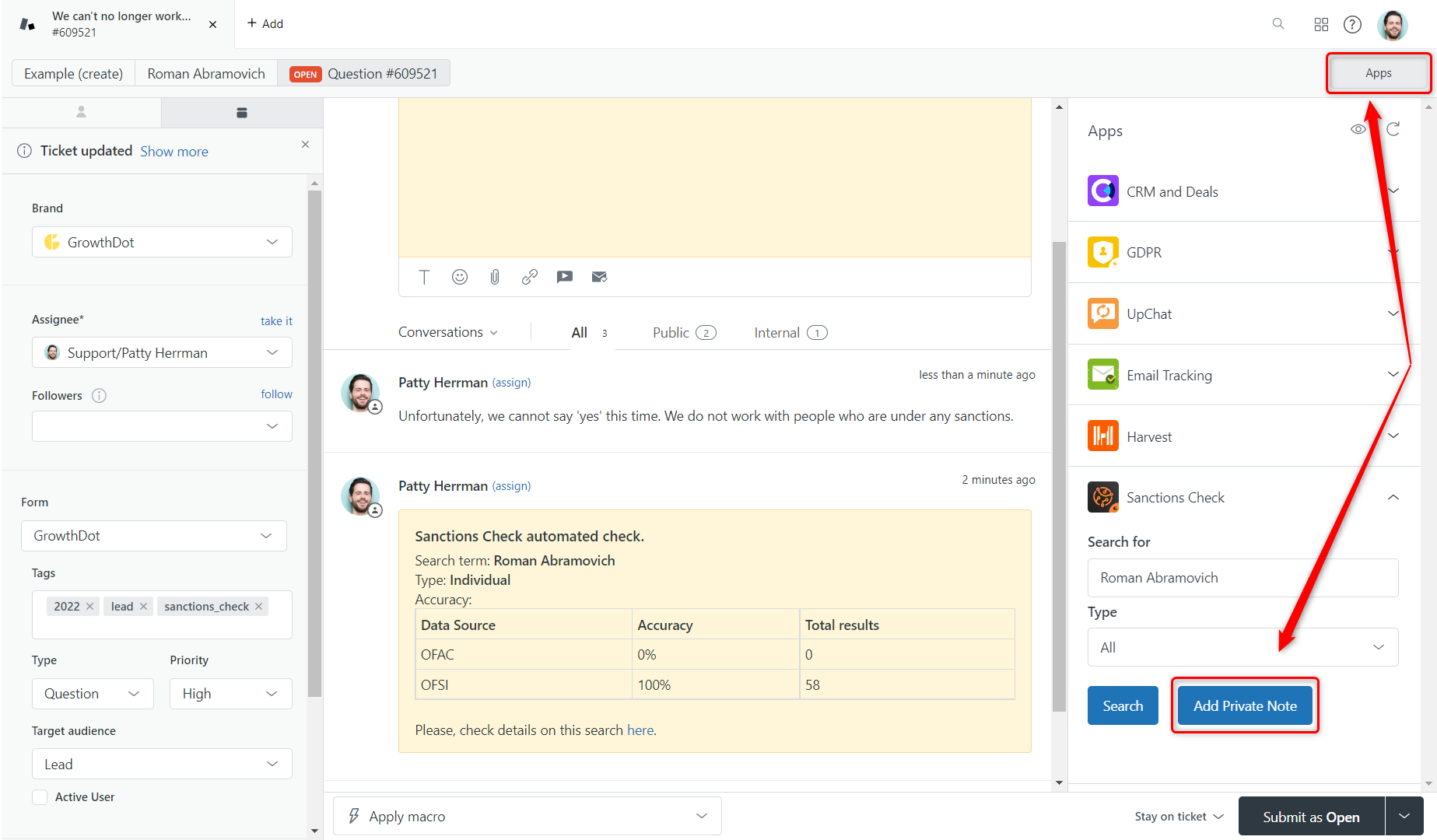 Rich your Zendesk with our Apps
We post Sanctions Check Updates regularly, so check out the app's new features!
By the way, the GrowthDot team tries to improve and develop daily to make your Zendesk experience as smooth as you need. Therefore, our apps can adjust reliable communication between your business and customers. For example, Email Tracking and Proactive Campaigns are good ways to send mass emails and track recipients' interaction with them. Furthermore, GDPR Compliance assists you with GDPR and CCPA legislations to avoid unexpected expenses. Finally, CRM and Deals and Video Reply are the best for sales management and customer support service enrichment.
As you can see, apps work amazingly individually, but what will happen if to combine them?
Improve your Reputation
Find out about sanctions lists
Read more