If you're not a complete novice in the help desk industry, most likely that you've already heard about Zendesk. However, managers, who only thought about Help centers for their businesses may ask: "What is Zendesk?".
It seems like Zendesk was on the market since the time help desks were first invented. The other reason for its being such a huge figure is that it has a lot to offer, literally. There's a bunch of all kinds of applications you can choose from. So, it makes sense that people wonder what Zendesk is when there's so much rush around it. Well, that's precisely why we're here - to answer the question: "What does Zendesk do?".
What is Zendesk? About the company
Zendesk is a company that provides all kinds of software for customer service. It was created in 2007 in Denmark and was first run in a small loft. Years have passed, and nowadays, it helps about 160,000 businesses to connect to their customers on different platforms and provide better service and experience. More than 4,000 employees work for Zendesk in more than 160 countries.
Among Zendesk's clients, you can recognize such names as Airbnb, Bolt, L'oreal, Squarespace, Fossil, or Vimeo. Yes, all these loyal Zendesk customers have already improved their customer service with its high-quality products.
A fun fact: Zendesk takes its name after the word "Zen" - a state of total togetherness of the body and mind. Zen is one of the Buddhist schools, so the company's first logo was presented as Buddha with a headset similar to the one that all customer support agents wear.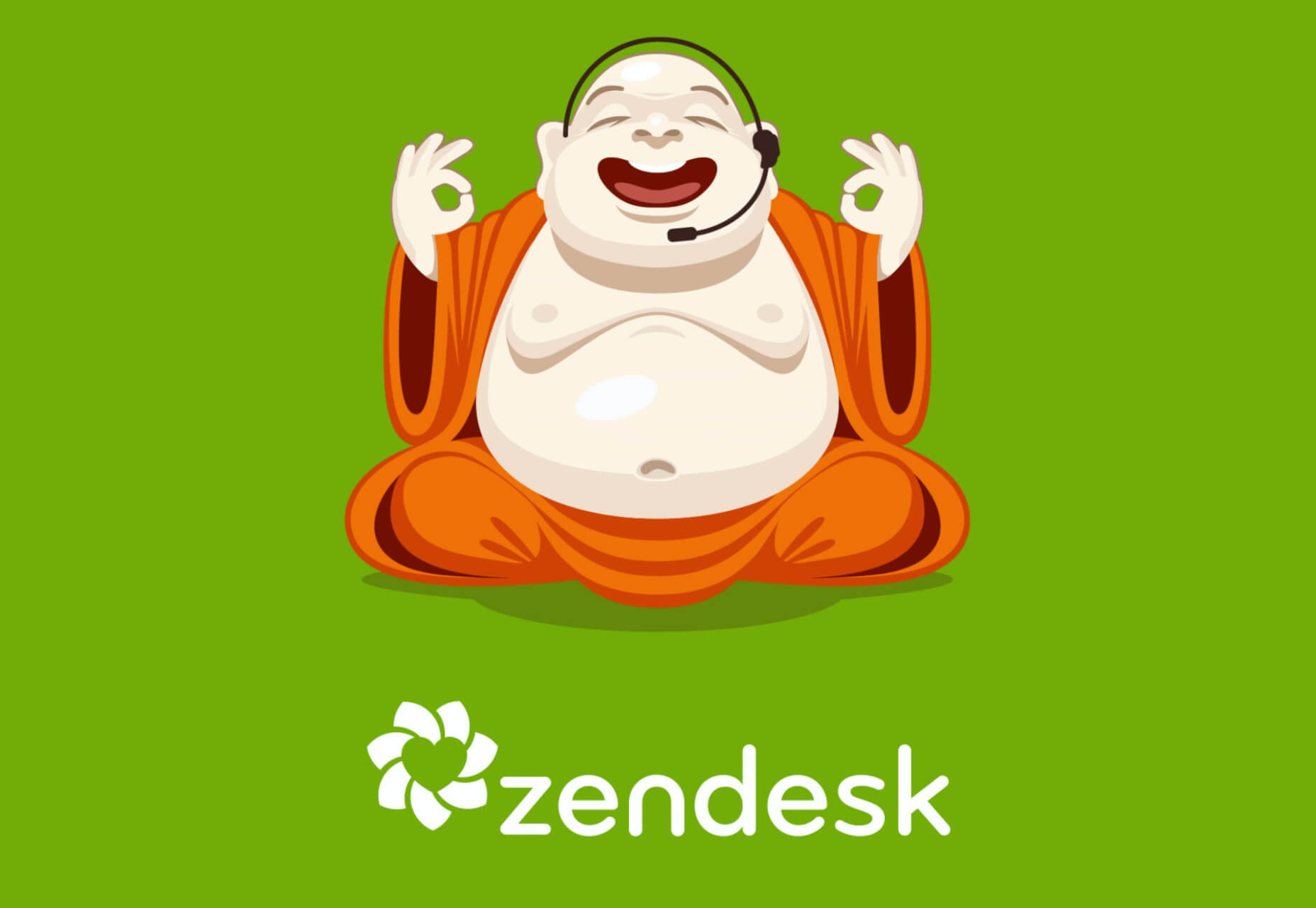 But as with the company's growth, they changed the logo to a much more simple one. The redesign has a lot to do with basic shapes, however, each of them represents a distinct "personality" of each Zendesk Product.

General information
Let's also take a look at some general information on some technical aspects of Zendesk:
| | |
| --- | --- |
| Deployment | Cloud-based  |
| Supported languages: | 60+ including English, German, French, Dutch, Chinese, Swedish, and Turkish.  |
| Supported devices: | Windows, Mac, Linux; Android and iOS for mobile devices |
| Apps and Integrations: | 600+ |
| Available support channels: | Phone, email, live chat, Twitter, Facebook, help center, website widget, mobile SDK, and various channel integrations.  |
| Available pricing models:  | Free, Monthly payment, Annual Subscription. |
What is Zendesk Top Feature?
Below are some top features that Zendesk offers for your business solutions:
Knowledge Base
Zendesk knowledge base helps in sharing support contact with the agents, customers, and the public. This is one of numerous Zendesk features that allows you to create and organize your content to attract visitors. You can create FAQ sections or a bunch of different interlinked articles to guide your customers about the products and services you offer.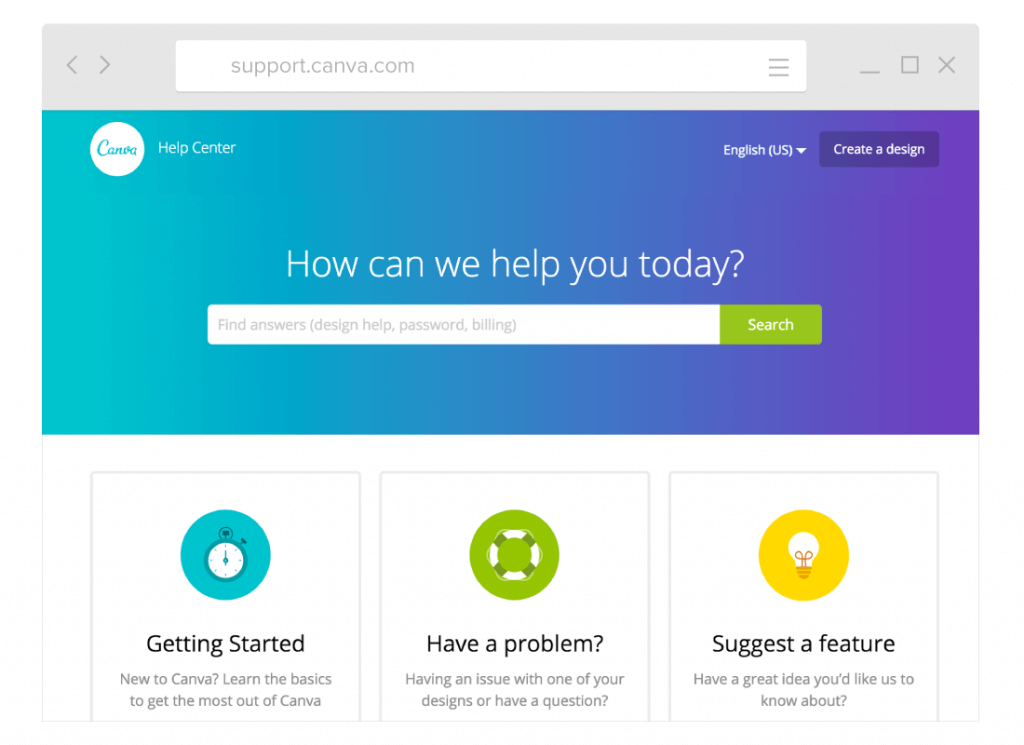 An example of a Knowledge Base created with Zendesk
Ticketing System
Zendesk gathers all the customer queries and requests and shows you on one screen. You can manage and respond to customer questions in an easy and quick way. When all the queries from chat, e-mail, and social media are heading to you in a single location, it will help you in managing and solving the problems quickly.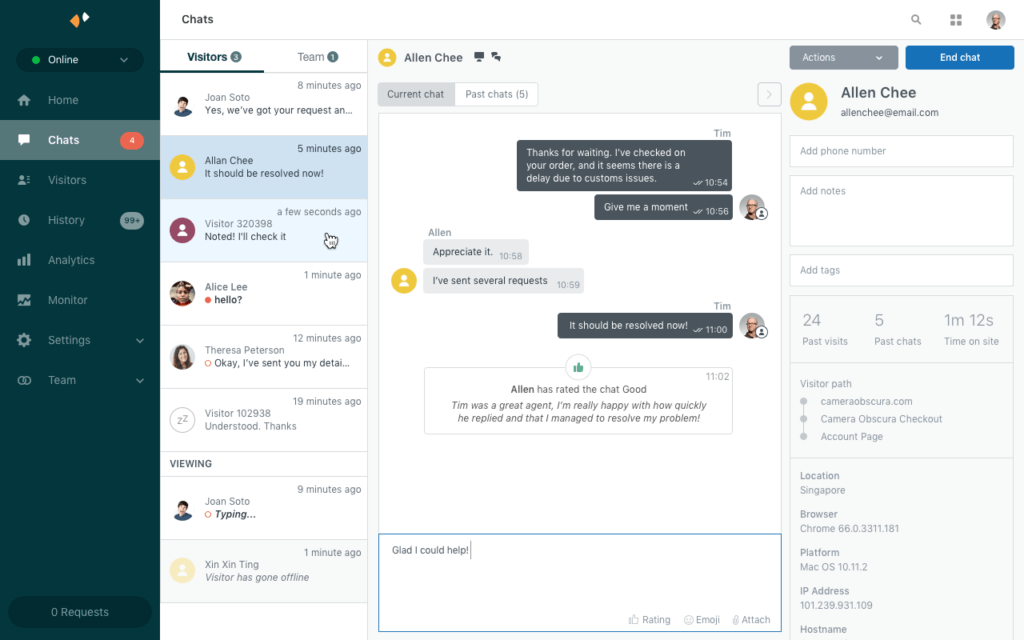 Ticketing system
Automation
You can automate mundane tasks to avoid human errors and increase process speed. It helps you manage your workflow and improves customer satisfaction and performance by notifying an agent when the ticket is not resolved.  It also helps in finding abandoned tickets. This feature can become a good supplement for companies that implement customer service automation operations.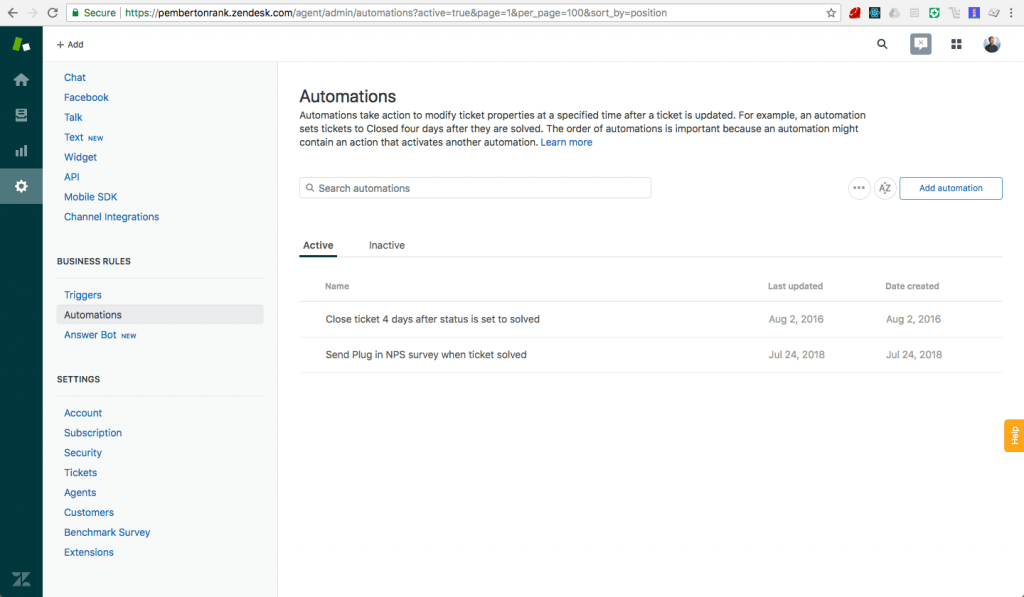 Automations page
Multi-Brand
It supports 300 brands, service tiers, products, or regions. It helps manage your work easily by centralizing data and activity into a single account.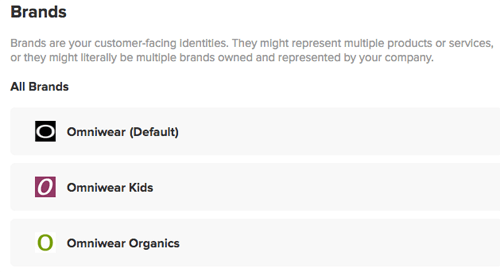 Brands Page
Guided Mode
Help agents in focusing and increasing the response time by automatically queuing tickets for them.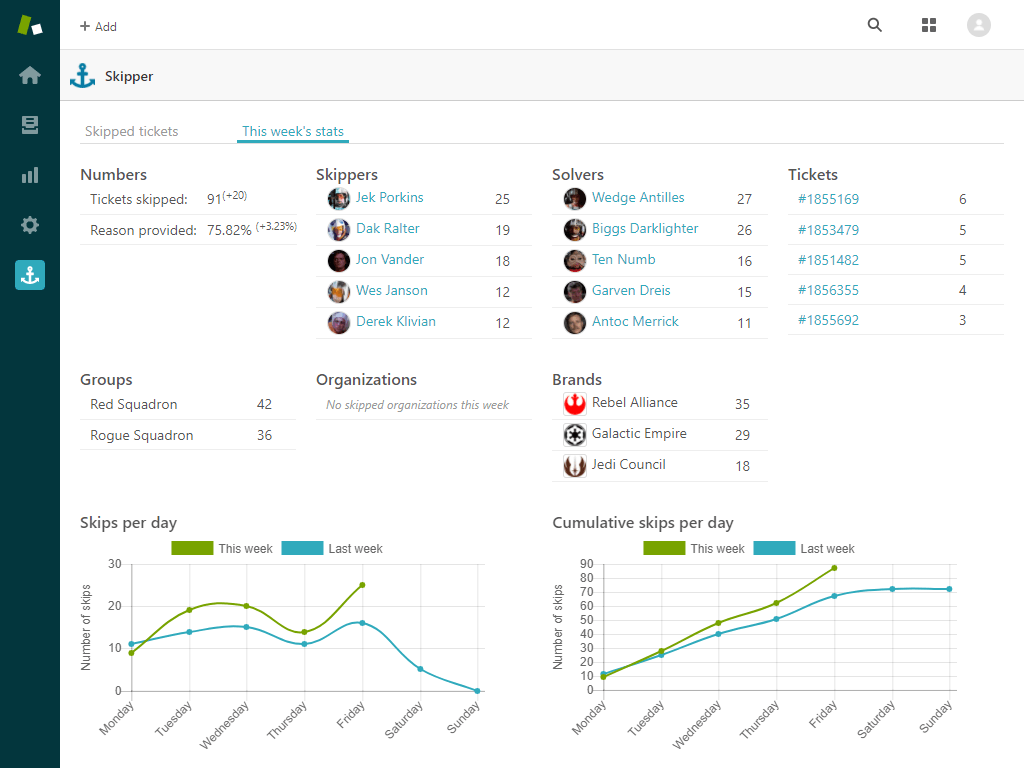 Zendesk Guided Mode
Pre-defining Ticket Actions
You can pre-define the responses to standard questions. You can also change the status of the tickets.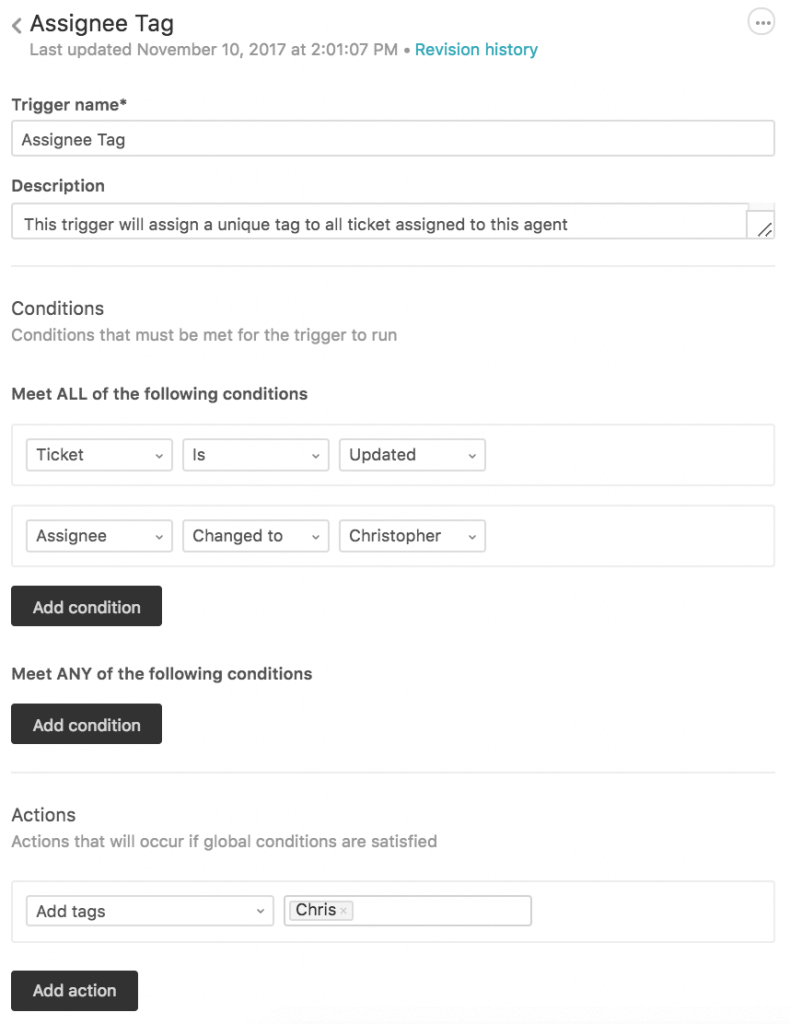 Ticket Actions
The Zendesk Products 
Zendesk offers a variety of products all targeted at helping businesses improve their overall customer experience.
Support
It is a comprehensive software solution to empower the customer support representatives of a company through the import of customer interactions from a variety of channels, customization options for support agents, and deep analytics for better customer understanding, and much more.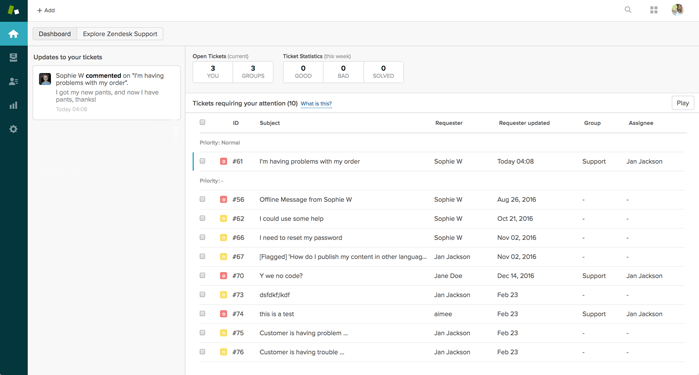 Support's home page
Guide
This part of the software "guides" businesses in the right direction through a knowledge base of all customer complaints, frequently asked questions, their resolutions, and more in one place. Businesses can create better-targeted marketing campaigns by obtaining data from their knowledge base.
If you're already using Zendesk Guide, we recommend you to consider customizing your Zendesk help center. Just in case, our GrowthDot offers free Zendesk themes installation, so make sure to check it out!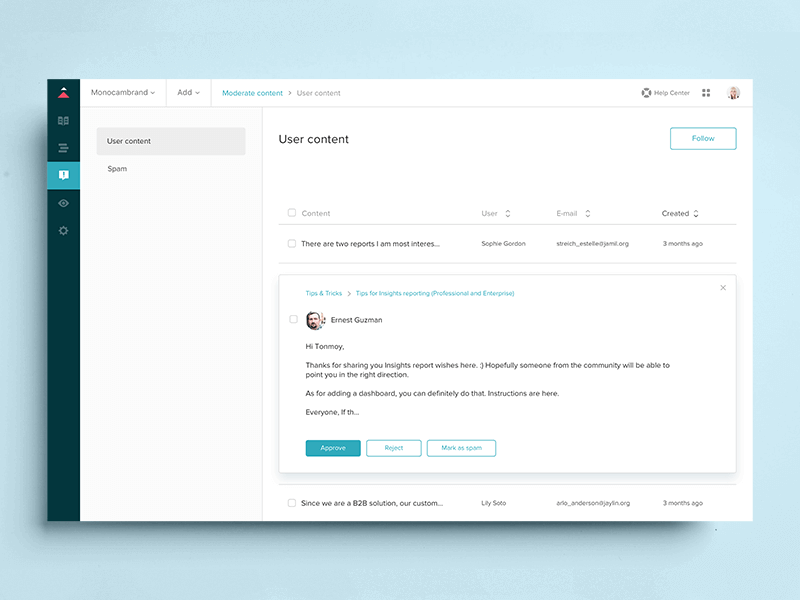 Zendesk Guide
Chat
This service is as simple as it sounds i.e. providing live chat support to customers. Greet your customers as soon as they land on your website and assist them with their queries immediately.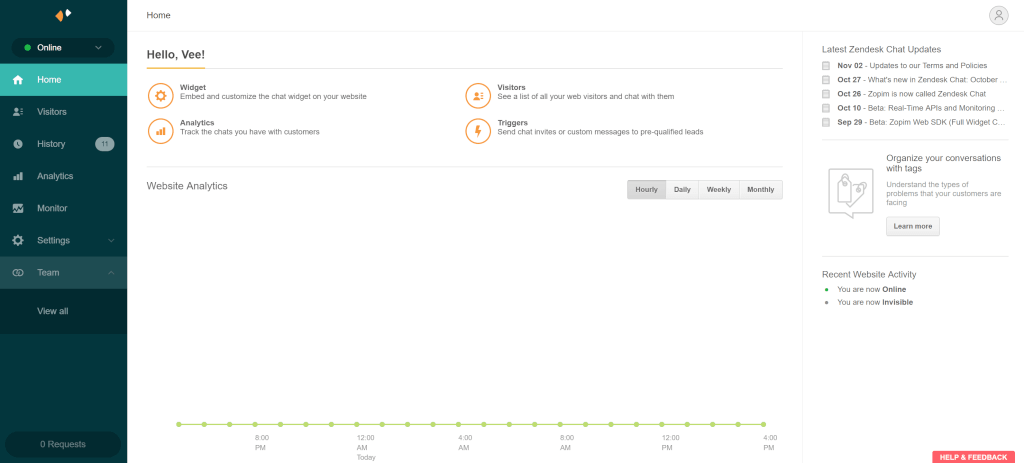 Zendesk Chat
Talk
Zendesk talk is specifically for call centers. The aim is to empower call center agents by allowing them to view customer interactions from all the channels and base their conversations with customers on that information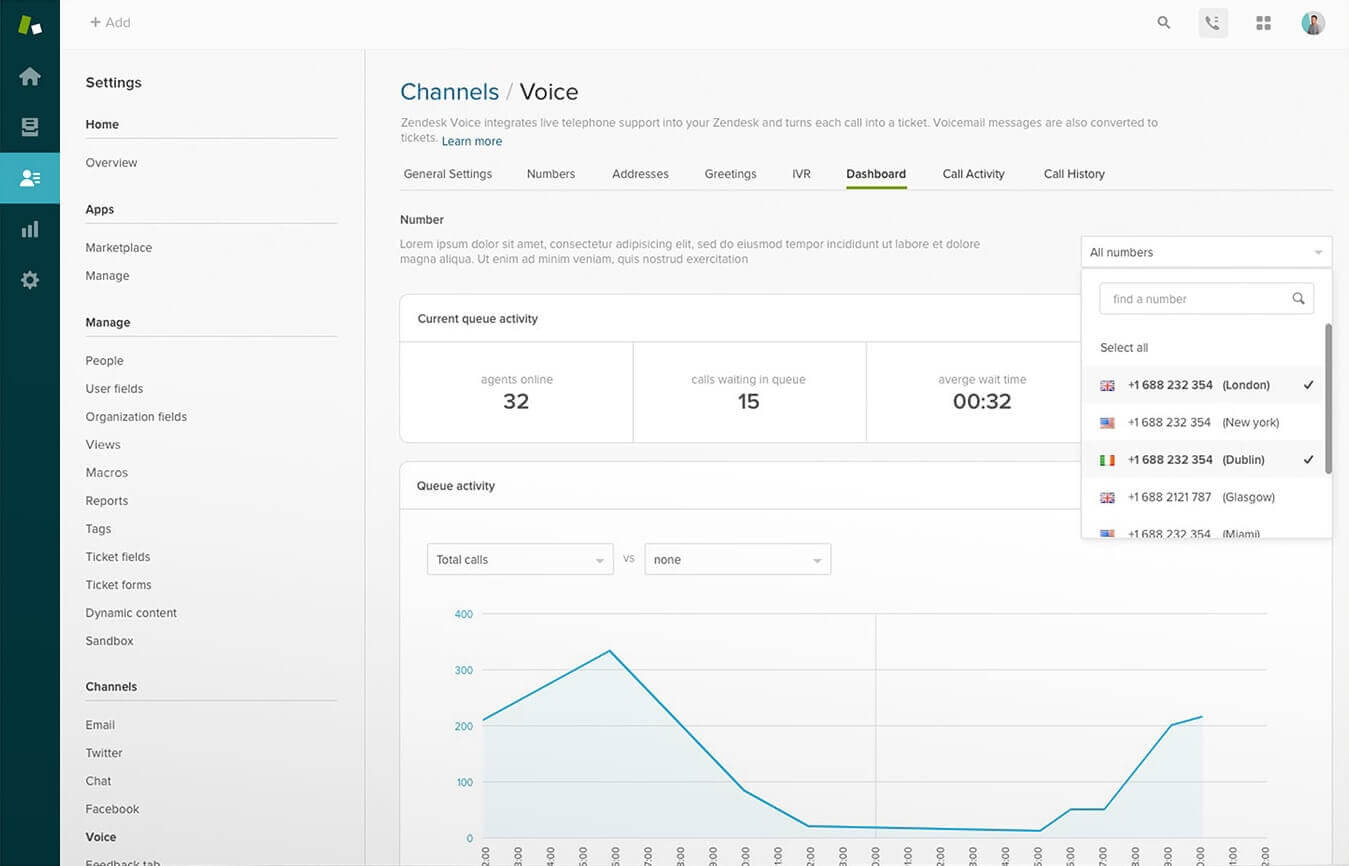 Zendesk Talk
Sell
It is the CRM side of the software that gives sales teams a deeper insight into the sales pipeline to improve processes, and as a result, boost productivity.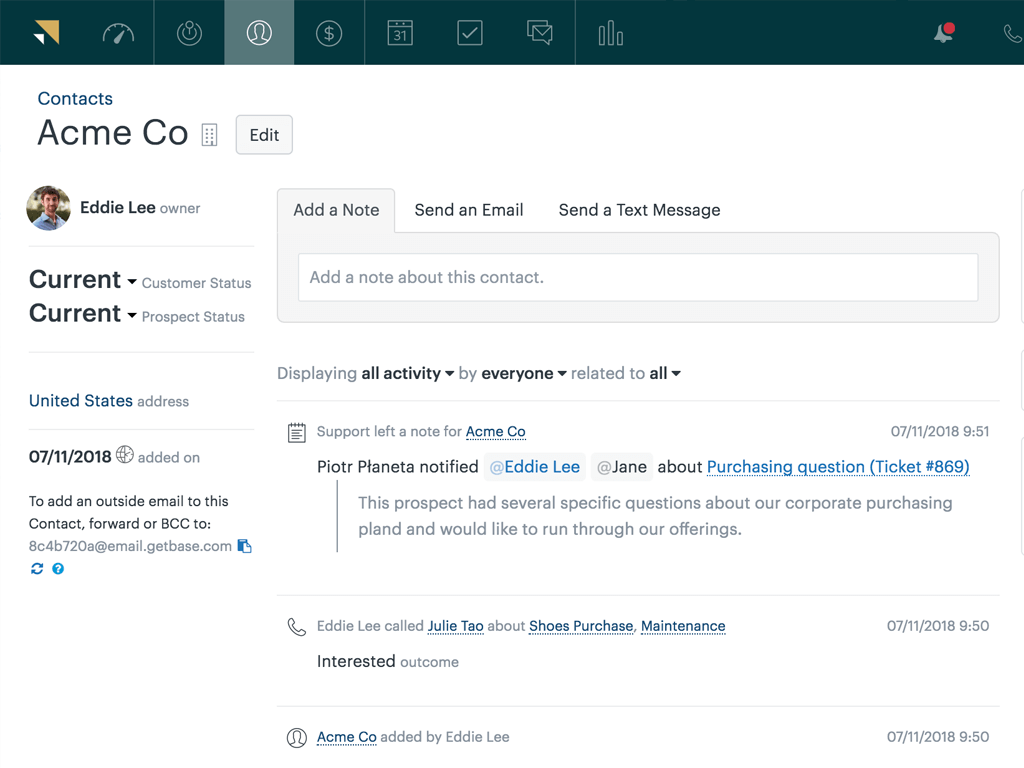 Zendesk Sell
Explore
Data is the new fuel and Explore is there to allow businesses to power their engines with it. With detailed, actionable, and visual reports, businesses are better able to serve their customers.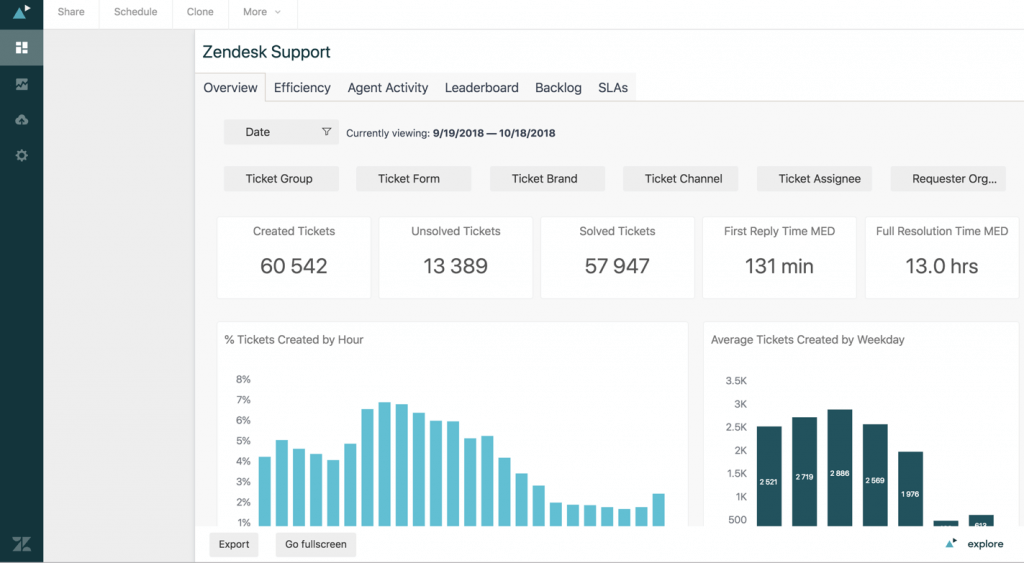 Zendesk Explore
Gather
Gather is a forum for businesses where they can let customers interact and provide feedback about company products and services. It is a great way to engage with customers and provide them with a way to say their minds about your business.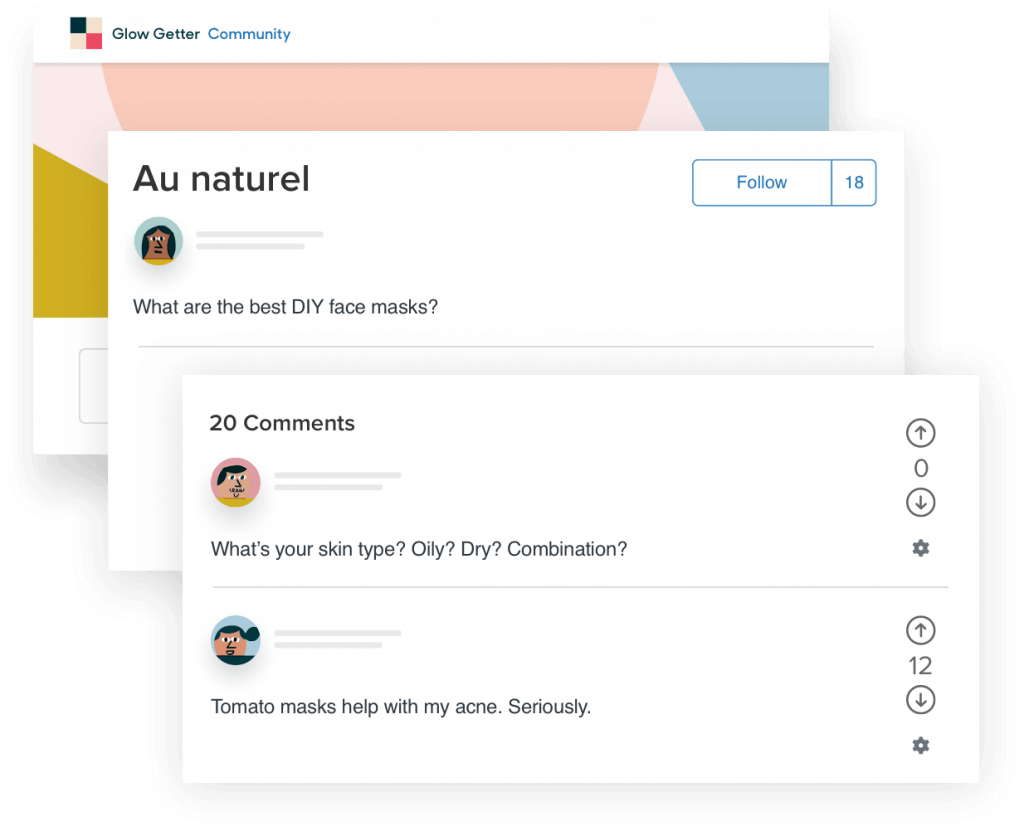 Zendesk Gather
Connect
Connect helps businesses design their outbound marketing campaigns. It can help your business design, analyze, test, execute, and measure the performance of your marketing campaigns. It supports all formats of communication with your customers i.e. chat, phone, email, SMS, web, etc.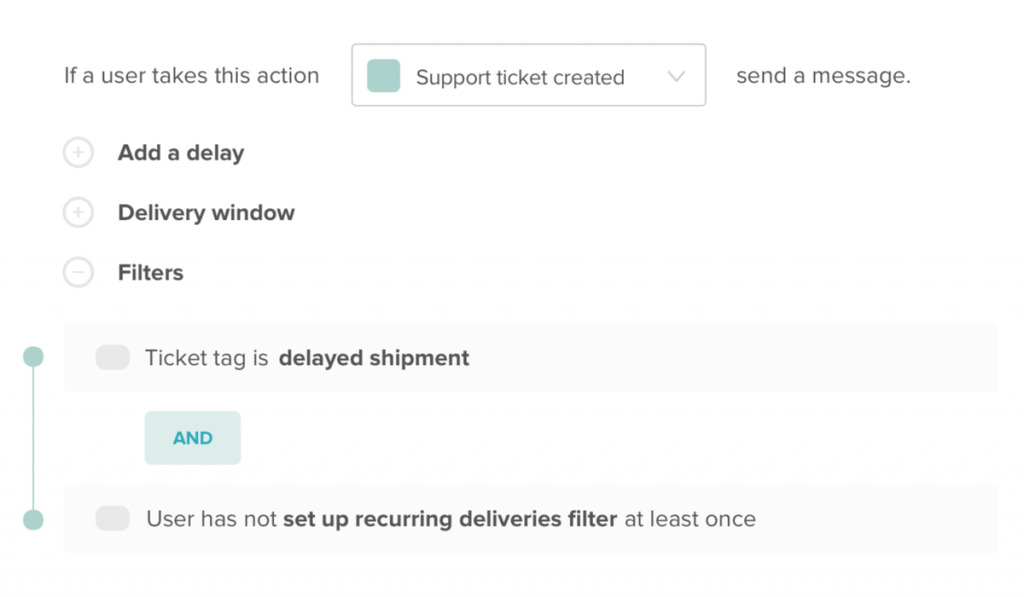 Zendesk Connect
Other customer service software
Want to extend your Zendesk's capabilities using Zendesk apps! Zendesk offers applications for both its own and its partners so you can choose and install the most appropriate for you. Go to Zendesk marketplace, read the client's reviews and find the best one.
What is Zendesk Pricing?
Zendesk can help your business in improving with the effective tools that it offers. As there is a variety of tools, it comes in different Zendesk pricing plans depending on the functions that your business may require. You should choose which plan suits your business better depending on your budget and the features that you need. Here are the plans that Zendesk offers with features and pricing so that you can make your decision easier.
Essential Plan
The essential plan is especially for small businesses and start-ups. This plan helps you in providing unlimited emails and connects your system with Facebook, Twitter, and Gmail, etc.  This is a basic setup and helps you in providing solutions to your customer's problem. To upgrade to a better plan you need to check out other plans. 
How much is Zendesk per month?
It costs $5 per agent each month.
Key Features:
Support for self-service from Zendesk
Help center
Social channel and email support
Mobile SDK and website widget
Team Plan
The price of this plan is $19 for one agent every year. Normally, this plan is for mid-sized businesses looking for control and flexibility. Along with the features of Essential Plans, this plan includes customization of your help center and reporting is made through the Dashboard of Zendesk Support Performance and Google Analytics.
How much is Zendesk?
The price of this plan is $19 for one agent every year.
Key Features:
All the features of the Essential Plan
Performance dashboard
Business rules
Email Support from Zendesk at business hours
Public applications and integration
Professional Plan
This is helpful for large businesses in handling a huge volume of support requests globally. You can create Customer Satisfaction Surveys for collecting feedback, offer multi-language support to customers, and build a Knowledge Base for Internal Agents, which can help your agents resolve problems faster. A time-tracking system helps in the customization of the dashboard to generate faster insights and can track and analyze the time spending of agents while solving issues. It also offers 24 hours phone and email support for customers during the business week.
How much is Zendesk per month?
Zendesk's cost of the Professional Plan is $49 for each agent per month. 
Key Features:
All the features of Team Plan
CSAT survey
Customization of dashboards and customer reports
Multilingual Content
24-Hour email and phone support from Zendesk during working days
Enterprise Plan
A large business can have complete control of customer support services with this plan.  Zendesk team will assist you personally with implementations by getting access to the Launch Guidance Program. Zendesk will provide you their built-in Guided Mode. This feature automatically assigns and queues tickets to every agent, which can help in improving response time. This can help you in creating five different helpdesk centers. You can customize ticket forms and agent roles.
How much does Zendesk Enterprise cost?
This plan costs $99 every month for each agent.
Key Features:
Professional Plan
Custom roles for agents
Launch guidance
Multibrand support
Satisfaction prediction
Multiple ticketing forms
24/7/365r email, live chat, and phone support from Zendesk
Elite Plan
This is an update for the Enterprise plan. It helps you in fully relying on Zendesk at scale. The elite plan provides a 99.9% uptime SLA guarantee, one-hour response time, HIPP compliance assistance, and unlimited light agents. 
How much does it cost?
Elite plan costs $199 every month for each agent.
Key Features:
1-hour SLO or Service Level Objective
Location of data center
Advanced security and encryption
99.9% SLA uptime
Unlimited Light Agents (agents can view or comment on customer tickets but cannot reply)
Conclusion
Zendesk is the best tool for customer support. It helps you in connecting with your customers through one centralized platform and assists them with their needs. The helpdesk helps your customer support team in:
Creating support tutorials and materials
Tracking document problems and bugs
Responding to customers with detailed answers
Closing tickets faster
So, whether you are an established enterprise or a growing startup, you can rely on this complete suite of software to offer top-level customer support and beat your competitors. By the way, GrowthDot's developers create great Zendesk Apps to make the most out of your Zendesk. Also, try our Zendesk themes and services.
Comprehensive Zendesk customization services
Enhance your Zendesk appearance and functionality
Learn more