All Browsers Supported
We made sure that all your customers, regardless of their browser, would be able to fully
experience your service. Nothing cut, nothing simplified, pure compatibility across all browsers.
Help Center Accessible Everywhere
It goes without saying, browsers are our gateway to the web, which means that having a well-designed, feature full help center is paramount. But its not just about features, it's best that you ensure compatibility across the board. You need to ensure that your content appears on all browsers equally.
When developing a cross-browser website, it is critical not to forget about the crucial design aspects. Leaving out vital design concepts will not only result in a non-functional page, meaning that your customers will only get frustrated. But thankfully, by using our themes, you will not only save a lot of time and effort but provide an uncompromised browsing experience.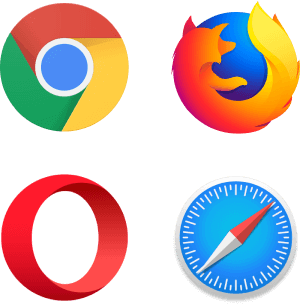 Optimized Backend
We made sure that our themes employ a rigorously tested code base so that you can have a 99% compatibility across all browsers.
Whether its Chrome, Safari, Opera, Firefox, or Internet Explorer, the look of your help center will stay adequate 100% of the time.
We'd also like stress out that our themes are web standard compliant which means that you don't have to worry about any Google penalizations for bad code.
Sensible Design
We made sure that our themes look just as good as they do on the inside. With clever design choices and good codebase, we made beauty and functionality work in tandem.
Each theme went through a series of tests so you don't have to worry about visual differences across different screen resolutions.
Consumer Friendly
We made sure that our themes are capable of delivering the same amount of information regardless of your browser.
This is why your customers can be sure that they won't miss out on important information. All our layouts are user-friendly and highly readable on any system.
Learn About Other Features
Services for Zendesk Guide