GDPR Compliance
for Zendesk
GDPR Compliance is an application for Zendesk Support that allows to quickly and easily process the user's request about their data. Specifically, the app can anonymize, delete and retrieve data.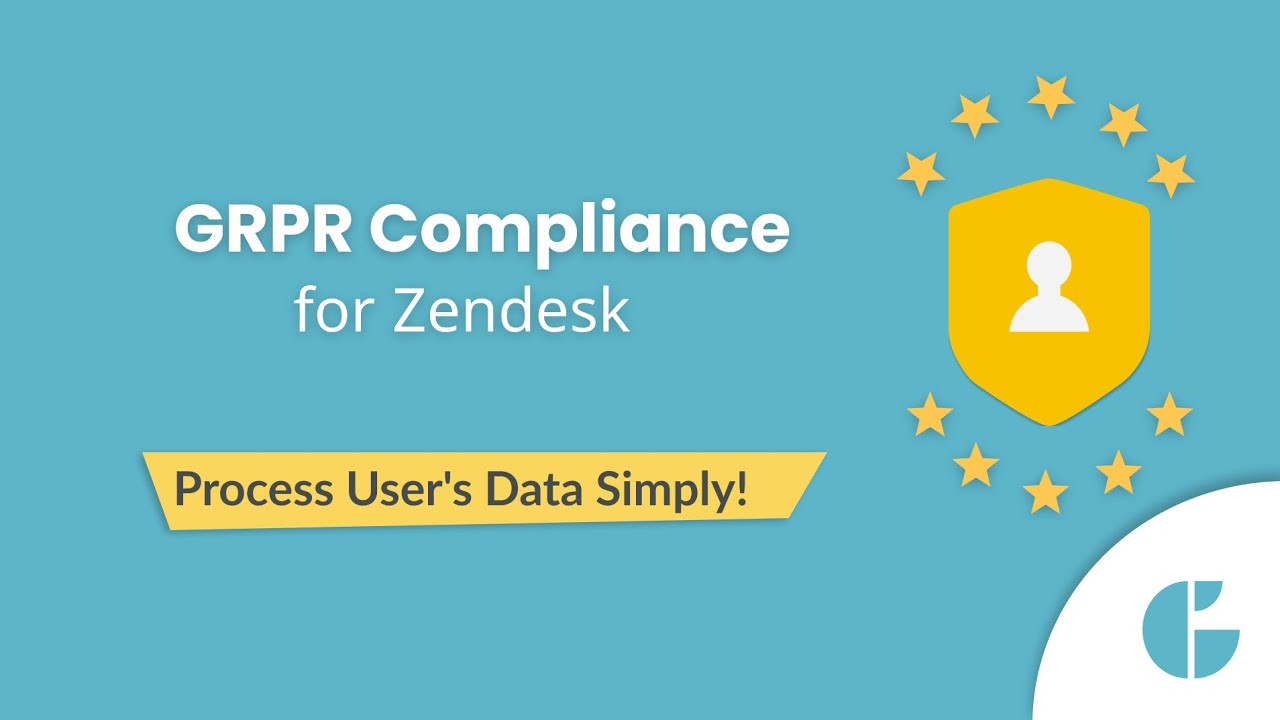 Anonymize user's data to remove personal data but still keep the information that's essential to business reports
Download all ticket and personal data into a neatly compiled CSV file
Permanently and completely delete customer data from your Zendesk Support account
Redact the information for individual users, tickets, or create filtered lists
According to the General Data Protection Regulation, every EU citizen has the right to request to download or delete their personal data in Zendesk. GDPR app was made to help you process these requests, eliminating manual work.
Here's a breakdown of how our application can be useful:
Keep the essential data without violating GDPR
The conversation history contains valuable information that helps your business grow. Zendesk GDPR Compliance allows keeping those bits of insights while removing customer's personal data. The app will create a unique ID and make it impossible to identify the person.
Easily download user and ticket data related to the specific customer
To provide personal data to end-users, you no longer have to manually copy or export the information. With GDPR Compliance, you can download the information about the user and the tickets they raised. Eventually, you will have all the data neatly formatted into a CSV file.
Permanently remove the end-user from the system
Manually deleting the user and their data from Zendesk takes some time and effort. GDPR Compliance makes it ridiculously simple. In just a couple of clicks, remove all user and ticket information forever! Every bit of personal data will be taken care of.
Edit the users individually or in groups
How can you quickly remove the data for, say, 30 users? Easy. Just create a list in GDPR Compliance and initiate the process. The app will do the rest of the job. Lists can be created based on a large number of criteria giving you more flexibility.
Schedule GDPR processes
available in premium only
Want to delete the user data on a specific date? Or maybe you want to anonymize all tickets that belong to a certain client once a month? It's all possible with the Rules and Automations feature! Create personalized automations to start anonymizing or deleting sensitive information on a chosen date and time. You can make automations repetitive, choose the repetition time frame and end date. Get Premium to try all the settings for yourself.
Delete organizations
Organization deleting is also available in our app and you won't find it in another GDPR apps instead of GDPR Compliance for Zendesk from GrowthDot. Process organizations individually or in bulk similarly to ticket and contact deleting and forget about any workarounds.
Compose different presets for the same processes
You may face a situation when different departments need to perform the same process on users' data by different parameters, so changing the settings day by day can be time-consuming. Now each department of your business can select a specific preference preset. It avoids confusion in data processing and saves time.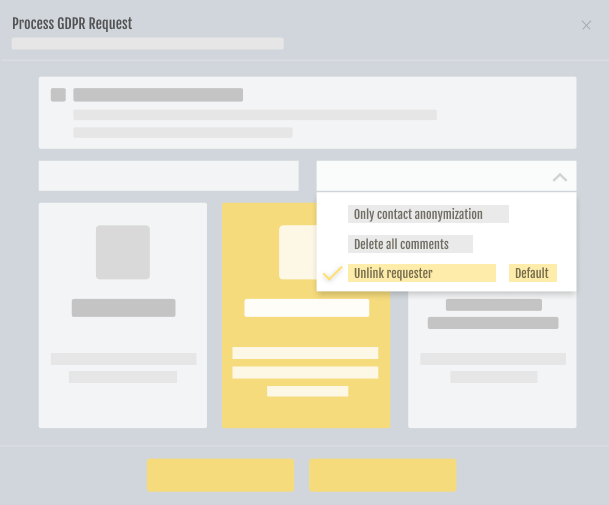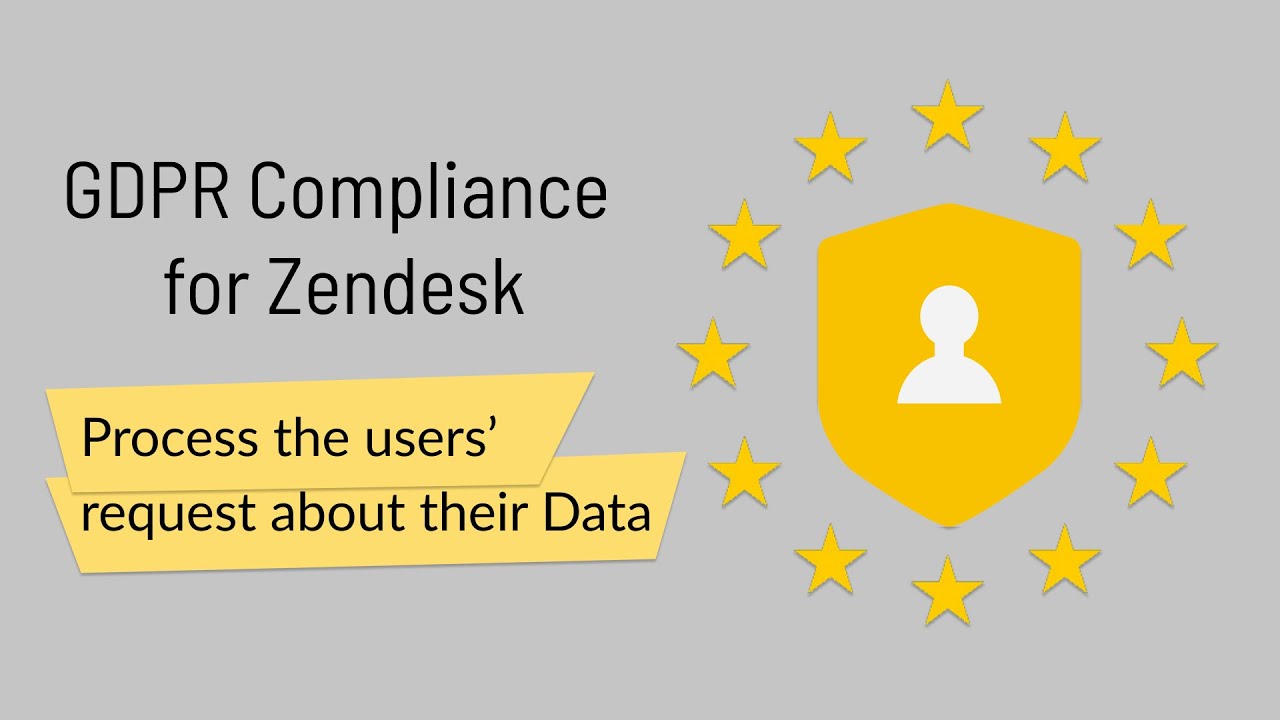 Installation
Adding the GDPR Compliance app to your account is simple. Just follow these steps:
Install the app from the marketplace
Sign in and give access to your account in one click
Start reading user data in a quick, easy and efficient manner
Quickly process GDPR requests
Easily delete and download data
Eliminate manual work
No manual work. No hassle. With GDPR Compliance you can quickly and efficiently process users' requests to delete or extract their personal data in Zendesk. Following is a break down of the ways our application can help streamline your workflow and comply with the requirements of GDPR.
Use cases
Create lists and redact data for multiple users
Conceal personal data and keep important business insights
Save your time when processing GDPR requests
Remove, anonymize or download data of individual users
Easily download user and ticket data upon request (including attachments)
Here's what you get if you use GDPR Compliance.
Redact personal data while leaving the information that is essential to the business
Download user and ticket data with no manual work and access it from the neatly organized CSV file.
Remove every bit of customer's personal data forever in just a couple of clicks!
Transparent fee
Simple pricing - choose from 2 plans
Billed Monthly
Billed Yearly
Standard
$50
$41.70
per Subdomain, per month
per Subdomain, per month
Try 7 days for free
Anonymize ticket and user personal data in Zendesk
Extract user and ticket data
Permanently delete user and ticket data
Create contact lists
Create ticket lists
Set various conditions for contact and ticket filtering
Set processes for individual users/tickets and in bulk
Control agent permissions to start GDPR processes
Analyze the performance with detailed reporting
1 preference preset per process type
Premium
$65
$54.20
per Subdomain, per month
per Subdomain, per month
Try 7 days for free
Everything in Standard
Create Automations for user and ticket lists
Schedule GDPR processes
Create repetitive rules for processing personal information
Set end dates for repetitive automations
Replace original ticket requester with a nameless user for ticket anonymization
Add tags after the users' anonymization
20 preference presets per process type
Make your customer service
more helpful and personalized