The lockdown has not only forced us to rethink our lives but also made businesses across all dimensions change how they operate. And while arranging and optimizing remote work is important, companies should really start focusing on communicating with their customers.
Crisis management is never easy for companies. That's because there is no recipe for success. How you word your posts, approach communication, and what you offer is highly individual.
To help you optimize digital marketing tactics easily, we've put together this post.
What do Your Customers want to Hear from You?
If you are a company that finds it difficult to optimize your digital marketing tactics in the midst of the prevailing COVID-19 outbreak, start telling certain kinds of brand stories to engage your audience.
Which brand story types should organizations convey?
Most consumers agree that brands and companies should not disregard the current crisis in marketing communications, but instead acknowledge it and recognize the impact it is having on the lives of people.
Brand storytelling should aim to provide real solutions to the COVID 19 crisis instead of hard-core selling to make a profit. Brands need to connect their services and products to the mitigation of coronavirus crisis-related challenges and suffering.
According to a recent survey, more than half of surveyed consumers said they were paying no attention to new product communications during the COVID crisis, unless a certain product was particularly designed to assist them with grave, pandemic-related, life changes.
Consumers are applauding programs that facilitate the brand's suppliers or employees. A case in point is the Yum Brands bonuses to Pizza Hut, KFC, and Taco Bell general managers during closures of restaurants and emergency medical relief fund for working staff who have contracted the virus.
Furthermore, brands need to be very careful in verifying their facts with sources such as WHO (World Health Organization) before passing them on to customers. Customers, increasingly disbelieving as false news spreads online, expect brands to be transparent and truthful. In addition, it is best if brands do not involve themselves in needless political debates and rather work towards bridging divides among individuals during the pandemic.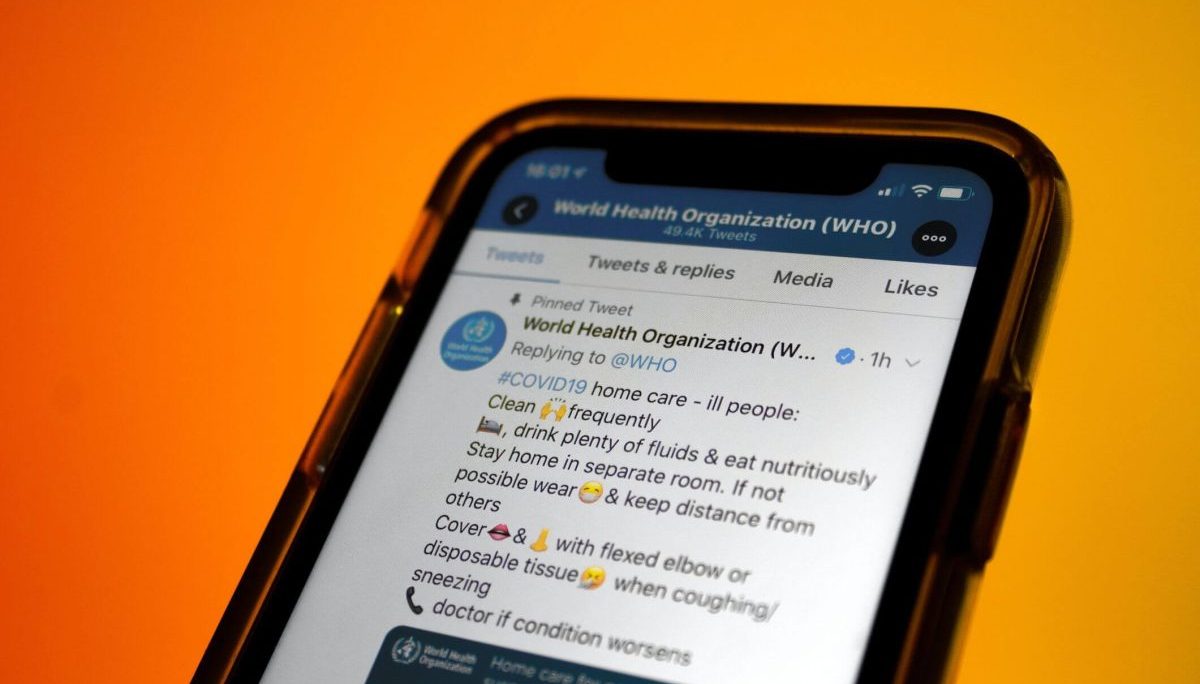 What are customers expecting from brands during a crisis?
It is true that customers have high expectations from their brand partners in a crisis. They view brands as important partners for NGOs and governments, and that the former has a strong platform they should leverage to communicate meaningful information to their consumers. It is important that brands collaborate with these entities to come up with solutions to the current crisis-related issues.
Customers expect brands to show a willingness to endure considerable financial losses to ensure the financial security and well-being of others.
During a crisis, consumers expect brands to do what is right for their suppliers, employees, society, and customers, without giving any regard to how much it will cost. Brands should show a willingness to endure considerable financial losses to ensure the financial security and well-being of others. Most customers claimed they would indefinitely lose trust in brands that prioritize profits over individuals. At a time when businesses are already struggling to develop marketing plans, losing customer loyalty is the last thing to do.
Where do they want to hear it?
Social media platforms are an ideal place to communicate your thoughts and news surrounding the pandemic to the audience. In today's world, using such platforms is critical in finding your brand's voice and crafting a persona. More importantly, people prefer to learn and hear everything via these channels.
In the current COVID-19 pandemic, use each of the three key social media channels, Instagram, Twitter, and Facebook, in a streamlined way that makes sense for consumers who follow you religiously on each of them.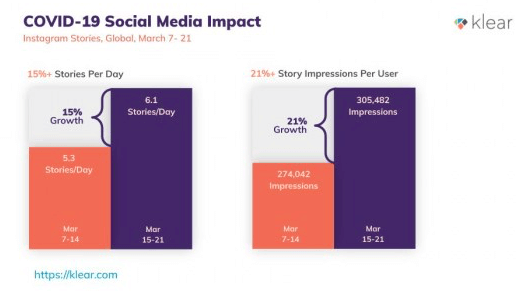 Influencer marketing platform, Klear, came out with recent research that claims IG Stories usage is up 15% since the outbreak of Coronavirus.
Convey your messages that revolve around the importance of social and physical distancing on Instagram. This platform if already popular for such posts. Similarly, craft separate posts and messages related to the COVID-19 pandemic and need to stay indoors at home on Twitter. Furthermore, leverage Facebook to primarily talks about the coronavirus.
Crisis communication through social media is all about bearing responsibility. Well-documented and authentic information, along with empathy, are your best companions during such times.
How can you help during the crisis?
As a brand and company, there are several ways you can assist your customer during the current COVID-19 crisis.  Remember that your audience will trust you more if you attempt to reach out to people and facilitate them. Some of the ways you can use to assist include:
Educate Your Customers
The least you can do as a company is to share information from trusted sources with consumers to educate them properly. Such education can entail factual information about the COVID-19, progress of countries in combating it, and means to safeguard ourselves. If you're wondering what else your brand can do, it is really contingent on what you do. For example, Asian Boss released some interviews with top experts answering the public's queries. You can check out these interviews on their official YouTube page.
Owing to the commonness of false news that is propagating on social media these days, consumers are expecting the brands they have trust and faith in to provide the correct and accurate story.
Offer discounts and "pain" relief solutions
By offering discounts on your products and "pain" relief solutions, you can help individuals overcome the challenges the current crisis presents. Specifically, people that are most in need are healthcare staff or unemployed workers owing to the fluctuating economic landscape.
Several companies have done their bit in this regard. For example, the personal care organization, L'Oreal, will be donating 250,000 dollars to the United States-based nonprofit organization, Feeding America. L'Oreal will also provide masks to healthcare workers and carry on production on hand sanitizers.  Furthermore, the firm has collaborated with the PBA (Professional Beauty Association) to donate 200,000 dollars to their coronavirus Relief Fund. It's aimed on professionals who are not able to work and supply vital items that include masks to those people in need.

Similarly, Georgia is offering its services free of cost for up to 6 months for new merchants and current customers who might need assistance in tackling the increasing number of helpdesk tickets. Furthermore, Hubspot is supporting small-sized businesses in these difficult people as well. They slashed down their Starter Growth Suite cost from 112.5 dollars per month to reasonable 50 dollars. In addition, to facilitate businesses and help them adapt swiftly to the current climate, Hubspot has made their paid 1:1 Video tools, meetings functionality, E-Sign, and Quotes available free of cost for three months from the time of activation. Several of Hubspot, Google, Facebook, and LinkedIn app partners, offer flexible terms, lucrative discounts, and new packages in the present challenging times.
Shift your production to products needed to fight the crisis.
Shifting your production to products required to combat the current crisis is a great way you can help as a company.
P&G pushed its factories to produce safety items like face masks and alcohol-based hand rub. At the same time, GE Healthcare and Ford collaborated to produce ventilators and respirators to assists overwhelmed hospital systems. Consequently, they might've saved thousands of COVID-19 patients.
However, even smaller brands can help the community. Maybe you can make cloth face masks when there's a shortage of regular medical masks. Similarly, you can produce sanitizers or home cleaning products.
Be useful: The key takeaway
Regardless of the nature of business or industry, all the aforementioned case studies have one common denominator. Brands behind such ideas aspire to not just make themselves entertaining but useful for customers during this challenging time when most of them are stuck in the confines of their homes owing to the COVID 19 situation.
It is obvious that some of the brands will have a better opportunity to accomplish this than others. However, even brands that have been hit the hardest by the coronavirus pandemic can identify brand assets that seamlessly lend themselves to content marketing campaigns that are convincing and persuasive.
See also: Affordable and effective marketing analytics tools.
Marketing Do's and Dont's for COVID
What you should do
The following are the five most important marketing do's you ought to embrace during the current COVID 19 pandemic:
It is very important that you keep your composure and embrace the voice of reason in the COVID era. There is little you can to help others if you keep spreading anxiety and panic in present times.
Strive to empathize and make an effort to comprehend what your consumer base and audience are going through. Ask questions and listen carefully to the answers you receive. Effective communication is of paramount importance here!
After listening to what your audience has to say, ask yourself how you can assist these folks and show your generous side. What is it that your organization has the resources to do that will make the improvement of people in the prevailing pandemic? Once you identify what that is, go above and beyond to accomplish that!
Get your marketing team together and carry out brainstorming sessions. They should help to identify the best possible resources that you can create in the coming months.
Above everything else, keep going on with marketing! Tailor your style of communication to the global context to be a participant in all the conversations with your audience.
Furthermore, there has been a steep hike in malicious campaigns related to COVID-19. These include malicious domains and email spam. Hence, as a brand, it is important to adopt measures that safeguard your sender reputation and email deliverability. Brands need to verify the email's authenticity, ensure that the domain is fully legitimate, cross-check the "from" address, and perform thorough research. Do not make the mistake of accepting things blindly that arrive in your inbox.
Measures you can employ include ensuring the proper email server configuration, periodically verifying your email list, filtering bad contacts, etc.
What you should Not
On the flip side, there are certain marketing don'ts you should keep in mind during the COVID 19 pandemic.
Avoid sending emails to people that simply mention the fact that you acknowledge the current situation. Everyone is doing just that, and you happen to one of many! If you cannot offer practical assistance that will actually do some good, it is best not to email your subscriber list first. In the first place, this is an ineffective marketing tactic.
Ensure that you steer clear from hackneyed and unoriginal expressions. Leave alone ones like "we are all in this situation together" or "during such times of uncertainty" or even "keep your hopes up". These days, people tend to hear such phrases countless times in a single day. You can imagine how irritating that would be!
It is all right to carry on selling your products or services via your communication. However, you cannot afford to be crass and insensitive. Thus, carefully select your words and tune the tone of your voice to reflect the existing status-quo of the world right now.
Refrain from making jokes that are objectionable or offensive in nature. You might have the best intentions, but you never know whom you may offend. The last thing you need is to lose your customers in this manner!
Stay connected with your audience at all times, and try to engage with them on a continuous basis. During any crisis, your subscribers and followers have to know that they can rely and count on you. Be sure to communicate relevantly, regularly, and do not go off the radar for too long.
Make sure to put these tips to practice and you will see that it's easy to optimize your digital marketing strategy even during COVID.
Zendesk apps and customization services
Upgrade your Zendesk and customer support
Try it out now