From now on CRM and Deals for Zendesk is more functional and advanced than ever. GrowthDot team is glad to announce that we have added four helpful updates to this app. So from now on, you can:
Choose the exact date for reports;
Add a new filter for the deal;
Create products;
Change statuses for users.
Let's get down to an explanation and overview each update step by step.
Fundamental updates of CRM and Deals for Zendesk
Exact dates for reports
A typical feature that we added to our few other apps is choosing the exact date and setting a custom period for reports. It helps to check the statistics and collect data for the custom period you have set instead of the proposed one as previously.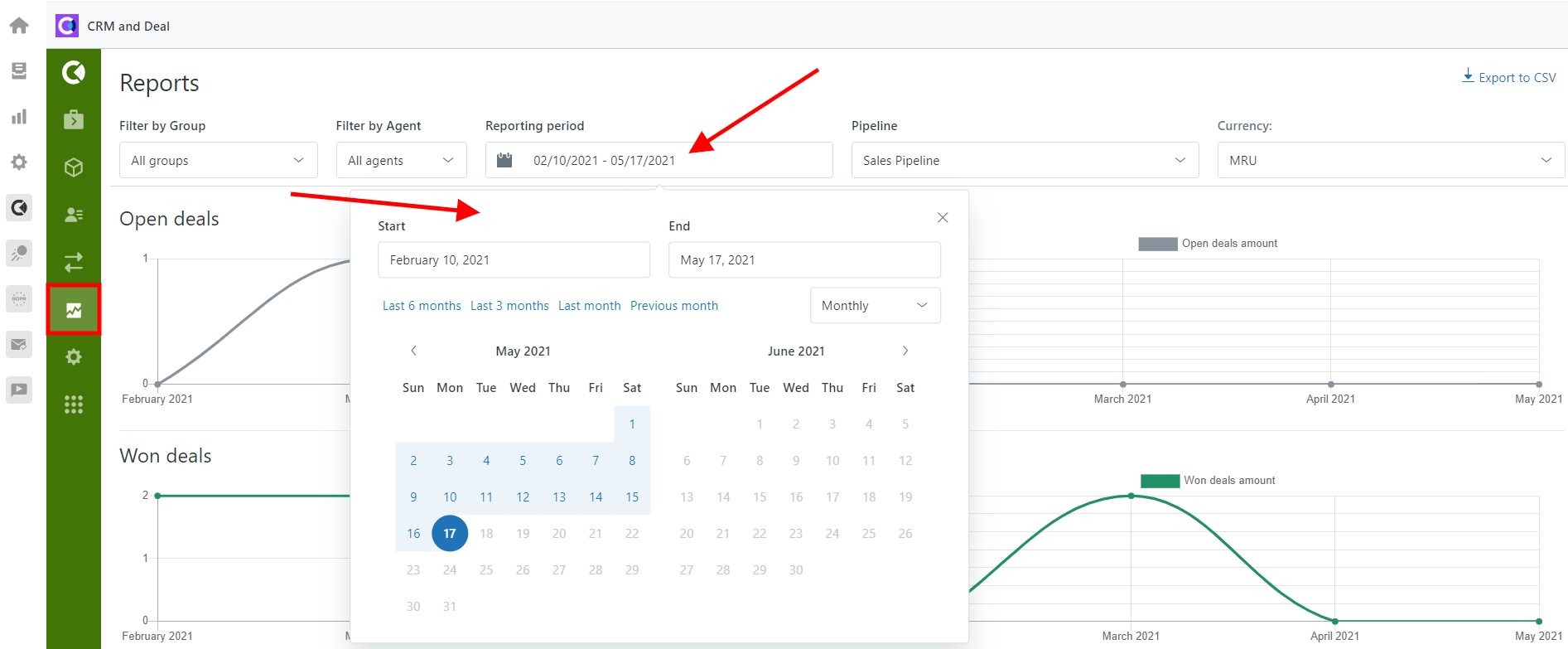 Reports page
New filter for the deal board or table
Next, let's look at the ability to add a new filter condition "Lost Reason". With its help, CRM and Deals for Zendesk can display the specific deals with the chosen lost reason as a filter. You can set the condition by clicking the "Apply Quick Filter" icon.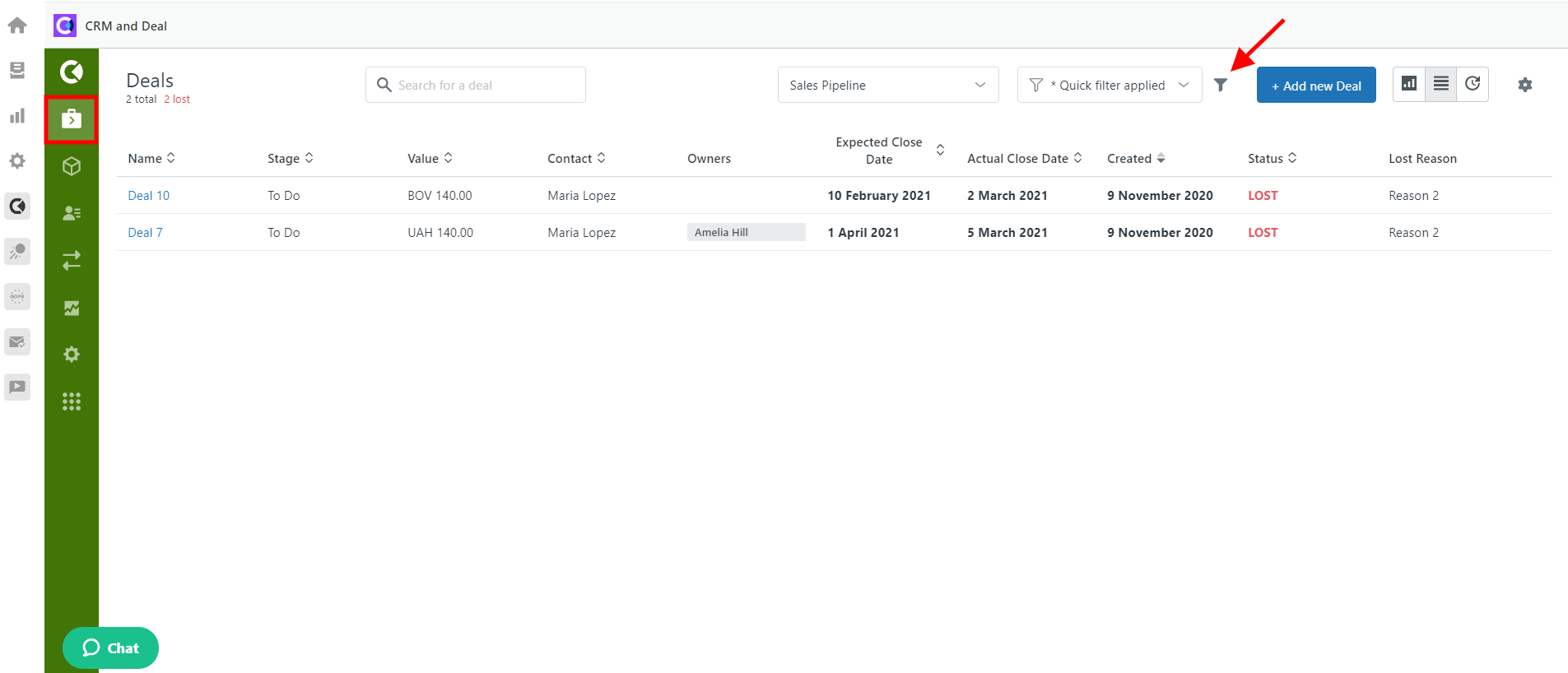 Apply quick filter
Choose conditions and fields in the Quick filter's tab. There's no need to select the Condition "Status" "Lost" when you already have chosen "Lost Reason".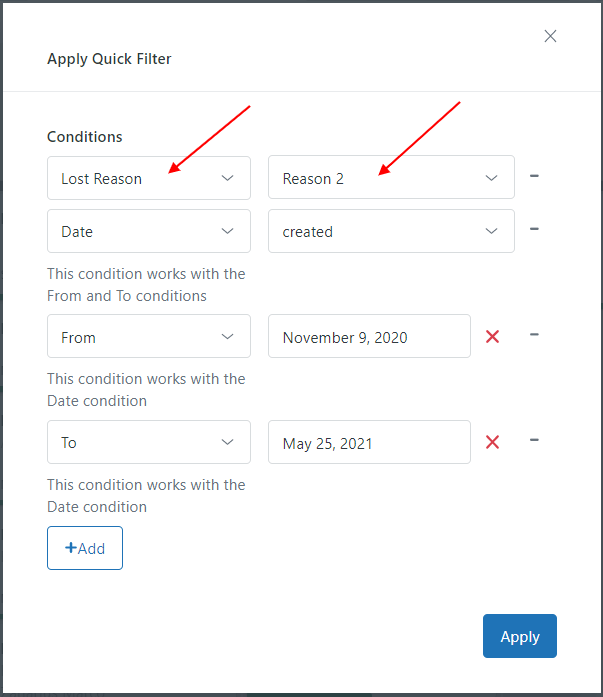 Quick filter view
Also, you can create a custom filter with the "Lost Reason" condition. To do so, select manage filters at the bottom of the Filter drop-down list.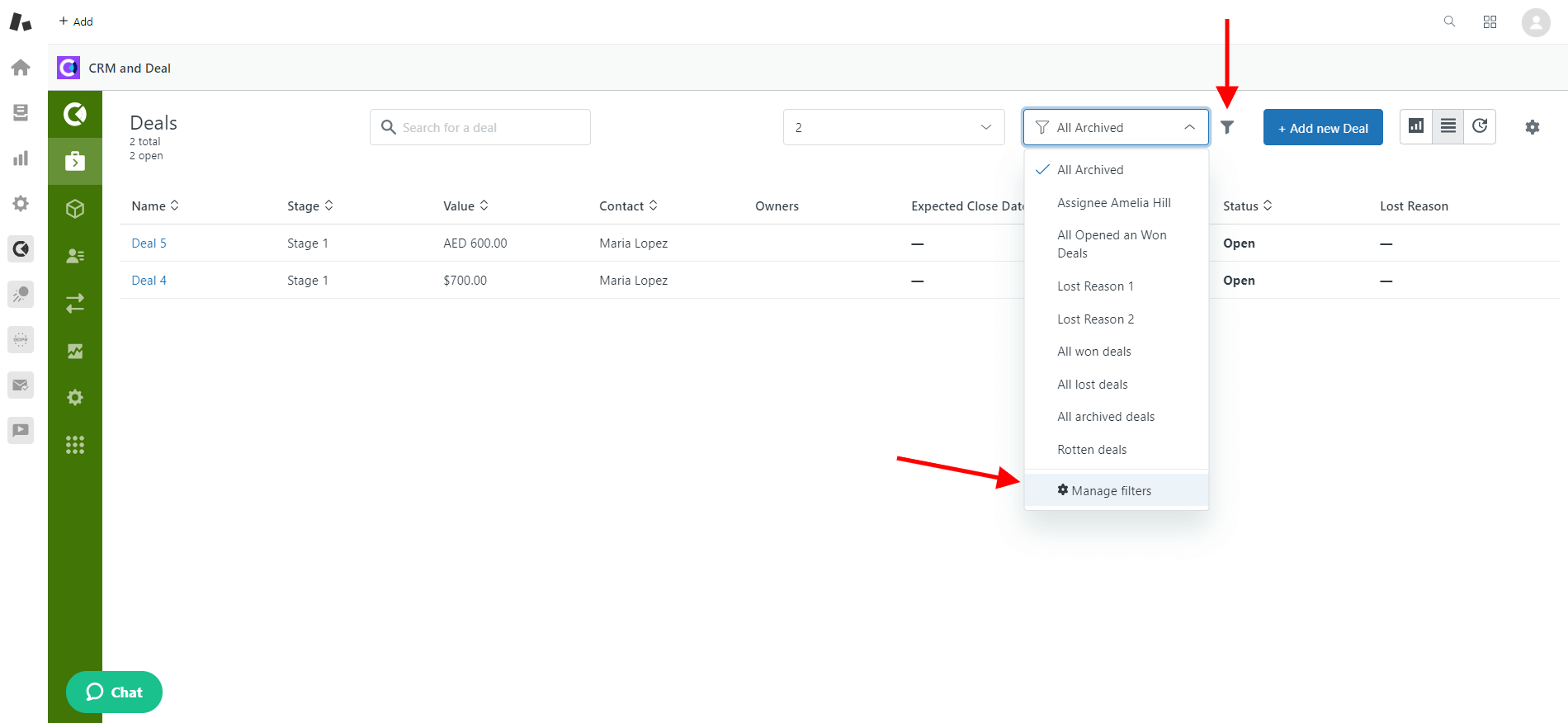 Manage Filters
Then choose "Filters" and "Create Filter" as shown on the screenshot below.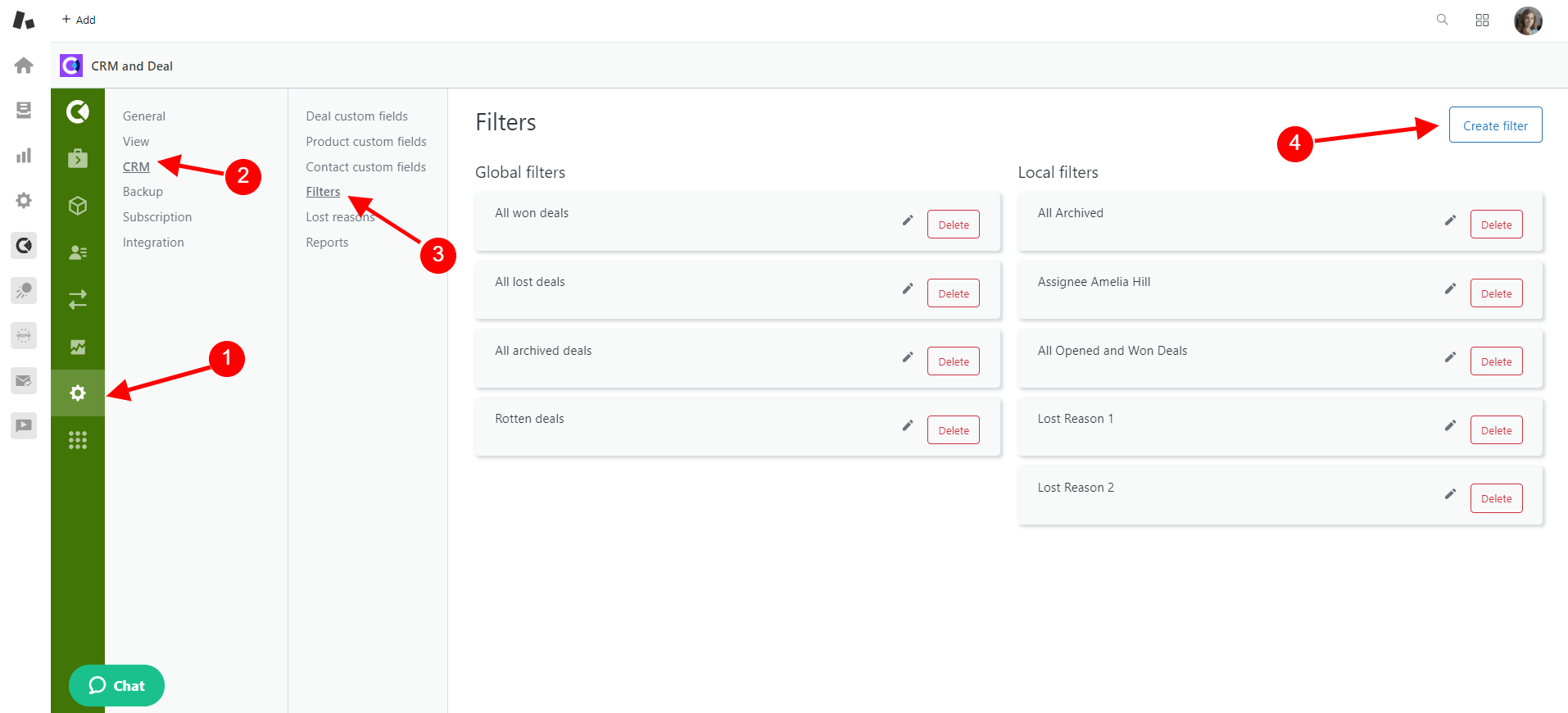 Settings View
Choose conditions and fields in the "Create New Filter" tab.  In the example below, we added filter name, chose Lost Reason condition, name of Lost Reason, and added a specific owner to include the deals that we created. Then click the "Create" button to add the filter. It is ready to use after these actions.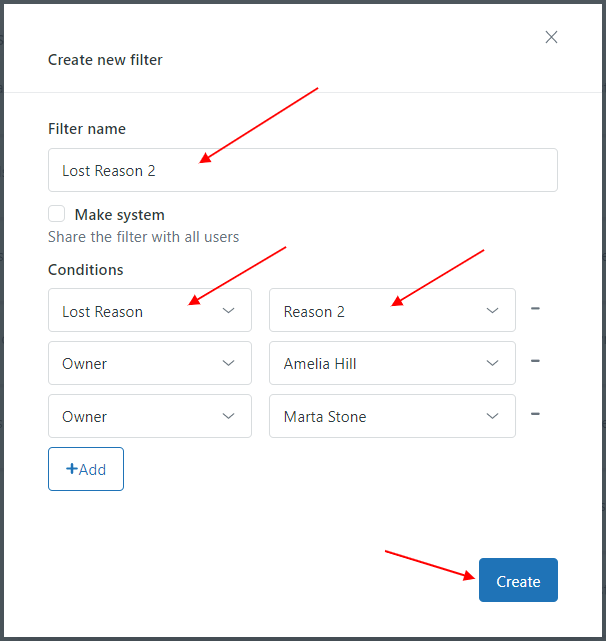 Create New Filter View
Create products
The biggest update for CRM and Deals is the whole new "Products" tab. We added this feature to link your company's particular product or service to specific deals and contacts. So you can get more insight into your sales from the other side. The product view has these default attributes: Id, Name, Value, and Linked deals.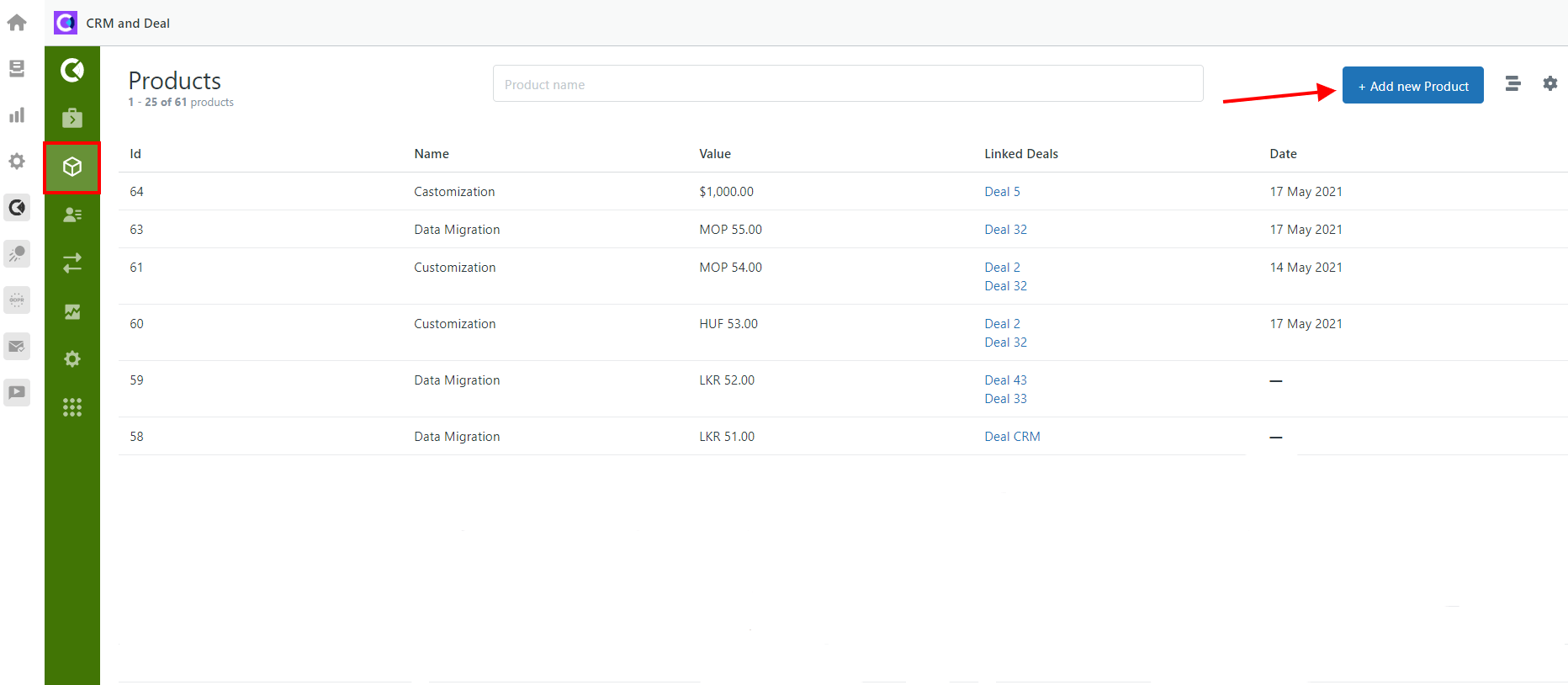 Products Tab View
Before the start, you can also add some custom fields to display additional values in the products tab. To do it, go to "Settings">"CRM">"Product Custom Fields" and click on the "Add new field" button.

Add New Field
In the "Create Custom field" tab enter Field Name, Field Description, Field Key, Field Type. Also, put a mark in the front of Required if you want the Field type to be essential to fill in.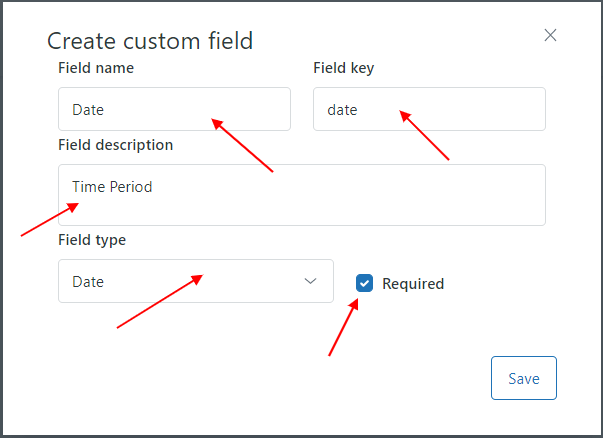 Create custom field
After you create specific custom fields, choose which of them you want to be displayed on the "Product" Page. First, go to the "Settings", choose "View", and then select the "Products" tab. Next, mark the necessary fields. Click the "Save" button.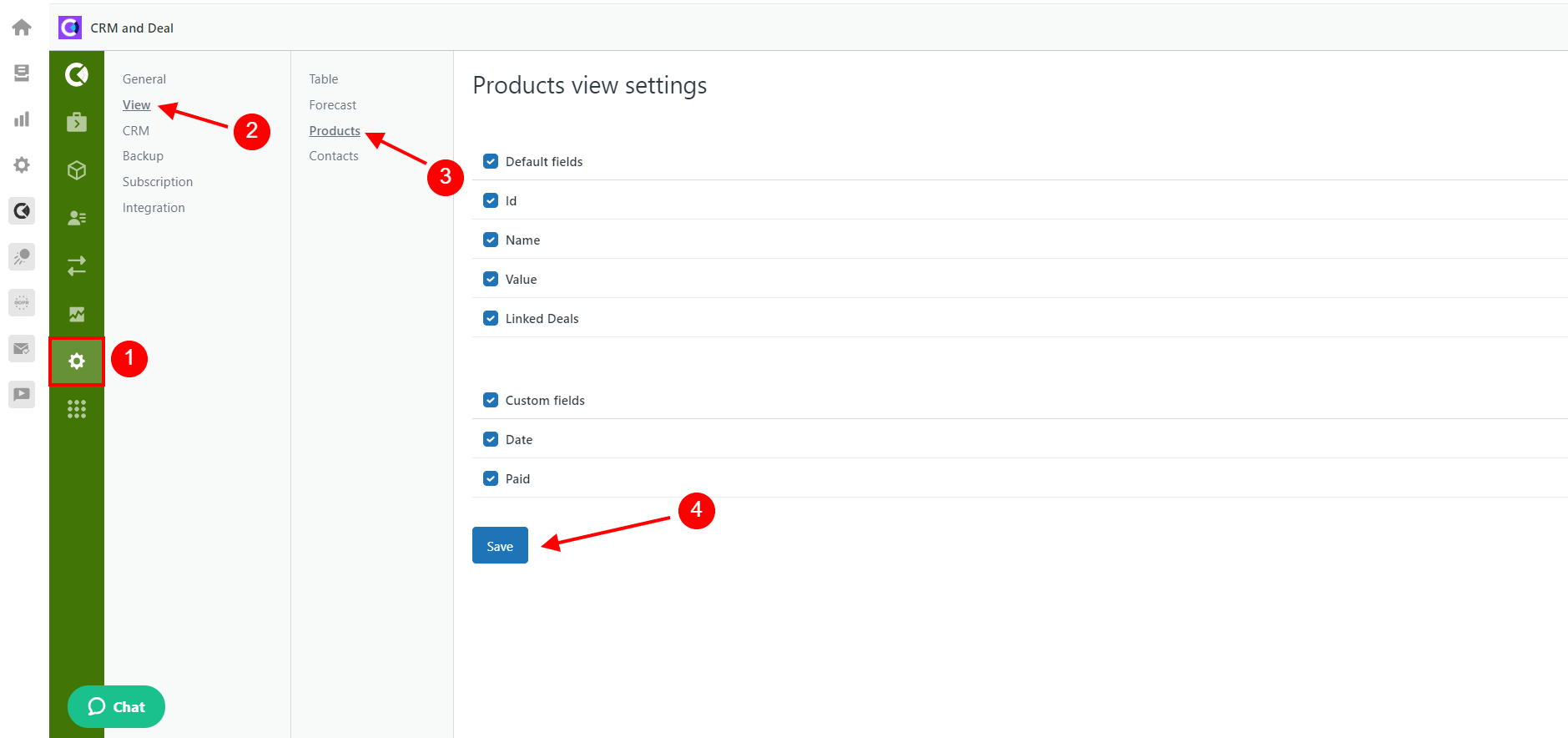 Products View Settings
Finally, when all the necessary fields are enabled, you can create all your company products. To do so, go back to the Product page and click on Add a new Product button. Enter the relevant information in the "Create Product" window and click Create.
Create product
Change statuses for users
CRM and Deals for Zendesk will also help you to change statuses for users from now on. As a result, you'll be able to check contact status directly in the contacts tab in CRM and Deals. Just open your contact's page in Zendesk, then check the rank of a contact. It can be a contact, lead, prospect, or your existing customer. Besides, build your sales and marketing strategy according to the statuses.
To manage user statuses, go to the Contacts tab, click on the User Page on the right side of a contact to set the status.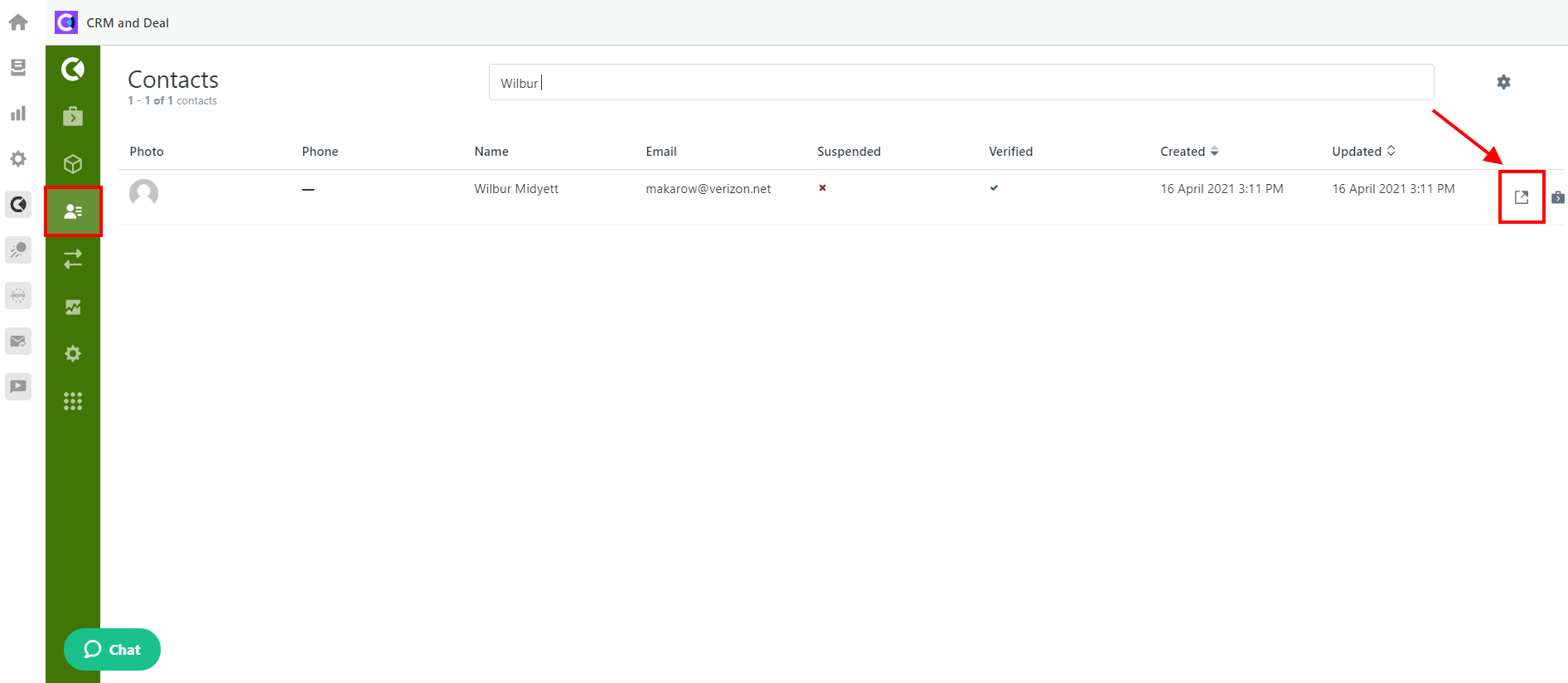 Contacts Page View
Then, select the contact status on the right top corner of the Contact page.
Contact page View
Why CRM and Deals is also worth trying!
CRM And Deals also helps to manage your sales by:
Keeping the information about sales in one place and checking a full history of each connection with every client;
Creating and customizing pipelines and checking the reports with exact dates and customized filters;
Creating products, changing statuses for clients.
Also, we recommend trying other custom apps, Zendesk theme customization, and Zendesk consulting services. Enjoy working in Zendesk with us!
Want to know more?
Visit our blog
Read now