Automatization in Zendesk is essential if you need to save time for agents to perform higher priority tasks and create a seamless ticket flow without any delays. Growthdot apps can help you with it. Besides, we release new options in GDPR Compliance for Zendesk from time to time to power up your customer support and unload your employees.
This time we made the following changes in the GDPR Compliance app, so let's look at them.
Organization deleting
We heard many times about the request to delete organizations from Zendesk. As a result, here is a new option available from now, just go to the Organization Views tab to start. Next, click on Delete selected organizations or Delete All Organizations. It is the same button, however, the name can be variable depending on what actions you need to perform. If you mark several organizations the button will be named as Delete selected organizations like on the screenshot below. If you need to process all items, leave empty checkboxes and press on the Delete All Organizations.
Then, fill in the only field in the modal window and hit the Create process.
Finally, click on the Start Process and wait till the ending.
New condition in creating ticket lists
The more conditions you can add, the more accurate list you can create before starting any process in GDPR Compliance. That is the reason why we've added one more condition Organization Is (Is not) to GDPR Compliance for Zendesk. Consequently, you can significantly reduce the time spent on data treatment.

Ability to anonymize only sensitive info in the comment
Our new update is helpful if you need to leave a comment but anonymize sensitive information (e.g., user name).

Just perform the following actions to switch on the feature and treat personal data. First, go to Settings -> Process Preferences -> Anonymizing. Then, put the checkmarks in the Name and Email boxes and leave the Comments box unchecked.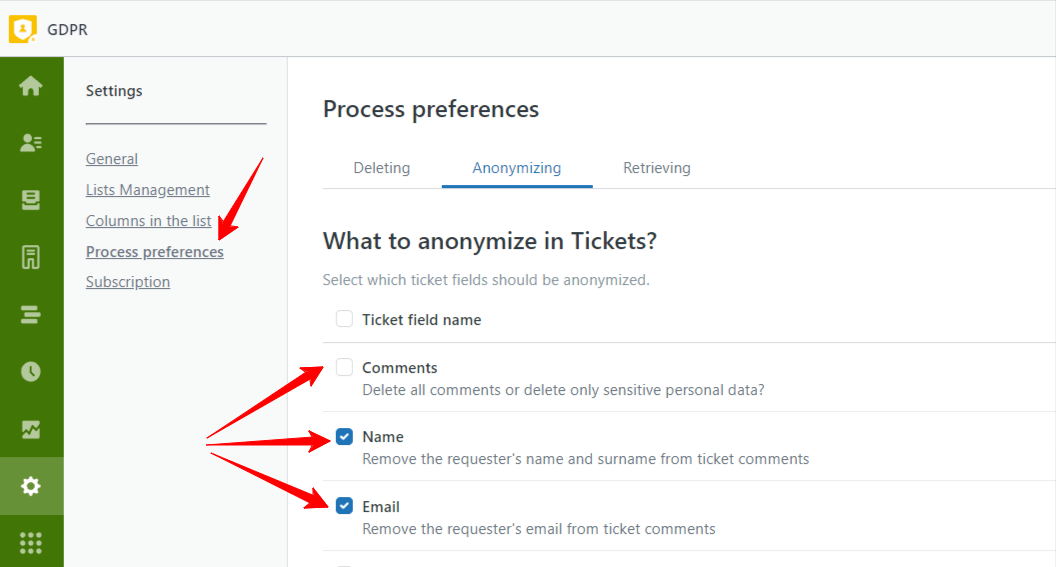 Deleting and anonymizing from CSV file
If you've got an imported list with your contacts from Zendesk, you can quickly start the process in the GDPR Compliance app from the CSV file. Here are some steps to follow before starting the process.
At first, go Contact Views page and click on Import CSV-file, and you will be taken to the New process from CSV- file.

Here you can drag and drop the file or click to select the needed one. Next, select the column which contains users' emails, select the data treatment type and click on Create the process to start the deletion or anonymizing.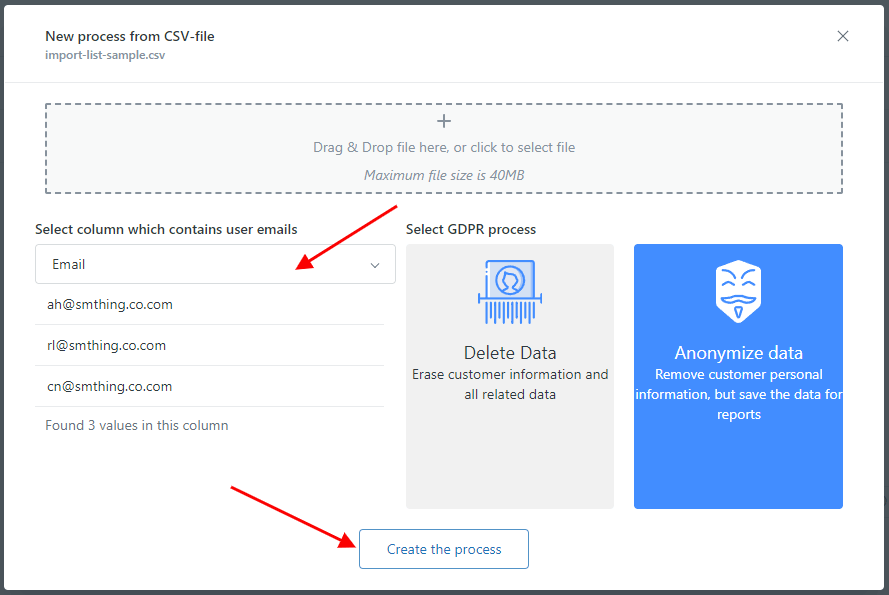 Note: select only the column with users' email addresses to match with emails in Zendesk. Otherwise, the process will be failed.
Leave tags after the anonymization
Another company is another ecosystem, and that's impossible to create a universal solution for everyone as known. However, we are client-oriented and try to bring our add-ons closer to your company's needs. And our customers are the best idea generators in that challenge. They help us implement what we never thought was required but match their needs, so leaving tags after the anonymization is another idea that was implemented.
To configure tag anonymization, you need to go to the Settings page -> Process preferences -> put the checkmark in the front of the Tags option. If you remove the checkmark, you'll see tags in the anonymized tickets.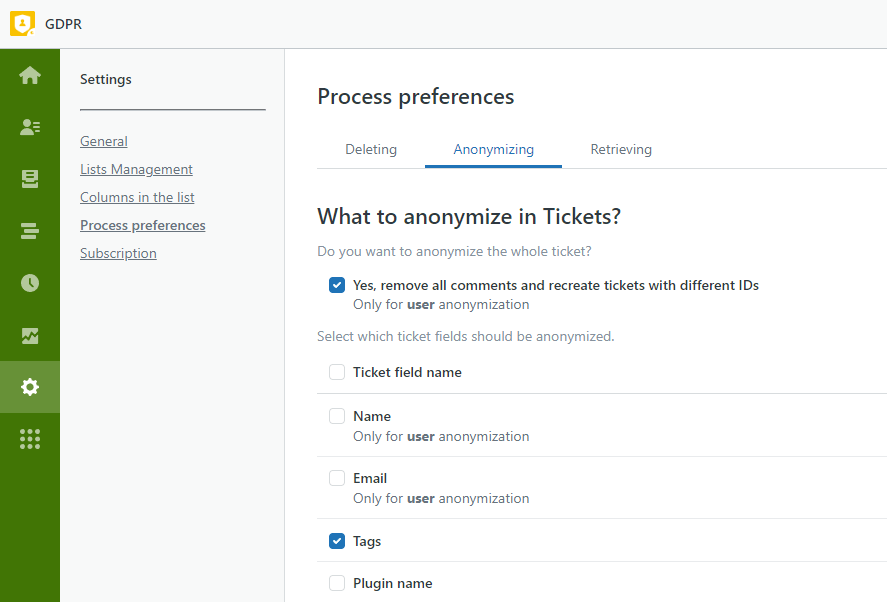 Easily find tickets in Zendesk after the processing
Users often get confused after the ticket anonymization as it seems impossible to find tickets in Zendesk, and they are dropped among thousands of requests. So that's not a big thing anymore, and you can follow a few steps to deal with it. Check out the details here.
Access for processes launching without admin rights
Previously only admin could run GDPR processes, which means agents could only start a retrieving process or send a request and wait for admin's approval if they need to delete and anonymize. From now on admin can select specific agents to start data treatment. Select General on the Settings page and choose one or several employees to perform on the agent's behalf.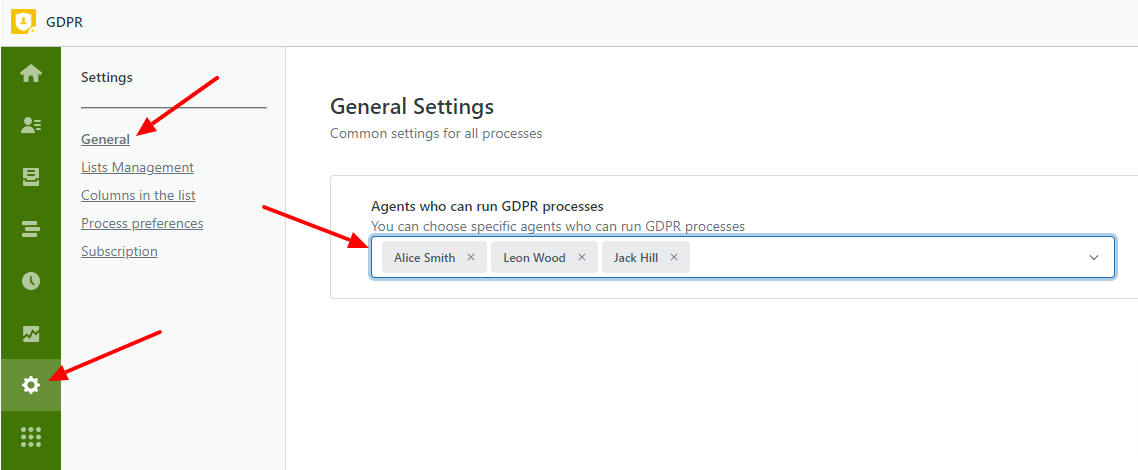 New condition in GDPR Compliance for Zendesk
Sometimes our clients demand the mass deletion of suspended tickets hanging in their Zendesk, so we decided to respond to numerous requests on this issue. So, create a target user list and select the condition.
Is suspended - Is - Is suspended (Switch the toggle)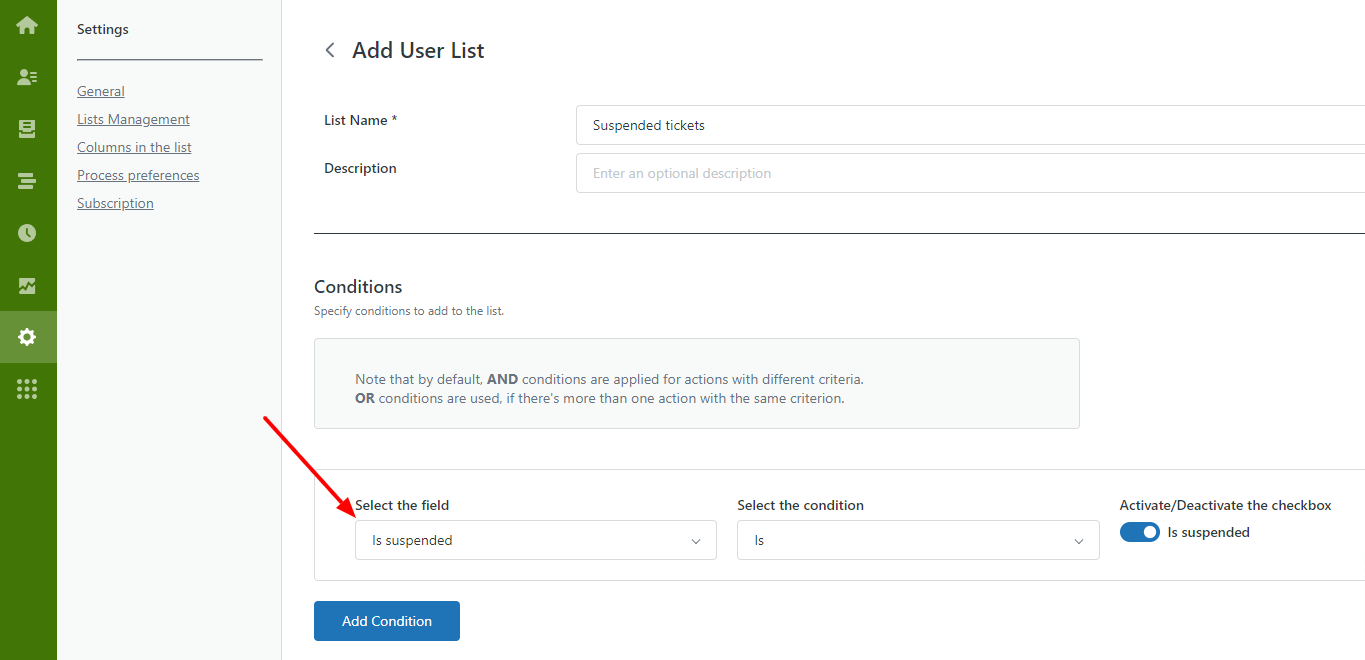 Then continue as usual. We described the process of bulk ticket deletion and creating a ticket and user list in our help center's articles, so follow the link to see the details.
Take into account that the anonymization process for suspended tickets will fail if there are closed tickets in the list or you activated the Yes, remove all comments and recreate tickets with different IDs.
Test our awesome apps!
GrowthDot apps are the best tools to perform different activities in Zendesk. For example, email marketing (Proactive Campaigns, Email Tracking), sales (CRM and Deals), data processing (GDPR Compliance), and video ticketing (Video Reply). Moreover, we provide a trial period to any of our Zendesk apps for you before deciding on purchasing. Also, we guarantee the total safety of your data.
By the way, we are the service provider and theme creator for Zendesk! So feel free to implement, customize, develop or integrate your customer support with us to create a flawless customer experience.
See the news
Keep up with the latest updates
Read more