Automatization in Zendesk is essential if you need to save time for agents to perform higher priority tasks and create a seamless ticket flow without any delays. Growthdot apps can help you with it. Besides, we release new options in GDPR Compliance for Zendesk from time to time to power up your customer support and unload your employees.
This time we made the following changes in the GDPR Compliance app, so let's look at them.
Permanently Remove Soft-deleted Contacts from Zendesk
Do you know that deleting the contacts option from the Customers tab in Zendesk Support doesn't entirely remove the data? Indeed, you can find all deleted contacts in the Admin Center > People > Deleted users > Deleted users.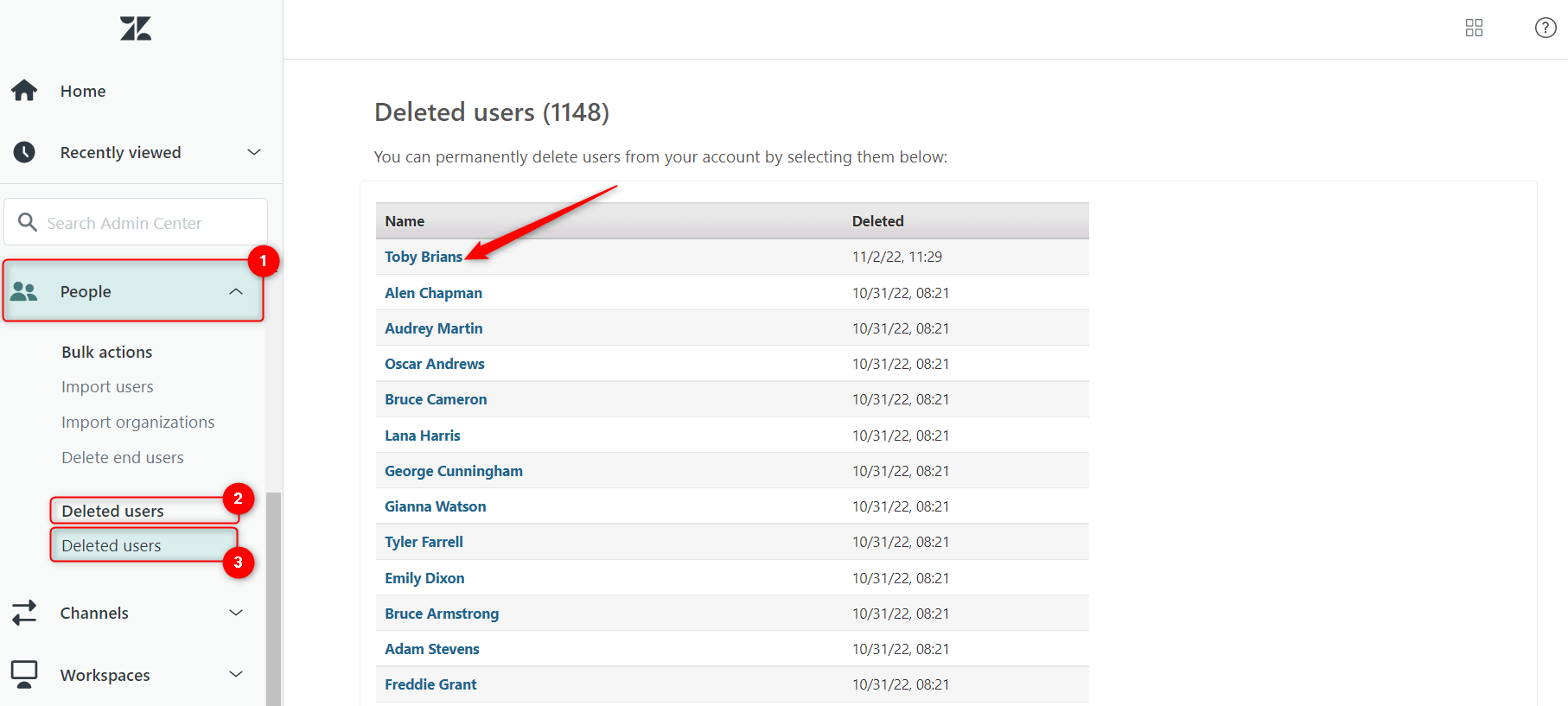 Therefore, they are still in your Zendesk instance. Of course, it is possible to get rid of such data by clicking on each contact's name and then the Delete user button, but what if you also have more than 1000 items as we have? Well, our new feature was made precisely for this. So first, find and click the Deleted Contacts Views icon on the left-hand sidebar. Then, hit Permanently delete all soft deleted contacts, name the process in the modal window opened and click the Proceed button. After, you need to launch the deletion by clicking Start Process > Confirm.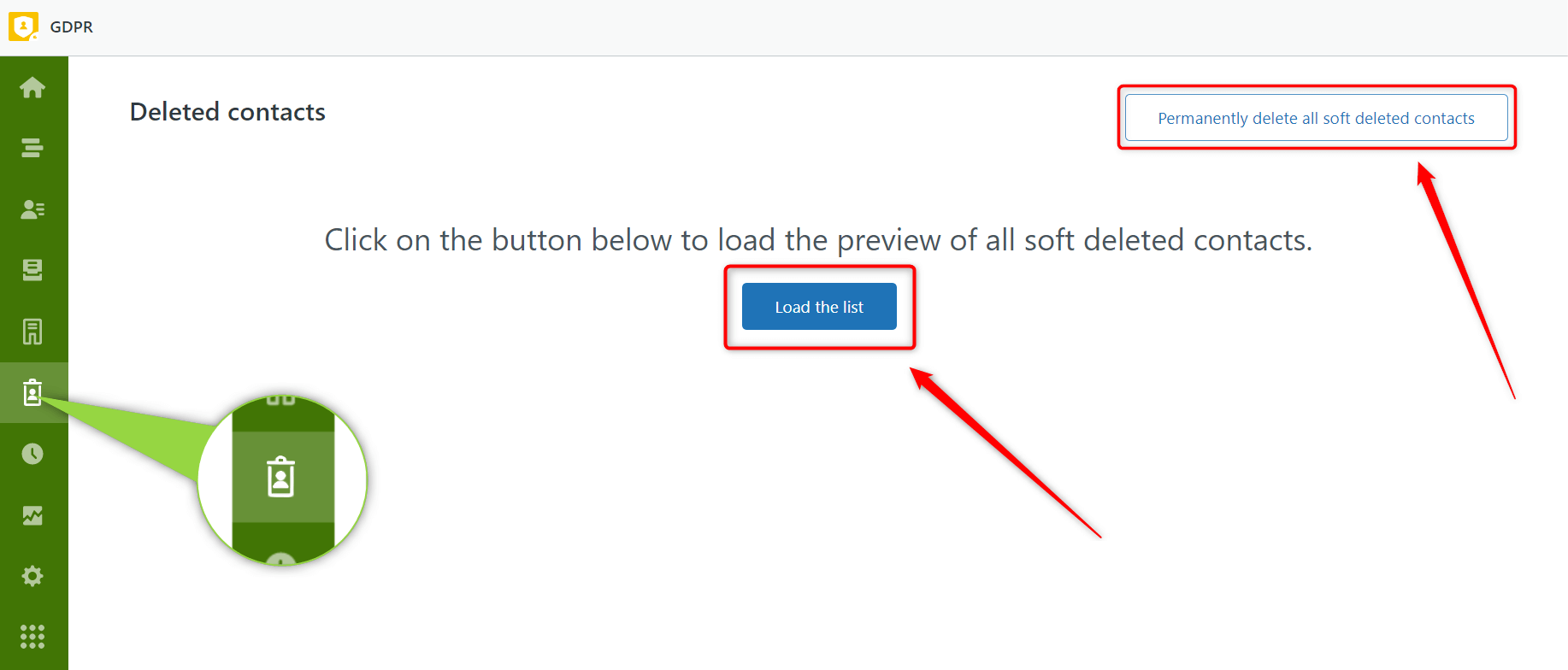 Moreover, if you need to preview the complete list of such users, hit Load the list button. However, the loading process can take some time, but do not close the page until it's done.
Filter Tickets by Ticket Forms
You probably have a lot of tickets you need to work with daily. Usually, companies create different types of ticket forms to be more precise about their organizing. Therefore, we developed the opportunity to create lists using Ticket Forms as a filter when setting conditions.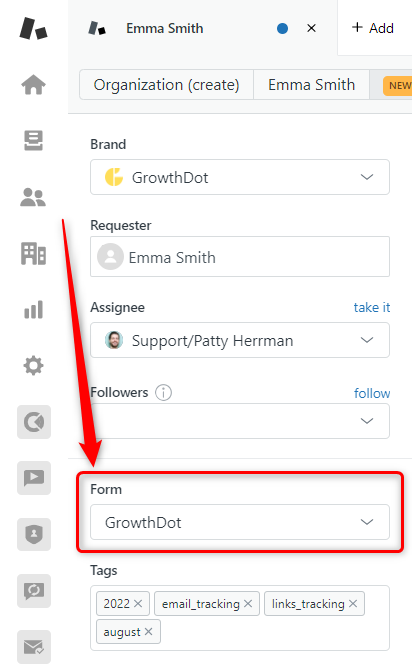 So, go to the Settings page -> List Management -> Ticket lists -> Add Ticket List. Then, in the Conditions block, select the field named Ticket Forms, set a condition (Is/Is not), and choose a necessary ticket form from the drop-down menu. Save changes.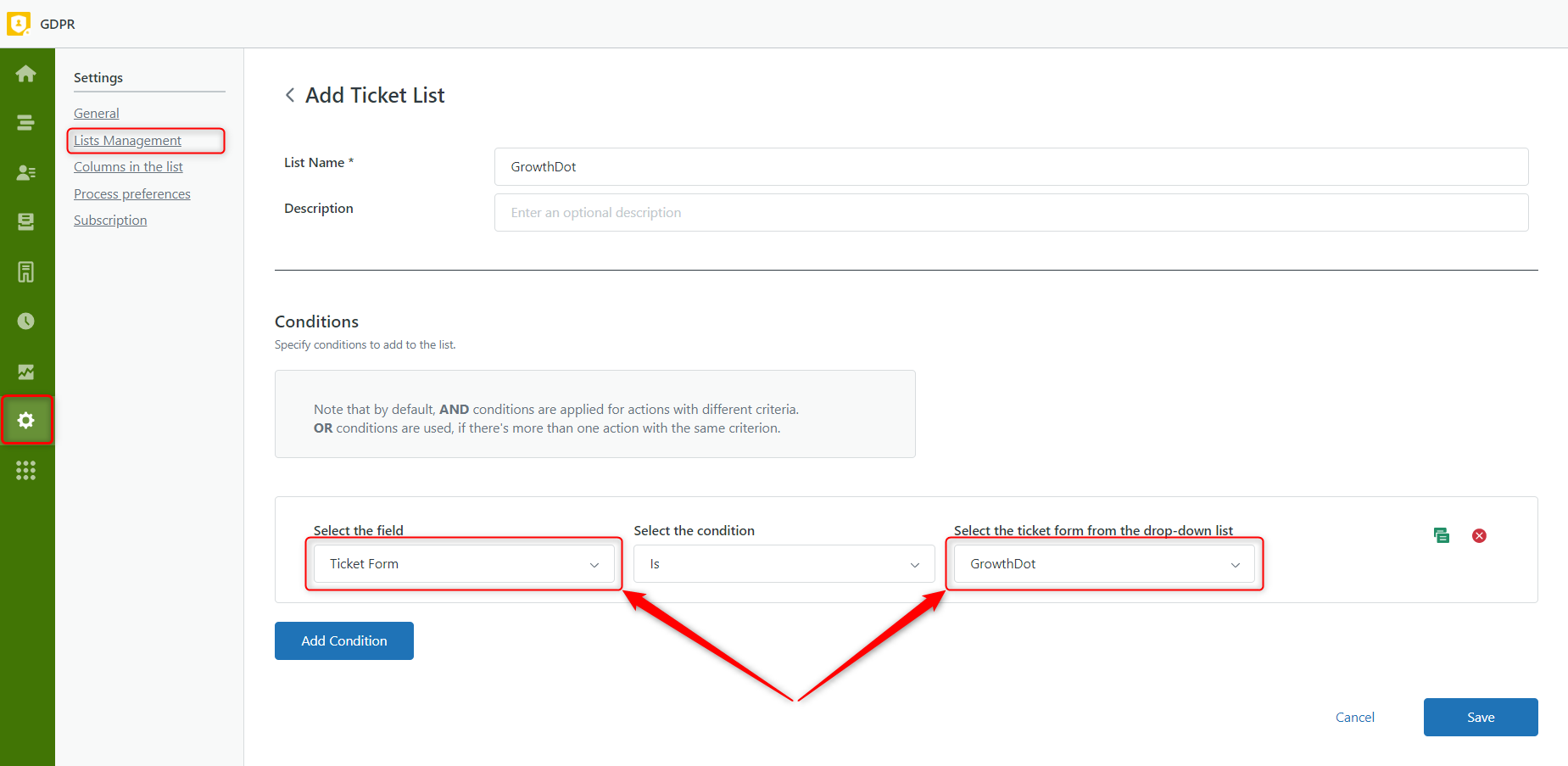 Create a List with Empty Fields
Some contacts in Zendesk Support might not belong to organizations, or they don't have an email address, and so on. From now, you can easily create lists leaving the field empty for both conditions (Is/ Is not). For example, make a list with users that have no organizations assigned. So, go to the Settings page -> List Management -> Contact lists -> Add Contact List. Then, name the list and set a condition: Organization - Is - empty field. Save changes. If you want a list with only users with organizations involved, a condition will be: Organization - Is not - empty field.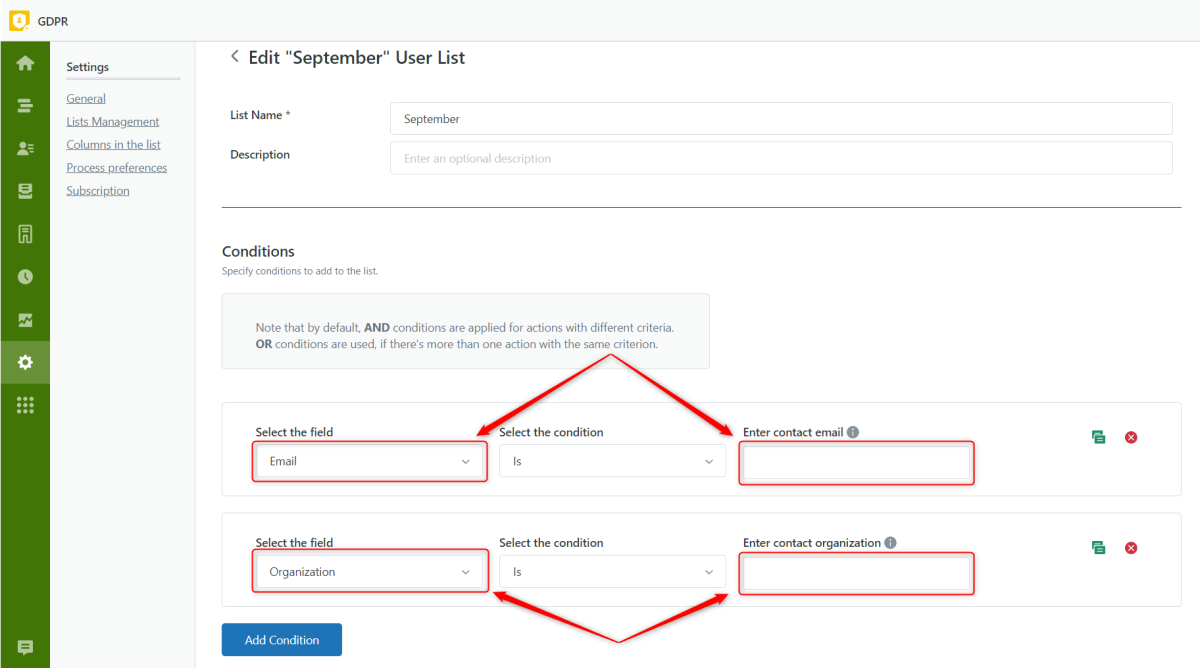 Note: only fields that have the Info icon above them can be empty.
Combined Lists - the Exclude Option
The Combined lists feature is a simple way to make data selection more precise while deleting or anonymizing. Previously, you could only select mutual data from Primary and Secondary lists. Now, there is an opportunity to process results from the Primary list that are not involved in the Secondary list. To get started, go to the Contact, Ticket, or Organization Views page and select a list you want to delete or anonymize.
For example, you need to delete contacts (the Primary list) who are not requesters of tickets (the Secondary list). Then, chose a requirable list from the Contact Views page and it will be set as the primary object. Then, click Process GDPR Requests -> Deleting -> Proceed with combined list.
Next, set the Combination method as Exclude and the Secondary list type as Ticket. Then, select the Secondary list from a dropdown menu. To launch deleting, click Proceed -> Start process -> Confirm.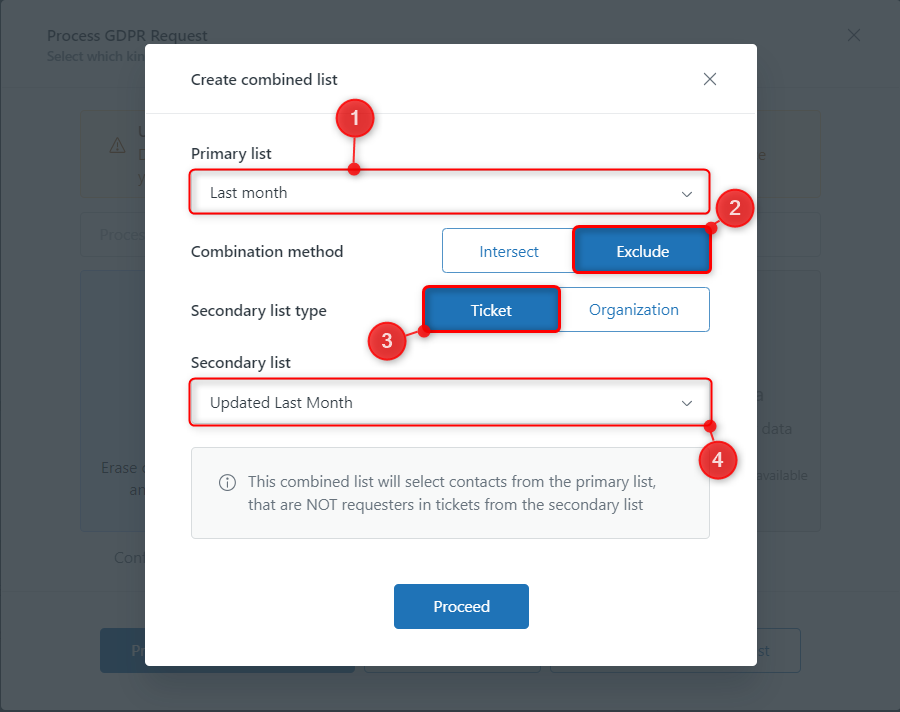 Improved Reports
Our Growthdot team works on our apps, improving them daily. Therefore, we have got an updated Reports page view to make your app interaction more convenient and effective.
On the Reports page, you can:
Filter the statistics by groups, agents, and reporting period.
Analyze the total amount of completed processes as well as each of them separately: Retrieving, Deleting, and Anonymizing. Besides, you can hover over a cursor on a particular icon in the block to know what it indicates: Contact processes, Ticket processes, or Organization processes. Thus, from the screenshot, we can conclude that the total number of processes is 40, which includes 27 points completed for contacts, 4 for tickets, and 9 for organizations.
View the Line Graph to estimate the frequency and quantity of made data treatments.
Talking about peculiarities, the app allows each agent to see their statistics. If you want some of them to view all statistics, then go to the General Settings tab and assign related rights.
Process data with the Combined list
Do you want to delete or anonymize tickets that belong to particular requesters? Or maybe you have already thought about how to remove users' data from certain organizations. Then, the combined list can make your GDPR interaction in Zendesk more convenient. Just open the Contact Views or Ticket Views tab on the left sidebar and click Process GDPR Request. Afterward, select how your data will be processed - anonymized or removed. And click on the Proceed with the combined list. Finally, select the Primary and Secondary lists and launch the process.
For example, the Primary list could be a Ticket list you want to process, and the Secondary list could be an Organization list that plays a role as a filter.
You can delete or anonymize tickets that are included in specific organizations by choosing one of the ticket lists as the Primary list. Similarly, when your Primary list is selected as a user list, then contacts belonging to particular organizations will be either anonymized or deleted.
Analogically, you can set a User list as a Primary list, a Ticket as a Secondary, and vice versa, depending on your purpose.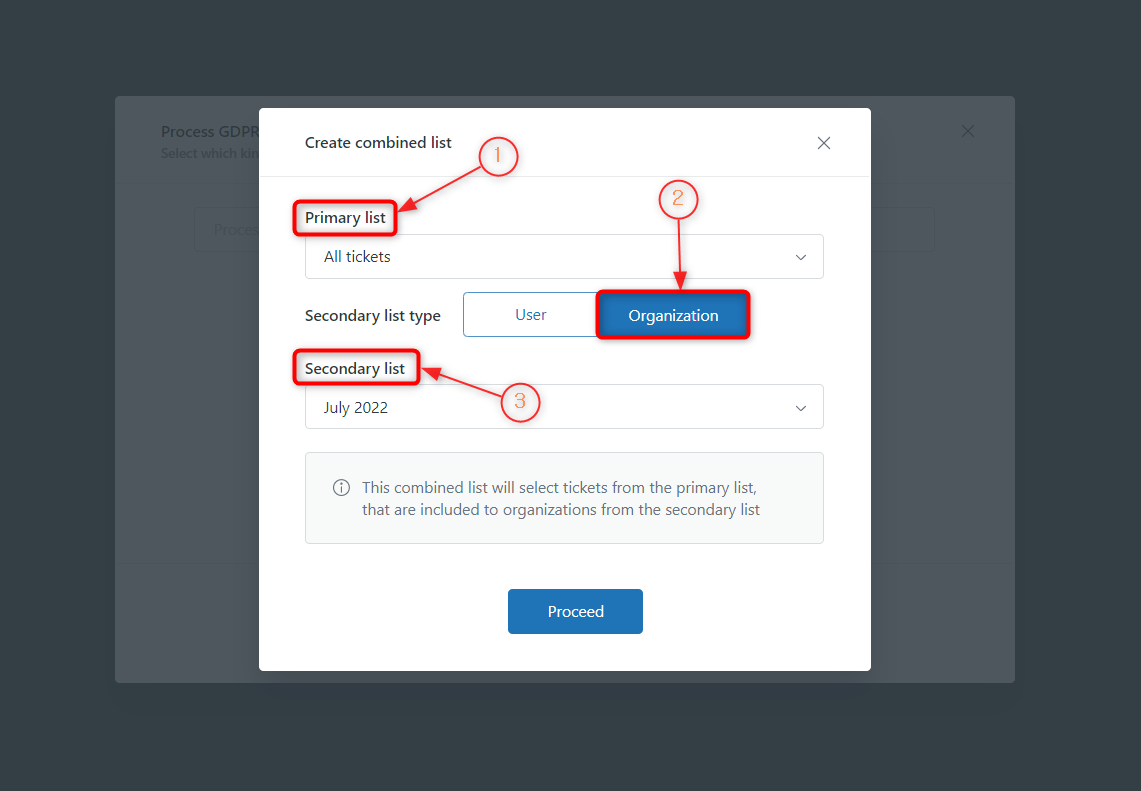 Note: any organization list also can be set as a Primary list, but in this case, we need to click Process GDPR Request from the Organization Views page. Then, a Secondary list will be a User or a Ticket.
If you haven't tried this option yet, it's an excellent opportunity to test it now.
Delete or Anonymize Data Using Organizations Lists
Imagine a situation where you want to delete/anonymize tickets or users related to particular organizations. Intriguing, right? Now, you can easily do this in Zendesk using GDPR Compliance. If you need to process users from organizations, then go to the Contact Views page. Next, select a necessary organization list from the Contact lists sidebar. You also can create a new organization list on the Settings tab. Then, launch the anonymization or deletion process as usual via clicking the Process GDPR Request button on the right corner above.
Do the same actions on the Ticket Views page if you want to perform GDPR processes with tickets from organization lists.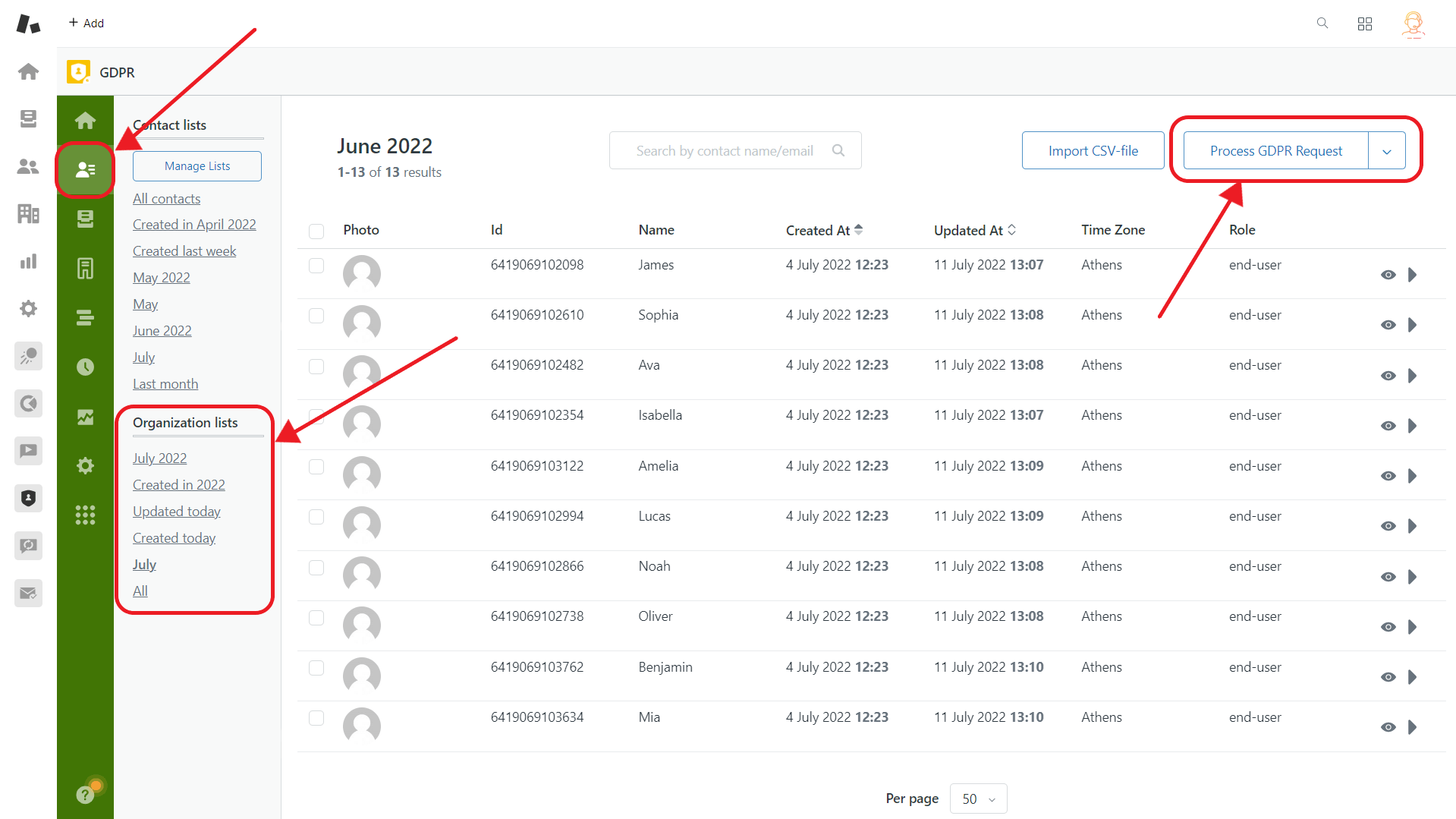 Important: The number of depicted users and tickets is limited by 300 organizations. If you see the phrase 'Too many organizations in the list. Preview is not available. You can still create and run the process, and all proper list targets will be processed ' as shown on a screenshot below, it means that you have more than 300 organizations on the list. However, you can still process with users or tickets related to it.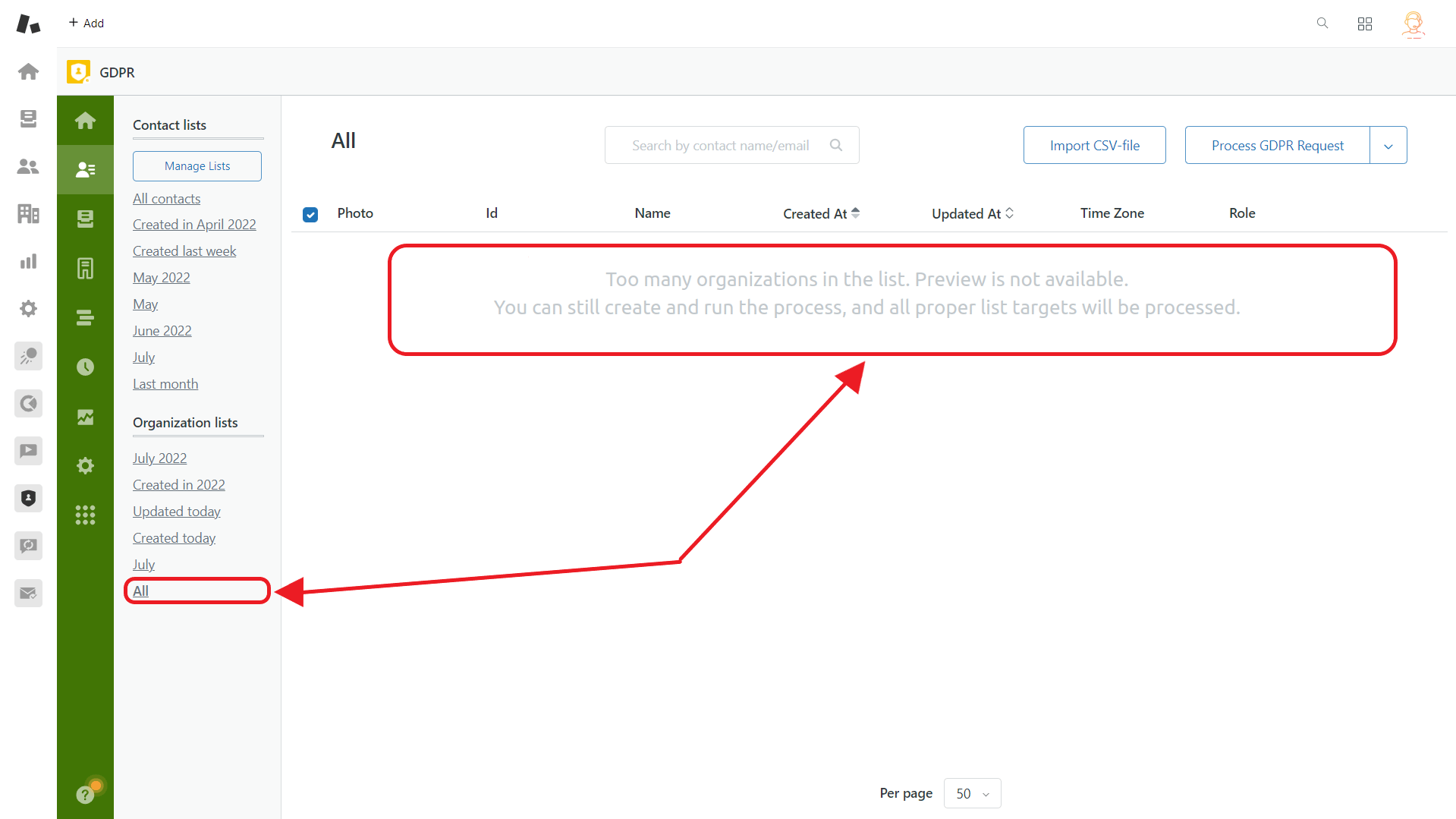 Note: a list with more than 300 organizations is displayed on the Organization Views page as usual.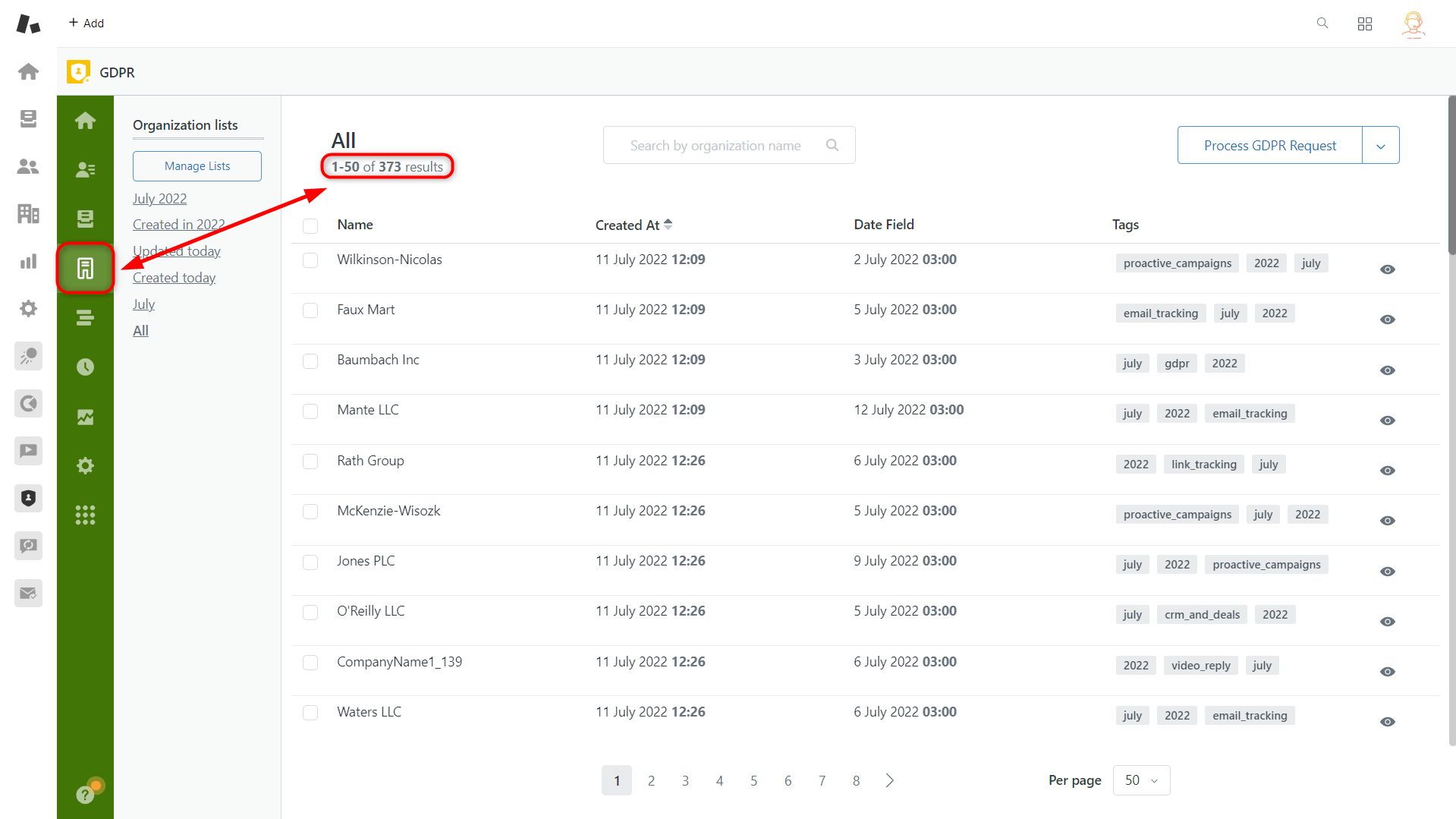 So, go to the app and test deleting users or tickets filtered by organizations on your own.
Retrieving private comments from Zendesk
At our customer's request, the GrowthDot team has launched a new setting for GDPR Compliance. Previously, you could retrieve customer and ticket data that also contained public comments. However, we have added a new feature - the ability to download private comments in the CSV file. Besides, we improved the data appearance, so information is sorted in a more convenient way. So now, you can find each ticket stored in a separate folder.
If you want to download private comments along with public ones, you should enable a related option in GDPR settings. First, go to the Settings page -> Process preferences -> Retrieving tab. Second, put the checkmark to include Private comments.
To retrieve data from a specific ticket, go to the Views tab in Zendesk and choose a ticket you want to process. Then, open the sidebar by clicking the Apps icon and click on the Process GDPR Requests. After, press Retrieve data -> Proceed -> Confirm and Download the archive.
You will gain sorted tickets by folders and the users.csv file as outputs. Public and private comments are in a comments.csv file you can find inside a ticket folder.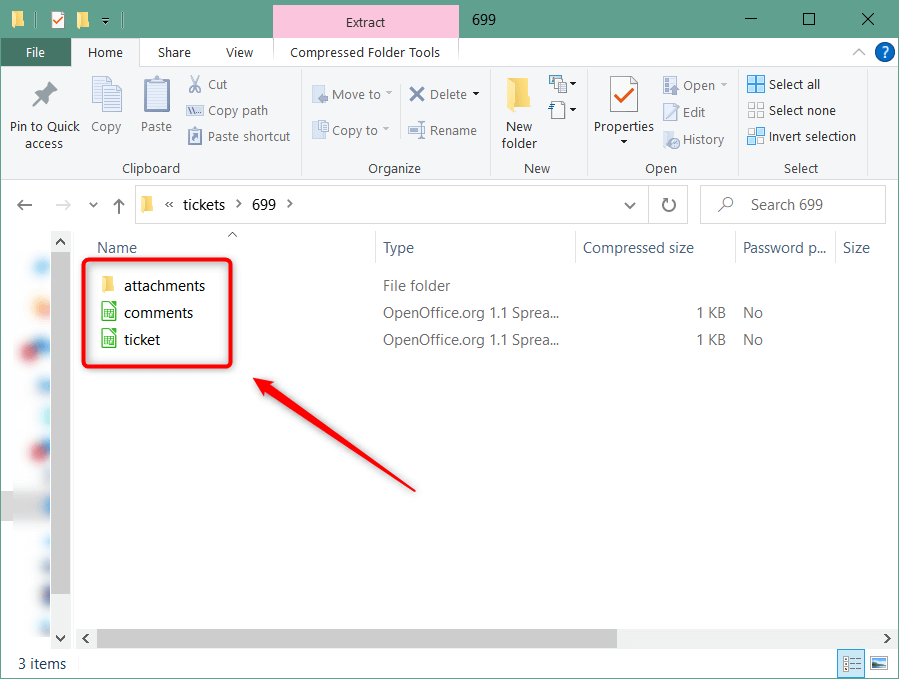 Deleting organization
We heard many times about the request to delete organizations from Zendesk. As a result, here is a new option available from now, just go to the Organization Views tab to start. Next, click on Delete selected organizations or Delete All Organizations. It is the same button, however, the name can be variable depending on what actions you need to perform. If you mark several organizations the button will be named as Delete selected organizations like on the screenshot below. If you need to process all items, leave empty checkboxes and press on the Delete All Organizations.
Then, fill in the only field in the modal window and hit the Create process.
Finally, click on the Start Process and wait till the ending.
New condition in creating ticket lists
The more conditions you can add, the more accurate list you can create before starting any process in GDPR Compliance. That is the reason why we've added one more condition Organization Is (Is not) to GDPR Compliance for Zendesk. Consequently, you can significantly reduce the time spent on data treatment.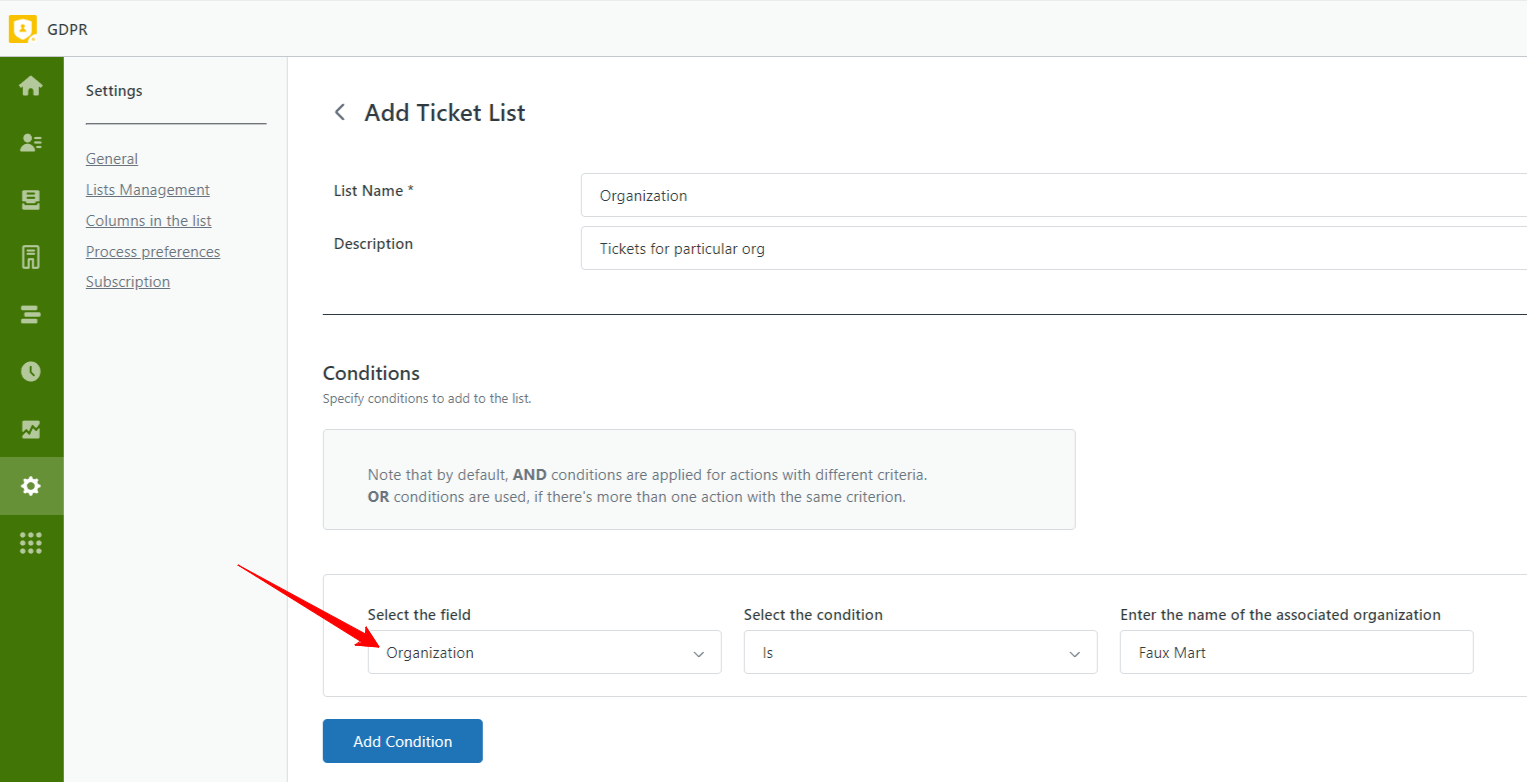 Ability to anonymize only sensitive info in the comment
Our new update is helpful if you need to leave a comment but anonymize sensitive information (e.g., user name).

Just perform the following actions to switch on the feature and treat personal data. First, go to
Settings -> Process Preferences -> Anonymizing
. Then,
put the checkmarks in the Name and Email boxes and leave the Comments box unchecked.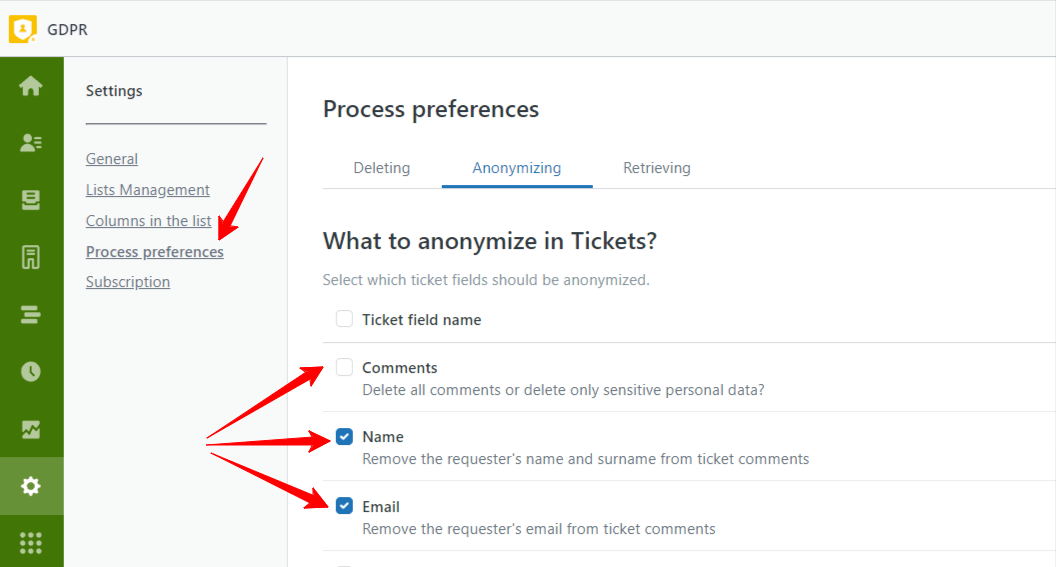 Deleting and anonymizing from CSV file
If you've got an imported list with your contacts from Zendesk, you can quickly start the process in the GDPR Compliance app from the CSV file. Here are some steps to follow before starting the process.
At first, go Contact Views page and click on Import CSV-file, and you will be taken to the New process from CSV- file.

Here you can drag and drop the file or click to select the needed one. Next, select the column which contains users' emails, select the data treatment type and click on Create the process to start the deletion or anonymizing.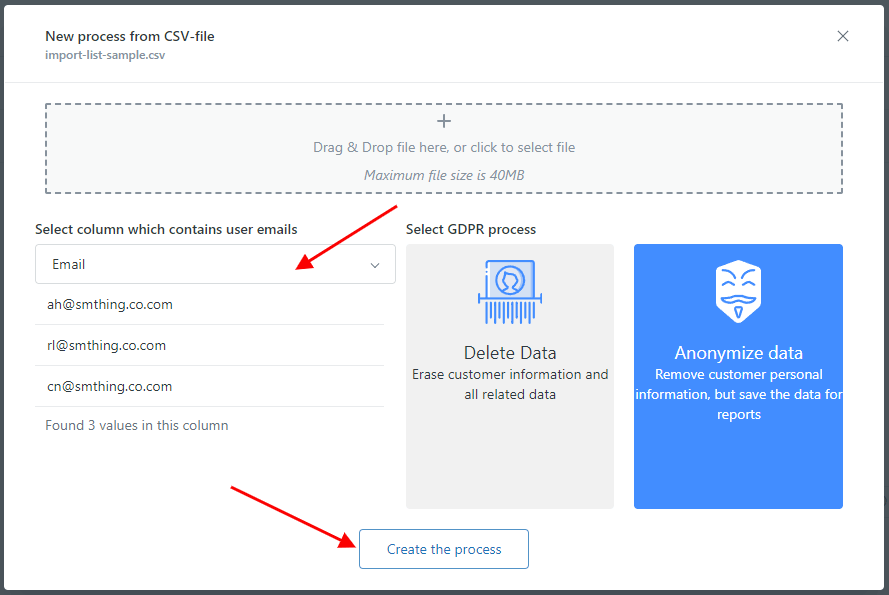 Note: select only the column with users' email addresses to match with emails in Zendesk. Otherwise, the process will be failed.
Leave tags after the anonymization
Another company is another ecosystem, and that's impossible to create a universal solution for everyone as known. However, we are client-oriented and try to bring our add-ons closer to your company's needs. And our customers are the best idea generators in that challenge. They help us implement what we never thought was required but match their needs, so leaving tags after the anonymization is another idea that was implemented.
To configure tag anonymization, you need to go to the Settings page -> Process preferences -> put the checkmark in the front of the Tags option. If you remove the checkmark, you'll see tags in the anonymized tickets.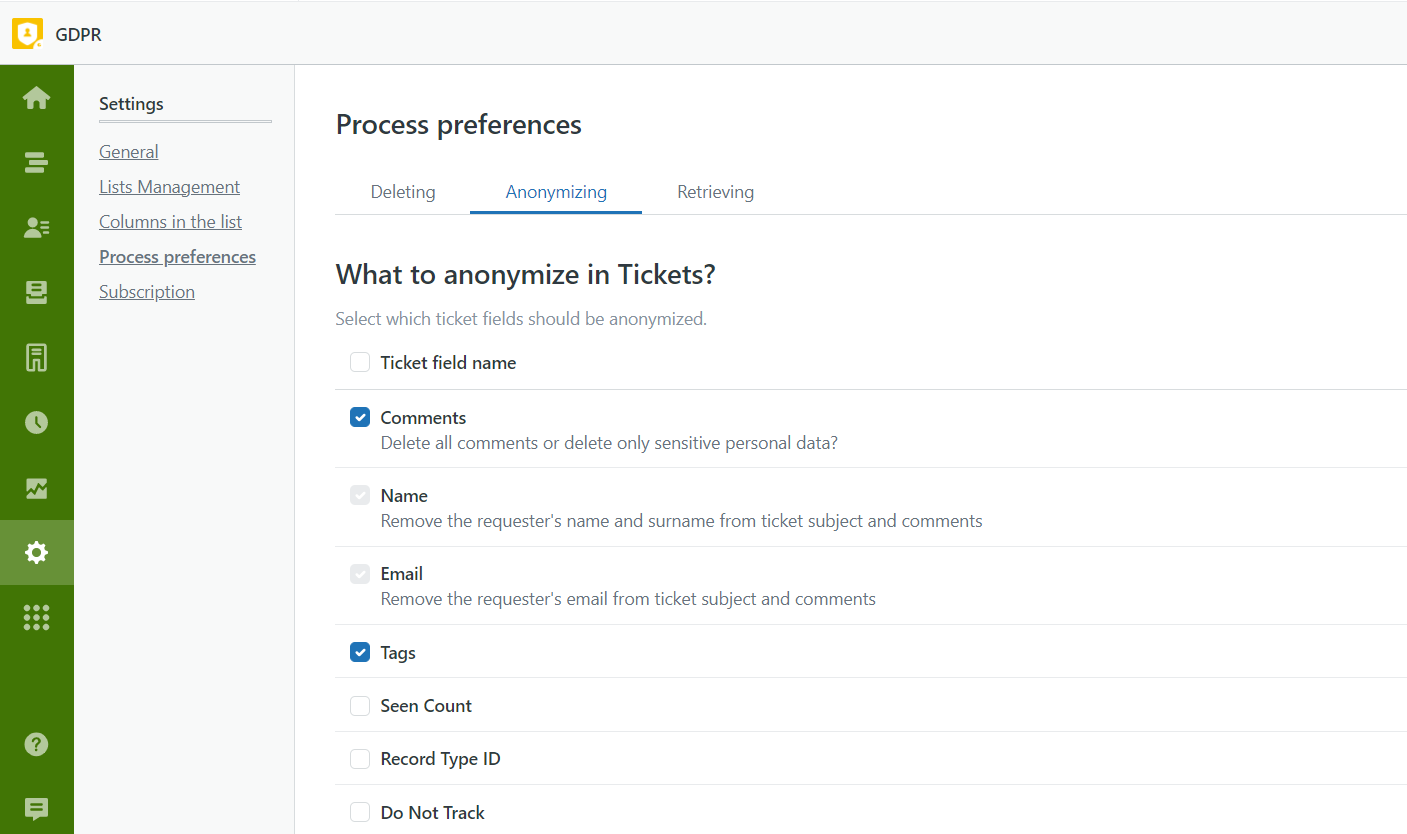 Easily find tickets in Zendesk after the processing
Users often get confused after the ticket anonymization as it seems impossible to find tickets in Zendesk, and they are dropped among thousands of requests. So that's not a big thing anymore, and you can follow a few steps to deal with it. Check out the details here.
Access for processes launching without admin rights
Previously only the admin could run GDPR processes, which means agents could only start a retrieving process or send a request and wait for the admin's approval if they need to delete and anonymize. From now on admin can select specific agents to start data treatment. Select General on the Settings page and choose one or several employees to perform on the agent's behalf.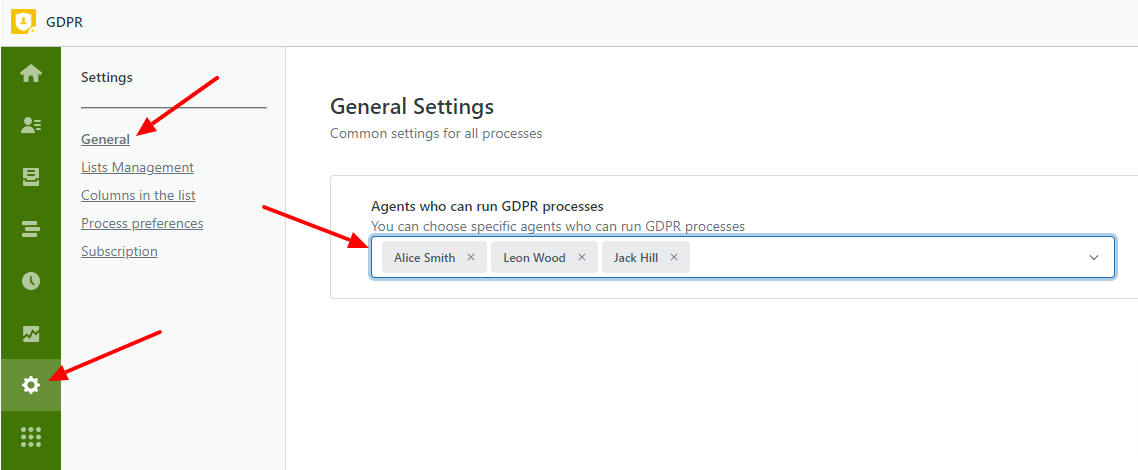 New condition in GDPR Compliance for Zendesk
Sometimes our clients demand the mass deletion of suspended tickets hanging in their Zendesk, so we decided to respond to numerous requests on this issue. So, create a target user list and select the condition.
Is suspended - Is - Is suspended (Switch the toggle)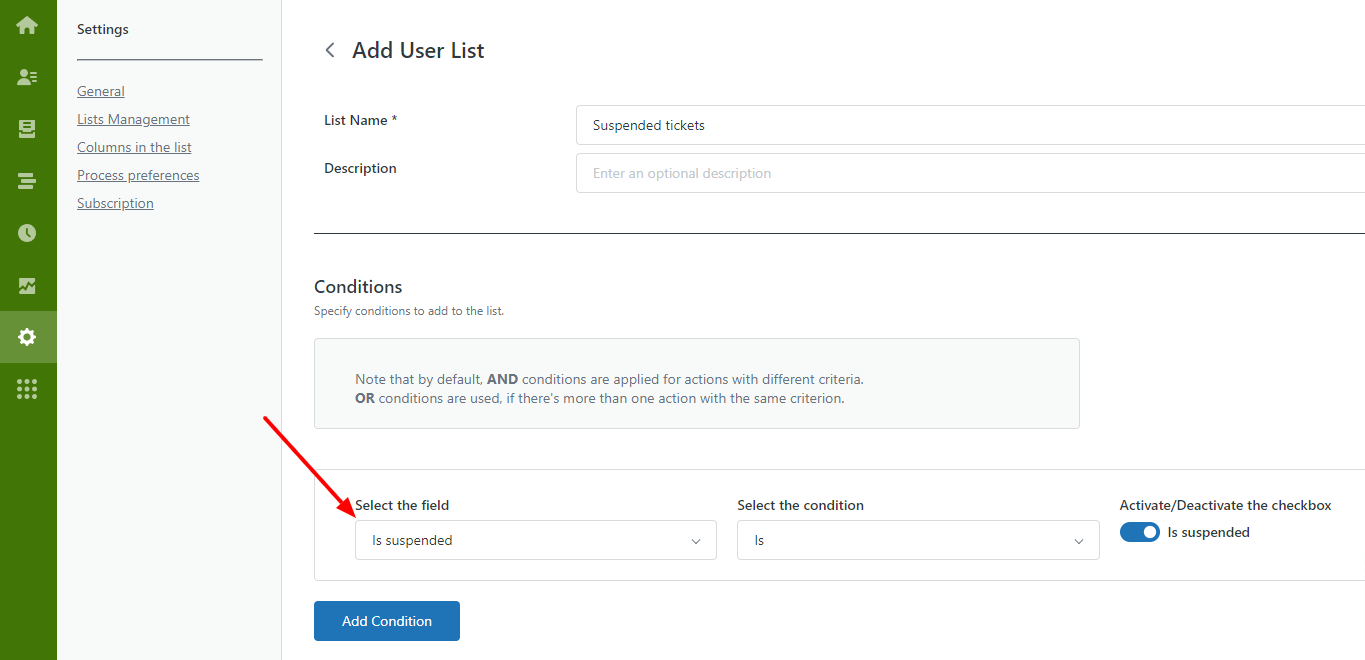 Then continue as usual. We described the process of bulk ticket deletion and creating a ticket and user list in our help center's articles, so follow the link to see the details.
Take into account that the anonymization process for suspended tickets will fail if there are closed tickets in the list or you activated the Yes, remove all comments and recreate tickets with different IDs.
Test our awesome apps!
GrowthDot apps are the best tools to perform different activities in Zendesk. For example, email marketing (Proactive Campaigns, Email Tracking), sales (CRM and Deals), data processing (GDPR Compliance), and video ticketing (Video Reply). Moreover, we provide a trial period to any of our Zendesk apps for you before deciding on purchasing. Also, we guarantee the total safety of your data.
By the way, we are the service provider and theme creator for Zendesk! So feel free to implement, customize, develop or integrate your customer support with us to create a flawless customer experience.
See the news
Keep up with the latest updates
Read more