Proactive Campaigns app for Zendesk is your universal helper in bulk messaging. Sometimes our clients share their opinions that the app has everything for email marketing, especially in union with Email Tracking. However, the Growthdot team continues making it a more powerful Zendesk tool, and updates in Proactive Campaigns became our daily activity. So, now we want to share with you other improvements. So, let's see what we got here.
Clone the Shared List into a Regular Contact or Ticket List
Shared lists are handy when agents need to work as a team and use such collaborative materials. However, agents might feel quite limited while using such lists as they can't be edited. Yes, in shared lists is impossible to make changes, but there is a way how to bypass it. All you need is to create a copy and use it as you want.
So, open the Settings page, go to the List Management, find Shared lists, and finally click on the horizontal ellipsis (Meatballs menu), and on the Clone button.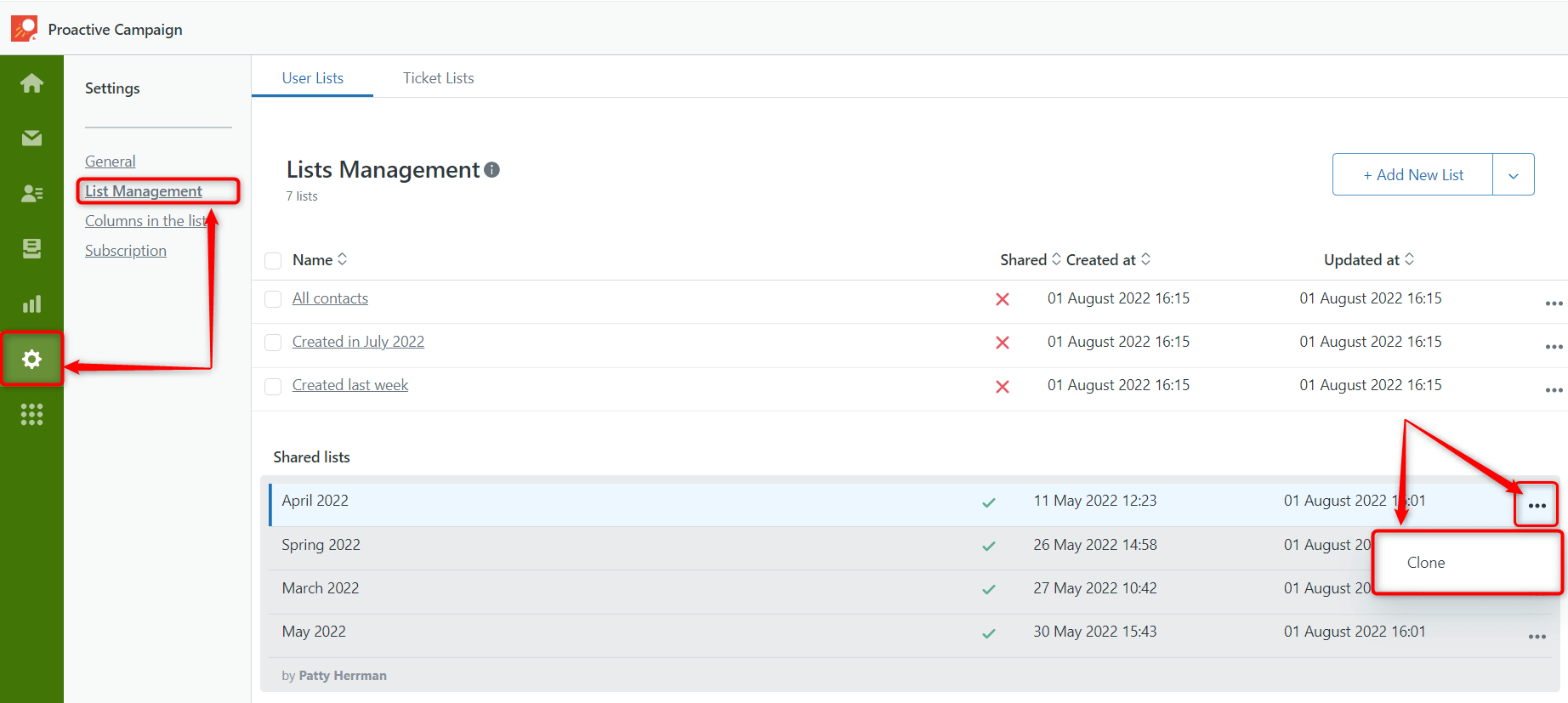 After, you will see the cloned list you can edit. Thus, do appropriate actions and Save changes. Then, watch a result on a lists page.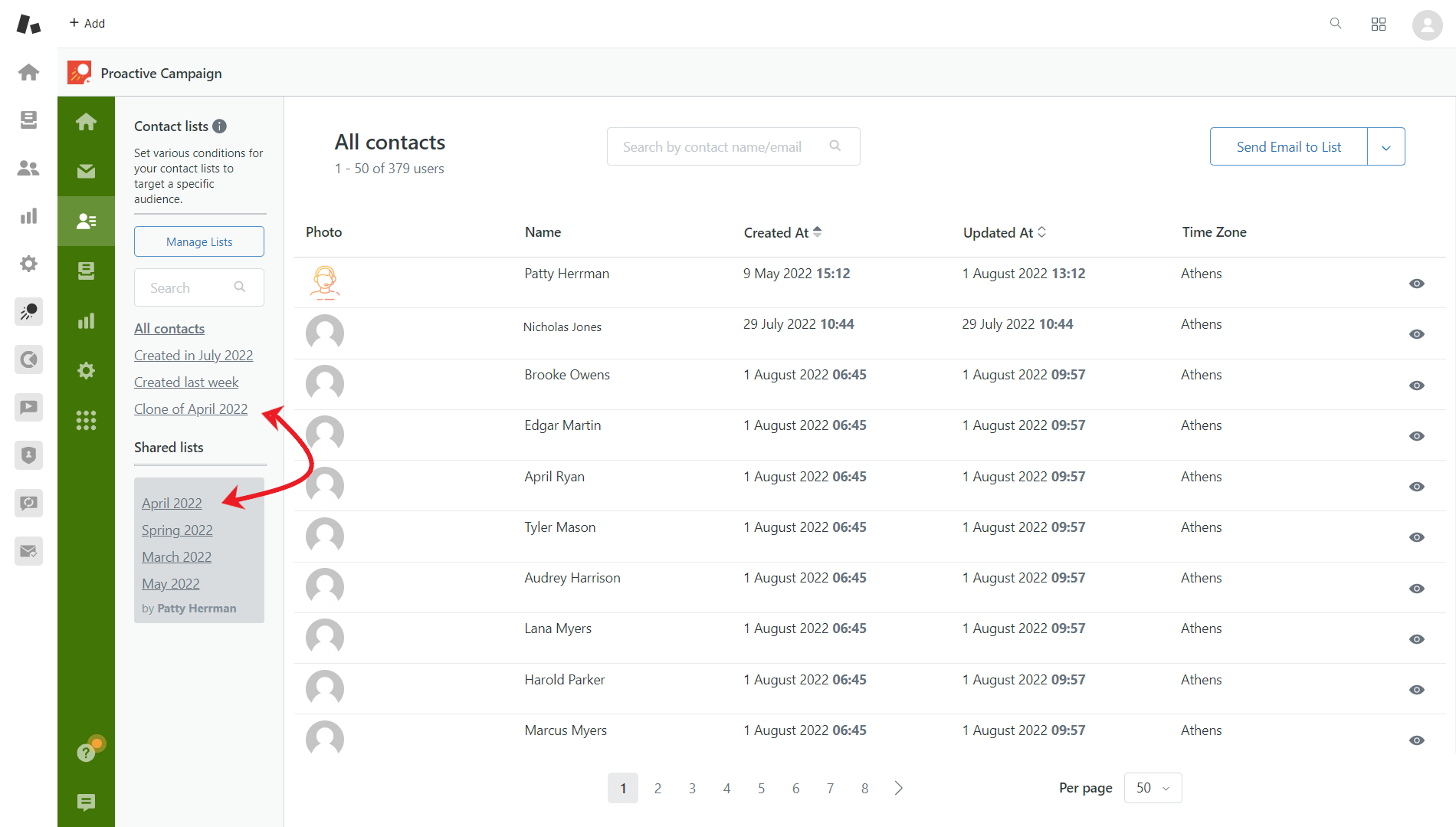 Upload HTML Templates
At our customers' request, we added a new feature. Now you can upload your HTML templates into the Proactive Campaigns Editor. So first, click the arrow button near the Save as new template on the third stage of campaign creation. Then, select the Upload templates from file.

When the modal window has been opened, name your template, select an HTML file and upload an image (it's optional. Use it if you want to differentiate your templates easily).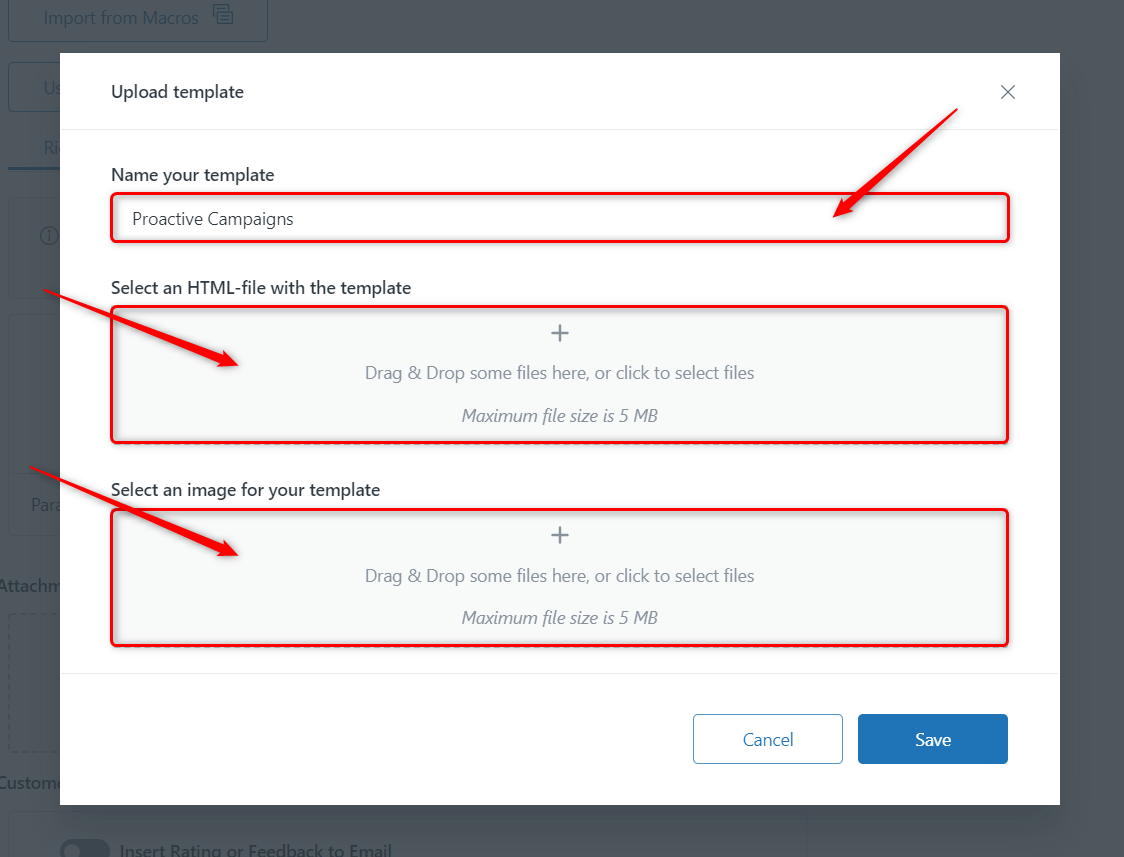 The template will be opened in the Source code editor so that you can change or leave it as it is.

Send Follow-ups to Seen/Unseen Tickets (with Email Tracking)
We deepen the integration between Email Tracking and Proactive Campaigns to use the advantages of each app to reach the best results in your email marketing and customer support. For example, previously, you could send follow-up campaigns only for those who didn't reply. However, together with Email Tracking you can also track seen/unseen emails directly in the particular campaign and send follow-ups.

Besides, you can switch toggles to modify your contact list and include exactly what you need. For instance, we created a follow-up list only with seen and replied tickets.

Possibility to Send an Email on Behalf of the Other
Sometimes you need to launch your mass email campaigns on behalf of the other agent or even an imaginary person. For that purpose, we have created an  Alias field to type the name so that the end-user will see that name, but the reply will return to the agent. Take into account that admins can choose an alias for any assignee and agents can do it only for themselves.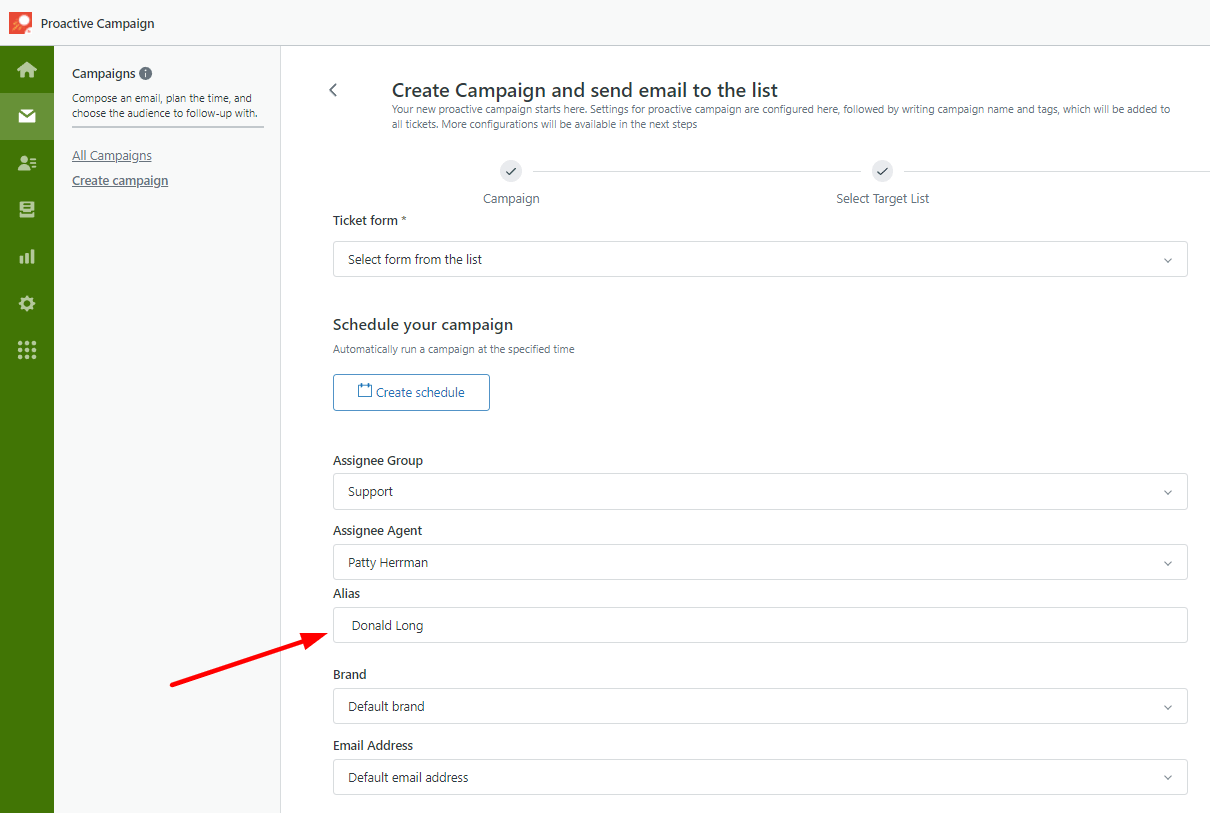 Test Your Email Campaigns
Proactive Campaigns allows you to create lists from Zendesk contacts, and theoretically, you could compose a list with test emails. However, that is unnecessary work and you also need to waste time creating the list, and then delete those emails from Zendesk. Nevertheless, the spam filters become more advanced with each passing day, so sending emails without testing can harm your business. We found the way out, let's see.
So, when you are on the final stage of creating your bulk email campaign (Ticket configuration) you can click on the arrow button near Save and Run and select Send email to test recipients.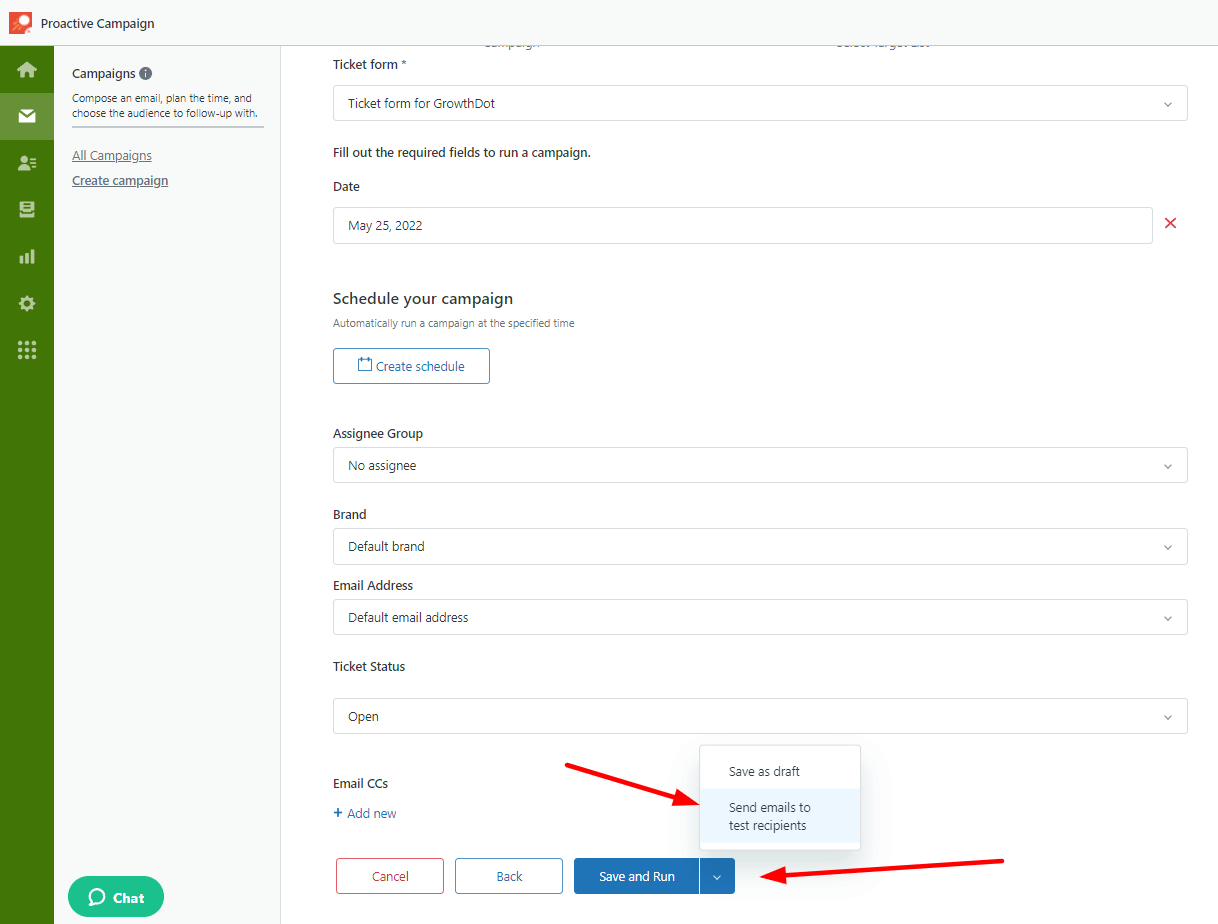 Then, you'll see the window where you need to type test email addresses and click on " + " to add them to the list. Then click on Send to test recipients or hit Send to me only if you need to send to your address.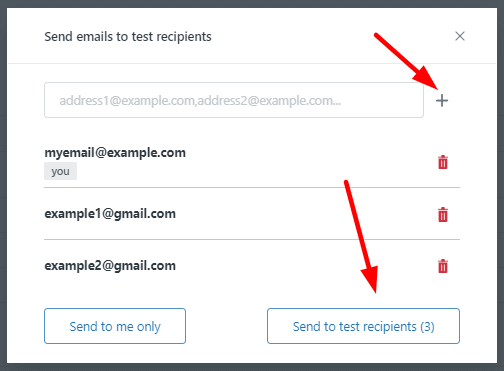 Finally, check emails' destination in testing tools or check out your email to know where your letter is.
Proactive Campaign Text Editor Update
Every day the GrowthDot team works on developing our products to make them more customized and easy-to-use for our business clients. We are excited to introduce a newly designed Proactive Campaign update at our client's request.
Let's take a closer look at the new-added text formatting properties within a create campaign option.
You can find a rich-text editor and a source code editor on the Create campaign page (the third step of creating a new campaign). That helps you craft personalized and brandy emails and build associative bonds in customers' minds by using a recognizable writing style.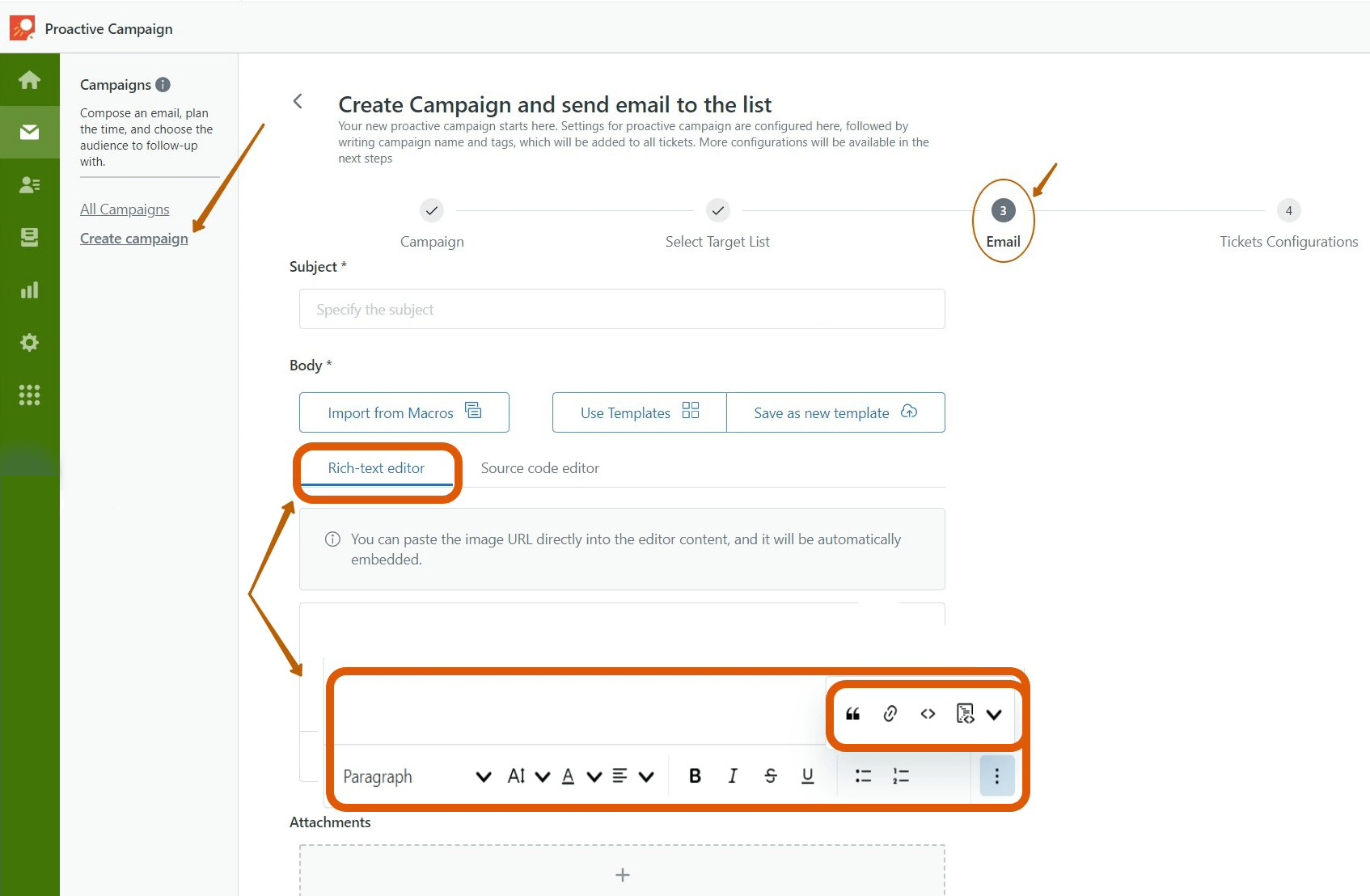 Besides current typographical items like Bold, Italic, and Underline, the Strikethrough was put on the edit toolbar. Alongside Heading, Bulleted, and Numbered lists, became available particular properties: Text alignment, Font Size, and Font Color on the panel.
Besides existing Code, Blockquote, and Link functions, an Insert Code Block was incorporated. Using the Insert Code Block makes email designs more extraordinary and unique. So check out all main typographical formatting attributes directly in the Proactive Campaign app.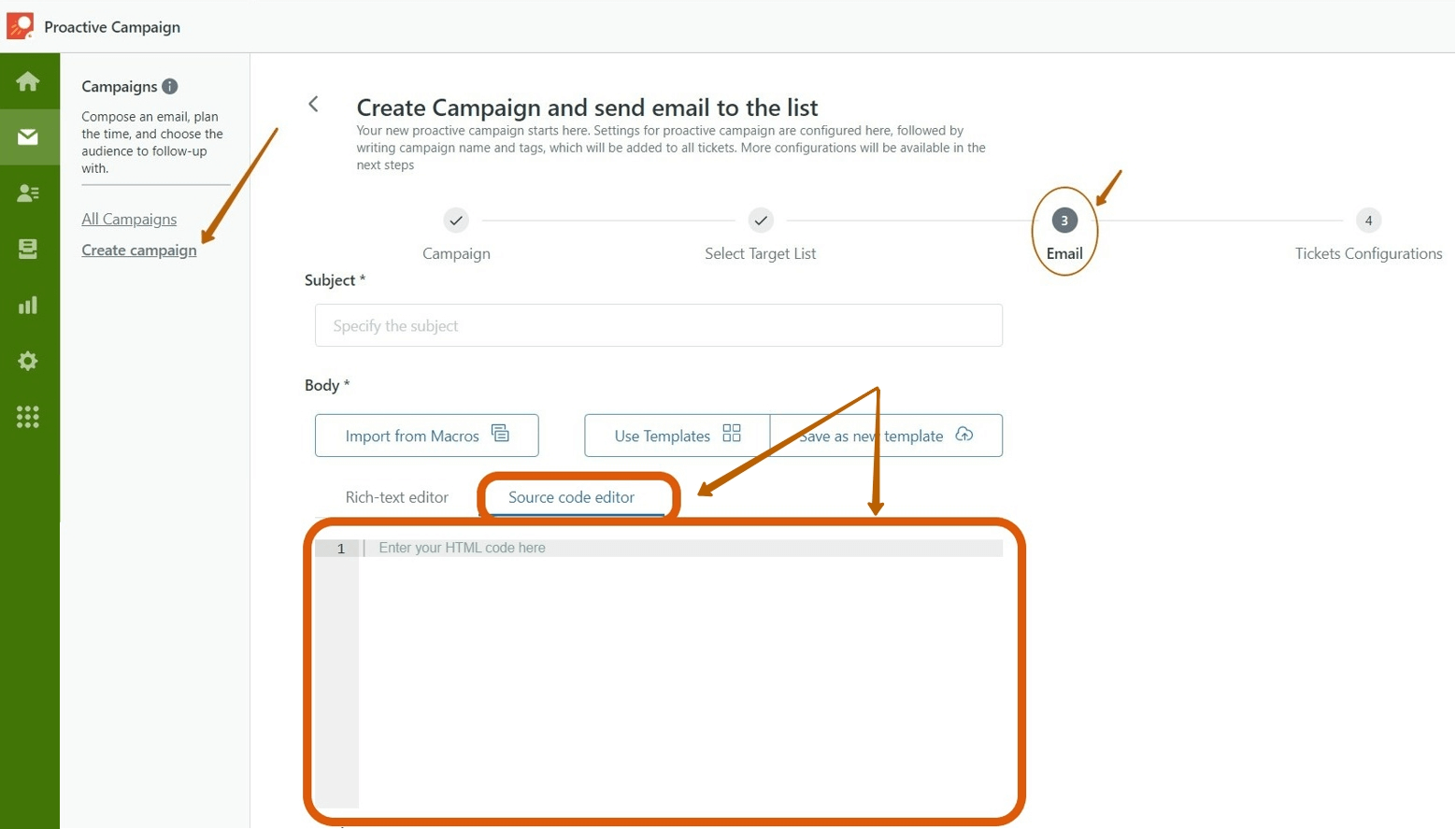 If there is a feeling like it's not enough and you need to create more advanced and personalized emails, click on the Source code editor and use HTML code to create those emails that match your brand identity.
CSAT Surveys and Ratings are Now Available Updates in Proactive Campaigns
Nowadays, you can't do any business without customers' opinions as they can provide you with valuable information and help define your strengths and weaknesses. However, sometimes it is not easy to collect reviews as you imagined, but the Proactive Campaigns app can help you with it. You can add a 5-stars rating or typed feedback to choose from now on. So, start creating your email campaign as usual and on the Email stage, switch the toggle and select the option.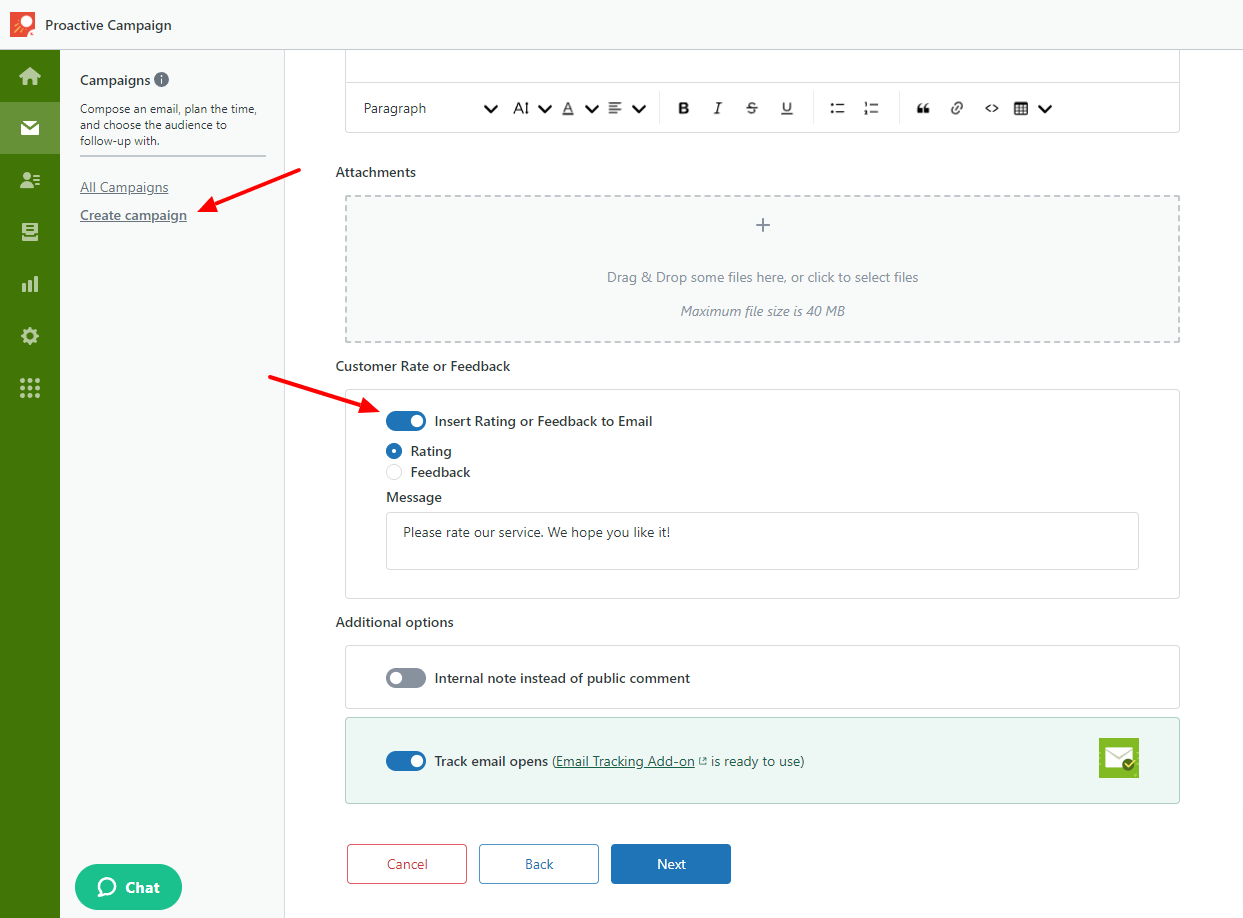 Then, continue editing and start your campaign. Afterward, you need to wait for replies, and when they appear, go to the All Campaigns tab, click on the dotted icon, and select Rates.
Finally, you'll see the replies or the diagram with statistics on how many stars were chosen by your clients.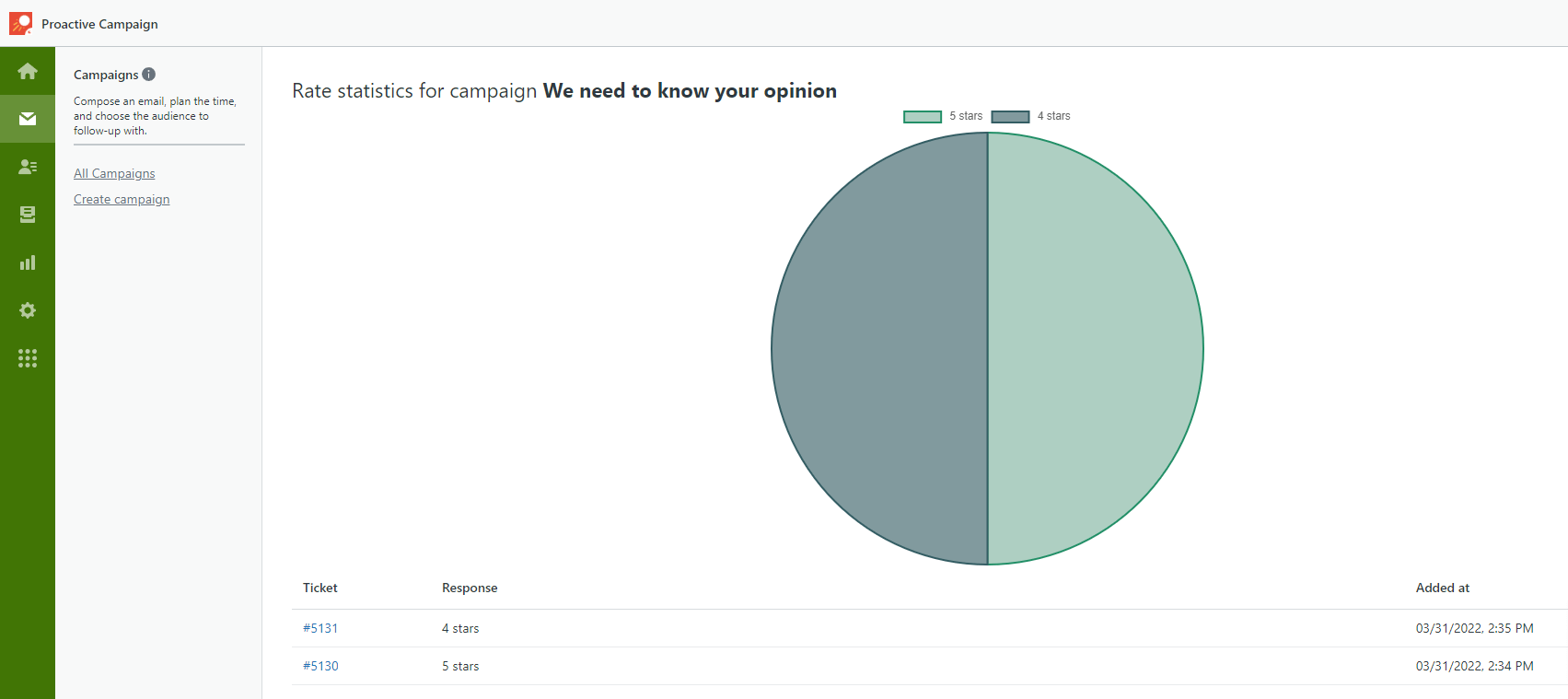 Take into account that adding CSAT surveys and ratings are available only with the PRO plan of the app.
Let's see what's next.
Extended Stats with the Email Tracking App
If you are using Proactive Campaigns with Email Tracking, you can notice that your reports page has changed. It has become more informative. No wonder, as we added two indexes available only with Email Tracking and want to explain their meaning. Also, you can check those data when you enter the details of the particular campaign in the All Campaigns tab.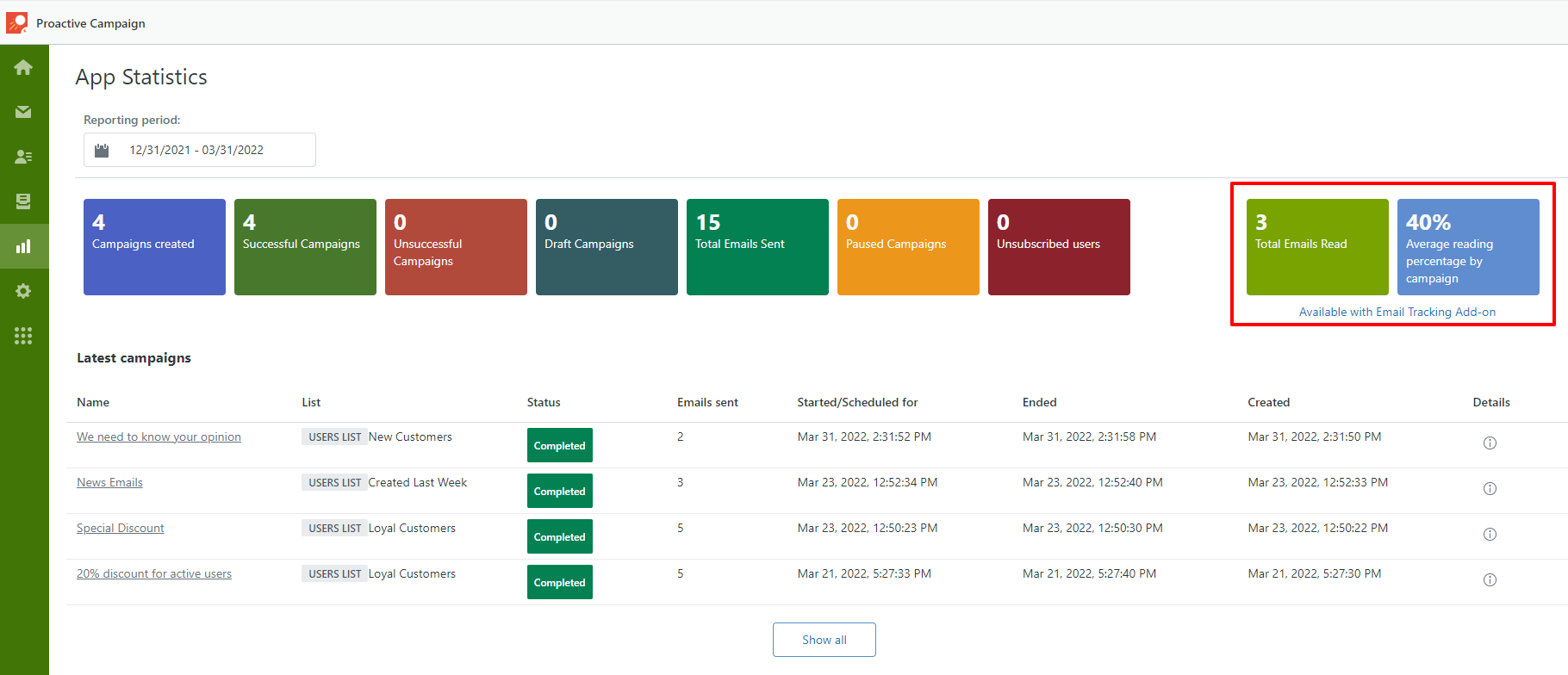 Total Emails Read- shows the count of emails that the recipient opened.
Average reading percentage by the campaign - display the average reading percentage by all campaigns.
Try our other apps
According to the customers' reviews, our Proactive Campaigns app and Email Tracking boost your efforts in Email Marketing. However, we suggest you increase your sales (CRM and Deals), improve messaging (Video Reply), comply with privacy standards (GDPR Compliance). Also, try our themes and services.
Try before purchase
Use our apps for 7 days for free
Read more